23 Jun
News and Analyses, A Foreign Perspective
Nearly all of these are English-edition daily newspapers. These sites have interesting editorials and essays, and many have links to other good news sources. We try to limit this list to those sites which are regularly updated, reliable, with a high percentage of "up" time.

In damning report, UN's poverty monitor hit back at criticisms by Nikki Haley, saying government policies would punish millions of low-income Americans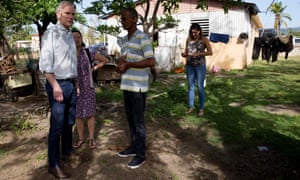 The UN's monitor on extreme poverty, Philip Alston, visits residents of the Jobos, Guayama neighborhood in Puerto Rico on 10 December 2017. Photograph: José Jiménez-Tirado/Getty Imag
The Trump administration has been castigated at the United Nations in Geneva for consciously exacerbating levels of inequality in America that are already the most extreme in the western world.
The excoriating report on the state of the US nation was delivered to a packed hearing of the human rights council on Friday by the UN's monitor on extreme poverty, Philip Alston. In what is now turning into a battle of words between the US government and international observers, Alston hit back at criticisms that had been leveled at him the previous day by Nikki Haley, US ambassador to the UN.
Haley complained that it was "patently ridiculous for the United Nations to examine poverty in America". She accused the UN special rapporteur on extreme poverty and human rights of political bias and wasting UN money by carrying out a six-month investigation into poverty and inequality in America, saying he should have focused instead on countries like Burundi and the Democratic Republic of Congo.
Addressing delegations from 46 countries gathered in the chamber of the human rights council, Alston fired back that "when one of the world's wealthiest countries does very little about the fact that 40 million of its citizens live in poverty, it is entirely appropriate for the reasons to be scrutinized". He said that the "massive tax cuts" promoted by Trump would "overwhelmingly benefit the wealthy" while other policies pursued by the US government would stigmatize and punish millions of low-income Americans.
In his most caustic comment, Alston threw back at Haley a term that she herself had used to deride the UN human rights council as a "cesspool of political bias". Alston said that same council that he had seen with his own eyes real cesspools ­– in Alabama, during his tour of poverty hotspots in America.
"I witnessed raw sewage poured into the gardens of people who could never afford to pay $30,000 for their own septic systems." He added poignantly: "Cesspools need to be cleaned up, and governments need to act."
Such criticism of the world's most powerful nation was all the more striking given the absence in the room. That morning, the chair normally occupied by the US delegation to the human rights council in Geneva was removed from the chamber following the decision of the Trump administration on Tuesday to withdraw from membership.
The departure of the US makes it the only country to have pulled out of the world entity since the council was founded in 2006.
Haley said the decision to depart was motivated by anger over the council's perceived anti-Israeli bias, and about the continued membership within the body of human rights abusers such as Venezuela and the Democratic Republic of Congo. But there was also growing speculation over whether the timing of the withdrawal had anything to do with Alston's deeply critical report on poverty in America.
Ken Roth, executive director of Human Rights Watch, asked in a tweet: "Is it just a coincidence that the US withdraws from the UN Human Rights Council two days before it examines the Trump administration's neglect of poverty in the United States?"
Had the US delegation been present in the council for the hearing, they might have been forgiven for wincing at Alston's presentation. He accused Haley of wanting to exempt the US from precisely the kind of international accountability over human rights that the Trump administration demanded for other countries.
Turning to the findings of his tour of the US, he noted that maternal mortality rates among African Americans were now almost double those in Thailand. He cited new World Health Organisation data that shows that babies born in China today will live longer healthy lives than babies born in America.
While accepting that the US economy was enjoying a period of growth, Alston said: "But the question is, who is benefiting. The benefits of economic growth are going overwhelmingly to the wealthy."
Since 1980, he said, the average national income before tax for the bottom half of US income distribution had stagnated at just $16,000, while earnings of the top 1% had soared. "In other words, the American dream of mobility is turning into the American illusion, in which the rich get ever richer and the middle classes don't move."
Most ominously, the UN monitor warned that the persistence of extreme poverty in the US would have a knock-on on the health of its democracy. He said such enduring problems "create ideal conditions for small elites to trample on the human rights of minorities, and sometimes even of majorities".
The warning was echoed by the ACLU, which told the human rights council that under Trump the US was suffering "the erosion of political participation. People living in poverty in the United States are being systematically deprived of their right to vote."
The ACLU's Jennifer Turner referred to the more than 6 million Americans who have been disenfranchised as a result of felony convictions. One out of four African Americans in Kentucky, for instance, have been stripped of their votes as a result of felony disenfranchisement.

World Politics
United States
Two Liars
Red Hen in Lexington at centre of social media storm

Sanders says asked to leave 'because I work for POTUS'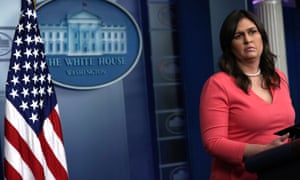 Sarah Sanders conducts a White House daily news briefing on Monday. There have been no briefings since. Photograph: Alex Wong/Getty Images
The White House press secretary Sarah Sanders claimed on Saturday that she was thrown out of a restaurant because she works for Donald Trump.
Social media erupted, with some lavishing praise on the Red Hen restaurant in Lexington, Virginia, for taking a moral stand. Others sympathetic to the president urged a customer boycott.
"Last night I was told by the owner of Red Hen in Lexington, VA to leave because I work for POTUS and I politely left," Sanders posted on Twitter. "Her actions say far more about her than about me."
The press secretary added: "I always do my best to treat people, including those I disagree with, respectfully and will continue to do so."
Her father, Mike Huckabee, a former governor of Arkansas, candidate for the Republican presidential nomination and strong Trump supporter, responded to her tweet by writing: "Bigotry. On the menu at Red Hen Restaurant in Lexington VA. Or you can ask for the "Hate Plate". And appetizers are 'small plates for small minds'."
Sanders' banishment comes after Stephen Miller, a senior White House adviser responsible for its "zero tolerance" immigration policy, and Kirstjen Nielsen, the cabinet member responsible for enforcing it, were reportedly heckled and hounded out of Mexican restaurants in Washington.
Members of the Trump administration are facing a fierce backlash over the policy that has seen more than 2,300 children separated from their parents at the southern border and tarnished America's reputation around the world.
Sanders has been notably reluctant to answer questions on the issue. Monday's White House press briefing was delayed by four hours so Nielsen could fly back from New Orleans to face reporters instead. There were no briefings over the next four days, which is highly unusual.
That seems not to have spared Sanders the wrath of restaurant staff at a Friday night family dinner. Jaike Foley-Schultz, who claims he is a waiter at the restaurant, wrote on Facebook: "I just served Sarah Huckabee Sanders for a total of two minutes before my owner kicked her out along with seven of her other family members."
Brennan Gilmore, executive director of the progressive group Clean Virginia, tweeted a photo of a handwritten note apparently from the restaurant that includes: "86 — Sara Huckabee Sanders." The number "86" is industry slang for "throw out".
Supporters and opponents of the administration swung into action with reviews on the restaurant's Facebook and Yelp pages. Some gave it one star, others awarded it five. Twitter users traded blows over whether the incident was comparable to the case of a Colorado baker who refused to make a wedding cake for a gay couple, which went all the way to the supreme court.
Michael McNamara Sr posted on the Red Hen's Facebook page: "Better not speak while you're there because if the staff disagrees with you they will toss you out. Why bother with the hassle? Plenty of real restaurants who serve everyone."
Sapphire Cianfriglia wrote: "I appreciate how you decided to take a moral standing against an administration that is essentially emulating Nazi Germany (locking up children, letting white supremacists march freely in the streets, etc)."

Ice was created as part of the response to 9/11. There is no fix for an agency that was designed tear families and communities apart with little oversight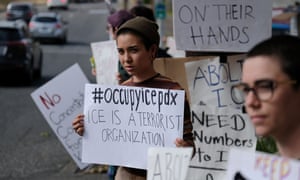 'There is no reforming an organization based on the idea that mass deportations make us safer.' Photograph: Alex Milan Tracy/Sipa USA/REX/Shutterstock
Every day I live with the terror that my husband Ravi will be taken away from me and permanently exiled from his home in the United States, where he has lived for almost 25 years.
Ravi is facing deportation because of a criminal conviction for wire fraud from almost 20 years ago, back when he had a green card. As a longtime immigration lawyer and immigrants' rights advocate, I know our immigration laws are unforgiving. Just about anyone who has a criminal conviction is subject to deportation, without the possibility of ever returning. Ravi is one of thousands facing deportation for this reason, many of whom have been living in the US with permission for years.
Much of what I am living through, along with these thousands of other families, feels like a battle – we are in a fight for our lives. Under the Trump administration, Immigration and Customs Enforcement (Ice) has dramatically escalated its tactics. There were more than 143,000 immigration arrests in 2017, a 41% increase from the previous year. Rather than using discretion to allow people to remain in the US, Ice ignores things like humanitarian need, family and community ties, and letters of support. Instead people are methodically and heartlessly torn away from their homes, often in the middle of the night.
In the last several weeks, over 2,000 children have been ripped away from their parents and detained across the US under the Trump administration's "zero-tolerance" policy, a practice denounced as a human rights violation by the United Nations. Now the administration is trying to detain families indefinitely. Countless families across the country are living with the trauma of having a loved one snatched away, with barely time to react.
Many people across the country have seen Ice's destructive practices and have called for reforms. Both my personal and professional experiences have led me to believe that this is not sufficient. There is no fix for an agency that was designed to tear apart families and communities and with very little oversight or accountability. There is no reforming an organization based on the idea that mass deportations make us safer. Ice itself must be abolished.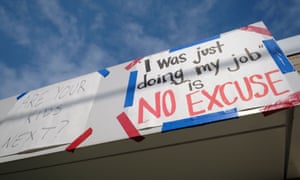 'Much of what I am living through, along with these thousands of other families, feels like a battle – we are in a fight for our lives.' Photograph: Alex Milan Tracy/Sipa USA/REX/Shutterstock
Ice is a relatively new agency. It was created in 2003 as part of a government response to 9/11 that included mass surveillance, racial profiling and militarism. Housed within the Department of Homeland Security (DHS), Ice was positioned to view immigrants as a security threat, rather than as an integral part of communities. Now the agency has over 20,000 employees and an annual budget of approximately $6bn.
Before 2003, immigration enforcement was the responsibility of the Immigration and Naturalization Service (INS). After the creation of DHS, INS was divided into three separate agencies – Ice, US Citizenship and Immigration Services, and Customs and Border Protection (CBP). Although there were significant problems with INS and its immigration enforcement, it did not have as big a budget or as broad a mandate as Ice and CBP, nor the same level of brutality and lack of accountability.
In Ravi's case, as in so many others, Ice has done its best to avoid accountability at all costs. When the agency refused to issue a stay of deportation and we challenged them in court, they said that the court has no jurisdiction over their decisions. When Ice detained Ravi and members of Congress asked for his release, Ice ignored the request. When hundreds rally to ask Ice not to deport someone, Ice will often deport that person even more quickly. When immigrants are actively and publicly challenging Ice practices, they or their family members are targeted for deportation to keep them quiet.