24 Jun
News and Analyses, A Foreign Perspective
Nearly all of these are English-edition daily newspapers. These sites have interesting editorials and essays, and many have links to other good news sources. We try to limit this list to those sites which are regularly updated, reliable, with a high percentage of "up" time.
Ahead of Sunday's presidential and parliamentary elections in Turkey, our reporter went to meet members of the Turkish opposition, who have received little airtime in the state-controlled media. Since the 2016 failed coup against President Recep Tayyip Erdogan, thousands of opposition supporters have fled Turkey and found refuge in Europe. On the continent, they believed they would be safe and enjoy freedom of speech, but in reality they are forced to live in hiding and fear being arrested.
In the aftermath of the July 2016 failed coup against Turkish President Recep Tayyip Erdogan, mass arrests and purges prompted supporters of exiled cleric Fethullah Gulen, pro-Kurdish activists and some opposition journalists to seek refuge abroad. They mainly fled to Greece, the Balkans and Germany. In 2017, over 14,000 Turks applied for asylum in Europe, more than half of them in Germany. That's 250% more than before the attempted coup.
But even abroad, their respite turned out to be short-lived. That's because the Turkish government is using every possible means to find them, put them on trial and have them convicted: intelligence services, Interpol red notices and even a network of pro-Erdogan activists.
Ahead of this weekend's presidential and parliamentary elections in Turkey, our reporter Marine Pradel went to meet Turkish opposition members exiled in Germany, who live in fear. For security reasons, they refused to reveal their exact locations and some chose to remain anonymous.

Dehumanisation has ended in atrocities says Jewish leader, while pressure grows on May to attack child separation policy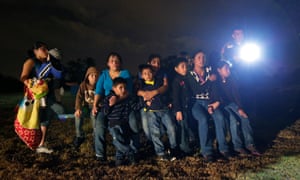 Central American immigrants being detained by authorities in Texas. Trump was forced to end the policy of separating children from their parents after pressure. Photograph: Eric Gay/AP
A leading British rabbi draws a chilling parallel between Donald Trump's policies on immigration – which have seen thousands of children separated from their parents on the US border with Mexico – and historical trends that have led to genocide, as pressure grows on Theresa May to denounce the US president's approach on his UK visit next month.
The intervention by Laura Janner-Klausner, the senior rabbi of Reform Judaism – a progressive section of the Jewish community – comes as church leaders, politicians and the children's commissioner for England voice their outrage at what they see as inhumane treatment of families in the US, and a wider, dangerous dehumanisation of public debate on immigration.
Janner-Klausner told the Observer that the warning signs were clear, and that political leaders had to act now to prevent the kind of decline in respect for fellow human beings that became commonplace before some of the worst atrocities in history.
Expressing concerns widely shared among Jewish leaders – who campaign constantly to remind the world of circumstances leading to the Holocaust – and other religious figures, she said: "The numbing of empathy, the dehumanisation of other people through the encouragement of disdain are documented stages in history that have led to atrocities and even genocides.
"What has happened on the US-Mexico border is a moment of reckoning as it points to a systemic toxicity in public discourse and action. This needs to be stopped now." She said the planned visit by Trump to the UK next month should go ahead: "I believe that our prime minister should be meeting her counterpart, to convey to him in the strongest terms the depth of opposition that these policies have evoked."
Nick Baines, the bishop of Leeds, said the US president's approach to immigration had to be challenged: "The office of the president of the United States has to be respected but in a mature relationship we must speak with him as equals. This means that the immorality of his policy requiring the separation of children from their families must be addressed in his conversations here. Not to do so would be an abdication of responsibility on the part of our leadership."
Writing in the Observer, Bishop Michael Curry, the American Episcopal minister who gave a sermon at the wedding of Prince Harry to Meghan Markle last month, asks British people to pray for the US in its period of "national shame" and make sure it follows a "moral compass".
"The rhetoric from our government leaders, which casts 'the other' – in this case, families seeking refuge – as dangerous, inhumanely violates the Christian tradition," he writes. "Selfishness is a sin. We cannot live up to our country's ideals if we embrace only our own desires and put our needs above all others – even above God. Being a US citizen does not make us more human than people on the other side of our border."
He adds: "We ask that our friends in Britain continue to pray for our country in hopes that we may continue to follow a moral compass pointing in the direction of love, compassion, goodness."
The US president is due in the UK on 13 July and will hold talks with the prime minister and meet the Queen, probably at Windsor Castle. He is unlikely to enter central London where protests are being planned. Some 22 demonstrations are being organised across the country including in Cambridge, Bristol, Birmingham, Leeds and Edinburgh, as well a march in London that will end at Trafalgar Square.
While Trump was forced by a wave of condemnation at home and abroad to end the policy of separating children from their families last week, his Republican administration is not making any special efforts to immediately reunite the 2,300 children who have already been taken from their parents under his "zero-tolerance" policy.
John Sandweg, the head of US immigration and customs enforcement under the Obama administration, who has been highly critical of Trump, warned that some migrant children may never be reunited with their families because of the logistical difficulties. "The parents can be sent back very quickly to Central America, whereas the kids are staying in the US for years while they're going through the immigration process," he said.

World Politics
United States
Obama ethics chief says press secretary shouldn't have used government account to condemn a private business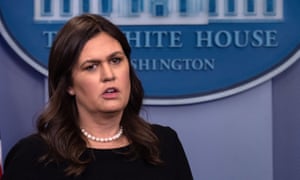 'I always do my best to treat people, including those I disagree with, respectfully,' Sarah Sanders said. Photograph: Nicholas Kamm/AFP/Getty Images
A tweet by White House press secretary Sarah Sanders about her ejection from a Virginia restaurant on Friday broke federal ethics rules, a leading expert said.
On Saturday, Sanders posted: "Last night I was told by the owner of Red Hen in Lexington [Virginia] to leave because I work for POTUS and I politely left. Her actions say far more about her than about me. I always do my best to treat people, including those I disagree with, respectfully and will continue to do so."
Walter Shaub, federal ethics chief under Barack Obama and briefly Donald Trump and now a fierce critic of the administration, responded: "Sanders used her official govt account to condemn a private business for personal reasons … she can lob attacks on her own time but not using her official position."
The controversy came at the end of a week of fierce debate over a Trump policy which mandated the separation of children from their parents when such families entered the US illegally.
Between April and early June, according to federal statistics, more than 2,300 children were taken. On Wednesday, amidst international condemnation and with even Republican supporters in Congress beginning to waver, Trump signed an executive order nominally – but not conclusively – stopping the practice.
On Saturday, groups of Democrats visited federal facilities, seeking details about how the children will be reunited with their families. The Department of Homeland Security said it knew where all the children were and was working to reunite them.
On Sunday, Trump returned to the attack on Twitter, advocating the end of due process. "We cannot allow all of these people to invade our ountry," the president wrote. "When somebody comes in, we must immediately, with no Judges or Court Cases, bring them back from where they came. Our system is a mockery to good immigration policy and Law and Order."
Amidst the controversy over immigration, and mixed messages from the president about congressional efforts at reform, there has been no White House press briefing since Monday. Then, Kirstjen Nielsen, the homeland security secretary, addressed reporters on the separations policy.
Nielsen and policy adviser Stephen Miller both found themselves confronted by protesters in Mexican restaurants in Washington. The Red Hen sits 26 and serves "inspired Shenandoah cuisine" a three-hour drive from DC. Its owner told the Washington Post Sanders was served with a selection of cheeses before she decided, following a consultation with staff members, to ask her to leave the premises.
"I was babbling a little," Stephanie Wilkinson said, "but I got my point across in a polite and direct fashion. I explained that the restaurant has certain standards that I feel it has to uphold, such as honesty and compassion and cooperation. I said, 'I'd like to ask you to leave.'"
Sanders, Wilkinson said, replied: "That's fine. I'll go." Others at her table followed. Wilkinson said: "They offered to pay. I said, 'No. It's on the house.'"
The owner added: "I would have done the same thing again. We just felt there are moments in time when people need to live their convictions. This appeared to be one."
The story set off a Twitter battle between Trump supporters and opponents, many on both sides comparing it to a recent supreme court ruling that said the owner of a Colorado cake shop was right to refuse service to a gay couple, based on his religious beliefs.
Sanders' father, former Arkansas governor Mike Huckabee, waded in, writing: "Bigotry. On the menu at Red Hen Restaurant in Lexington VA. Or you can ask for the 'Hate Plate'. And appetizers are 'small plates for small minds'."
Newt Gingrich, a former Republican House speaker who many blame for US politics' descent into vitriol and schism in the 1990s, wrote: "The increasing personal nastiness toward people who work for President Trump reflects the left's understanding that they are losing. Nastiness reflects desperation, not strength. They can't win the argument so they use nastiness. Sad and dangerous."
Shaub launched a series of tweets of his own.
"Sarah," he began. "I know you don't care even a tiny little bit about the ethics rules, but using your official account for this is a clear violation … It's the same as if [a Bureau of Alcohol, Tobacco, Firearms and Explosives] agent pulled out his badge when a restaurant tried to throw him/her out.
Read Full Article>>