25 Jun
News and Analyses, A Foreign Perspective
Nearly all of these are English-edition daily newspapers. These sites have interesting editorials and essays, and many have links to other good news sources. We try to limit this list to those sites which are regularly updated, reliable, with a high percentage of "up" time.

Ministers opt to launch procedure over rule of law violations under Viktor Orbán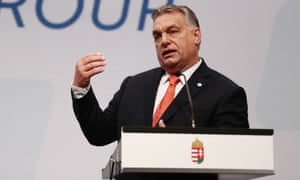 Viktor Orbán, the Hungarian prime minister, has long accused the European commission of overreaching with its powers. Photograph: Ferenc Isza/AFP/Getty Images
The European parliament has voted to trigger an EU sanction process against Hungary over violations of the rule of law under the prime minister, Viktor Orbán.
MEPs on the civil liberties, justice and home affairs committee voted to launch the EU's disciplinary procedure against the country, a lengthy legal process that could lead to Hungary being stripped of voting rights.
While that outcome is very unlikely, the unprecedented vote on Monday is a symbolic move against Orbán, who was re-elected for a third term in April, after a campaign that international observers said had clearly favoured the ruling coalition and was characterised by intimidating and xenophobic rhetoric.
The decision by MEPs throws down a gauntlet to Europe's most powerful political alliance, the European People's party (EPP), the group Angela Merkel and Jean-Claude Juncker are a part of, which has been accused of legitimatising Orbán by keeping his Fidesz party in its ranks.
On Monday morning, EPP MEPs held a free vote in an indication of the acute divisions within the bloc. The European parliament has the power to trigger the EU's little-used rule of law mechanism, known as article 7, but this was the first time it attempted to do so.
Josef Weidenholzer, an Austrian Social Democrat MEP, said the EU had to act. "Hungary is now in a situation – [where] we would call it it a facade democracy."
The vote is only a first step; a final decision to launch the procedure requires a two-thirds majority in the European parliament.
If a majority of MEPs vote in September, ministers will be obliged to consider whether there is a serious and persistent breach of the EU's basic democratic values in Hungary.
The Dutch Green MEP Judith Sargentini had spent 13 months drafting a report to prepare for the unprecedented procedure. It is based on the work of many international organisations and raises 12 key concerns about the erosion of democracy in Hungary.
The draft report highlights fears about the functioning of Hungary's constitution, which has been amended six times since 2012. It also itemises concerns about the centralisation of justice, declining transparency over state funds and threats to freedom of expression and the right to equal treatment.
"Close friends do not shy away from telling each other the unpleasant truth," the report states. "Based on the process sketched above, your rapporteur sees the need to request the council to come forward with appropriate measures to restore inclusive democracy, the rule of law and respect for fundamental rights in Hungary."
The report was completed before the Hungarian parliament passed widely criticised anti-immigrant laws last week that made it a criminal offence punishable by a jail term to help people lodge asylum claims.
The European commission is "now going to review the Hungarian legislation on migration to determine whether it is compatible with European rules", a spokeswoman said last week.
Hungary's response was made plain in a radio interview during which Orbán lashed out at the commission for "pestering, pressuring and attacking Poland" and "attacking Hungary".

World Politics
United States
President tweets demand for end to due process at border

DHS says it knows whereabouts of 2,053 separated children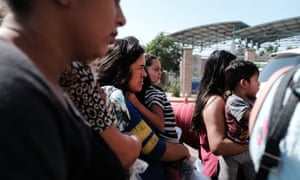 Dozens of women, men and their children, many fleeing poverty and violence in Honduras, Guatemala and El Salvador, arrive at a bus station following release from Customs and Border Protection on Saturday in McAllen, Texas. Photograph: Spencer Platt/Getty Images
Donald Trump called on Sunday for the US to abandon its judicial system and summarily deport people who enter the country.
The president attacked the rule of law amid sustained criticism of his administration's handling of immigration at the southern border.
"When somebody comes in, we must immediately, with no Judges or Court Cases, bring them back from where they came," Trump said in a tweet, while being driven to his golf course in Virginia.
The statement amounted to a proposal for the suspension of law by the country's chief law enforcement officer. Any attempt to implement such a demand would face strong opposition from political opponents and civil rights activists.
Trump was last week pushed to halt a policy of separating families suspected of entering the US illegally, in a dramatic political climbdown. More than 2,300 children had been taken from their parents by US officials, prompting an international humanitarian outcry.
The president continued to use the language of the far-right to describe immigrants on Sunday, declaring in his tweet that the US "cannot allow all of these people to invade our Country". He warned last week that immigrants could "infest" the US.
At the same time, his administration moved to ease fears that separated families may never be reunited, insisting that all detainees were being tracked through an identification system and that the situation was under control.
Some children have been reunited with parents. According to a release from the Department of Homeland Security on Saturday, 2,053 minors who were separated at the border were being cared for in facilities run by the Department of Heath and Human Services.
But Washington has been thrown into chaos by Trump's erratic actions. Having created the child separation crisis with a "zero-tolerance" immigration policy, Trump falsely said his administration was merely following a law Democrats in Congress needed to help to change.
After saying he could not stop the policy by executive order, he then stopped the policy with an executive order, confirming that he had been lying. But Trump has continued to demand action from Congress. When Congress promptly produced such plans, Trump dismissed them and instructed Republicans to stop negotiating.
Senator Jeff Flake of Arizona, one of a handful of Republicans in Congress willing to criticise the president, urged Trump to stop falsely accusing Democrats of being unwilling to agree to a comprehensive immigration law unless it effectively opened the border.
"They are on record supporting significant border control," Flake said on ABC's This Week. "So when the president says that, and calls them 'clowns' and 'losers', how does he expect Democrats to sit down and work with Republicans on these issues?"
Bob Corker of Tennessee, who like Flake is retiring from the Senate this year, also called for an end to the demonisation of immigrants, which has become a powerful political force in the party.
"We've got to realise these people are wanting to live in a place like we live," Corker said on CBS's Face the Nation. "We're the most fortunate people on earth to live in this country. That's why people are drawn to us."

Trump says Red Hen 'should focus more on cleaning its filthy windows than refusing to serve a fine person like Sarah Sanders'
Sarah Sanders said she was asked to leave the restaurant on Friday night. Photograph: AFP/Getty Images
Donald Trump belatedly weighed in on the rumbling row over White House press secretary Sarah Sanders' ejection from a restaurant in Virginia, because, she said, she works for the president.
Sanders had tweeted that she had been asked to leave the Red Hen restaurant in Virginia on Friday night. Her reporting of the incident was criticized by ethics experts, who said she should not have used an official government account to personally condemn a private business.
Early Monday, Trump declared on Twitter: "The Red Hen Restaurant should focus more on cleaning its filthy canopies, doors and windows (badly needs a paint job) rather than refusing to serve a fine person like Sarah Huckabee Sanders."
His post continued: "I always had a rule, if a restaurant is dirty on the outside, it is dirty on the inside!"
There was some speculation among pundits about whether Trump's silence on the incident over the weekend signalled some form of displeasure with Sanders' performance.
Trump posted on Twitter over the weekend, to once against upend the immigration debate, by calling for those crossing the southern US border unlawfully to be summarily deported without due process or an appearance before a judge. But he did not mention the Sanders ejection until Monday morning.
Sanders has not acknowledged the incident on social media again since first tweeting about it on Saturday.
Walter Shaub, the federal ethics chief under Barack Obama and briefly Donald Trump and now a fierce critic of the administration, responded: "Sanders used her official govt account to condemn a private business for personal reasons … she can lob attacks on her own time but not using her official position."
The Hartford Courant newspaper on Sunday reported that a restaurant called the Red Hen in Old Saybrook, Connecticut, entirely unconnected to the Red Hen restaurant in Lexington, Virginia, where Sanders and her party had been confronted, was being flooded messages from members of the public who support Trump, threatening to organize a boycott and saying things such as: "You're done, and we're coming to get you'.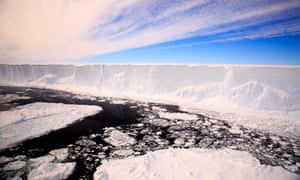 A handout picture released by British Antarctic Survey (BAS) on February 21, 2018 and taken on November 22, 2017 from the British Antarctic Survey Twin Otter aircraft shows the Larsen C iceberg. Photograph: Ali Rose/AFP/Getty Images
There's recently been a spate of sea level rise denial in the conservative media, but in reality, sea level rise is accelerating and melting ice is playing an increasingly large role. In the first half of the 20th Century, average global sea level rose by about 1.4 millimeters per year (mm/yr). Since 1993, that rate has more than doubled to 3.2 mm/yr. And since 2012, it's jumped to 4.5 mm/yr.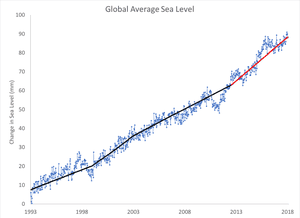 Global mean sea level data from the Colorado University Sea Level Research Group, with 4-to-5-year linear trends shown in black and red. Illustration: Dana Nuccitelli
Thermal expansion (ocean water expanding as it warms) continues to play the biggest role in sea level rise, but its contribution of about 1.3 mm/yr is now responsible for a smaller proportion of total sea level rise (30% in recent years) than its contribution since the 1990s (40% of the total). That's because of the acceleration in melting ice.
Glacier melt is accelerating, recently contributing about 0.75 mm/yr to sea level rise, up from 0.65 mm/yr since the 1990s. But the biggest jumps have come from ice in Greenland and Antarctica. Greenland had been responsible for about 0.48 mm/yr sea level rise since 1990, but in recent years is up to 0.78 mm/yr. A recent study in Nature Climate Change found that Greenland contributed about 5% to sea level rise in 1993 and 25% in 2014.
Antarctica is a huge question mark with warning signs