27 Jun
News and Analyses, A Foreign Perspective
Nearly all of these are English-edition daily newspapers. These sites have interesting editorials and essays, and many have links to other good news sources. We try to limit this list to those sites which are regularly updated, reliable, with a high percentage of "up" time.

Antonio Tajani is president of the European parliament
Failure to agree a new plan at this week's summit could lead to the closure of borders and the collapse of the Schengen system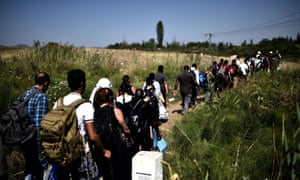 Syrian migrants after crossing the border between Macedonia and Serbia in August 2015. 'The EU's agreement with Turkey … ultimately led to the shutting down of the Balkan route.' Photograph: Aris Messinis/AFP/Getty Images
This week's summit of European heads of government will be decisive because failure to reach agreement on how to manage the migration crisis could deal a fatal blow to the European project.
For this reason the European Union must address the fundamental causes of this humanitarian tragedy, showing both solidarity towards those fleeing persecution and war, and resolve in limiting entry to those with genuine claims.
The instability, insecurity, terrorism, poverty, famine and climate change besetting large parts of Africa and the Middle East are the root causes of migration, but EU governments have come around to this too late, engaging essentially in damage-limitation exercises at our borders.
By 2050, the population of Africa is predicted to have doubled to 2.5 billion. Continued inaction will turn the hundreds of thousands we are seeing now into millions seeking a better life in Europe, with devastating consequences, both if Europe cannot cope, and for those seeking to migrate: some 13,000 people have lost their lives in the Mediterranean over the last three years and many more have perished in the Sahara.
A real strategy underpinned by two pillars is urgently needed. First, we must stop traffickers who trade in the lives of human beings by preventing boats from leaving transit countries to begin with. Second, member states must take on their fair share of refugees who do come to Europe through an automatic, mandatory mechanism.
The EU's agreement with Turkey stopped people-smuggling by funding, among other things, healthcare and education in situ, ultimately leading to the shutting down of the so-called Balkan route for migrants. It should serve as a blueprint to achieve a similar result in the Mediterranean.
The EU's cooperation arrangements with transit countries such as Niger must also be strengthened and extended to include Mauritania, Mali, Chad, Tunisia, Morocco, Algeria and Libya itself.
The Dublin Regulation, the EU's asylum system, also needs to be overhauled and replaced by a fair and effective alternative. Of the 650,000 asylum applications submitted in 2017, 416,000 were lodged in only three countries: Germany, Italy and France. This glaring injustice is linked to the outdated way in which the regulation works, and languishing reform is contributing to tension between member states.
The European parliament is playing a proactive role and tabled an asylum system reform proposal several months ago that would make burden-sharing more equitable. I have also written to EU heads of state and government urging them to use it as the basis to move forward.
To convince more reluctant member states to accept the European parliament's plan, we must assure them that the EU is up to the task of policing its external borders and stopping departures from north Africa. This would allow UNHCR-managed programmes to relocate those who can come to Europe safely and equitably among EU member states.
Failure to deliver a credible European strategy based on these two pillars could culminate in the renationalisation of migration policy, the closure of national borders and the collapse of the Schengen system.
At the same time, the EU must coordinate efforts to stabilise Libya, paving the way for it to become a partner with which we can cooperate.
To this end, I will go to Libya as soon as possible to discuss how we can support this process and parliamentary cooperation, including the role we can play in the organisation of future elections. The European parliament is ready to make its resources and know-how available: a conference bringing together stakeholders in Brussels would be a step in the right direction.
Addressing the root causes of the migrant exodus requires a new partnership with the African continent, supported by an ambitious Marshall plan for Africa in the next EU budget. Our call for at least €40bn could leverage up to €500bn in private-sector investment over the next decade. The migration crisis could spell the end of the European project. We cannot and must not stand by while this happens. We must show the courage, determination and ambition needed to work on new approaches together.
World Politics
United States
Joe Crowley, 10-term Democrat expected to be party's next House leader, loses to Alexandria Ocasio-Cortez, 28, in New York
Source: AP/NY1
Alexandria Ocasio-Cortez, a Puerto-Rican American socialist, causes a major upset in New York after defeating Joe Crowley in the Democrats"congressional primary. Crowley, who was expected to be the party's next House leader, took 42.5% of the vote while Ocasio-Cortez had 57.5% in the predominantly minority district that included parts of Queens and the Bronx
A 28-year-old political newcomer has ousted Joe Crowley, a 10-term Democrat pegged as his party's next leader in Congress, in a New York congressional primary – a stunning political upset likely to send shockwaves through the party.
With 98% of the votes tallied, Alexandria Ocasio-Cortez, a former Bernie Sanders volunteer and member of the Democratic Socialists of America, took 57.5% and Crowley had 42.5%, in a race for a district of New York City that included parts of Queens and the Bronx.
A smiling Ocasio-Cortez appeared shocked at the numbers as they were reported on on Tuesday night, and said her victory had met "the machine with a movement". She is expected to defeat her Republican opponent in the heavily Democratic district in November, which would make her the youngest member of Congress.
"Our campaign was focused on a message of economic, social and racial dignity for working-class Americans, especially those in Queens and the Bronx," Ocasio-Cortez told MSNBC's Morning Joe show on Wednesday morning. We were very clear about our message, very clear about our priorities, and very clear about the fact that even if you have never voted before, we are talking to you."
Bronx-born Ocasio-Cortez, who was working in a Manhattan cocktail bar this time last year, defeated Crowley after hitting the incumbent on his ties to Wall Street and accusing him of being out of touch with his increasingly diverse district.
Crowley, head of the Queens county Democratic party and the fourth-ranking Democrat in the House of Representatives, was considered to be Nancy Pelosi's likely successor as House speaker if she stepped down. He had raised over $3m for his campaign, 10 times the amount raised by Ocasio-Cortez, who rejected corporate sponsors and relied on small donors.
The result was compared to the shock defeat of Eric Cantor, the No 2 House Republican, to a Tea Party candidate, David Brat, in 2014. Cantor's defeat stopped any momentum for Republicans in Congress on immigration reform and helped to create the House Freedom Caucus and drive out the former speaker John Boehner.
Ocasio-Cortez ran a grassroots campaign and made a surprise visit to the Mexican border on the eve of the election to emphasize her call to abolish the Immigration and Customs Enforcement agency (Ice). Crowley was unwilling to go that far, although he did call the agency "fascist".
Crowley had expressed confidence about the race in private conversations and as one national Democratic strategist told the Guardian: "The Crowley team did not raise red flags or ask allies for help with his primary." Before 2018, Crowley had not even faced a primary since 2004, years before his 2018 opponent was even eligible to vote.
In a statement, Crowley congratulated Ocasio-Cortez and gave her his backing, adding: "The Trump administration is a threat to everything we stand for here in Queens and the Bronx, and if we don't win back the House this November, we will lose the nation we love."
Donald Trump also weighed in, apparently viewing Crowley's defeat to a leftwing candidate as a referendum on him. The president wrote on Twitter shortly after the race was called: "Wow! Big Trump Hater Congressman Joe Crowley, who many expected was going to take Nancy Pelosi's place, just LOST his primary election. In other words, he's out! That is a big one that nobody saw happening. Perhaps he should have been nicer, and more respectful, to his President!"
Crowley had been considered the only plausible competition for Pelosi as Democratic leader, although he had pledged not to run against her.
White House says court 'upheld authority' after justices rule 5-4 ban was within president's power to craft national security policy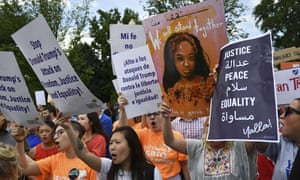 Protesters outside the supreme court in the wake of Tuesday's ruling. The White House said the court had 'upheld the clear authority of the president'. Photograph: Mandel Ngan/AFP/Getty Images
The US supreme court has upheld Donald Trump's travel ban targeting several Muslim-majority countries, in a significant victory for the administration and a blow to anti-discrimination advocates.
In a 5-4 ruling handed down on Tuesday, the court accepted the government's argument that the ban was within the president's power to craft national security policy and his authority to "suspend entry of aliens into the United States".
Trump hailed the ruling, calling it a "tremendous victory for the American people".
In a statement, the White House said the supreme court had "upheld the clear authority of the president to defend the national security of the United States" and called the ruling "a moment of profound vindication following months of hysterical commentary from the media and Democratic politicians".
Opponents of the ban have said it has not made the country safer, while singling out Muslims for unfair treatment and violating constitutional protections against discrimination on religious grounds.
"This hateful policy is a catastrophe all around – not only for those who simply want to travel, work, or study here in the States, but for those seeking safety from violence as well," Ryan Mace of Amnesty International USA said in a statement.
"The Muslim ban's bigotry should have been as clear to the supreme court as it is to the Muslims demonized by it," a statement from the Council on American-Islamic Relations (Cair) said. "Apparently, everyone but the supreme court can see the decision for what it is: an expression of animosity."
Even as the court upheld the ban, Chief Justice John Roberts criticised Trump, and emphasised the importance of the principle of religious non-discrimination in US history.
This ruling will go down in history as one of the supreme court's great failures

Omar Jadwat, ACLU
"The president of the United States possesses an extraordinary power to speak to his fellow citizens and on their behalf," Roberts wrote. "Our presidents have frequently used that power to espouse the principles of religious freedom and tolerance on which this nation was founded."
Roberts pointed out that George W Bush defended "the true faith of Islam" after the September 11 attacks and said America is "a great country because we share the same values of respect and dignity and human worth".
"Yet it cannot be denied," Roberts wrote, "that the federal government and the presidents who have carried its laws into effect have – from the nation's earliest days – performed unevenly in living up to those inspiring words."
Trump has issued three executive orders curbing travel from certain Muslim-majority countries. Lower courts have blocked various versions of the ban. The current order was allowed to come into full effect in December 2017.
The ban targets travelers from Syria, Iran, Libya, Yemen and Somalia. It also includes limited sanctions against North Korea and Venezuela.
Neal Katyal, the primary lawyer who argued against the administration's travel ban, condemned the supreme court's decision as "unconstitutional, unprecedented, unnecessary and un-American".
"We decided long ago that America doesn't exclude people based on nationality or religion alone. Today, that principle has been challenged," Katyal said in a statement.
Katyal, who served as the deputy solicitor general in the Obama administration, nonetheless sought to underscore the progress that had been made in watering down the travel ban from the policy Trump first unveiled in January 2017. After several successful challenges in court, Katyal said, the Trump administration had been forced to bring the travel ban "more in line" with the constitution.
"While we continue to believe that this third version fails that test, there is no question that by striking down the first two travel bans, the judiciary forced a recalcitrant administration to at least give its order the veil of constitutionality."
Part 1 of a report on the indigenous Siona people in the Putumayo region in the Amazon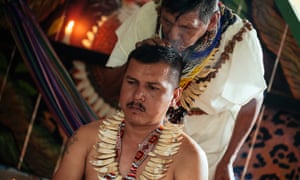 Siona spokesman Mario Erazo Yaiguaje participating in a healing ceremony with elder Pablo Maniguaje. Both men recently appeared before the Inter-American Commission on Human Rights to talk about the armed conflict in their territory- Photograph: Mateo Barriga Salazar
Placido Yaiguaje Payaguaje, an indigenous Siona man, was standing right where his 80-something mother was blown apart by a land-mine. There was a crater about the size of a beach ball. Surrounding foliage had been shredded, and on some of the leaves and fronds you could still see the dynamite.
This was a 20 metre, steepish climb down to the banks of the River Piñuña Blanco, deep in the Colombian Amazon. Placido's mother had come here to fish in a lagoon nearby. It was a popular spot for singo, sábalo and garopa.
A rotten zapotilla tree trunk – covered in moss and fungi – now lay across the crater. Placido leant back against it as he spoke, furiously tearing apart a leaf, the pain on his face clearly visible.
"My mother really liked fishing. She told me, "I want to eat some fish. I want to eat some fish from the lagoon. Good fish there,"" Placido told the Guardian. "I said, "Mama, don't go, don't go fishing."
Behind him, watching and listening, wearing a symbolic wooden truncheon over his left shoulder, was Placido's brother Celio. Downstream, in their village, Puerto Silencio, Celio told a similar story: his mother had loved fishing and he had tried to persuade her to abandon her plans that tragic day, but failed.
"I said, "No, mother, don't go, it's better elsewhere" and she said, "No, I'm going" and I said, "No. Better together. . ." But she didn't wait for me. She went alone," Celio says. "Then, coming down from the lagoon, it all went wrong for my mother. That was where the mine was. She didn't think there was anything there."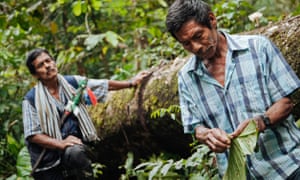 Placido Yaiguaje Payaguaje and his brother Celio at the site where their mother was killed by a land-mine- Photograph: Mateo Barriga Salazar
Placido and Celio's mother, Eloisa Payaguaje, a revered Siona elder, was killed six years ago. According to the brothers, the mine had been sown by the "guerrilla" – in this case, the Fuerzas Armadas Revolucionarias de Colombia-Ejército del Pueblo (FARC-EP) – to kill Colombian soldiers as part of the armed conflict, or civil war, that has been tearing the country apart since the 1960s. Officially conflict between the government and the FARC ended in 2016 with a historic peace deal, but many people in this part of the country – Putumayo, a FARC stronghold for decades – say that conflict continues, albeit in a slightly different form.
Puerto Silencio has been right at the heart of it, although today it is an apparently typical indigenous village in the Amazon home to some 12-14 families, with a zinc-roofed communal meeting room, school and football pitch in the centre. Hens and dogs wander around, children play, music blares from one house, and there are plots of pineapples, maize, plantains and other crops dotted around. No sense it was once a conflict zone.
But it was once – and still is – a conflict zone. There are more land-mines just behind the school, and new ones reportedly being sown further into the forest by FARC "dissidents." The atmosphere is one of permanent suspicion, fear and sometimes downright terror. Everyone – or almost everyone – has some horrific story to tell. Celio says the FARC killed not only his mother, but another of his brothers too, after he was accused of collaborating with the government. Now Puerto Silencio's president, he says that when the village was first settled in the 1980s it really was peaceful – hence the name – but later things changed.
"There has been a lot of violence," Celio, who has received death threats, says. "You lived permanently frightened. You couldn't go out at all."