28 Jun
News and Analyses, A Foreign Perspective
Nearly all of these are English-edition daily newspapers. These sites have interesting editorials and essays, and many have links to other good news sources. We try to limit this list to those sites which are regularly updated, reliable, with a high percentage of "up" time.

Two damning reports reveal British intelligence's treatment of terrorism suspects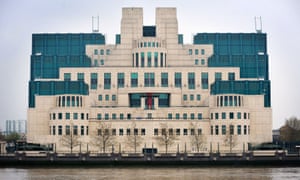 The MI6 building in Vauxhall, south London. Photograph: Tim Ireland/PA
British intelligence agencies were involved in the torture and kidnap of terrorism suspects after 9/11, according to two reports by the parliamentary intelligence and security committee.
The reports published on Thursday amount to one of the most damning indictments ever of UK intelligence, revealing links to torture and rendition were much more widespread than previously reported.
While there was no evidence of officers directly carrying out physical mistreatment of detainees, the reports say the overseas agency MI6 and the domestic service MI5 were involved in hundreds of torture cases and scores of rendition cases.
The committee says the agencies were aware "at an early point" of the mistreatment of detainees by the US and others. There were two cases in which UK personnel were "party to mistreatment administered by others". One has been investigated by the Metropolitan police but the other is still to be fully investigated.
One report deals with the mistreatment and rendition of detainees between 2001 and 2010, while the other considers current issues.
The report dealing with the treatment of detainees details a litany of cases of concern, saying: "We have found 13 incidents where UK personnel witnessed at first hand a detainee being mistreated by others, 25 where UK personnel were told by detainees that they had been mistreated by others and 128 incidents recorded where agency officers were told by foreign liaison services about instances of mistreatment. In some cases, these were correctly investigated but this was not consistent."
It said that in 232 cases UK personnel continued to supply questions or intelligence to other services despite knowledge or suspicion of mistreatment, as well as "198 cases where UK personnel received intelligence from liaison services which had been obtained from detainees who knew they had been mistreated – or with no indication as to how the detainee had been treated but where we consider they should have suspected mistreatment."
The committee found three individual cases where MI6 or MI5 made or offered to make a financial contribution to others to conduct a rendition operation. In 28 cases, the agencies either suggested, planned or agreed to rendition operations proposed by others. In a further 22 cases, MI6 or MI5 provided intelligence to enable a rendition operation to take place. In 23 cases they failed to take action to prevent rendition.
The report says those at headquarters were aware of reports of mistreatment by the US – including 38 cases in 2002 alone – but did not take them seriously.
"That the US, and others, were mistreating detainees is beyond doubt, as is the fact that the agencies and defence intelligence were aware of this at an early point," the report says. "The same is true of rendition: there was no attempt to identify the risks involved and formulate the UK's response. There was no understanding in HMG of rendition and no clear policy – or even recognition of the need for one."
The chairman of the committee, Dominic Grieve, said because it had been denied access to key intelligence individuals by the prime minister, the committee had reluctantly decided to bring the inquiry to a premature end. He said the reports were being published now because he felt the information gathered so far should be put into the public domain.
Had the inquiry continued, the committee would have called the then home secretary, David Blunkett, and the previous foreign secretary, Jack Straw, to explain what they understood to be the situation at the time and why a briefing was not requested.
The reports say evidence of the direct involvement of MI6 officers and a British military officer in the mistreatment of detainees at the Bagram airbase in Afghanistan was withheld from the intelligence committee in the past. This involved sleep deprivation, starvation and the use of stress positions.

The committee said it had wanted to interview the MI6 officers involved but said: "The government has denied us access to those individuals."
While one officer has been investigated by Scotland Yard, the other has not, the report said, adding: "There must now be a question as to whether that investigation is reopened."
The military officer's involvement in the mistreatment was investigated by military police, but that inquiry was shut down after MI6 refused to cooperate.
The involvement with torture and rendition is set out in the report Detainee Mistreatment and Rendition 2001-2010. The second report deals with current issues.
The investigation was ordered by David Cameron in 2010. A former judge produced an interim report but, frustrated by too many unanswered questions, the inquiry was passed to the intelligence committee……………..Theresa May issued a statement saying the lessons of what happened in the aftermath of 9/11 "are to be found in improved operational policy and practice, better guidance and training, and an enhanced oversight and legal framework".
She added: "We should be proud of the work done by our intelligence and service personnel, often in the most difficult circumstances, but it is only right that they should be held to the highest possible standards in protecting our national security."

May's statement did not address the committee's conclusion that the UK had been in breach of the international prohibition on torture. Nor did she say anything about the recommendation that a fresh police investigation be considered.
World Politics
United States
Democrats warn successor 'could radically alter the course of justice' and help Trump put an enduring stamp on America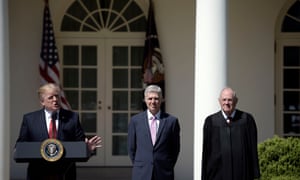 Anthony Kennedy with Donald Trump and Neil Gorsuch in April last year. Kennedy has been the critical 'swing vote' on the court for more than a decade. Photograph: Brendan Smialowski/AFP/Getty Images
T

he retirement of Justice Anthony Kennedy is a political earthquake that could affect millions of lives and allow Donald Trump to put a stamp on America that will endure long after he leaves the White House.
Presidents come and go, and their policies can swiftly be reversed, as Trump has demonstrated in seeking to erase much of Barack Obama's legacy. But justices are appointed for life to the supreme court, which plays an outsized role in American life compared with equivalent bodies around the world.
Kennedy's successor "could radically alter the course of American justice for decades", warned Nancy Pelosi, Democratic minority leader in the House, adding: "The future of our democracy is at stake."
And an email from the liberal Center for American Progress Action Fund put it bluntly: "You think this supreme court term has been horrible? If Donald Trump gets to appoint another supreme court justice, we're staring down 30 to 40 years of vicious, unmitigated attacks on our rights."
Kennedy has been the critical "swing vote" on the court for more than a decade. He is likely to be replaced by a conservative who might impose new limits on abortion, LGBT and voting rights. Now, in what could be the most consequential decision of his presidency, Trump can set the court on a rightward trajectory for decades.
The first meeting of the supreme court took place in 1790. It has proved one of the crucial checks and balances in US society, testing the constitutionality of laws passed by politicians, and pushing back when it deems necessary. Its landmark decisions including Brown v Board of Education, ending racial segregation in schools, Roe v Wade, enshrining a woman's right to abortion, Bush v Gore, which decided the 2000 presidential election, and Obergefell v Hodges, making same sex-marriage a right nationwide.
Darrell Miller, a law professor at Duke University in Durham, North Carolina, noted that political decisions in the US are more likely to be challenged and turned into constitutional questions that can be litigated than in other countries. "Unlike the UK, we have a fairly robust notion of judicial review," he said. "The supreme court can rule that acts of Congress and state legislatures are unconstitutional in some way. We don't have the same notion of parliamentary sovereignty as the UK."
The last vacancy was brazenly stolen by shameless Republican leaders. We cannot let that happen again

Tom Perez, DN
On the nine-person court Kennedy, 81, stepping down after more than 30 years, sided with the liberal justices on gay rights and abortion rights, as well as some cases involving race, the death penalty and the rights of people detained without charges at Guantánamo Bay naval base. He has written all the court's major gay-rights decisions, including the 2015 ruling that declared same-sex marriage is a constitutional right nationwide.
However, Kennedy has been a key vote when conservatives have won major rulings on the outcome of the 2000 presidential election, on gun rights, limiting regulation of campaign money and gutting a key provision of the landmark federal Voting Rights Act.
Miller added: "His votes have been pivotal, so his retiring is giving Donald Trump the opportunity select a replacement is likely to be crucial for hot-button issues that come up in the US."
Without Kennedy, the court will be divided between four conservative justices nominated by Republican presidents, and four liberal justices named by Democratic presidents. Trump's nominee – probably from his public list of 25 potential candidates – will face a Senate confirmation process in which Republicans hold the slimmest majority, and it is highly unlikely that Democrats would prevent a vote.
If successful, however, the new justice will not automatically do Trump's bidding. Miller said: "Assuming that Trump nominates a fairly ideological pick, there will be a lot of pressure on the chief justice to appeal to his [or her] sense of stability and not have the supreme court be just another political arena: an institutional commitment instead of rough and ready politics."
John Malcolm, vice-president of the Institute for Constitutional Government at the Heritage Foundation, a conservative thinktank in Washington, added: "It's not that [the justice] is going to agree with everything Donald Trump says or oppose everything that a Democratic president says. It will be an approach to the constitution with a proper role of judging."
Malcolm expressed a hope that the new justice will have an "originalist" philosophy like the late Antonin Scalia.
Trump has already been appointing judges – mainly white men – to the lower courts at a historic rate with huge long-term implications. His first supreme court nominee, Neil Gorsuch, was confirmed in April last year after Republicans blocked Obama's pick, Merrick Garland, claiming a confirmation was inappropriate before an election. Democrats have vowed to block the new nomination until after November's midterm elections, citing "the McConnell rule".
Tom Perez, the chairman of the Democratic National Committee, said: "Elections have consequences. The last vacancy was brazenly stolen by shameless Republican leaders with no respect for American democracy. We cannot let that happen again. In November, you won't just be deciding the next Congress, you will be deciding the direction America goes in for the next half-century."
Senator Chris Murphy, a Connecticut Democrat, added: "This is a red alert moment for the American people – we need all hands on deck to stop the court from taking a vicious, anti-worker, anti-women, anti-LGBT, anti-civil rights turn."
Lax laws and the farm economy structure allows teens to work the fields, and laborers say they see 'no alternative'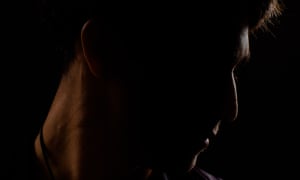 A youth farm worker from North Carolina. Workers are routinely exposed to six cigarettes' worth of nicotine daily, a study found. Photograph: Justin Cook for the Guardian
Luis is just 14 years old, but he already has an exhausting, dawn-till-dusk job. Last summer, he started working in tobacco fields in North Carolina.
Even though Luis is just a child – too young to buy cigarettes – it is legal for him to work here in the US.
The job pays about $7.25 per hour.
Monday through Saturday last summer, when he was not in school, he rose at 5am, dressed in long sleeves, jeans, boots, gloves, a hat and a plastic poncho, and waited for a van to drive him to fields as far as an hour away. He came home around 7pm. This is a typical schedule for laborers in this tough and dangerous job.
Workers in tobacco are vulnerable to heat sickness, in temperatures which regularly reach 32C (89F); they risk injuries from sharp objects; and, if the Trump administration has its way, children will return to using the most toxic agrochemicals.
Then there is the plant itself. Tobacco naturally contains water-soluble nicotine. This makes morning dew or overnight rain a vehicle for huge doses of nicotine. Workers are regularly exposed to six cigarettes' worth of nicotine per day, one study found. This can result in acute nicotine poisoning, called green tobacco sickness, characterized by nausea, vomiting, headaches and dizziness.
"I wanted to help my mama," said Luis. He wanted to work, he said, "to get school supplies, so she doesn't have to waste money". Luis is the son of a cervical cancer survivor. He started to work when his mother, a waitress, was too ill to hold a job. (The Guardian has changed the names of workers and their families in this report.)
"It's heavy work, very hard," said Luis's mother. But, she said, "there's no choice". Children need to help buy "clothes, shoes, their own things, things they need". She said it would be "better when they were older, but he started because I had cancer … He was helping me as well as my older son."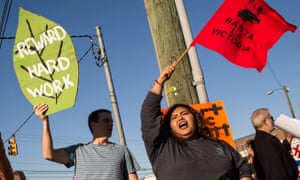 Activists shout during a Farm Labor Organizing Committee protest over pay and conditions in Durham, North Carolina. Photograph: Justin Cook for the Guardian
In the US, lax laws and an informal economy in which landowners are removed from hiring laborers allow teens to work growing and harvesting tobacco. This contravenes some tobacco companies' own policies, which often prohibit children from performing hazardous work.
The oil industry is building yet another pipeline – but Native American groups and progressive activists are fighting back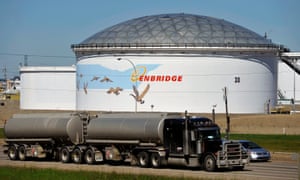 'Oil companies play rough, from high level politics down to the silliest street level.' Photograph: Dan Riedlhuber/Reuters
A

merican democracy appears to have had at least a little success this week: steadily mounting pressure – including everything from marches to tweets to phone calls to Congress – seems to have convinced President Trump that his approval ratings were in danger unless he back-pedaled on his administration's abusive immigration policies on the US-Mexican border. So now we have an executive order allowing children to be stored in cages alongside their parents — an admittedly mixed victory, but at least Trump was forced to retreat. And now we have a motivated army of progressive Americans ready to keep on fighting.
We'll need them, because another fierce political battle is about to boil over – this time on the US's northern border, with Canada. Local citizens there are mobilizing against another controversial project to pump oil from the Canadian "tar sands" to the US. Like the infamous Keystone pipeline through Nebraska or the Kinder Morgan pipeline through British Columbia, this pipeline – known by the innocuous name "Line 3" – has roused grassroots resistance from local citizens concerned about the project's environmental and cultural impact.
The coalition of citizen groups opposed to the massive pipeline has done its homework. Activists have studied the issue closely, producing evidence that, as usual with such a project, it will create next to no permanent jobs in the Minnesota area where the pipeline will run. They've detailed the enormous financial cost that an oil spill will exact. And they've calculated how much climate-wrecking carbon Line 3 will carry: the equivalent of about 50 coal-fired power plants.
But the beauty of the fight goes beyond this picture of citizens in action. Because indigenous groups along the pipeline route — the very people on whose backs the American republic was unwillingly planted, and who have had essentially no voice in the country's decisions – are playing a key role in the leadership of the anti-pipeline movement.
Not only have several tribal nations officially intervened in the case, sending lawyers to battle the pipeline, but tribal members have shown up by the hundreds to public hearings. Winona LaDuke, a veteran Native American activist and remarkable orator, has led a series of horseback rides along the pipeline route. Last year a group of Native youth organized a 250-mile "Paddle to Protect" canoe protest along the Mississippi River, which will be crossed twice by Line 3.
If you want to hear what the resistance sounds like, "No Line 3" by Native rapper Thomas X is a good place to start; if you want to get a literal taste of it, Native women have routinely brought traditional breakfasts like frybread with blueberry sauce to the various public hearings over the project, sharing the food with everyone right down to the pipeline lawyers. (If you'd like you can also order some wild rice from LaDuke's Honor the Earth, one of the premier indigenous environmental organizations on the continent.) If you thought the earlier Standing Rock pipeline protests were a one-time demonstration of indigenous power, you were mistaken: on both sides of the border North America's First Nations are standing up to remind the rest of us how badly we've abused the land we took.
All of this organizing and activism seems to be working; this winter an administrative law judge recommended against granting the Enbridge corporation the route it wanted for the pipeline. Minnesota's Department of Commerce, after a long analysis, found that the state had no need of another pipeline. 68,000 Minnesotans have presented the Public Utilities Commission with arguments against the pipeline, compared with 3,000 in favor.
But in a nation where corporate power usually holds sway, all that may not be enough. Oil companies play rough, from high level politics down to the silliest street level: on the first day of a recent series of public hearings, mysterious youth in "Minnesotans for Line 3" t-shirts flooded the line for seats in the hearing – only to disappear with their tickets, reducing the number of citizens who could get inside to voice opposition to the pipeline.
More on the Environment: