02 Jul
News and Analyses, A Foreign Perspective
Nearly all of these are English-edition daily newspapers. These sites have interesting editorials and essays, and many have links to other good news sources. We try to limit this list to those sites which are regularly updated, reliable, with a high percentage of "up" time.
"Stop intervention from the coastguard." Tripoli wants the motorway promised by Berlusconi. Salvini meets prime minister Fayez Al Serraj, while general Khalifa Haftar remains excluded from talks, as do tribal chiefs. Agreement still looks a long way off
Interior minister Matteo Salvini has issued a challenge to the NGOs but also to his 5 Star Movement (M5S) government allies over migrant rescues at sea. Because when he says that "Toninelli would have my full support if he ordered the coastguard not to respond to SOS calls", he seems to be making it clear how he will view failures to observe the hard line that he has imposed since arriving at the interior ministry. The doubts of infrastructures minister Danilo Toninelli over the total closure of Italy's ports are no secret, and last night's statements by deputy prime minister Luigi Di Maio on the possibility of allowing the NGO vessel "Lifeline" to dock in Italy were aimed at expressing support for him. His words sufficed to make it clear that the issue is now being openly discussed within government. Moreover, Salvini is undoubtedly aware that if the coastguard fails to respond to requests for help, it not only violates international treaties, but commits an offence under Italy's criminal code.
Difficulties in Libya
Salvini's quick trip to Tripoli showed how many obstacles there are to achieving collaboration in the fight against traffickers. Deputy president Abdulsalam Ashour's refusal to set up hotspots in Libya made it clear that the 20 patrol boats promised will not be enough, and above all that there are various stakeholders to satisfy.
At the moment Salvini has decided to speak exclusively to "the internationally recognized" authority, namely the Libyan prime minister, Fayez Al Serraj. General Khalifa Haftar remains excluded – at least officially – along with the tribal chiefs, a factor that is bound to affect the outcome of negotiations. Pending new requests – including the highway promised in 2013 by the then Prime Minister Silvio Berlusconi, which was once more discussed yesterday – the interior minister has upped the rhetoric against both NGOs and European states that fail to cooperate, France in particular. But the final effect has been that of deepening differences with his government allies.
Failure to rescue
Rome's rescue operations centre played an important role in the decision to let the cargo ship Alexandre Maersk dock in Pozzallo, but so did the watchdog for prisoners' rights, Mauro Palma, who in a letter to coastguard chief Admiral Giovanni Pettorino, stressed that the 113 migrants on board "were de facto deprived of their personal liberty, even though there was obviously no actual order to this effect which could form the basis of an appeal to judicial authorities, under article 5 of the European Convention on Human Rights". It also had to be taken into account that the vessel was not flying the flag of an NGO.
Matteo Salvini's intentions on this point remain clear: vessels in difficulty in international waters who call for help must be sent to Tripoli, Tunis or Malta, because coordinating operations should not be Rome's responsibility.


Police use pepper spray and non-lethal ammunition on rival protesters after rally
World Politics
Italy
Matteo Salvini, leader of the far-right League, wants to bring together 'all the free and sovereign movements'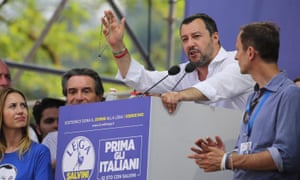 Matteo Salvini at the League's rally in Pontida, Italy, where he promised the party would rule for 30 years. Photograph: Gianpaolo Magni/EPA
The Italian interior minister and leader of the far-right League, Matteo Salvini, said on Sunday that he wanted to create a pan-European network of nationalist parties.
Buoyed by his burgeoning popularity since general elections in early March, the 45-year-old said the "League of the Leagues of Europe" would bring together "all the free and sovereign movements that want to defend their people and their borders".
He raised the idea during a keynote speech in Pontida, a small town in the northern region of Lombardy where thousands of League supporters gather each year for a boisterous rally.
"To win we had to unite Italy, now we will have to unite Europe," Salvini said.
Brimming with confidence, Salvini, who is also deputy prime minister, added that the League, formerly known as the Northern League, which started in the early 1980s as a northern Italian secessionist movement, would govern the country "for the next 30 years".
He also said that European parliamentary elections in 2019 would be a referendum on "a Europe without borders … and a Europe that protects its citizens".
Salvini's declaration comes two months after he attended a gathering of Europe's far-right leaders hosted by Marine Le Pen, the leader of France's National Rally (formerly the Front National), in the southern French city of Nice. At the event, the group, which included Geert Wilders of the Dutch Party for Freedom and Harald Vilimsky of Austria's Freedom party, launched their campaign ahead of the European elections. Le Pen, with whom Salvini has nurtured a friendship for some time, warned that a far-right majority in the vote could "change Europe".
The League came together with the anti-establishment Five Star Movement (M5S), led by 31-year-old Luigi Di Maio, in early June to form western Europe's first populist government after the March elections produced an inconclusive result. M5S emerged as the biggest single party in the ballot, but with support for the League surging from around 18% to 30% in polls since March, the party is now about equal to its ally.
Salvini's hardline stance towards immigration has helped the League to thrive since he became leader in 2013, when it languished at around 5%.

The party's anti-immigration policies currently have the upper hand within the coalition, with Salvini reiterating on Friday that Italy's ports would be closed to all NGOs involved in rescuing migrants from the Mediterranean for the entire summer, a period when arrivals peak, and that those on board "will only see Italy in a postcard".
His renewed pledge came the same day the EU's 28 leaders struck a deal on how to handle refugees and irregular migrants. The deal was reached amid intense pressure from Italy and after a ship carrying over 600 rescued migrants was forced to divert to Spain after Salvini blocked entry.
Salvini said his government's tough approach towards immigration and in negotiations with the EU had achieved more than its predecessors had done in six years.
"The happiness of a people comes first," Salvini proclaimed at the rally, drawing rousing cheers. Salvini asked rally attendees if they would "swear, yes or no, to liberate the peoples from this Europe".
"Yes!" came the resounding reply from the crowd.
Related: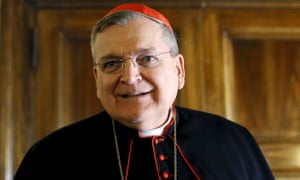 United States
Fresh from separating migrant children from their parents, the US president prepares to meet Her Majesty
Illustration: Chris Riddell
We're running out of time to deal with issues like climate change. Researchers must work at a local level to effect change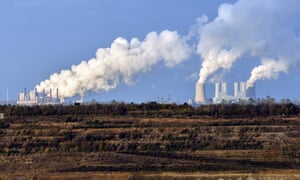 'Even with a large body of research-based evidence, we see the continuation of practices that are destructive to the environment – often in the name of economic development.' Photograph: Philipp Guelland/EPA
Sometimes, the sheer weight of the social, economic and environmental "wicked problems" in our world can leave us feeling frozen, unable to take any kind of action. But these are exactly the kinds of problems that researchers everywhere can help with – especially if we use methods that include and draw attention to the communities most affected by them.
First, let's define our terms: the concept of a wicked problem dates to the 1970s, when two researchers used it to describe problems with no obvious or clear solution. Today, they're also thought of as problems for which time to find a solution is running out.
A good example of a "wicked problem" is climate change, but there are
numerous others: lack of access to healthcare and clean water, to agricultural
land, sovereignty and self-determination, and the prevalence of poverty and
violence.
In the case of climate change, the bulk of evidence supports the findings of the US Climate Science Special Report, which states that it is "extremely likely" that human activities have caused warming since the mid-20th century. The report reviewed thousands of scientific studies from around the world that documented changes in surface, atmospheric, and oceanic temperatures; melting glaciers; diminishing snow cover; shrinking sea ice; rising sea levels; ocean acidification; and increasing atmospheric water vapour.
Yet even with this large body of research-based evidence, we see the
continuation of practices that are destructive to the environment – often in the name of economic development and job creation. A wicked problem seems a pretty apt description to my mind.
If the world seems to be ignoring the evidence produced and presented by
researchers, why should we have a key role to play? The answer lies in the methods we use and how these can strengthen the credibility of evidence.
We need to understand the history and not treat our participants like animals in the zoo that we have come to observe
First, our research needs to be transformative, by which I mean it needs to acknowledge that many of the problems we are facing are systemic – based in a system that is unjust, discriminatory and oppressive.
Thirty years of working with marginalised groups, including the deaf community, indigenous people, women, disabled people and members of minority ethnic groups has taught me that many of them don't think researchers are accurately capturing their experiences. What they tell me is that researchers come, take data and leave – and they see no substantive change.
Researchers can change this by being culturally respectful and responsive,
and by working with people to create a platform for a change that they see as valuable for themselves and their communities.

We can do this by not assuming that we understand the nature of a problem
and the nature of the solution. We also need to accept and take into account
that there are different perspectives on the same issue.

In the case of climate change, for example, there are two versions of
the same reality. One version is that climate change does not exist. Another
version is that a community where dozens of trucks drive over a bridge every
day has the highest rates of asthma, heart disease and cancer.
.To move forward we have to make both versions visible, examine the
consequences of both and ask ourselves who suffers and who benefits.
When we set out on our research, we must ask who needs to be included,
how we build relationships with people and work with them, how we can be transparent and understand that things may need to be flexible and change.
We need to understand the history and not treat our participants like animals in the zoo that we have come to observe.
Unless we put the systemic nature of the world's wicked problems out on the
table, we will not come up with solutions and our research will simply help
reinforce and perpetuate the status quo.
Researchers stand at an important point in history. They can be frozen in
their tracks, continuing to do research "on people": collecting, analysing and
reporting and moving on. Or they can work in a more inclusive way that stands a better chance of solving some of the world's wicked problems – and helping achieve economic and social justice.
Donna Mertens is an emeritus professor at Gallaudet University, Washington DC. She will be giving a keynote talk at the ESRC Research Methods Festival at the University of Bath on 4 July 2018.