04 Jul
News and Analyses, A Foreign Perspective
Nearly all of these are English-edition daily newspapers. These sites have interesting editorials and essays, and many have links to other good news sources. We try to limit this list to those sites which are regularly updated, reliable, with a high percentage of "up" time.
The McGlynn: Kick the Bastard out! Not only his church but also Australia.
Adelaide Archbishop Philip Wilson says he will lodge an appeal against his conviction for concealing child sexual abuse and won't immediately resign.
Key points:
Adelaide Archbishop Philip Wilson to appeal conviction for concealing child sex offences

Prime Minister calls for him to resign after Tuesday's 12-month sentence

Wilson refuses to resign unless appeal fails
In May, the 67-year-old was found guilty of concealing the sexual abuse of children between 2004 and 2006 at the hands of paedophile priest Jim Fletcher in the 1970s.
In a statement Wilson said he would not be quitting his post, despite the growing calls.
"I intend to lodge an appeal against my conviction to the District Court of New South Wales," he said.
"I am conscious of calls for me to resign and have taken them very seriously.
"However, at this time, I am entitled to exercise my legal rights and to follow the due process of law.
"Since that process is not yet complete, I do not intend to resign at this time."
He said if it was unsuccessful, he would offer his resignation.
"In the meantime, I have stood aside from all duties," he said.
"The legal process must now be allowed to proceed in the normal way and therefore I do not intend to make any further comment at this time."
Magistrate Robert Stone adjourned the matter to August 14 for Wilson to be assessed for home detention.
In sentencing, Mr Stone said "there is no remorse or contrition showed by the offender".
"I am of the opinion the sentence should not be suspended. It does not support the terms of general deterrence," he said.
"On that basis, the only available remaining option is full-time imprisonment or home detention."
Prime Minister joins calls for resignation
Earlier on Wednesday during a visit to South Australia, Prime Minister Malcolm Turnbull called on Wilson to resign.
"I'm surprised that he has not resigned," Mr Turnbull said.
"Clearly given the outcome of the case, the law suit, the prosecution — he should resign."
South Australian Premier Steven Marshall — who was with the Prime Minister on a visit to Kangaroo Island — agreed.
"I think that now there is no choice," he said.
"He's been convicted, he's been sentenced. I think it's untenable to remain in that position."

Appeals for help after Russian-backed offensive prompts mass displacement of civilians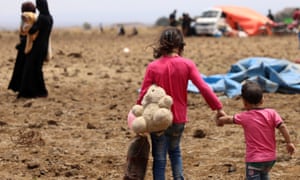 More than 160,000 civilians have headed towards the Golan Heights and the Israeli border despite a ceasefire in Deraa province. Photograph: Alaa Al-Faqir/Reuters
Fears are mounting about the safety of more than 270,000 civilians who have fled recent fighting in southern Syria, with aid groups and local doctors issuing urgent appeals for people stranded in the desert without shelter.
Fighting in Deraa province, a strategic area that borders both Jordan and Israel, has halted while negotiations for a surrender deal between rebels in the region and the Syrian government's main backer, Russia, continue. But UN officials say more than 270,000 people have fled their homes in the last two weeks, including 160,000 who have headed towards the Golan Heights and the Israeli border.
More than 200 civilians are believed to have been killed in the fighting in Deraa, which is meant to be a "de-escalation" zone with a ceasefire guaranteed by Russia, Turkey and Iran in place. The latest bout of violence began in mid-June after a year of relative peace, while the regime of Bashar al-Assad pursued military campaigns in other parts of the country.
"The humanitarian situation is bad," said one doctor in Quneitra, near the Golan Heights, who asked to remain anonymous owing to concerns for his family's safety. "It's a small area to which entire towns and villages have been displaced, and it's a major tragedy."
Deraa is symbolic to the Syrian opposition. Deraa city was the birthplace of protests in 2011 that spread throughout Syria before evolving into the rebellion against the Assad regime. Most of the opposition fighters in the region are members of moderate rebel groups, part of the Southern Front alliance backed by the US and UK, and managed from a command centre in the Jordanian capital, Amman.
Once one of the most powerful branches of the rebellion, the Southern Front has long been hobbled by the reluctant support of their backers and fractures within their own ranks. Western allies signalled last month they would not intervene militarily to protect their proxies.
The Assad regime and Russia turned their military attention towards Deraa after securing other large swaths of Syria, including Aleppo and eastern Ghouta, following a brutal siege and bombardment. The offensive in Deraa has followed a similar pattern of splitting rebel territory and negotiating "reconciliation deals", whereby rebels lay down arms and are either forcibly displaced to opposition-held territory north near the Turkish border, or remain under government authority.
Some parts of southern Syria have already surrendered, and a ceasefire has taken hold for two days amid negotiations between rebel groups and the Russians.
Medics say eight hospitals have been bombed since the offensive began on 19 June. Ahmad al-Dbis, an official at the Union of Medical Care and Relief Organisations, which manages hospitals in opposition-controlled parts of Syria, said three of its staff had been killed along with three other medical workers. In total, more than 210 civilians were killed and 500 injured, including rescue workers.

The Guardian's picture editors bring you a selection of photo highlights from around the world
Form gives parents two options, prompting objections from immigration advocates who say families are being misled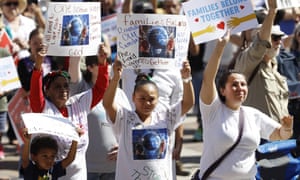 People wave placards during an immigration rally and protest in downtown Denver on Saturday. Photograph: David Zalubowski/AP
US immigration officials have been instructed to ask parents separated from their children under Donald Trump's "zero-tolerance" immigration policy to choose whether to return to their countries with – or without – their offspring.
The instructions, laid out in a government form, come one week after a judge ordered the Trump administration to reunite the roughly 2,300 migrant children who were ripped apart from their parents at the border.
The form, which was first reported by NBC News, presents two options to migrant parents as part of a notice for removal from the United States: "I am requesting to reunite with my child(ren) for the purpose of repatriation to my country of citizenship" or "I am affirmatively, knowingly and voluntarily requesting to return to my country of citizenship without my minor child(ren) who I understand will remain in the United States to pursue available claims of relief".
The Guardian was able to obtain the form and verify its authenticity.
The form stipulates that immigration enforcement agents must read its contents to detained parents in a language they understand. The majority of border crossings in question pertain to migrants fleeing violence in Central America and seeking asylum in the US.
Disturbing reports have already emerged about parents deported involuntarily without their children.
Immigration advocates have objected to the form, citing asylum laws that allow for migrants to pursue their claims even if they have been issued an order for deportation.
Lee Gelernt, a lawyer with the American Civil Liberties Union (ACLU), said the form did not provide an option for migrants to challenge their removal before a judge.
"The government is misleading parents into thinking they can only get their child back if they agree to removal," Gelernt told the Guardian.
The ACLU is leading a lawsuit to stop the Trump administration from separating families and to swiftly reunite parents and children.
Minors separated from parents and detained at US border tell of anguish – video
Eddy, 17, and Lilian, nine, were separated from their mother at the US border on 19 May. The family was fleeing violence in Guatemala – only to be ripped apart under the Trump administration's 'zero-tolerance' immigration policy. Eddy and Lilian's mother was prosecuted and sent to the T Don Hutto immigration detention centre in central Texas. For five weeks, she had no idea where her two children were. They had been left behind at a processing centre and then flown to foster care in Grand Rapids, Michigan – where they were held in separate homes.
The issue has emerged among the most controversial of Trump's presidency. Last week, a judge in the southern district of California ordered the US government to reunite parents with children under the age of five within 14 days and ordered that all other children separated from their parents be reunited within 30 days.
The Trump administration has nonetheless provided little clarity on its plans to reunite families. The Department of Homeland Security did not immediately return a request for comment when reached by the Guardian for more information about the process or how it was complying with the federal judge's order.
"Right now, we don't know of any comprehensive plan the government has," said Gelernt. "We're concerned both about whether they're going to meet the deadlines and whether there is noncompliance."
The ACLU is in the midst of negotiating with the government to get a list of every parent separated from a child. The parties are scheduled to appear before a court in San Diego on Friday, which marks another deadline set out by last week's preliminary injunction – that detained parents be allowed to speak to their children over the phone within a period of 10 days.
In the 26 June ruling, Judge Dana Sabraw ordered the Trump administration to stop deporting parents without their children unless the parent "affirmatively, knowingly and voluntarily" agreed to being removed from the country alone. It is not known how many parents were deported without their children prior to the judge's decision.
Government officials have privately acknowledged they are struggling to meet the judge's deadline to reunite families. According to a report in Politico published on Monday, staffers at the Office of Refugee Resettlement, the federal division that oversees unaccompanied migrant children, said they had yet to receive instructions on how to proceed.
The health and human services secretary, Alex Azar, testified before Congress last week that "several hundreds" of children who were being held in detention centers and migrant shelters had been reunited with parents or relatives. Azar estimated that as of last Monday, 2,047 children remained in the custody of the US government. Those numbers have not been independently verified.
A group of Democratic senators demanded further updates in a letter sent to the Trump administration on Monday.
"We are deeply concerned by reports of chaotic attempts to reunify parents and children that have been separated at the border," the letter, which was addressed to Azar and the secretary of homeland security, Kirstjen Nielsen, stated. "The hastily-signed order provided no clarity on how to reunify families, or how to handle families that have already been separated or new families that cross the border seeking asylum."
The letter sought a list of separated children, names of parents or adult relatives, and another list linking the two.

World Politics
United States
Intelligence committee finds 'further support' to conclusion that Vladimir Putin and his government aimed to boost Trump
A Republican-controlled Senate panel has said that further evidence has been found to support a US intelligence assessment that Russia interfered in the 2016 presidential election to help elect Donald Trump.
The Senate intelligence committee said "information obtained subsequent to publication" of a January 2017 report by US intelligence agencies "provides further support" to the conclusion that Vladimir Putin and his government aimed to discredit Hillary Clinton and boost Trump. No further detail was given.
The discovery was noted on Tuesday in a summary of initial findings from the committee's review of the January 2017 intelligence community assessment (ICA), which it said was a "sound intelligence product" backed up by evidence.
"The committee finds that the overall judgments issued in the ICA were well-supported and the tradecraft was strong," a statement released with the summary said. It said Russian cyber-attacks "continued well through the 2016 election".
Tuesday's publication by the committee further isolates Trump, who has repeatedly cast doubt on the conclusion that his campaign was aided by Putin and highlighted denials by the Russian president.
A special counsel, Robert Mueller, is investigating possible collusion between Russia and members of Trump's campaign team. Three campaign aides have pleaded guilty to lying to the FBI and Trump's former campaign chief, Paul Manafort, is in jail awaiting trial on charges of financial crimes.
Trump has nonetheless tried to discredit the inquiry as a partisan "witch-hunt" aimed at damaging his presidency. He is supported by a group of rightwing Republican congressmen led by Devin Nunes of California, the chairman of the House intelligence committee. Mueller is thought to be investigating whether Trump has tried to obstruct his investigation.
The Senate committee said on Tuesday that that during its review, it was consistently told that intelligence analysts were under "no politically motivated pressure to reach any conclusions".
In the January 2017 report, the CIA and FBI said they had "high confidence" in the conclusion about Putin favouring Trump while the NSA said it had "moderate confidence". The committee said the difference in confidence levels was "reasonable, transparent, and openly debated" between the agencies.
Richard Burr, the Republican chairman of the Senate intelligence committee, said in a statement that it "sees no reason to dispute the conclusions" of the January 2017 intelligence report. His Democratic vice-chairman, Mark Warner, said: "The Russian effort was extensive and sophisticated, and its goals were to undermine public faith in the democratic process, to hurt Secretary Clinton and to help Donald Trump."