08 Jul
News and Analyses, A Foreign Perspective
Nearly all of these are English-edition daily newspapers. These sites have interesting editorials and essays, and many have links to other good news sources. We try to limit this list to those sites which are regularly updated, reliable, with a high percentage of "up" time.

Only a court order stands between Khan al-Ahmar and the bulldozers. And if it goes, the West Bank will be split in two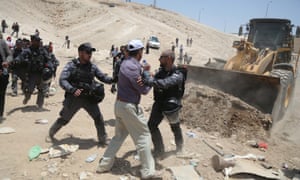 Israeli security forces intervene as Palestinians try to save their homes from demolition in Khan al-Ahmar. Photograph: Issam Rimawi/Anadolu Agency/Getty Images
Commuters speeding along the four-lane highway that connects Jerusalem to Jericho might not notice this tiny Bedouin village of fewer than 200 people tucked in the dip of two hills. Tents hoisted with chipped scrap-wood and sand-covered corrugated-iron shacks are home to once-nomadic families who settled after the Israeli army expelled them from the southern desert seven decades ago. Some residents work in nearby factories owned by Israeli settlers. Others herd sheep and goats on the scorching rocky terrain.
But Khan al-Ahmar's modest appearance belies its significance to many Palestinians as the keystone of their struggle for statehood – a community whose location is so strategic that, if they were removed, it might crumble hopes for a future country.
After years of resistance against Israeli demolition orders that say the makeshift village in the occupied West Bank is illegally built, last week brought what appeared to be final preparations for its destruction.
Security forces declared the area a closed military zone and blocked journalists and diplomats from entering. Bulldozers with military escorts rumbled in and began levelling the ground.
In the upper part of the village, Tahreer Abu Dahouk, a mother of four children all under 10, stood in her kitchen. A large blue plastic barrel held water, charred pots and pans hung on wooden hangers, and the roof was blackened by the soot from a fire pit. "We sleep afraid; we wake up afraid. They are serious," she said as border police in grey uniforms patrolled outside.
On Wednesday, when Israeli forces first entered, they wounded 35 Palestinians and arrested others, according to the United Nations. One Israeli soldier was also reported injured. "It was war here," said Abu Dahouk, who married into the village 14 years ago.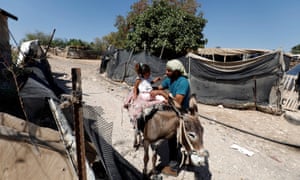 The Bedouin villagers say they are afraid. Photograph: Mohamad Torokman/Reuters
Outside her home is a small garden in the desert hills, a lone pomegranate tree bearing light pink fruit. "We are settled now," she said. "We refuse to leave. Leave us alone. This is the best place for us."
Khan al-Ahmar is one of several communities in the West Bank under threat. Since its people arrived decades ago as refugees, Israeli settlements built on occupied land – supported with water and electricity – have sprung up on the surrounding hilltops.
In contrast, the Jahalin tribe who live in Khan al-Ahmar are restricted on where they can roam with their livestock and Israeli authorities have not hooked up their homes to running water, electricity or a sewerage system. They have portable toilets, although opening their doors shows they are merely a closed box with a hole in the floor.
Homes have been ripped down in the past because their construction has been declared illegal while building permits are nearly impossible for Palestinians to obtain there.
Around 2km to the north is the Israeli settlement of Kfar Adumim, which has plans to extend closer to Khan al-Ahmar. On Thursday, settlers brought Israeli flags to a hilltop overlooking the village in a show of support for the demolition.
Others, a small group of people from Kfar Adumim, have gone against their neighbours and lobbied to allow the Bedouin to stay, saying the communities can coexist.
But the fight is bigger than that of two communities. The Palestinian government warns that removing the village is part of a broader push to annex the West Bank.
One of the few remaining Palestinian sites east of Jerusalem, its demise would contribute to the encircling of the holy city by Jewish settlements on one side, effectively blocking it off entirely from the West Bank. The move would isolate East Jerusalem, which Palestinians claim as their future capital.
Further Israeli settlement construction in the area, along a road leading to the Dead Sea, would divide the occupied Palestinian Territories in two, cutting the north from the south.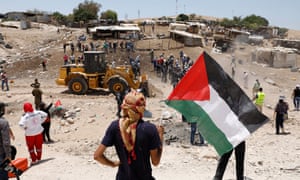 Palestinian demonstrators try to prevent an Israeli tractor from entering Khan al-Ahmar. Photograph: Abir Sultan/EPA
There would be no continuous Palestinian land on which to build a state, already profoundly fragmented by military rule as well as Israeli-built walls, roads and settlements.
"If this community disappears, the north will disappear from the south," said one resident, Faisal Abu Dahouk, 43. To him, the timing of the demolition is no coincidence. Israel's prime minister, Benjamin Netanyahu, has been bolstered by the Trump administration, which has already declared Jerusalem Israel's capital and cut aid to Palestinians. Trump's ambassador to Israel, David Friedman, is a hardline pro-settler lawyer.
World Politics
United States
Repeat of Xi Jinping's 2015 visit feared, when protesters complained they were kept away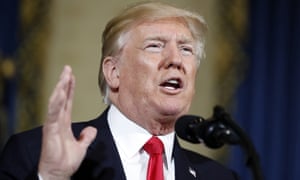 Donald Trump will spend most of his visit to Britain well away from demonstrations. Photograph: Alex Brandon/AP
Rights groups and activists have urged police to allow free protests during Donald Trump's visit to the UK this week, warning against a repeat of the alleged political pressure during an equally contentious visit by China's president.
Trump, who will be in Britain from Thursday to Sunday, is largely avoiding London, and will spend most of his time well away from demonstrations in places such as Chequers, Blenheim Palace and Windsor Castle, and Scotland.
The police forces covering the areas the US president will visit have promised to allow peaceful protests as far as is possible. But Amnesty International has warned against a repeat of the scenes in London when Xi Jinping visited in 2015.
Some activists seeking to protest against Xi complained they were corralled out of his view, allowing his route in London to be lined mainly by supportive Chinese nationals seemingly organised by Beijing officials.
Shao Jiang, a survivor of the 1989 Tiananmen Square protests who lives in the UK, complained to the police watchdog after he was arrested for allegedly conspiring to commit a public order offence by running into a road near where Xi was expected to pass holding two A4-sized protest signs.
Police raided his home, seized computer equipment and imposed tough bail conditions preventing him from joining any other anti-Xi protests.
Shao told the Guardian he believed such actions followed meetings between Chinese officials and UK representatives, including the police, before the visit. "They were very clear they wanted to avoid any embarrassment with the protests," he said.
Shao said he was concerned Trump's visit could be policed in a similar way. "I used to trust the police, but now I doubt them if they feel pressure from one of the superpowers on a policing operation," he said.
"If you want to protect democracy, a basic right is free expression and peaceful protest. If you lose these two rights, you lose democracy and other human rights."

Chief executive James Cross defends the organisation and Norwich Green councillor Denise Carlo takes it to task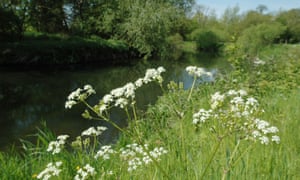 Cow parsley beside the River Wensum at Lyng, Norfolk, 'one of Europe's most important chalk streams'. Photograph: Graham Corney/Alamy
George Monbiot (4 July) should be assured that Natural England retains its strong voice for nature, along with its statutory role and driving mission to protect and enhance the country's wildlife, geology, habitats and landscapes. Our independence from government is firmly set out in the Natural Environment and Rural Communities Act 2006, which gives Natural England the powers to ensure that the natural environment is conserved, enhanced and managed for the benefit of present and future generations.
Like all public bodies we have met the challenge of reduced budgets by reducing our reliance on public funding and instead increasingly working in partnership with organisations and individuals that share our commitment to the natural world – such as the Back from the Brink partnership that has helped save 20 species from the threat of extinction. Furthermore, in recent years we have made great progress in creating the world's longest continuous coastal footpath and helped establish a "blue belt" of 50 marine conservation zones around England, with more in the pipeline. With the publication of the government's 25-year plan for the environment, Natural England has a key role to play in delivering this ambitious agenda to leave the environment in a better state.
James Cross
Chief executive, Natural England
•

Natural England is also failing in its duty to protect UK sites of European importance. In 2005, it voiced strong concerns over a road link across the River Wensum special area of conservation, one of the most important chalk streams in Europe. As a result, Norfolk county council recently opened a distributor road around north Norwich, having told the planning inspectors that a river crossing wasn't necessary for relieving traffic. Now the council is working up the "missing link" across the river and its flood plain, assisted by a dumbed-down Natural England which hasn't raised a squeak.
Cllr Denise Carlo
Green party, Norwich
More on the Environment: