09 Jul
News and Analyses, A Foreign Perspective
Nearly all of these are English-edition daily newspapers. These sites have interesting editorials and essays, and many have links to other good news sources. We try to limit this list to those sites which are regularly updated, reliable, with a high percentage of "up" time.



© Tolga Akmen, AFP | Britain's Foreign Secretary Boris Johnson leaves 10 Downing Street in central London after attending the weekly cabinet meeting on June 26, 2018.
Foreign Secretary Boris Johnson quit on Monday over Prime Minister Theresa May's plans to leave the European Union, the second resignation in a day leaving the British leader's Brexit plans all but in tatters.
After a day when the foreign secretary cancelled meetings for crisis talks at his official residence in central London, Johnson decided to walk from his job – just hours after May's Brexit minister David Davis did the same in protest at her plans.
The two resignations leave May badly exposed at the top of a government unable to unite over Britain's biggest foreign and trading policy shift in almost half a century.
It also puts a question mark over whether the leader will try to weather it and stand firm in her commitment to pursue a "business friendly" Brexit, or will be faced with more resignations and calls to quit herself.

New research says the family twice tried to obtain US immigration visas but were thwarted by red tape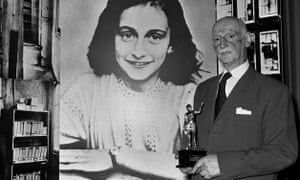 Otto Frank in 1971 holding the Golden Pan award, given for the sale of one million copies of The Diary of Anne Frank in London, Great Britain. Photograph: Dave Caulkin/AP
The family of the diarist Anne Frank twice tried to obtain US immigration visas but were thwarted by red tape, according to a new report published 76 years after they were forced into hiding in Nazi-occupied Amsterdam.
The report, issued by the Anne Frank House and the US Holocaust Memorial Museum in Washington, details the challenges faced by Jewish families looking to escape the anti-semitic Nazi grip on Europe and negotiate anti-refugee sentiment then building in the United States.
Gertjan Broek, a researcher at the Anne Frank House, and Rebecca Erbelding from the USHMM wrote in their report that Otto Frank, Anne's father, began seeking ways to escape to the US as early as 1938. At the time, the US had no specific refugee policy, but enforced quotas based on national origin.
The Franks were never officially denied visas, the report concludes, but their applications were rendered useless by "bureaucracy, war and time." One application was lost in a German bombardment of Rotterdam, the Netherlands, in 1940.
The family then faced difficulty obtaining new sets of papers and certificates under a regime that was systematically rendering Jews effectively stateless.
At the same time, the US public recorded increasingly negative attitude toward refugees. A May 1938 public opinion poll found that 67% of Americans surveyed said they wanted to keep German, Austrian and "other political refugees" out of the United States. By 1941, 71% of those polled said they believed the Nazis had established a US network of spies and saboteurs.
Franklin Roosevelt warned of "spying under compulsion", and the government acted accordingly, banning applicants with relatives in German-occupied countries. As the report states, "national security took precedence over humanitarian concerns".
As their prospects worsened, Otto Frank turned to Nathan Straus, an American businessman and friend from college, for help to immigrate. In early 1941, he wrote of the families' 1938 application and said he felt America was the only place his family could be safe.
"I am forced to look out for emigration and as far as I can see USA is the only country we could go to," Frank wrote in the April letter. By June, their hopes of emigration were crushed when both the US and Germany ordered the closures of their corresponding foreign consulates.
Within a year, the Franks had gone into hiding, where they were later joined by another Jewish family, the van Pelses. They hid for more than two years, before the group was discovered on 9 August 1944. Only Otto Frank survived the deportations to various concentration camps with Anne Frank dying in Bergen-Belsen in 1945 at the age of 15.
"The conclusion must be that both the Frank and van Pels families' attempts were not successful because of the rapidly growing numbers of applicants for a small number of openings on the quota lists; the unwillingness of the president, State Department and Congress (or the American people) to open immigration beyond the limits set by the 1924 quota laws or to endeavor to fill these quotas; and, eventually, the impact of the war on the possibility of escape," Broek and Erbelding wrote in the report, which was based on correspondence between Otto Frank and his friends as well as documents provided to the US authorities.
Following the publication of the report last week, Jewish groups have warned of potential contemporary parallels. Melanie Nezer, an official with The Hebrew Immigrant Aid Society, a Jewish nonprofit that helps resettle refugees, pointed to Donald Trump's travel ban and gutting of refugee resettlement programs.
"These nationality-based bans echo the policies that kept people from German-occupied countries out of the United States beginning in 1941," she told HuffPost via email. "Even though they were not explicitly the target of these policies, Jews were particularly impacted by them."
World Politics
Europe
Populism is gripping the heart of Europe. Those fighting it must reclaim the idea of the nation from the nationalists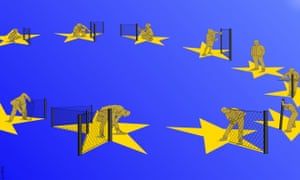 Illustration by Nicola Jennings
O

ne of the most memorable book titles in the English language is The Strange Death of Liberal England. Are we now witnessing the strange death of liberal Europe? As anti-liberal populism grips the very heart of Europe, threatening even the throne of the German chancellor, Angela Merkel, the danger is in plain view. There is a new political dividing line in Europe, at least as important as the old line between left and right. It splits existing parties and throws up new ones. It opens new fronts between nations as well as parties. On one side, there is the camp of Merkron (Merkel-Macron), on the other, that of Orbvini (Orbán-Salvini).
For all the important differences between Merkel and Emmanuel Macron on issues such as the eurozone, they both favour liberal, European solutions, based on international cooperation, inside the EU and globally. Hence Merkron. For all the differences between the Hungarian leader Viktor Orbán and the Italian populist deputy prime minister, Matteo Salvini, they both advocate illiberal, national solutions, scapegoating, excluding or expelling ethnically or culturally defined "others". Hence Orbvini. Spain's socialist prime minister, Pedro Sánchez, and the European council president, Donald Tusk, clearly belong in the Merkron camp, while the Bavarian CSU, the Austrian Freedom party, Jaros?aw Kaczy?ski's Law and Justice party (PiS) in Poland, and some (though not all) Brexiteers, belong under the chequered standard of Orbvini.
The battle between Merkronismus and Orbvinismo will shape European politics over the next year. As politicians limber up for European elections in the summer of 2019, the biggest party grouping in the European parliament, the European People's party, is desperately clinging on to Orbán's Fidesz party, and has even been making furtive overtures to Poland's PiS, for fear of the Orbvini camp forming a new alliance to compete with it. Playing off the name of his party, the Lega (League), Salvini threatens "a League of the Leagues of Europe". It's been a long time since a European election was so unpredictable.
By no means all the fractures inside the EU can be situated neatly along the Merkron-Orbvini axis. Disagreements about the eurozone and the next European budget, for instance, fall more along national than political lines. Brexit is 27 countries against one. But in terms of the way national democratic politics play into European politics, this is the new game in town.
At the moment, team Orbvini is clearly on the advance. Team Merkron looks as tired as the German and Spanish football teams in the World Cup, doggedly playing their system but not breaking through to score. Merkel's own future is very uncertain, while the Austrian chancellor, Sebastian Kurz, has become a pivotal player, currently leaning towards Orbvini.
The issue of immigration, around which the camp of Orbvini gathers its supporters, is at once real and symbolic. Following what the dissident balladeer Wolf Biermann vividly calls Merkel's "wonderful mistake" in 2015, a great many refugees did come to Germany in a very short space of time. More than 2 million east Europeans came to Britain after EU enlargement in 2004, and real concerns about housing, employment, healthcare and schools contributed to the Brexit vote. Italy, Spain and Greece have genuinely been struggling, with little help from their north European partners, to accommodate large numbers of both refugees and migrants, who risk a watery death in the Mediterranean.
Immigration is a symbolic issue, gathering concerns about culture and identity like metal filings on a magnet
Immigration is also a symbolic issue, gathering concerns about culture and identity like metal filings on a magnet. Levels of uncontrolled immigration into the EU have fallen dramatically since 2015, but that does not assuage people's feelings about how their countries have already changed. In a poll conducted by the Bertelsmann Foundation in 2017, an EU-wide average of 50% of those asked agreed with the statement "there are so many foreigners in our country, sometimes I feel like a stranger". In Italy the figure was 71%.
George Dangerfield, the author of The Strange Death of Liberal England, argued that the Liberals declined in early-20th-century England because they failed to respond to large new forces, including the movement for women's suffrage, the Labour movement and Irish nationalism. A hundred years on, the crisis of liberal Europe is mainly a result of forces that liberalism itself has created. Liberalisation, Europeanisation and globalisation have between them produced rapid, visible change in European societies.
For too many, it has felt like change for the worse. Exploiting these discontents, the populists tell a simplistic story about how pulling up the national drawbridge and "taking back control" will result in the restoration of an imagined golden past of good jobs, happy families and a more traditional national community. Meanwhile, the digital revolution, now advancing through machine learning towards artificial intelligence, means there will be even more disruptive change and insecurity, especially in the workplace.
The liberal fightback in Europe now has a formidable task list. It will be difficult enough to find rational, practical answers to the real problems of inequality and insecurity. We are only at the very beginning of working those answers out, and we face a rapidly moving target because of the pace of the digital revolution. Radical policies such as a universal basic income or a basic job guarantee will be required. Even if you have a new John Maynard Keynes, it takes time to get from the intellectual work of a Keynes to the election-winning programme of a Labour party under Clement Attlee.
Beyond this, liberal Europe has to find ways of addressing those deep emotional needs for community and identity that populists exploit. As you can see in every World Cup football crowd, national identity remains an incomparable source of passion and belonging. For the foreseeable future, it is an illusion to believe that any transnational or supranational identity can compete. While doing everything we can to strengthen a shared European identity, and indeed a global one (which the World Cup in some sense also represents), we cannot abandon the nation to the nationalists. To complement Europeanism and internationalism, we need a positive, civic patriotism, of the kind Macron is promoting in France.

United States