10 Jul
News and Analyses, A Foreign Perspective
Nearly all of these are English-edition daily newspapers. These sites have interesting editorials and essays, and many have links to other good news sources. We try to limit this list to those sites which are regularly updated, reliable, with a high percentage of "up" time.


As far-right League party's xenophobic rhetoric spreads across the country, priests call for tolerance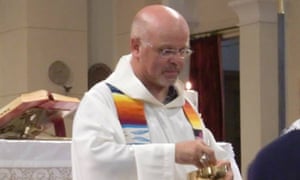 Gianfranco Formenton, a priest in Umbria, has long preached against racism.
Gianfranco Formenton, a priest in Italy's central Umbria region who has long preached against racism and in support of migrants, knows what it is like to clash with Matteo Salvini, the recently installed interior minister and leader of the far-right League party.
In response to the party's xenophobic rhetoric in 2015 – the year more than a million migrants arrived in Europe and 150,000 landed on Italy's southern shores – he put a sign up on the door of his church in San Martino di Trignano, a hamlet of the town of Spoleto, saying: "Racists are forbidden from entering. Go home!"
He immediately bore the wrath of Salvini, who wrote on Twitter: "Perhaps the priest prefers smugglers, slaveholders and terrorists? Pity Spoleto and this church if this man [calls himself] a priest."
Fr Formenton is also believed to have been the target of intimidation by far-right sympathisers when his rectory and home were ransacked a few days after Luca Traini, a failed League candidate in a local ballot, injured six Africans in a shooting in the town of Macerata in early February.
As the Democratic party, the biggest left-wing force in Italy, appears cowed in the face of Salvini's vitriolic immigration stance, fearing it will lose support, the interior minister's strongest opponents are priests such as Formenton.
But they are struggling to convince parishioners to welcome migrants, amid mounting adulation of Salvini, a Catholic who reportedly attends mass.
"We have a population that wants blessings from the church, processions and religious rites, but every time Pope Francis recalls migrants or the poor, they no longer listen," Formenton told the Guardian.
"There is an evil force of racism, and Salvini has contributed to this. He's been a magician in cultivating hate and manipulating anger. People of all ages have become racist because of the climate we're living in."
Knowing that many of his backers are devout Catholics, Salvini has exploited religion to galvanise support. The 45-year-old once again brandished a rosary and swore on the gospel to be "loyal to his people" while addressing thousands of ecstatic voters at the League's annual rally in Pontida, a town in the northern Lombardy region, last Sunday. His speech, during which he pledged to create a European-wide alliance against "mass immigration", came a few days after Mario Delpini, the Archbishop of Milan, pleaded for more humanity among Christians.
"Can they go to mass each Sunday and ignore the drama that is happening in front of their eyes?" said Delpini.
In the few days since Salvini's speech, more than 200 migrants have drowned in the Mediterranean.
Pope Francis also spoke out after Salvini, who is also deputy prime minister, blocked the Aquarius, a rescue ship with more than 600 people on board, from docking in Italy in June. "I encourage those who bring them aid and hope that the international community will act in a united and efficient fashion to prevent the causes of forced migration," the pontiff said.
At the same time, Salvini has been nurturing a relationship with US Cardinal Richard Burke, a fierce critic of Pope Francis and supporter of Donald Trump, as he strives to build consensus from within the church.
Cosimo Scordato, a priest at Saint Francesco church in Ballarò, a neighbourhood of Palermo and home to many migrants recently arrived in Sicily, compared Salvini's use of religious imagery to that deployed by Mafia bosses.
"Holding a rosary in front of thousands of supporters reminds me of Mafia bosses holding the Bible," Fr Scordato, who has been subjected to intimidation by the Mafia, told the Guardian.
"Mobsters believe themselves to be sort-of spokesmen of Christian values, they feel protected by the church and want to show people they have God on their side."
Scordato said he recently wrote a letter to Salvini encouraging him to see migrants as an opportunity in a country with a low birth rate and ageing population. He got no reply.
Fr Enzo Volpe, a Salesian priest in Palermo, said Christians have "forgotten about the Good Samaritan, who healed and took care of the poor".
"Young Italians are moving to the US and England in search of work and opportunities," he added. "What if these countries had stopped Italians at the border like Italy is doing with Africans? What's the difference? Is it because Africans are black?"
Fr Luigi Ciotti, one of the most popular priests in Italy, organised a protest this weekend, which invites people to wear a red T-shirt – the same colour worn by three-year-old Syrian Aylan Kurdi when his drowned body washed up on a beach in Turkey in 2015.

The weather in Britain is only a small part of a global pattern and as the Arctic warms, it will make extreme events into the new, and dangerous, normal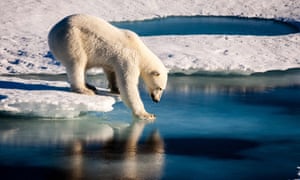 A polar bear tests the thin sea ice in the Arctic. Photograph: Mario Hoppmann/AFP/Getty Images
T

he British are parochial about weather. It is our cherished grievance, not to be shared with foreigners. Perhaps it is the fact that our weather tends to come from the west, across the Atlantic, and not from our neighbours in Europe (unless it's a "beast from the east") which reinforces the belief that our weather is a uniquely British problem. But though we cannot say definitively that the current heatwave is caused by carbon emissions, it fits the pattern of long-term changes that we call climate. It is part of a global phenomenon, even if not the most important part. The really significant change is happening in eastern Siberia at the moment, where a completely unprecedented heatwave is warming that Arctic coastline, with consequences that are unpredictable in detail but surely bad on a large scale.
Siberia is a vulnerable point in the global climate system for two reasons. The obvious one is the Arctic ice. The more that melts, the less remains to reflect heat back into the atmosphere. Water, being dark, absorbs heat better so there is a feedback loop set up. That is worrying, but it may be less dangerous than the feedback caused by the melting of the layer formerly known as the permafrost. This releases carbon and methane – more methane will be released from under the warming sea – and both are powerful greenhouse gases. Instability in the Arctic affects the whole of the northern hemisphere, as it increases the chances that the northern jet stream, will stick for longer than usual in a particular pattern. When that happens, the weather stops changing in the affected areas. Heatwaves are prolonged and so are cold snaps. Extremes of every sort, such as the rains in Japan which have killed more than 100 people, become more likely. What seems to be happening at the moment is that a fixation of the jet stream has produced the heatwave in Siberia as well as ours here. Again, this is yet another feedback loop. This is a heatwave which makes further, hotter heatwaves more likely in the future.
Although there is enormous uncertainty about the exact progression of climate change, the direction of travel is entirely clear. This is a problem that demands coordinated global action. The Paris accords are an effort in that direction, but they are being sabotaged. British, or English nationalism about the weather is mildly comical but the selfish and ignorant attitudes of the Trump administration are purely tragic for the whole world. Still, there is more chance of changing the climate than there is of changing the mind of Mr Trump. While the US continues to sulk on climate change and to be driven by short-term imperatives of profit, the best any British government can do is to prepare for a change in the weather here. In 20 years' time, the heat of the last week will no longer be news. It will be routine. The effect on old people, on schools, and on hospitals will be grim. A responsible government would be planning for this perfectly foreseeable outcome. Ours, however, is otherwise  preoccupied.

World Politics
Australia
The theme of this year's Naidoc Week is 'Because of her, we can!'. This recognition is overdue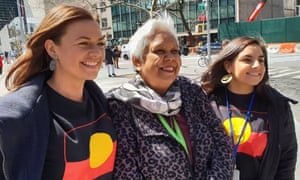 'We advocate fiercely for our own and work tirelessly every day for change.' Pictured: Thara Brown, Jackie Huggins and Thalia Briggs Photograph: National Congress of Australia's First Peoples
Aboriginal and Torres Strait Islander women possess a strength and resilience which most people cannot even begin to comprehend.
We are the backbone of our communities. We are the life-givers, the nurturers and the carers. We are equally leaders, elders, role models and activists. We advocate fiercely for our own and work tirelessly every day for change.
We are survivors, and we are fighters.
We are the roots of the oldest known continuing culture on Earth. We have overcome the odds just by being here, living, breathing and fighting, every day.

A girl with friends and family. Photograph: Darrian Traynor/Getty Images
The theme for this year's Naidoc Week, "Because of her, we can!", is a long overdue recognition of the incredible achievements, strength and resilience of Aboriginal and Torres Strait Islander women. I hope that it will also inspire the next generation of our women to walk in their mothers' and grandmothers' and ancestors' footsteps and continue to pave the way for future generations, so they don't have to face the same challenges we have faced.
It's been over 30 years since I was on the steering committee for the Aboriginal Women's Task Force, one of a number of proud and strong Aboriginal and Torres Strait Islander women who led a nationwide consultation with our women, publishing our findings in the 1986 Women's Business Report.
We wanted our voices heard and governments to take action.
Since those years, we've had some wins but more losses. We have seen change, but the pace has been glacial. It is simply not enough. To my mind, it is unacceptable.
No one today is responsible for what the colonisers did to us. For the violence, the dispossession, the massacres, the rapes, the Stolen Generations, and the brutal, systematic attack on our culture, our families, our communities, our vitality. But every single person who lives in Australia today is living on black land and owes us a debt of gratitude. They have benefitted from our dispossession.
Yet, the needs and rights of Aboriginal and Torres Strait Islander women are continually systematically ignored. We continue to face very significant challenges, and the governmental response continues to be characterised by inaction and apathy.
While we represent 3% of the Australian population, we represent 34% of the 2,600 female prisoners in Australia. We are the fastest growing prison demographic in the country, if not the world. We hear so much of the prison population in the United States, but our incarceration rate clearly surpasses theirs.
Our children are being taken away from us at alarming rates. Aboriginal and Torres Strait Islander children are 9.8 times more likely to be placed in out of home care than non-Indigenous children.
Our children's mortality rate is double the rate for non-Indigenous children.
One in three Aboriginal and Torres Strait Islander women are victims of family violence in our lifetimes, double the rate for non-Indigenous women.
There is a 9.5 year gap in life expectancy between non-Indigenous and Aboriginal and Torres Strait Islander women. We have significantly higher rates of morbidity, heart disease, obesity, smoking and substance abuse problems.
Forty-five per cent of our peoples suffer from a disability.

Great Britain
Maria Caulfield and Ben Bradley become latest to reject Theresa May's proposals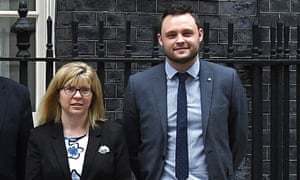 Maria Caulfield has resigned as Tory vice-chair for women and Ben Bradley as vice-chair for youth. Photograph: Leon Neal/Getty Images
United States
Embassy advises US citizens to 'exercise caution if unexpectedly in the vicinity of large gatherings that may become violent'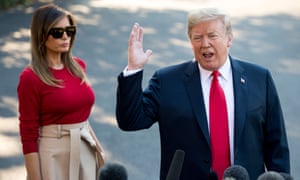 Donald Trump with first lady Melania on Tuesday morning. Photograph: Saul Loeb/AFP/Getty Images
The US embassy in London has warned Americans in the British capital to keep a low profile during Donald Trump's visit later this week in case protests against him turn violent.
Although Britain regards the United States as one of its closest allies, many Britons see Trump as crude and opposed to their values on a range of issues. His comments on militant attacks in Britain and his re-tweeting of anti-Muslim videos posted by a leader of a far-right UK party sparked anger.
More than 50,000 people have signed up to demonstrate in London on Friday against his visit although a counter-gathering to welcome him is also planned.
"Numerous demonstrations are being planned for July 12 to 14 2018, surrounding the visit of the president of the United States to the United Kingdom," the US embassy said in the alert on its website.
"Several of the events are expected to attract large crowds and there will be road closures in connection with those events."
Its advice to US citizens was to "keep a low profile" and "exercise caution if unexpectedly in the vicinity of large gatherings that may become violent".
Trump arrives in Britain on Thursday after the Nato summit in Belgium and will stay overnight at the central London residence of the US ambassador where a high metal security fence was erected outside.