11 Jul
News and Analyses, A Foreign Perspective
Nearly all of these are English-edition daily newspapers. These sites have interesting editorials and essays, and many have links to other good news sources. We try to limit this list to those sites which are regularly updated, reliable, with a high percentage of "up" time.


Immigrants allegedly struggled for breath, fainted and vomited on a day-long journey during which they were denied food and water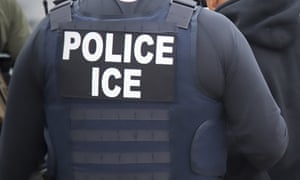 The women feared 'they were going to experience their last breath together in that van', said an ACLU attorney. Photograph: Charles Reed/AFP/Getty Images
Immigration authorities in California shackled nine women in a hot windowless van for hours, causing them to struggle for breath, faint and vomit, according to a new lawsuit that details claims of extreme suffering during a day-long journey last year.
The American Civil Liberties Union of Northern California, which filed the suit on Tuesday, alleged that the women were also denied food and water for roughly 12 hours during a 24-hour journey on a hot summer day in 2017, and that they experienced physical injuries, medical complications and psychological damage during the protracted transfer.
"The women all thought they were going to die, that they were going to experience their last breath together in that van," said Vasudha Talla, an ACLU staff attorney.
"The stench, the heat, the crying, the screaming – it was very traumatic for the women," Talla said, adding that the women were "treated like cargo".
The lawsuit, which alleges a pattern of "burdensome and lengthy voyages", is seeking records on transportation practices and policies. It comes at a time when Immigration and Customs Enforcement (Ice) and US border agents are facing intense scrutiny over their treatment of people in custody. The Trump administration's "zero-tolerance" policy led to the separation of thousands of children from their families, with the government failing this week to meet a court-ordered deadline to reunite them.
According to the ACLU and legal filings, the women were detained in a facility in Richmond in northern California when they were woken up in the early morning hours of 17 July 2017 and given little information about where they were going. One of the women, Floricel Liborio Ramos, detailed her account in a blogpost and in a formal claim with Ice, which the Guardian has reviewed.
Liborio Ramos, a 38-year-old mother of three, at first thought Ice was preparing to release her. But instead, officers shackled her wrists and ankles and transported her and other women to San Francisco, placing them in a cold room she described as an "ice box", the claim said. The women eventually received a sandwich and water bottle at around 10.30am and were later transferred to another city, Gilroy, in a bus without access to a bathroom, Liborio Ramos said.
The women were put in a van that was dark, had no windows, no air circulation and no air vents and looked like it was "used for animals", she continued. The driver ignored their cries for help, including from one woman who suffered from some kind of phobia and was screaming "in desperation", the claim said. The shackled women tried to support each other and were blowing air on one other in an attempt to stay cool, Liborio Ramos said, but one of them began throwing up and fainted.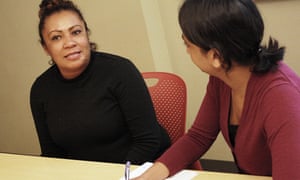 Floricel Liborio Ramos, left, with Vasudha Talla, an attorney. Photograph: Courtesy ACLU of Northern California
When the fainted woman did not respond, the women thought she might have died, but the driver yelled at them to shut up and ignored their banging and pleas, the claim said, adding that he was texting and twice veered off the road.
Liborio Ramos said she believed they would all die and began to pray: "I thought about not seeing my children again, not saying goodbye."
Hours later, they arrived in Fresno and were given food and water at around 10.30pm for the first time since the morning, Liborio Ramos said, adding that officers only unshackled one of her hands so she could eat. By the time they arrived and were processed at their destination in Bakersfield, about 300 miles south of their original location, a full day had passed, the claim said.
One woman was denied critical diabetes medication during the trip, and another rolled her ankle while being transferred, according to the filings.
The ACLU is also seeking records on G4S Secure Solutions, a contractor and private security company that provides Ice's transportation services. G4S, which has faced scrutiny over its treatment of immigrants in the UK, did not immediately respond to an inquiry.
Ice declined to comment on the litigation. A spokesman said in an email that the agency "provides safe and humane conditions for all individuals in our custody and adheres to rigorous national standards regarding the transfer of detainees".

World Politics
United States
US president says Berlin's relationship with Moscow is 'inappropriate' in tirade on opening day of summit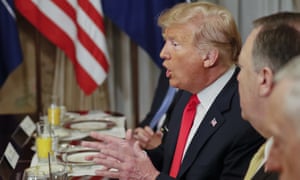 Donald Trump said Germany was totally controlled by Russia. Photograph: Pablo Martinez Monsivais/AP
Donald Trump launched an extraordinary tirade against Germany on the opening day of the Nato summit, accusing Berlin of being a "a captive of the Russians" because of its dependency on energy supplies.
Trump, at his first meeting of the summit – with the Nato secretary general, Jens Stoltenberg – described the relationship between Germany and Russia as "inappropriate".
Nato officials had been nervously awaiting the first meeting as an indicator of how Trump, who arrived in Brussels on Tuesday night, was going to behave over the next two days. Within minutes, they had their answer.
This summit is shaping up as the most divisive in Nato's 69-year-old history. Normally Nato summit are mostly fixed in advance, and proceed in an orderly fashion. Trump's first words signalled this one is not going to be like this.
He complained that German politicians have been working for Russian energy companies after leaving politics and described this as inappropriate as well. Germany is totally controlled by Russia, Trump said.
His comments were linked to the president's push for other European countries to pay more for its defence needs, in particular Germany. The US should not have to pay the biggest share of Nato defence expenditure while Germany paid just over 1% of GDP.
"I think it is unfair," Trump said. Other presidents has raised European defence spending levels in the past but he is intent on dealing with it. "We can't put up with it," he said.
Germany's plan to increase its defence expenditure to the Nato target of 2% of GDP by 2030. was not good enough, Trump said, adding: "They could do it tomorrow."
Study shows poor air quality leads to health problems and 'should serve as a warning'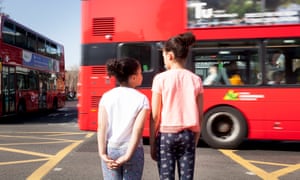 The study found that when air pollution spiked there was a large increase in hospital admissions and visits to GPs with breathing problems. Photograph: Alicia Canter for the Guardian
Air pollution leads to spikes in health problems and drives up hospital admissions and visits to the GP, according to a new study.
The report proves an "absolutely clear" link between poor air quality and health problems and researchers said it should serve as a warning to politicians about the serious impacts of toxic air on public health.
"The patients we looked at, who all suffer from lung conditions, are to my mind the canary in the coalmine on this issue," said one of the report's authors, Prof James Chalmers, from the respiratory research in the school of medicine at Dundee. "They are the first and most seriously affected by air pollution but it can affect us all."
The findings come amid growing concern about the illegal levels of air pollution in the UK and the impact on people's health – particularly children.
Last week a medical expert said the hospital admissions of a girl who died in an asthma attack at the age of nine showed a "striking association" with spikes in illegal levels of air pollution around her home in London.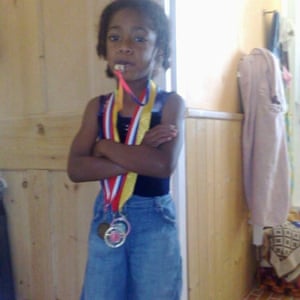 Ella Kissi-Debrah, who died in an asthma attack that showed a 'striking association' with spikes in illegal levels of air pollution around her home in London. Photograph: Family Photo
The family of Ella Kissi-Debrah are now calling for a new inquest into her death following fresh evidence that air pollution was a contributory factor.
Today's report is one of the most comprehensive carried out in the UK and studied nearly 15 years of data for air pollution levels in Dundee, Perth and the surrounding area.
Those figures were matched to medical records of 450 patients who suffer from bronchiectasis, a long-term chronic condition similar to COPD which can cause a persistent cough and breathlessness as well as frequent chest infections.
Chalmers said the results were stark.
"When we looked at these two sets of data side-by-side the links between the periods when air pollution is at its worst and when these patients are having to seek assistance is absolutely clear.
"We found that on days when air pollution spiked there was a large increase in admissions to Ninewells hospital and Perth Royal Infirmary with breathing problems and visits to GPs with breathing problems, known as exacerbations."
Ian Jarrold, head of research at the British Lung Foundation, said although it was "well-known" that people with lung conditions are the first to become breathless when exposed to air pollution, today's report proved a "a clear link between high levels of air pollution and increased numbers of patients with breathing problems at hospitals and GP surgeries".
"The additional costs faced by the NHS in treating patients with lung conditions due to high exposure to air pollution can no longer be ignored," he added.
"Improving air quality is not only good for patients with lung disease, it makes economic sense for frontline health services across Scotland and the UK. Tough measures are needed to reduce the level of vehicle emissions in towns and cities across the UK, so that everyone can breathe easier."
The UK government has lost three times in the high court for failing to deal with illegal levels of nitrogen dioxide pollution and is now being taken to Europe's highest court. Last month MPs from four select committees said serious concerns remained over the government's commitment to reducing the impact of air pollution on public health.
Today's report found the impact of air pollution was worst near heavy traffic and in the summer, when hot, calm days raised the levels of toxic air people were breathing.
More on the Environment