14 Jul
News and Analyses, A Foreign Perspective
Nearly all of these are English-edition daily newspapers. These sites have interesting editorials and essays, and many have links to other good news sources. We try to limit this list to those sites which are regularly updated, reliable, with a high percentage of "up" time.


Garrett Matthias, who died of a rare cancer, had a hand in authoring unique obit now garnering attention in US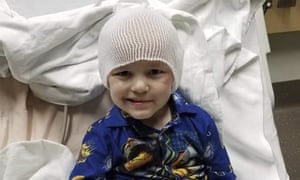 Garrett Matthias, of Van Meter, Iowa, asked for 'five bouncy houses' at his funeral. Photograph: Emilie Matthias/AP
A unique memorial service set for Garrett Matthias, a five-year-old from central Iowa, is matched only by the one-of-a-kind obituary the preschooler had a hand in authoring.
Garrett died 6 July of a rare cancer that attacked his temporal bone and cranial nerve. His obituary, which is now garnering national attention, includes details of some of the painful treatments he endured.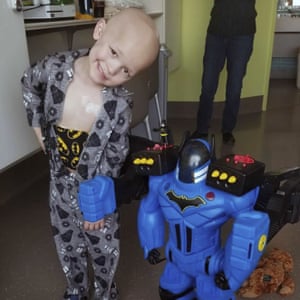 Garrett Matthias at a hospital in Iowa City. Photograph: Emilie Matthias/AP
But it's his funny take on life and death that's getting noticed.
His obit notes his likes: playing with his sister, his blue bunny, thrash metal music. And his dislikes: "pants, dirty stupid cancer", and "the monkey nose that smells like cherry farts".
The obit was compiled by his parents, Emilie and Ryan Matthias, who began asking Garrett questions about adult topics such as funeral and burial preferences when they learned from doctors last month that his cancer was terminal.
His responses, his mother said Friday, made up the obituary.
Asked about death, Garrett responded he was "going to be a gorilla and throw poo at Daddy!" Asked whether he wanted to be buried or cremated, he replied: "I want to be burned (like when Thor's mommy died) and made into a tree so I can live in it when I'm a gorilla."
And he was specific about the kind of affair he expected his funeral to be.
"Funerals are sad," he said. "I want five bouncy houses (because I'm five), Batman and snow cones."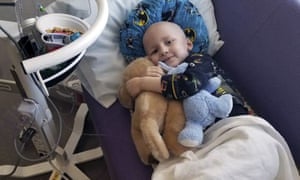 Garrett Matthias loved his blue bunny. Photograph: Emilie Matthias/AP
The obit closes with his last message, "See ya later, suckas! – The Great Garrett Underpants."
Garrett's memorial service on Saturday will take into account many of those last requests, including the five bouncy houses. Besides snow cones, carnival games and fireworks, an archer will shoot a flaming arrow on to a small boat carrying Garrett's ashes in a neighbor's pond.
The obituary says a private burial of Garrett's ashes "will be held at a later time, once his parents figure out how the hell to get his ashes made into a tree".

Pacific walruses, Tapanuli orangutan twins and a moon bear are among this week's pick of images from the natural world
World Politics
Great Britain

On his UK visit, the president gave Britons a glimpse of life after a hard Brexit: one of humiliation by a ruthless exploiter 

Theresa May and Donald Trump at Chequers. 'Only with democratic leaders does he like to play the tough guy.' Photograph: Jack Taylor/Getty Images
V

ladimir Putin must be dreading Monday's edition of Komsomolskaya Pravda, Russia's big and breezy tabloid. It will doubtless splash on an explosive interview with Donald Trump ahead of his visit to Moscow, in which the US president will slam Putin's handling of the war in Syria, suggest US-Russian relations are doomed and lavish praise on the Russian leader's "very talented" rival. Poor Vladimir must be quaking in his boots.
Oh wait. No interview like that is coming, and not only because Putin would never allow it. Trump himself wouldn't dare speak so harshly of his Russian counterpart, just as he only ever has words of comfort and admiration for Xi Jinping of China, Mohammed bin Salman, the crown prince of Saudi Arabia and, these days, Kim Jong-un of North Korea. When he meets tyrants and dictators, Trump – the great disruptor, the supposedly fearless straight talker – suddenly remembers his manners. If the hand he's shaking belongs to a strongman, he bows and scrapes, unctuously deferential to the diplomatic niceties and protocols.
Only with democratic leaders does he like to play the tough guy, visiting humiliation on those nations that have stood faithfully at the US's side for decade after decade. Russia meddled in the US's democratic process in 2016 – as much an attack as if Moscow had launched a physical strike on a military base, as FBI agent Peter Strzok told a congressional hearing this week – but for Putin, Trump cannot bring himself to utter a harsh word.
Instead it is Britain, whose bond of blood with the US should not need spelling out, that offers up a full-dress, all-but-state banquet in Winston Churchill's birthplace, followed by tea on Friday with the 92-year-old monarch and an itinerary that allows him to chopper around Britain pretending there aren't crowds below who loathe him – and what does the country's prime minister get in return? A series of insults calculated to undermine and weaken her, delivered by means of the country's bestselling newspaper.
Theresa May should not take this too personally. Trump behaves appallingly to all democratically elected leaders and especially women, as Angela Merkel can testify: witness his public upbraiding of Germany at this week's Nato meeting in Brussels, a tirade against an ally with next to no precedent in modern diplomacy. Afterwards, of course, Trump insisted he and Merkel have a great relationship, which only confirms both how devalued language is when it issues from the mouth of this president and the bullying pattern that is the abuser's hallmark: a punch followed by soothing words of reassurance and the promise that things will be better in future, so long as you do as he says.
Curiously, those arch-conservatives and self-proclaimed patriots who one might have imagined to be sticklers for courtesy and diplomatic etiquette have been unexpectedly indulgent. Who should pop up on the radio to defend Trump but Jacob Rees-Mogg, who was so incensed when Barack Obama warned in 2016 that a Brexiting Britain would be at the "back of the queue" for a trade deal with the US, that he declared: "No true honest Briton is going to be told what to do by a Yankee president." Yet on Friday, Mogg found it "perfectly reasonable" that a different Yankee president was telling the Brits what was good for them. Funny how flexible these stout defenders of British sovereignty can be. Allowing Brussels the tiniest say in our affairs would be the greatest threat to the kingdom since the 13th century. But when a sympathetic US president tells them to jump, they ask how high.
It's tempting to think that Trump is just a mercurial, unhinged man-baby – like the blimp in the London sky on Friday – whose mood swings have to be managed: a tantrum to the Sun, then calm at Chequers. But that's a misreading. Yes, Trump is wild and volatile, but if he lashes out it's only ever in one direction. There is strategic method to his madness.
In geopolitics, his targets are always the same: the forces of multilateralism, cooperation and international order, whether it's Nato, the EU, the UN or even the G7. He wants to see those bodies weakened and destroyed, replaced by a dog-eat-dog world of single states, dealing with each other one-on-one. In that world, the US would be the biggest dog, and get to snarl and snap at all the rest.
The implications for Britain as it contemplates Brexit could not be starker. The Brexiteers hold up a US-UK deal as if it's the great prize of "liberation" from the EU. But Trump's enthusiasm for it should give them pause. Does he really want to see us out because he wants Britain to prosper, big softie, son of a Scottish mum that he is? Or is it more likely that he relishes the chance to negotiate a deal with a needy and relatively small UK, rather than a 28-member EU with enough economic clout to sit at the table with the US as an equal?
Trade analysts say that, at most, a UK deal with the US could add 0.3% to Britain's GDP, compared to the much bigger loss incurred by our leaving the single market. As the weaker party in talks, Britain would be under pressure to open itself up to US chlorinated chicken and big pharma.

Theresa May should have grasped that this US president is an enemy of stability in Europe. Now she should learn from her mistake
Key moments from Trump and May's joint press conference – video
I

t may once, but oh so briefly, have seemed like a good idea to invite Donald Trump to Britain. But for Theresa May it all turned into a wrecking visit by the ally from hell. To make things worse, it was entirely her own fault. And yet, strange though it is to relate, some good may unexpectedly have come from the Trump visit.
The British government did its absolute best – given that the streets of the cities were full of protesters – to lay on a glittering welcome for Mr Trump this week. Blenheim, Sandhurst, Chequers, Windsor – you don't get much more in the way of British establishment red carpet than that. But this reckoned without the Trump character and, more sinisterly, the Trump political project. The president undermined Mrs May before he even left America. He bullied and lied at the Nato summit in Brussels. He then gave an explosive and deliberately destabilising interview to Rupert Murdoch's Sun on the very day of his arrival in Britain.
This guaranteed that Friday's press conference at Chequers would be purgatorial for Mrs May and maybe even a little chastening for the president and his team. And so it proved, in spite of what had clearly been the private reading of the diplomatic equivalent of the Riot Act to Mr Trump. But it was not just the rudeness that mattered – though rudeness does matter, a lot, both in personal and in public things. It was the political impact and consequence. That unmistakable consequence is that Mr Trump's America can no longer be regarded with certainty as a reliable ally for European nations committed to the defence of liberal democracy. That is an epochal change for Britain and for Europe.
Everything about this disastrous and embarrassing presidential visit could have been avoided with more thought and more political sense. But Mrs May and her advisers rushed to Washington in January 2017 to offer a state visit to a president who had barely entered the White House, whose measure as an ally they had not yet properly taken, but who already had it in his character and his power to transform the event from a relatively harmless occasion into a deeply wounding one. It was a shameful and stupid misjudgment. The hostile public reaction was immediate and without precedent. Everything that has happened this week confirms that the Trump visit should not have taken place.
Mrs May should have grasped from the very start that Mr Trump was not an ally when it came to her Brexit strategy. Mr Trump wants to break up international organisations like Nato and the EU. He embraced Brexit on that basis. He saw it as the start of a swing back towards nativist, illiberal, often racist nationalist politics, of which his own election was a further example. He made no secret of his wish to promote other nativist movements on the right. Other European leaders understood this danger, notably Angela Merkel. Mrs May failed to do so. Mrs May rightly wanted a close post-Brexit relationship with the EU, a stance that led in time to the Chequers showdown with her Brexiteer ministers a week ago. But she failed to see that Mr Trump's US has a stronger commitment to the weakening of the EU than it does to a Britain that wants the EU to prosper.
Out of that failure came the Sun interview. In the interview, Mr Trump expressed hatred for the EU, support for hard Brexit, unwillingness to strike a trade deal with the UK, contempt for Mrs May, support for Boris Johnson, hostility to immigration, and offered his barely coded belief that the UK – and Europe – is "losing your culture". The interview, its content, its timing, and the fact that it was given to Mr Murdoch's flagship anti-EU tabloid, was a deliberate hostile act. For Mrs May, fighting to control her party on the dominant issue facing Britain, it was simply a stab in the back. But it wasn't fundamentally personal. It was a declaration of hostility to Britain and Europe and the values they stand for.
A president who supported the Atlantic alliance, the stability of Europe and liberal democratic values – in short, every other US president of the postwar era – would never have done such a thing. Such a president would have tried to help, would have seen the EU-UK problem as one that needed solving, and would have used his influence to get America's European allies to find a shared way forward after Brexit. Such a president would have been doing the right thing.

United States
Deputy attorney general Rod Rosenstein announces that 12 individuals have been charged as part of the investigation into Russian interference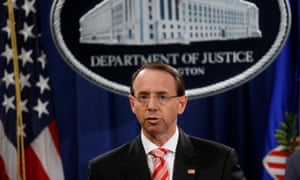 Rod Rosenstein holds a news conference to announce the indictments on Friday in Washington DC. Photograph: Leah Millis/Reuters
A dozen Russians were criminally charged on Friday with hacking and leaking the emails of senior Democrats during the 2016 presidential election campaign.
Grand jury indictments against the 12 alleged Russian intelligence officials were announced by Rod Rosenstein, the deputy US attorney general, at a press conference in Washington.
"The internet allows foreign adversaries to attack America in new and unexpected ways," said Rosenstein. Lamenting what he called "partisan warfare" in the US around the ongoing Russia inquiry, Rosenstein said: "The blame for election interference belongs to the criminals who committed election interference."
The charges were filed in Washington by Robert Mueller, the special counsel, who is investigating Russian interference in the election and possible collusion with members of Donald Trump's campaign team.
They were announced just as Trump arrived at Windsor Castle to meet the Queen, and as he prepared to meet Vladimir Putin, Russia's president, on Monday. Rosenstein said he had briefed Trump on the developments.
Rosenstein said those charged were operatives of the GRU, a Russian military intelligence agency. He said they had "corresponded with several Americans through the internet", including an associate of the Trump campaign.
Roger Stone, a longtime adviser to Trump, previously acknowledged that he had exchanged messages with one of the online personas accused on Friday of being a front for Russian intelligence, but he denied knowing that true identity.
Stone told the Guardian on Friday that his correspondence about the hacked documents was "benign based on its content, context and timing" and "provides evidence no of collaboration or collusion". He confirmed to ABC News that he believed he was referenced in the indictment.
Thousands of emails taken from the accounts of staff at the the Democratic National Committee (DNC) and John Podesta, Hillary Clinton's campaign chairman, were published by outlets including WikiLeaks during the 2016 campaign.
The leaks threw the Democratic party into turmoil. The disclosure of embarrassing internal memos prompted the resignation of Debbie Wasserman Schultz, the DNC chairwoman, on the eve of the party's convention in July 2016.
US intelligence agencies concluded that the accounts were hacked as part of a wide-ranging operation ordered by Putin to damage Clinton's bid for the presidency and assist Trump's campaign.
Trump has consistently tried to cast doubt over the conclusions of the intelligence agencies that he now controls, and highlighted denials from Putin about the election interference. He continued on Friday to dismiss Mueller's inquiry as a "witch-hunt".
The indicted Russians were on Friday also accused of hacking into the computer systems of American state election authorities and of companies that produced software used by states for running elections. Rosenstein said there was no evidence of any vote tallies being affected.
The Russians used techniques including "spearphishing" and spying software, before publishing the emails through well-known online accounts including Guccifer 2.0 and DCLeaks, which purported to be independent American and Romanian hackers. Rosenstein said both personas were in fact operated by the GRU.