15 Jul
News and Analyses, A Foreign Perspective
Nearly all of these are English-edition daily newspapers. These sites have interesting editorials and essays, and many have links to other good news sources. We try to limit this list to those sites which are regularly updated, reliable, with a high percentage of "up" time.

It is June 6, 1969, and Spain is living through the final years of Franco's dictatorship. At a clinic in Madrid, a woman gives birth to a baby girl she will never see again, writes Federico López-Terra.
Little is known about what happened to that mother – but almost 50 years later, her daughter Inés Madrigal has just given evidence in a shocking trial.
In the dock was Dr Eduardo Vela, an 85-year-old former gynaecologist accused of stealing Inés from her biological mother.
"Human rights for stolen babies." EPA/CHEMA MOYA.
Vela is alleged to have given the baby as a "gift" to a couple, the Madrigals, who were unable to have their own children. He denies the charges.
Despite the cinematic plot, this is not an isolated case. A network of baby trafficking is believed to have involved a vast network of doctors, nurses, nuns and priests.
Although there is no official figure, the SOS Stolen Babies association estimates that as many as 300,000 babies were taken from their parents in Spain between 1939 and the 1990s.
Now 49, Inés Madrigal works for the association and is the first "stolen baby" to successfully take an alleged perpetrator of one of these crimes to court.
The roots of these crimes date back from the origins of Francoism when Spanish fascists were trying to prove eugenic theories of dissidents' mental inferiority.
It was a thesis defended by the military psychiatrist Antonio Vallejo-Nágera – aka "the Spanish Mengele" – who led Franco's office of psychological research.
He argued that political beliefs promoted in left-wing families could "intoxicate" children and "damage the mental health of future generations".
Vallejo-Nágera also believed that women had an "atrophied intelligence" and their sole life purpose was to procreate.
This ideological context helps explain the profile of the "adopters" of the stolen babies – affluent married women raised in a Catholic country who were unable to have children of their own.
Social pressure was extreme (male sterility wasn't even considered back then) and having children equated to fulfilling their role in a devoutly Christian society.
Yet what started as an ideologically driven plan to purge Spain of an inferior race (the Marxists) turned into a lucrative business.
Newborn children were taken away from their mothers without consent. They were told the child was born dead or had died soon after.
Most of the time, children would be registered as the biological child of the adopting family, who would pay large sums of money for them. (Some adopting families were also deceived and believed they were legally adopting children in need of a home.)
These acts represent one of the darkest chapters of Franco's dictatorship. But its ideological roots share similarities with cases in Latin America in the 1970s and 1980s, when children of dissidents (prisoners, murdered or "disappeared" people), were given to supporters of the regimes in Argentina, Chile and Uruguay.
But, as with many other originally Francoist crimes, in Spain the illicit network outlived the authoritarian regime. After Franco's death in 1975, many perpetrators are believed to have continued their practices during Spanish democracy in the 1980s and 1990s.
Franco's legacy
Among the many problems victims face, the lack of institutional support in Spain is probably one of the most serious.


Law will 'reveal ugly face of ultranationalist Israel in all its repugnance', professor says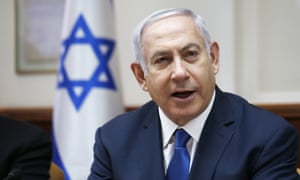 Benjamin Netanyahu wants the new bill to be passed this month Photograph: Ronen Zvulun/AP
Israel is in the throes of political upheaval as the country's ruling party seeks to pass legislation that could allow for Jewish-only communities, which critics have condemned as the end of a democratic state.
For the past half-decade, politicians have been wrangling over the details of the bill that holds constitution-like status and that Benjamin Netanyahu wants passed this month.
The proposed legislation would allow the state to "authorise a community composed of people having the same faith and nationality to maintain the exclusive character of that community".
In its current state, the draft would also permit Jewish religious law to be implemented in certain cases and remove Arabic as an official language.
"In the Israeli democracy, we will continue to protect the rights of both the individual and the group, this is guaranteed. But the majority have rights too, and the majority rules," the Israeli prime minister said this week.
A vote on the bill is expected next week, although a final draft has yet to be agreed on. The legislation has been compared to South African apartheid by Israeli parliamentarians, and several thousand Israelis protested in Tel Aviv on Saturday.
The Middle Eastern country sees itself as both a democratic and a Jewish state, saying its legal system protects the rights of Arabs, who make up more than a fifth of the population, and other minorities. However, the "Israel as the nation state of the Jewish people" bill would enshrine the country's Jewish national and religious character into law.
"Our main concern is that it is changing the nature of the state and it changes the balance of Israel as a nation state," said Amir Fuchs, the head of the defending democratic values programme at the Israel Democracy Institute. "You can be a nation state and still be a democracy as long as you don't discriminate," said Fuchs. "That the state is allowed to create villages that will separate on the basis of race or religion or nationality – this is outrageous."
The purpose of the bill, he said, was "to change the balance, to make us more of a nation state, more of a Jewish state, and less of a democracy. There is no other way to put it. And this is the biggest problem."
Netanyahu has lashed out at domestic and international critics, ordering the foreign ministry to reprimand the EU envoy Emanuele Giaufret after he was reported as saying the bill was discriminatory.
Both Israel's attorney general and president, who holds a symbolic role, also opposed details of the bill. The president, Reuven Rivlin, said it would harm the Jewish people worldwide and "even be used as a weapon by our enemies". The segregation clause, he said, could also allow towns that exclude Jews of Middle Eastern origin – who have been historically sidelined – or homosexuals.
Legislator Miki Zohar, from the prime minister's Likud party, said: "Unfortunately, President Rivlin has lost it" and had "forgotten his DNA".
Many Israeli neighbourhoods and towns are already effectively segregated, with residents either vastly Jewish or Arab. In many places, it is tough for an Arab to move in, although segregation is not legal.
Writing in the progressive-leaning Haaretz newspaper, Mordechai Kremnitzer, from the faculty of law at the Hebrew University of Jerusalem, said the bill would "remove the mask so as to reveal the ugly face of ultranationalist Israel in all its repugnance".
World Politics
United States
A day before his summit in Helsinki with Vladmir Putin, Donald Trump identified the European Union as a "foe" – ahead of Russia and China.
Trump was speaking to CBS News at his Turnberry golf course in Scotland, in an interview recorded on Saturday and scheduled for full broadcast on Monday. Asked "who is your biggest foe globally right now", he said: "Well I think we have a lot of foes. I think the European Union is a foe, what they do to us in trade. Now you wouldn't think of the European Union but they're a foe."
Earlier on Sunday, British prime minister Theresa May said Trump advised her this week to "sue" the EU, as she pursues a Brexit deal.
"Russia," Trump told CBS, "is foe in certain respects. China is a foe economically, certainly they are a foe. But that doesn't mean they are bad. It doesn't mean anything. It means that they are competitive."
Donald Tusk, president of the European Council, used a loaded term to answer Trump on Twitter, writing: "America and the EU are best friends. Whoever says we are foes is spreading fake news."
On CBS, in response to the suggestion that "a lot of people might be surprised to hear you list the EU as a foe before China and Russia", Trump said: "No I look at them all, look, EU is very difficult … but in a trade sense, they've really taken advantage of us and many of those countries are in Nato and they weren't paying their bills and, you know, as an example a big problem with Germany."
The president then repeated his complaint, made at the Nato summit in Brussels, about a gas pipeline between Germany and Russia.
"You're supposed to be fighting for someone," he said, "and then that someone gives billions of dollars to the one you're, you know, guarding against. I think it's ridiculous so I let that be known also this time."
Trump suggested Germany was "waving a white flag" to Russia. Among senior Democrats, concern remains that he may do just that when he meets Putin three days after 12 Russians were indicted over the theft of data from Democratic bodies ahead of the 2016 election.
Trump told CBS he "hadn't thought" about asking Putin to extradite the 12 intelligence officials but added: "But I certainly, I'll be asking about it."
It is highly unlikely the Russians will ever be sent to the US. Putin has said Russians indicted by special counsel Robert Mueller – 13 other individuals and three entities were named in February – will "never" be extradited.
Speaking to ABC's This Week, national security adviser John Bolton said: "The United States does not have an extradition process with Russia so it's pretty hard to imagine how that would happen."
It would be "pretty silly to demand something that [Trump] can't get legally", Bolton said, because "to demand something that isn't going to happen puts the president in a weak position".
Trump was briefed on the indictments ahead of their announcement on Friday. Mueller is investigating election interference and links between Trump aides and Moscow. Four former Trump campaign figures, including his first national security adviser and a campaign manager, have been indicted. Trump denies collusion and has repeatedly called the Mueller investigation a "rigged witch hunt".

Marchers stream through Edinburgh and group chants 'no racist USA' in Ayrshire
President Trump waves to protesters as he plays golf in Scotland – video
Thousands of people have protested on the streets of Edinburgh against Donald Trump's visit to the UK as the US president played golf at his Turnberry resort, on the west coast of Scotland.
Trump was seen playing golf with his son, Eric, on the Ailsa championship course.
Earlier, the US president tweeted his golfing plans for the weekend.
The US president said he had arrived in Scotland for "meetings and some golf".
Trump and his wife, Melania, arrived in Scotland on Air Force One on Friday evening, before travelling by motorcade to the Trump Turnberry resort in Ayrshire.
By lunchtime, about 50 protesters had congregated by the police cordon on Turnberry beach. Just before 2pm, the US president appeared on the golf course and waved at the gathering on the beach, to be met with booing and chants of "no Trump, no racist USA". Meanwhile, close to 10,000 marchers were streaming through the streets of Edinburgh, ending up in Meadows park to the south of the city centre, where families sat in the sunshine and enjoyed picnics, music and speeches from local activists.
Paula Baker, 35, attended with her partner, Emily, 38, a nurse, and their seven-month-old baby, Fallon. "It's a very inclusive atmosphere," said Baker. "People are willing to make a stand, and we want Americans to see that we are willing to stand by the people who are protesting over there too."
Gwen Irving, 68, and Rob, 71, had travelled from Glasgow to display their banner reading: "Trump is a disgrace to the office of US president." "I've never been moved to protest before," said Irving, "but he is a frightening development, and he is trying to foment division across Europe.
"The atmosphere is good-humoured but serious. It's inspired some hope. We've spoken to a lot of Americans about our banner. They're pleased to see it because this isn't anti-American."
Towards the back of the Meadows, the six-metre Trump baby blimp, which depicts him as an angry baby wearing a nappy, was straining against its tethers in the stiff east coast breeze. Organiser Leo Murray said a crew of "babysitters" had travelled from London on the sleeper train to fly the balloon at Saturday's protest.
Murray had originally hoped to fly the balloon at Turnberry, but Police Scotland refused permission on security grounds.
Murray said: "People in Scotland have been so enthusiastic. I've been in activism all my life but this has crystallised something in the public mood. It will be the defining image of this disastrous visit."
He added that the Trump baby was now planning a world tour, starting in Australia.
Meanwhile, police are continuing to search for a paragliding Greenpeace protester who broke through the no-fly zone surrounding Turnberry on Friday evening, to zip past the presidential party as it entered the Scottish hotel.
Despite a £5m security operation, the paraglider flew past police snipers and in front of the hotel, trailing a banner reading "Trump: well below par #resist".
Police Scotland said on Saturday morning that "inquiries were ongoing to trace the person responsible".
Greenpeace said it had alerted police to the protest minutes in advance. The group's spokesman Ben Stewart said: "Theresa May should not have dignified Trump with a visit to the UK. The vast majority of British people are appalled by his words and deeds. He is, simply, the worst president ever. That's why we flew over him with a message branding him well below par."
Scottish comic Janey Godley, whose anti-Trump sign ("Trump is a cunt") went viral on social media when she protested at his last visit to Scotland in 2016, was standing with friends and a more demurely worded placard at the police cordon on the beach at Turnberry on Saturday.
"I'm here to protest Trump because I think it's important for women's voices to be heard against someone who shows absolute disrespect for women," she said. "His policies are divisive and he has enabled racism and rightwing opinion across Europe as well as in the US. The Americans who voted for him have every right to do so, but wait until they get sick and need healthcare."
The secretary for Scotland, David Mundell, briefly greeted Trump as he and Melania disembarked from Air Force One at Prestwick near Glasgow on Friday. No members of the Scottish government were present.
Trump had not requested a meeting with the first minister, Nicola Sturgeon, an outspoken critic of his policies whom, according to a former staffer, the US president "totally hates". Instead, Sturgeon will spend Saturday in Glasgow leading an LGBT Pride march.
At a rally in Glasgow on Friday evening, more than 2,000 protesters gathered and Scotland's political parties set aside their constitutional differences to present a united opposition to Trump's presence in Scotland.

Residents of Innaarsuit fear the 100-metre high berg will break up and cause a tsunami

A giant iceberg has prompted a partial evacuation of an Innaarsuit settlement in Greenland. Photograph: Scanpix Denmark/Reuters
A 100-metre (330ft) high iceberg has drifted close to a tiny settlement on Greenland's west coast, prompting fears of a tsunami if it breaks up.
Authorities have told residents of the Innaarsuit island settlement living near the shore to move to higher ground.
"We fear the iceberg could calve [break apart] and send a flood towards the village," said Lina Davidsen of Greenland police.
Susanne Eliassen, a member of Innaarsuit's council, said it was not unusual for large icebergs to be seen close to the community.
"But this iceberg is the biggest we have seen … and there are cracks and holes that make us fear it can calve anytime," she said.
"Nobody is staying unnecessarily close to the beach and all children have been told to stay in areas that are high up."
The village's power station and fuel tanks are located close to the shore.
Police have moved a search-and-rescue helicopter closer to the remote community, which has a population of about 170.
The incidence of icebergs breaking free from glaciers is likely to become more common, said William Colgan, a Geological Survey of Denmark and Greenland researcher.
"Iceberg production in Greenland has been increasing in the past 100 years as climate change has become stronger," he said, while the rising number of icebergs were in turn "increasing the tsunami hazards".
Last year, four people died and 11 were injured after a landslide caused a tsunami off another island settlement called Nuugaatsiaq, sending several houses crashing into the sea.
The latest incident comes after scientists at New York University released a time-lapse video of a massive iceberg breaking free from a glacier in eastern Greenland last month.
Denise Holland, of NYU's environmental fluid dynamics laboratory, and David Holland, an expert in atmospheric and ocean science, had camped by the Helheim glacier for weeks to collect data to better project sea level changes due to global warming.
David Holland said it was "the largest event we've seen in over a decade in Greenland".
The video, which is 20 times faster than real time, shows 3% of the annual ice loss of Greenland occuring in 30 minutes.
"It sounded like rockets going off," David Holland said, describing it as "a very complex, chaotic, noisy event".
While the couple is studying Greenland, he said that "the real concern is in Antarctica, where everything is so big the stakes are much higher".
More on the Environment: