Award-winning photographers from across the Caribbean and Latin America are exhibiting their work, holding workshops and panel discussions, as well as creating installations in parks, schools, gardens and along city sidewalks

UK lobbied for delay in law under which leaders could be prosecuted for going to war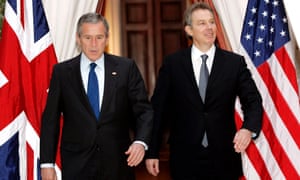 Aggression law cannot be applied retrospectively but may have prevented Tony Blair, pictured with George W Bush, from going to war in Iraq, says Geoffrey Robertson QC. Photograph: Kevin Lamarque/Reuters
A crime of aggression, under which politicians and military leaders can be held individually responsible for invasions and other major attacks, comes into force at the international criminal court, reviving global legal powers last exercised at the Nuremburg and Tokyo war crimes trials of the 1940s.
Claims alleging that armed force has been used against the "sovereignty, territorial integrity or political independence" of another state can, from Tuesday, be taken to the tribunal in The Hague.
The new offence cannot, however, be enforced retrospectively over conflicts such as the 2003 Iraq invasion.
There has been international pressure to give the ICC greater powers to pursue those deemed responsible for initiating conflicts.
About 35 countries have so far ratified the amendment bringing it into force, making their leaders liable to prosecution if they start a war. Britain is not among them.
States that have not ratified the crime of aggression could still be referred to the ICC by the UN security council, although the extent of that power is in dispute. Members of the security council are likely to veto any accusation made against them.
Even without prosecutions, supporters of the law hope it will act as a deterrent by making politicians aware of potential international repercussions.
Sheryn Omeri, a London barrister who has worked at the ICC, said: "Symbolically, the aggression amendments and their ratification have had an important normative effect in the sense that there now is a stigma that can be attached to the actions of people even if prosecution, imprisonment or other punishment doesn't follow."
Geoffrey Robertson QC, who was a judge at the Sierra Leone war crimes tribunal, said: "It's ironic that Britain, which stood so courageously against Hitler, should refuse to ratify the international law against aggression. And it's ridiculous, at a time when we should be using that very law to denounce Russian aggression, constituted by sending agents with polonium and novichok to kill our citizens.
"The Foreign Office under Boris Johnson vainly tried to sabotage the law's progress – now it is in force, let us hope that his successor reverses this approach.
"The law will henceforth apply to politicians and generals who give orders to invade. It is not retrospective, so Tony Blair will be safe. Of course, had this law been in force in 2003, it would probably would have deterred him from joining the invasion in Iraq, although George W Bush, with less respect for international law, would doubtless have gone ahead."
Don Ferencz, an Oxford University academic who runs the Global Institute for the Prevention of Aggression, said: "That Britain played a leading role at Nuremberg in establishing the principle that world leaders who undertake illegal war-making may be held to account in a court of law is greatly to its credit.
"Yet the fact that it has failed to join the countries which have voluntarily submitted to the international [criminal] court's jurisdiction over the very same crime seems a clear repudiation of the principle that international law is meant to offer equal justice for all." Ferencz's father was a prosecutor at the Nuremberg trials.
In 2017 a former Iraqi general attempted to launch a private prosecution against Blair in the London courts over the former prime minister's role in the 2003 invasion of Iraq, on the grounds that he had committed the crime of aggression.
The high court judges recognised that a crime of aggression was in the process of being incorporated into international law, but said it did not apply retroactively. They ruled that there was no crime in English law under which Blair could be charged.