18 Jul
News and Analyses, A Foreign Perspective
Nearly all of these are English-edition daily newspapers. These sites have interesting editorials and essays, and many have links to other good news sources. We try to limit this list to those sites which are regularly updated, reliable, with a high percentage of "up" time.


Belated disciplinary proceedings – after federal inaction – against police involved in 2014 Staten Island death fuel frustration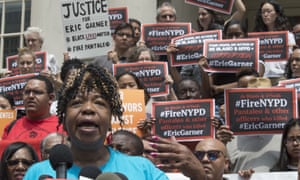 Gwen Carr, whose son Eric Garner was killed by an NYPD officer, is surrounded by supporters as she speaks during a news conference outside City Hall in New York on Tuesday. Photograph: Mary Altaffer/AP
Four years after Eric Garner was killed by an NYPD chokehold, New York City has announced it will be move forward with hearings to determine whether officers violated any departmental policies – drawing a lukewarm reception from activists and Garner's family.
"We want to see this done, we want it to be done swiftly," said Garner's mother Gwen Carr at a Tuesday afternoon press conference. "We don't want politics to play a part, we just want justice."
The Rev Al Sharpton, of the National Action Network (NAN), which held the press conference on Tuesday, said: "We are glad that this is happening now, but it should have been moved forward a long time ago."
Garner died in a confrontation with NYPD officers on Staten Island in 2014 after being accused of selling loose cigarettes. Though he was unarmed, NYPD officers used a chokehold maneuver on Garner right before the 43-year-old father became unresponsive. His death was ruled a homicide and his dying words, "I can't breathe", became a slogan for the Black Lives Matter movement.
In December 2014, a New York grand jury declined to indict any of the officers involved.
That same year the Department of Justice, then led by Eric Holder, began an investigation into Garner's death to determine whether it warranted civil rights charges against any of the officers involved. That investigation appears to have been abandoned by the Jeff Sessions-led DoJ, prompting city officials, who had been waiting for a determination from the DoJ, to move on their own.
"Given the extraordinary passage of time since the incident without a final decision on the US DoJ's criminal investigation, any further delay in moving ahead with our own disciplinary proceedings can no longer be justified," a letter from the city to the DoJ issued on Monday read. In it, the city said it would proceed at the end of August.
A disciplinary hearing for the five officers involved with Garner's death could lead to them being fired or otherwise reprimanded, but it could not lead to criminal charges – thus the tepid reception from Carr, who still holds out hope for criminal proceedings against the officers.
Sharpton said on Tuesday: "The federal government is still the ones that should be moving on the charges."
Sessions' DoJ has repeatedly signaled an unwillingness to use his department to hold police accountable for excesses and abuses, as the prior administration had done.
Minister Kirsten John Foy, an activist and commentator with NAN, also expressed her frustration at the city's timing of the announcement. "They found out in April from DoJ they could move forward. It is now July and now they are saying we have to wait until September!"
A DoJ statement said the department had told the city in April that it could move forward with disciplinary proceedings.
In 2015 the city agreed to a $5.9m settlement with Eric Garner's family, heading off any potential civil litigation.
In a video op-ed for the New York Times published on Sunday, Carr pleaded: "Fire those police officers. Make them stand accountable. This is your last chance for justice."

Satellite imagery shows hundreds of glaciers shrinking as average annual temperature rises 3.6C in 70 years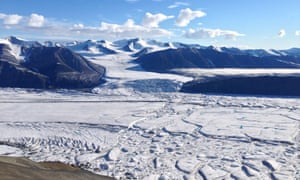 The study Canada's high Arctic circle found glaciers shrank by more than 1,700 sq km over a 16-year period, equivalent to a 6% loss. Photograph: Luke Copland
Hundreds of glaciers in Canada's high Arctic are shrinking and many are at risk of disappearing completely, an unprecedented inventory of glaciers in the country's northernmost island has revealed.
Using satellite imagery, researchers catalogued more than 1,700 glaciers in northern Ellesmere Island and traced how they had changed between 1999 and 2015.
The results offered a glimpse into how warming temperatures may be affecting ice in the region, from glaciers that sprawl across the land to the 200-metre thick ice shelves, said Adrienne White, a glaciologist at the University of Ottawa.
"It's an area that's very difficult to study," said White. "Logistically it's very hard to get to and even with satellite imagery – for the longest time Google Earth didn't even have complete imagery – it was kind of the forgotten place."
White's study, published last month in the Journal of Glaciology, found that the glaciers had shrank by more than 1,700 sq km of over a 16-year period, representing a loss of about 6%.
A previous study of glaciers in the region – which used air photos and did not include ice shelves – showed a loss of 927 sq km between 1959 and 2000, hinting that the pace of loss may be increasing.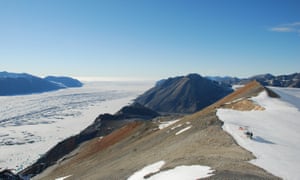 In northern Ellesmere Island, the annual average temperature in the region increased by 3.6C between 1948 and 2016. Photograph: Adrienne White
Of the 1,773 glaciers tracked by White, 1,353 were found to have shrunk significantly. A handful had disappeared altogether: "What we found is a loss of three complete ice shelves," she said. "In terms of glaciers that terminate on land, we've lost three small ice caps."
None of the glaciers in the study showed any signs of growing.
The findings echo the changes White has observed during her years of visiting the island. "We see a lot more icebergs," said White. "Where there was one continuous ice shelf, we now see individual icebergs broken up, we see a lot more crevasses."
She attributed the findings to an increase in temperatures. Canada's Arctic – one of the world's most glaciated regions – is warming at one of the fastest rates of anywhere on Earth.
In northern Ellesmere Island, the annual average temperature in the region increased by 3.6C between 1948 and 2016.
In particular, "there seemed to be a shift in the mid-90s," she said, describing it as a "sudden increase in warming," that saw temperatures increase at about 0.78C per decade between 1995 and 2016.
"These increases were greatest in autumn and winter," she said. "So what you end up with is a lot more melt."
While the most direct impact is rising sea levels, the melting ice also risks wiping out the region's unique ecosystems, such as the freshwater lakes that form when the water flowing off a glacier is trapped by a floating ice shelf.
"When these glaciers break away, all of a sudden there's nothing holding back these ecosystems that have been growing and developing for thousands of years," said White. "And they're gone before we even have the chance to study them."
Extrapolating from research done on glaciers from a neighbouring island, White's study suggested that many of the glaciers on northern Ellesmere Island may not be high enough to accumulate enough snow to counter the pace at which they are melting. "Without growth, that glacier is just in a state of loss," she said. "It will disappear if climates don't change."
World Politics
United States & Great Britain