24 Jul
News and Analyses, A Foreign Perspective
Nearly all of these are English-edition daily newspapers. These sites have interesting editorials and essays, and many have links to other good news sources. We try to limit this list to those sites which are regularly updated, reliable, with a high percentage of "up" time.


Attorneys use windowless room below federal courthouse for rushed consultations with clients charged with illegal entry
Young people join a protest against Donald Trump's immigration policy outside the federal courthouse in San Diego, where lawyers meet clients in the basement. Photograph: David Maung/EPA
Some lawyers call it the dungeon. Others call it the garage. Guards call it the sub-block.
Whatever the name, the windowless basement beneath the federal courthouse in San Diego hosts a very particular kind of justice under Donald Trump's "zero-tolerance" immigration policy.
Since last week, this former car park has been where defence lawyers in this corner of southern California confer with clients who are charged with entering the US illegally.
There are tables and chairs but little privacy – more than two dozen defendants, attorneys, translators and US marshals share the open space.
And there is little time. Lawyers have just three hours to introduce themselves, to discover why and how their clients – migrants and asylum seekers – crossed the border and to explain the intricacies of plea deals, misdemeanours and bonds, all before the clients are herded into court for a mass hearing.
"You're explaining all of this to them at a time that they're visibly dirty, exhausted and terrified and expecting them to understand the long-term, forever consequences of whatever they decide," said Leila Morgan, of Federal Defenders of San Diego.
Janice Deaton, another defence attorney, said the improvised pre-trial meeting venue underlined the system's wider injustice. "We're calling it the dungeon. To accommodate Jeff Sessions' and Donald Trump's order, they've created this space. These people wouldn't have been arrested a month ago. It's pretty despicable."
Deaton has filed an objection in court, citing lack of privacy.
San Diego's subterranean pre-trial interview space is a consequence of Sessions, the attorney general, issuing an order in April to prosecute everyone who crosses the border illegally, a significant escalation of the Trump administration's immigration crackdown.
Many people who previously would have been swiftly deported or processed through civil courts are now swamping federal courts.
To control the flux, the southern district of California last week started fast-tracking detainees in group hearings, a system called Operation Streamline, which Texas and Arizona adopted long before Trump. Liberal California had resisted adopting the so-called "assembly-line justice" until now.
Holding pre-trial interviews in a former car park is a San Diego innovation.
The US marshals service, which protects federal courts and controls the space beneath the Edward J Schwartz federal building, declined a Guardian request to visit. The San Diego district attorney's office did not respond to an interview request.
We're down there scrambling. There's so little time

Andrew Nietor, lawyer
Defence attorneys painted a bleak picture of daily scenes in the basement.
Escorted by marshals, they walk through parked cars and a fence into a space about half the size of a baseball court, with carpets, temporary partitions, foldout tables and chairs.
With the marshals watching, the lawyers have from 9am to midday to each confer with up to four clients. They introduce themselves, explain the criminal charge – misdemeanor illegal entry – and explain the government's offers to truncate sentences in return for guilty pleas. The alternative is to seek a bond, prolonging the case and probably the detention.
This pre-trial process usually takes about two weeks, giving lawyer and client a chance to build rapport. If handling four clients, a lawyer in the basement has an average of 45 minutes. In the absence of a common language, translation soaks up precious time.
"We're down there scrambling. There's so little time," said Andrew Nietor, a defence attorney.
"For the first time in 14 years of doing this, I'm having trouble remembering clients' names because it happens so fast," said Morgan.
Detainees are shackled and often distraught and disorientated.
Just hours or days earlier they may have been trekking through desert scrub, for many the final leg of a long, treacherous journey, until they were caught by border patrol agents.
Detainees are held in crowded "hieleras" – cold detention rooms – unable to bathe, brush teeth or change clothes, according to a report this week by attorneys who visited border patrol stations and family detention centres. Few sleep well, if at all, on concrete, with cell lights permanently on. Food is semi-thawed.
World Politics
United States
Source: Fox News
The anchors on Fox News and Friends were caught off-guard when they thought they were about to interview a Democrat who supports Immigration and Customs Enforcement (ICE)'s actions at the Mexico-US border. Instead they were greeted by Barbara L'Italien, a Democratic senator who is also running for Congress.
L'Italien slammed Donald Trump and the tactics used at the border, including separating children from their families.
Her live feed was stopped when they realised they had the wrong guest.
Fox had wanted to interview Ann Kirkpatrick, a former Democratic congresswoman. She later tweeted that Fox News inaccurately described her position on ICE, which she said needs 'top-to-bottom reform'.

Burlington, the first US city to run entirely on clean power, is inspiring other cities to make progress on climate change
.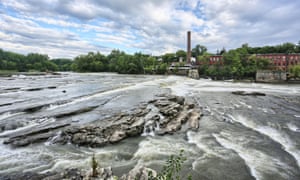 The Winooski River powers Burlington's hydropower plant, which was switched on in 2014. Photograph: Alamy
B

urlington in Vermont has already given the world Ben & Jerry's ice cream and provided the political launchpad for Bernie Sanders. Now the city's successful switch to 100% renewable electricity is spurring US mayors to fill the gaping void on climate change action left by the Trump administration.
Burlington didn't make a fuss when it switched on a new hydropower plant in late 2014 and became the first US city to run entirely on clean power. "We didn't have parades. I don't know why in retrospect we didn't make more of it," says Miro Weinberger, the wire-haired mayor of Burlington.
The job of every elected official in this country changed the day Donald Trump was elected

Miro Weinberger
The achievement has since been thrown into sharp relief by the election of Donald Trump, who has attempted to squash any sort of national response to climate change. The Paris climate agreement has been disavowed, policies to lower emissions from coal plants and vehicles have been wound back, adaption to the rising seas has been binned.
Amid this national crisis, dozens of US cities, states and businesses have strained to ameliorate the president's agenda. More than 60 cities have now pledged to shift their electricity generation from fossil fuels to cleaner sources such as solar, wind and hydro. Burlington, a progressive bastion of 42,000 people an hour's drive to the Canadian border, represents the vanguard.
"The job of every elected official in this country changed the day Donald Trump was elected," says Weinberger, a liberal Democrat who has held the office since 2012. Weinberger drives an electric car – a Nissan Leaf – but is fresh from a bike ride when we meet.
"It's not acceptable that America has completely retreated from the climate change conversation," he says. "I think leaders realised that we are going to have to make progress on this even when the federal government has checked out."
Burlington keeps the lights on thanks to: the McNeil Generating Station, a hulking woodchip processor and furnace; a hydro plant situated next to an old wool factory that has its turbines spun by the Winooski River; a small array of wind turbines perched on nearby Georgia Mountain; and a bank of solar panels at Burlington airport.
The city managed the transition to fossil fuel-free electricity within just a decade, but the roots of its transformation go back further. A coal plant that now lies derelict was shuttered in 1986 amid local concerns over pollution and its reputation as an eyesore on the shoreline of Lake Champlain.
The McNeil plant was opened two years before – a plaque marking the occasion bears the name of one Bernard Sanders, the then mayor. It has since carried much of the burden, supplying around half of Burlington's electricity needs by burning around 400,000 tonnes of waste wood a year that's purchased from businesses in the region.
Burlingtonians also bring their own unwanted crates, pallets and tree branches to the plant, where they are diced, stored in huge piles of woodchips, placed on conveyor belts and fed into a Hades-like furnace that reaches around 2,000C. The resulting steam turns a huge turbine that generates the electricity.
"We have to shift the woodchip piles around so they don't get overheated and self combust," says Dave MacDonnell, power generation manager of the plant. "There was a small fire on one of the piles when we first opened. That was a PR nightmare."
The path to 100% renewable energy was smoothed by an engaged, progressive populace concerned about diminishing snow on nearby ski runs and heatwaves triggering algal blooms on Lake Champlain. Crucially, the city owns the local utility – the Burlington Electric Department, whose logo looks like it belongs on a 1950s-themed diner – and has managed to keep rates steady over the past decade for bill-payers.
The city council began to shift to reflect a progressive point of view and they brought along the private sector

Will Raa
"Bernie started getting more people involved and out of the woodwork came ideas," says Will Raap, who moved to Burlington from California in the 1980s and set up a not-for-profit organization that facilitates local food growing.
"The city council began to shift to reflect a progressive point of view and they brought along the private sector. Now Burlington is the most sustainable city around and the national government has got its head up its butt. Cities are where it is happening."
Other, larger cities are also looking to push ahead. Last year Atlanta became the largest city in the south to pledge 100% renewable energy by 2035. San Francisco hopes to achieve this feat five years before that. The skiing playground of Aspen, Colorado, has already got there.
Some Republican-led cities such as San Diego have also thrown their weight behind the goal. Carmel, in Indiana, has installed 116 roundabouts, a rarity in the US, in recent years in order to improve safety and also cut emissions from cars idling at traffic light intersections.
"We had to have a lot of public education at the start – some people complained," says James Brainard, a Republican who has been Carmel's mayor since 1996. "But now people are proud and we have fights over where we are going to have the next one. Climate is a big part of that."
More on the Environment: