US likely to miss Thursday deadline to reunite 2,551 children with parents, due to disorganization, unclear rules and misinformation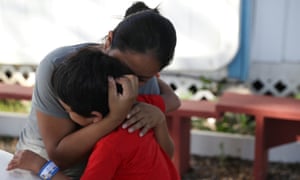 With 879 people reunited as of Monday morning, it is not expected that the government will meet the Thursday deadline. Photograph: Loren Elliott/Reuters
Donald Trump may have put an end to his family separation policy last month, but some migrant parents may not reunite with their children for years, experts have warned, due to the many obstacles of rejoining children with their parents.
A district judge in California gave the government until Thursday to reunite 2,551 children, but with 1,012 people reunited as of Tuesday, it is not expected that it will meet the deadline.
Hundreds of mysteries linger in the government's count of separated families, which includes adults the government has deported without their children, people who have chosen to be deported while their children remain in the US and adults deemed unfit to be reunited with their children.
"It is just so difficult, and there are so many different issues," said John Sandweg, the acting director of US Immigration and Customs Enforcement (Ice) from 2013 to 2014. "When you have one parent in Central America with no money to hire lawyers and their kids are up in the US, it is going to be years if those families are reunited, if ever."
Before overseeing Ice, Sandweg was general counsel of the US Department of Homeland Security and helped craft the department's immigration, border security and law enforcement policies.
He, like attorneys and advocates who have been working to reunite families since before Trump ended his policy on 20 June, said it would be difficult to reunite children with the 463 parents the government said on Tuesday may not be in the US.
"I would be very interested to see a year from now or two years from now how many of those deported parents are with their children," Sandweg said. "I suspect it will be very few."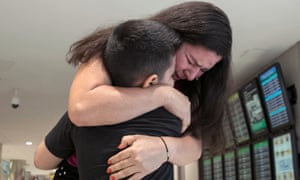 Andy, seven, originally from El Salvador, is reunited with his mother Arley, at Baltimore-Washington international airport, on 23 July. Photograph: Win McNamee/Getty Images
Mark Greenberg, who for three years led the health department agency tasked with caring for the forcibly separated children, the Administration for Children and Families (ACF), said it is too early to say how long some families may be separated.
"Hopefully that [prolonged separation] won't be the case, but the risk arises because there wasn't initial tracking to maintain a link between parents and their children," said Greenberg, now a fellow at the Immigration Policy Institute.
Greenberg, who in his role at the health department oversaw the program which matched children who crossed the border on their own with parents or other relatives, said there are many unanswered questions about the 914 parents the government has said are ineligible for reunification or not determined.
Health department guidelines specify that the agency may deny release of children to an adult sponsor, such as a parent or other relative, if that person has been convicted of serious crimes including violence, human trafficking or sex crimes.
But earlier this month, when the court ordered the reunification of children under five with their parents, the government said some parents would be denied because of DUI convictions. "It raised concerns as to whether they are applying more stringent standards than they would normally apply in approving a sponsor for a child," Greenberg said.
There are also concerns about whether the parents who chose to be deported while their children remained in the US understood what they agreed to. Attorneys have said immigration officials mischaracterized information, told parents they would be reunited with their child if they agreed to be deported and had them sign paperwork they did not understand because they cannot read or write.
"The multiple layers of coercion that the vast majority, if not all, of the separated parents that we met with in the El Paso area experienced, was truly astounding," said Katie Shepherd, national advocacy counsel at the Immigration Justice Campaign.
Our concern, even once reunified, is that these families are not going to get full and fair due process

Megan McKenna
The makeshift system for reunifying families, meanwhile, has left lawyers and advocates scrambling to keep track of cases and ensure families are being treated fairly once they are brought back together.
Kids in Need of Defense (Kind) and other child welfare groups have dispatched advocates across the country to help separated children, but reunifications have been happening hastily. Advocates who have been working with children for weeks, and sometimes months, often lose track of them when children are abruptly removed from health department shelters and reunited with their parents, either inside detention centers or near where their parents were detained.