27 Jul
News and Analyses, A Foreign Perspective
Nearly all of these are English-edition daily newspapers. These sites have interesting editorials and essays, and many have links to other good news sources. We try to limit this list to those sites which are regularly updated, reliable, with a high percentage of "up" time.


More than 400 'ineligible' children could not be reunited as parents had been deported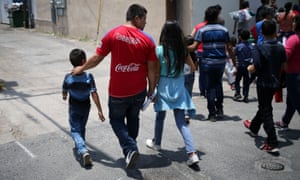 Undocumented immigrant families walk from a bus depot to a respite center after being released from detention in McAllen, Texas. Photograph: Loren Elliott/Reuters
Hundreds of migrant children separated from their parents at the US-Mexico border have still not been reunited with their families by a court-ordered deadline.
The US government announced late on Thursday that more than 700 children had been judged not eligible for reunification by authorities. Of those, 431 children could not be reunited as their parents had already been deported from the US.
More than 2,500 children were separated from their parents at the border in the past several months amid a zero-tolerance policy on people entering the US illegally.
The policy, which ordered the criminal prosecution of anyone caught crossing the southern border illegally, was suspended by Donald Trump after a fierce backlash when images emerged of children kept in chainlink fence detention centres while their parents were held in jail awaiting immigration hearings.
In some cases, parents were deported while their children were still in the US.
The US government said on Thursday that 1,820 children separated at the US-Mexico border have been reunited with parents and sponsors, following the suspension of the policy.
There have been 1,442 children aged five and older reunified with their parents in US Immigration and Customs Enforcement (Ice) custody and 378 others who were released "in other appropriate circumstances", including to other sponsors, the justice department said in a court filing.
Lee Gelernt, an attorney for the American Civil Liberties Union who represents the separated families, said before the latest figures were announced that the government should not be congratulating itself for meeting its "self-defined" deadline.
"The government shouldn't be proud of the work they're doing on reunification," he said. "It should just be: 'We created this cruel, inhumane policy … now we're trying to fix it in every way we can and make these families whole."
Some children who had not seen their parents in weeks or months seemed slow to accept that they would not be abandoned again. One father who was reunited last week said his young daughter did not believe that he would not leave her a second time.
"I think that some of the children very quickly attach. Others, there's a distance. There's this caution, this lack of certitude, and part of it is not understanding what happened," said Ruben Garcia, the director of the Annunciation House, an immigrant-assistance center in El Paso that has received about 25 families each day this week.
The government should just be saying: we created this cruel policy, now we're trying to fix it

Lee Gelernt, ACLU
The Department of Homeland Security's internal watchdog said it would review the separation of families, along with the conditions at border protection facilities where migrant children are held, in response to scores of congressional requests to do so.
For the last two weeks, children have been arriving steadily at Ice locations in Texas, Arizona and New Mexico to be reunited with parents. Faith-based and other groups have provided meals, clothing, legal advice and plane and bus tickets. The families are generally released, and parents are typically given ankle-monitoring bracelets and court dates to appear before an immigration judge.
But confusion and fear lingers. Jose Dolores Munoz, 36, from El Salvador, was reunited with his seven-year-old daughter last Friday, nearly two months after they were separated. His daughter cries when he leaves the house because she thinks he's not coming back.
"She is afraid," Munoz said in Spanish. "Yesterday I left her crying, she is telling me, 'You are not coming back. You are lying. You are leaving me.'"
Dana Sabraw, a US district judge in San Diego, commended the government Tuesday for its recent efforts, calling it "a remarkable achievement".
"It is the reality of a policy that was in place that resulted in large numbers of families being separated without forethought as to reunification and keeping track of people," said Sabraw, an appointee of the Republican president George W Bush.
Lourdes de Leon, who turned herself in to immigration authorities, was deported to her native Guatemala on 7 June but her six-year-old son, Leo, remained in the US.
De Leon said Guatemalan consular officials told her signing a deportation order would be the easiest way to reunite with Leo.
"He is in a shelter in New York," de Leon said. "My baby already had his hearing with a judge who signed his deportation eight days ago. But I still do not know when they are going to return him to me."
Immigration attorneys said they had advocates on the ground in Central America to help parents who were deported without their children. And Gelernt said the ACLU would go looking for all of the parents to determine whether they intentionally left without their children.
"It's going to be really hard detective work," he said. "And hopefully we're going to find them."
Both sides were due back in court Friday, when the judge was going to decide whether to ban deportations of families for seven days after they are reunified so that parents could have time to discuss their options.
Late last month, Sabraw ordered a nationwide halt to family separations, which Donald Trump effectively did on his own on 20 June after international outcry. Sabraw issued a 14-day deadline to reunite children under five with their parents and 30 days for children five and older.
On Friday, family attorneys would begin turning their attention to those who weren't reunited – parents who had a criminal record, parents who were no longer in the US and children who were handed over to other sponsors, Gelernt said.

World Politics
United States
President issues volley of tweets after explosive CNN report

Trump attacks former lawyer's use of Clinton-linked counsel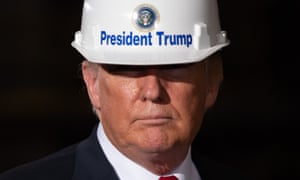 Donald Trump tours US Steel's Granite City Works steel mill in Granite City, Illinois on Thursday. Photograph: Saul Loeb/AFP/Getty Images
Donald Trump responded on Friday to bombshell reports that his former lawyer Michael Cohen says Trump knew of and approved a meeting between his son and aides with Russians promising dirt on Hillary Clinton.
The president denied knowing of the meeting and questioned Cohen's motives and connections, writing: "He even retained Bill and Crooked Hillary's lawyer. Gee, I wonder if they helped him make the choice!"
The lawyer referred to is Lanny Davis, Cohen's counsel who defended Bill Clinton during his impeachment in the late 1990s.
Trump's son Donald Trump Jr, son-in-law Jared Kushner and campaign chair Paul Manafort met at Trump Tower on 9 June 2016 with a group including the Russian lawyer Natalia Veselnitskaya, having been told she was offering sensitive information about Clinton from the Russian government.
On Thursday, citing an unnamed source, CNN reported that Cohen said he was present when Donald Jr told his father about the Russians' offer to meet and that Trump approved it. NBC said it had independently verified the report.
On Friday, the president first tweeted a familiar complaint, that "the ridiculous news that the highly conflicted Robert Mueller and his gang of 13 Angry Democrats obviously cannot find Collusion".
Mueller is a Republican appointed by a Republican, deputy attorney general Rod Rosenstein. According to public information, 13 of Mueller's investigators have registered as Democrats and nine have donated to Democrats.
"The only Collusion with Russia was with the Democrats," Trump added, without presenting evidence. He then referenced a New York Times report that Mueller, the special counsel, is examining his Twitter feed as part of his investigation of potential obstruction of justice.
"The rigged Witch Hunt continues!" he added. "How stupid and unfair to our Country….And so the Fake News doesn't waste my time with dumb questions, NO,….
"…..I did NOT know of the meeting with my son, Don jr. Sounds to me like someone is trying to make up stories in order to get himself out of an unrelated jam (Taxi cabs maybe?). He even retained Bill and Crooked Hillary's lawyer. Gee, I wonder if they helped him make the choice!"
Cohen's investment in New York taxi medallions, which have been hit by the rise of Uber and other car services, has been widely reported.
Trump, his son, his lawyers and other officials have repeatedly claimed the Trump Tower meeting did not produce any "dirt" on Clinton and the future president did not know about it until details were revealed in July 2017. The president told reporters onboard Air Force One then: "I only heard about it two or three days ago."
Trump's role in the production of a misleading statement about the meeting is reportedly part of Mueller's investigation.
On Thursday night Trump's current lawyer, former New York mayor Rudy Giuliani, mounted a counterattack.
"It would have to be people in the room with the president that can corroborate Cohen, which there won't be because it didn't happen," he told CNN. "And then it becomes a credibility contest between two or three witnesses who say one thing and Cohen who says another."
He added: "He's been lying all week, he's been lying for years" – a comment potentially damaging to Trump since Cohen was working for him during those years. Cohen has also seen his home and premises raided by the FBI over his role in payments to women who claim affairs with Trump – affairs Trump denies. Whether or not Cohen will "flip" and turn against Trump has been the subject of mounting speculation.
rump's knowledge or otherwise of the June 2016 Trump Tower meeting is a key issue in Mueller's investigation into Russian election interference and links between Trump aides and Russia.
Steve Bannon, Trump's former chief strategist, famously told the author Michael Wolff he thought the meeting was "treasonous, or unpatriotic, or bad shit".
"The chance that Don Jr did not walk these jumos up to his father's office on the 26th floor," Bannon added, "is zero."
The meeting was brokered by a British music promoter, Rob Goldstone, who told Trump Jr he had "official documents and information that would incriminate Hillary and her dealings with Russia and would be very useful to your father".
Goldstone added: "This is obviously very high level and sensitive information but is part of Russia and its government's support for Mr Trump … I can also send this info to your father."
Trump Jr responded: "I love it." He has since contended that no meaningful information was offered and the meeting focused on adoptions of Russian children.
The Associated Press reported on Thursday that Veselnitskaya "worked more closely with senior Russian government officials than she previously let on".
Mueller has indicted 31 individuals including 12 Russian intelligence agents for hacking Democratic networks. Trump has repeatedly denounced the investigation but was widely criticised for appearing to side with Vladimir Putin over his own intelligence agencies in Helsinki earlier this month.

The former Pennsylvania mayor Lou Barletta's approach to undocumented immigrants lines up closely with the president's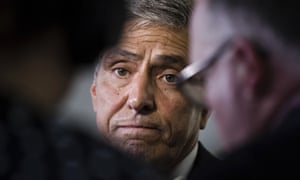 Lou Barletta, Republican candidate for Senate in Pennsylvania. Photograph: Matt Rourke/AP
Donald Trump will appear with Lou Barletta, the Republican candidate for Senate in Pennsylvania, on 2 August in what's likely to be a typical Trump fundraiser: the president appearing on stage, talking about how convincingly he won the election and basking in the audience's applause.
But given Trump's war on undocumented immigrants, it will represent more than that. It will mark the realisation of the controversial, immigrant-blaming law Barletta introduced more than ten years ago, in the tiny Pennsylvania town of Hazleton – and which Trump revised to win the 2016 election.
The August rally will be the third time in two weeks that a high-profile Trump-supporting figure has stepped in to try and boost Barletta's currently flagging campaign. On 20 July Nigel Farage, of Brexit fame, popped up at a private fundraiser for Barletta in the ordinarily bucolic town of Harveys Lake, in north-east Pennsylvania. This Monday, Mike Pence stumped for Barletta in Philadelphia.
Given that Barletta is currently lagging 16 points behind his opponent – Bob Casey, a Democrat – and showing little sign of closing that gap, it would seem like a waste of airfare. But some believe Trump's enthusiasm for Barletta possibly reflects the two men's approach to, and exploitation of, immigrants.
"Both of them have used immigration as an effective tool to get folks, working-class white folks especially, to blame outsiders, and immigrants especially, for problems that are the result of global capitalism and changes in the global economy," said Jamie Longazel, an associate professor of political science at City University of New York and author of Undocumented Fears: Immigration and the Politics of Divide and Conquer in Hazleton, Pennsylvania.
"Just the way they think about about the law as it relates to this stuff – they're really unwilling to grant rights to immigrants and to people of color generally and really willing to back the interests of white folk."
Barletta was the second congressman to endorse Trump's presidential campaign, declaring his support for the then businessman in March 2016.
"I like that he is willing to stand up and fight for the American people as I did as mayor," Barletta said at the time.
Barletta was referring to his 10-year stint as mayor of Hazleton, population 24,659, during which he vowed to make the city "one of the toughest places in the United States" for undocumented immigrants.
To that end, Barletta introduced the Illegal Immigration Relief Act in 2006, which fined landlords $1,000 a day if they rented property to undocumented people, and meant the city could deny business permits to those employing undocumented workers.
The law was struck down by a district court judge in 2007, and the decision was upheld by a federal appeals court in 2010 and again in 2013. But that Barletta managed to pass it in the first place served as a blueprint of how to tap into anti-immigrant sentiment.
Barletta's sleight of hand was to convince people that the newly arrived immigrants were to blame for job losses and falling wages, said Tom Baldino, a politics professor at Wilkes University in Luzerne County – which includes Hazleton.
"If you have this part of the electorate, particularly white male Americans, that feels abandoned, that no one is listening, they feel as though they're losing control to a rising segment of the population that doesn't look like them or sound like them – them being white Americans – if you're Trump or Barletta you point to them [immigrants] and say: 'They're the problem,'" Baldino said.
In many ways, Hazleton is typical of the towns Trump managed to win in Pennsylvania and across the midwest. A former coal-mining community, when that industry declined, Hazleton's mostly white residents lost their jobs. When Hazleton began to experience an increase in Latino immigration around 2000 – many moving from New Jersey and New York to take up the cheaper housing in Pennsylvania – this new influx became easy to scapegoat for the hardships the white working class were experiencing.
"It's almost identical," Longazel said of the ways Barletta, and later Trump, rode the anti-immigrant wave. "It's like Hazleton is America now."
Longazel grew up in Hazleton and is able to provide a unique perspective on what the law – even though it was ultimately ruled unconstitutional – achieved. He said what Barletta tapped into as mayor has returned as Trump has talked of rapists, drug-dealers, and animals flooding into the country.
"My sense was that you know if it was at its peak in 2006, it sort of gradually cooled a bit over time," Longazel said. "But I think that the Trump campaign got it boiling again. You walk around town, you see a ton of Trump signs, Lou signs, there are some Confederate flags hanging around town that I don't ever remember seeing – at least that many of them – growing up."
In a Senate race that has become increasingly ugly over the past few months, Casey's campaign has accused Barletta as being "more interested in scoring political points with anti-immigrant extremists than actually reforming our immigration system". The Democrat has also drawn attention to Barletta's position on the board of the Federation for American Immigration Reform – an organization which the Southern Poverty Law Center describes as an "extremist group" with links to white supremacists – and criticized his appearance with Farage.