29 Jul
News and Analyses, A Foreign Perspective
Nearly all of these are English-edition daily newspapers. These sites have interesting editorials and essays, and many have links to other good news sources. We try to limit this list to those sites which are regularly updated, reliable, with a high percentage of "up" time.


Guardian staff and agencies
Former archbishop of Washington DC stands down

Allegations concern sex abuse with minors and young men
Cardinal Sean O'Malley of Boston said he was "deeply troubled" by the McCarrick case. "Deeply troubled"? =

BULLSHIT!
"Accepted his resignation"? The bastard should have been fired back in 2005.
"Regular canonical trial"? A trial should be open to the World.
Damn it! Find out who else in the hierarchy knew about these crimes and did nothing. And prosecute them.
The McGlynn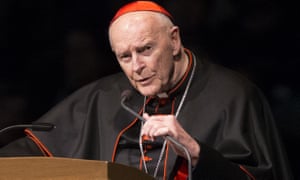 Theodore McCarrick has been removed from public ministry since 20 June. Photograph: Robert Franklin/AP
Pope Francis on Saturday accepted the resignation as a cardinal of Theodore McCarrick, a former archbishop of Washington DC and one of the most prominent figures in the US Catholic church, following allegations of sexual abuse, including one involving an 11-year-old boy.
The Vatican said in a statement McCarrick, 88, sent his resignation letter to the pope on Friday night.
Recent weeks have brought a spate of allegations that in the course of his distinguished career, McCarrick sexually abused both boys and adult seminarians. The revelations posed a test to Francis's recently declared resolve to battle what he called a "culture of cover-up" of such abuse in the Catholic church hierarchy.
McCarrick has been removed from public ministry since 20 June, pending a full investigation into allegations he fondled a minor more than 40 years ago in New York City.
A man, who was 11 at the time of the first alleged instance of abuse, says a sexually abusive relationship continued for two more decades. McCarrick has denied the initial allegation.
Several men have come forward to allege McCarrick forced them to sleep with him at a beach house in New Jersey when they were adult seminarians studying for the priesthood.
The New York Times reported last week that two dioceses in New Jersey reached financial settlements in 2005 and 2007 with men who said they were abused by McCarrick as adults decades ago.
McCarrick has not commented on the allegations of abuse of adult men and another minor.
Some American Catholics have said the Vatican should send an inspector to the US to determine who in the church hierarchy knew of the alleged incidents and why McCarrick's rise was not impeded.
Cardinal Sean O'Malley of Boston said he was "deeply troubled" by the McCarrick case, saying it and others pointed to "a major gap" in church policy on sexual conduct and sexual abuse by bishops or other top officials.
Besides agreeing to McCarrick's stepping down as a cardinal, Francis ordered him to conduct "a life of prayer and penance" until accusations against him are examined in a church trial.
McCarrick rose steadily through the US church, from auxiliary bishop in New York City to bishop in Metuchen, New Jersey, to archbishop of Newark, New Jersey and then to Archbishop of Washington DC, where the papal ambassador to the US is based.
While most scandals involving sexual abuse by members of the clergy have involved rank-and-file priests, some cases involved bishops and there are a few involving cardinals, including a current case in Australia involving one of Pope Francis's closest advisers, Cardinal George Pell.
In the case of Scottish cardinal Keith O'Brien, accused by former seminarians in 2013 of sexual misconduct, Francis only accepted his resignation after the Vatican's top abuse prosecutor conducted a full investigation, two years after the first revelations.
In its statement on McCarrick, the Vatican said: "Pope Francis accepted his resignation from the cardinalate and has ordered his suspension from the exercise of any public ministry, together with the obligation to remain in a house yet to be indicated to him, for a life of prayer and penance until the accusations made against him are examined in a regular canonical trial."
The last person to resign from the College of Cardinals is believed to be French theologian Louis Billot, who according to the National Catholic Reporter, a US newspaper, left over a disagreement with Pope Pius XI in 1927.
Related:
"They tell us 2,900 of my people are buried here but there are more. My people were tortured all over this area, even under these million dollar homes."

World Politics
United States
Andrew Morris, 32, says his first-hand experience of US immigration and universal healthcare can help him win listeners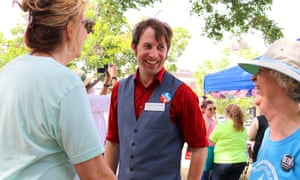 Andrew Morris: 'Hearing from someone who has gone through the immigration process, they are really open and really curious about what I think.' Photograph: Handout
Texas is traditionally portrayed as a fiercely patriotic state. The kind of state that revels in all-American, conservative politicians. On the face, it doesn't seem the sort of place where a liberal British politician could win office.
But Andrew Morris, a 32-year-old originally from Yorkshire, is bidding to do just that.
Morris, who moved to Texas 10 years ago, is running for a seat in the state's House of Representatives. He's retained his northern English accent – if it has developed a slight transatlantic lilt – and he says that makes him a curiosity when he turns up on doorsteps making his progressive pitch for more school funding, more investment in healthcare, and higher public sector wages.
"I think it captures people's attention a little more because they want to hear what this strange-sounding guy has to say," Morris says.
"I make it part of my pitch – I just make a joke about it. I go off on a segue about how I'm possibly more patriotic than a lot of my audience because I chose to move here, and who else in the audience can say that kind of thing?"
Morris was born in Rotherham before moving to Warrington and later Brighton, following his father's career. When he was 17, the family moved to Australia, and it was there that he struck up a pen-pal correspondence with his now wife, a native Texan. In 2008, Morris moved to Texas on a student visa, and he became a passport-holding citizen two years ago.
As an immigrant himself, he is not afraid to talk about a more inclusive approach to immigration and undocumented immigrants – which is anathema to many in the south.
His background, however, sometimes means people are more receptive to his ideas.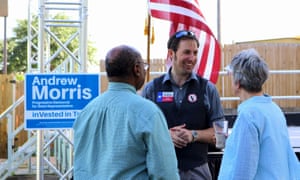 'What I saw in previous cycles was that the Democratic candidate didn't really run a campaign or organize effectively,' Morris says. Photograph: Handout
"Hearing from someone who has gone through the immigration process, they are really open and really curious about what I think of the whole situation," Morris says.
"I have some insight into how expensive it is, how long it is and how opaque of a process it can be. I have a sense about the challenges that immigration reform entails."
Morris co-founded a group backing Bernie Sanders during the Vermont senator's run for president, and he is running as a progressive in Texas House district 64. One of the things he will be able to focus on as a state representative is education: specifically classroom size and teachers' pay.
Another area Morris says he is particularly able to speak to is healthcare. He is a proponent of Medicare-for-all – which would provide free healthcare to everyone in the US – and says his first-hand experience of living in countries with universal healthcare helps him allay people's suspicions.
"There's no reason why the US, with all of their riches and all of the opportunities that it has, should trail everyone else among the most economically developed countries in the world. Nowhere else do you become bankrupt because of a medical condition," Morris says.
"I use my experiences in the UK and Australia to show that the level of rhetoric, especially from the conservative side of the political spectrum, isn't based in any sort of reality."
Morris's opponent, the Republican Lynn Stucky, won district 64 in 2016 with 64% of the vote, with the Democratic candidate winning just 38%. A Republican also won with more than 60% in 2012 and 2014. But despite those numbers, Morris is positive about his chances. He sees the district as more liberal than the figures suggest.
"There are more Democrats than Republicans. But what I saw in previous cycles was that the Democratic candidate didn't really run a campaign or organize effectively," Morris said.
"That's what going to be different about this cycle – the energy and enthusiasm that a lot of people have, especially because of the current White House occupant. There's something different about this cycle that will encourage more Democrats to come out."
If Morris does win, he'll serve a two-year term in the Texas state house in Austin alongside 149 other representatives. At a time where there is tension between the US and the UK, perhaps a Brit in Texas could help to repair relations a little.

James Bullock, Source: Getty/Reuters/AP James Bullock, Source: Getty/Reuters/AP
As the northern hemisphere endures record-breaking temperatures, scientists and meteorologists are looking at the possible causes. Climate change is partly responsible, but the summer has also featured unusual jet stream activity, which is bringing the subtropical heat north
More on the Environment: