30 Jul
News and Analyses, A Foreign Perspective
Nearly all of these are English-edition daily newspapers. These sites have interesting editorials and essays, and many have links to other good news sources. We try to limit this list to those sites which are regularly updated, reliable, with a high percentage of "up" time.


As Daniel Ortega's violent crackdown intensifies, the tide of refugees escaping to Costa Rica has become a wave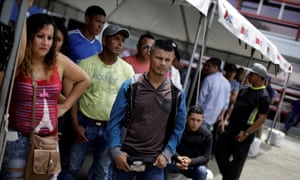 Nicaraguan migrants fleeing unrest at home wait to request refuge in Costa Rica. Photograph: Juan Carlos Ulate/Reuters
Tears filled Ricardo Pineda's bloodshot eyes as he relived the solitude and paranoia of his 13-day march to safety.
Five hours earlier, after almost a fortnight on the run, he had slipped over Nicaragua's southern border, flagged down a taxi and taken his phone off flight mode for the first time since fleeing Managua.
Now the sleep-deprived doctor was sitting in a safe house on the outskirts of Costa Rica's capital contemplating the sudden unraveling of his country and the start of a new and uncertain life in exile.
"It's terrifying because you know they are tracking you … every footstep, every little noise, every branch, every tree – you think it's the army and they're going to grab you … you're a fugitive," said Pineda, 54, who bolted after receiving death threats for treating the victims of Daniel Ortega's crackdown on protesters and denouncing those killings.
While people fleeing violence in El Salvador, Honduras and Guatemala have sought safety by heading north towards the US, Nicaraguans have long headed south. For more than a century Nicaraguans, among them many of Ortega's fellow Sandinistas, have looked to Costa Rica for sanctuary from crisis, repression and war. A display at San José's National Museum pays tribute to the nicaragüense economic migrants who came "looking for a more promising future for their families".
But the thousands of asylum seekers now crossing the border each month say they seek survival, not service. "If I go back they'll kill me," said Fraol Espinosa, a 31-year-old protester from León who claimed paramilitaries had torched his house in retribution for his role erecting barricades during the anti-Ortega insurrection.
Last Thursday night Espinosa was one of dozens of Nicaraguan refugees packed into a pink and green love motel in San José's red light district, one of perhaps a dozen such establishments now housing those fleeing the strife. Sharing room 16 with him were six other protesters from Masaya, Jinotega, Diriamba, Matagalpa and Ometepe, other rebelling towns that were recently retaken by Ortega's forces.
"We can't go back until the president is gone," said Francisco Pérez Mairena, 24, who had fled Masaya's Monimbó neighbourhood five days earlier with his heavily pregnant wife and their two daughters after it was stormed by police and pro-Ortega militias.
Next door, in room 17, a family of five perched on the double-bed on which they would spend their first night in exile. "We had to come because we took part in the 'blue and white' march," explained Amparo Rios, 38, breaking down as she recalled abandoning her three children, aged nine, 14 and 16, after being threatened and attacked by paramilitaries.
Her cousin, Gloria Isabel Mendoza, tried to comfort her: "Here at least we're safe. We have nowhere to live. But at least there's no shooting."
Members of San José's large Nicaraguan community say they began receiving asylum seekers soon after the uprising began late April. But that trickle turned into a daily tide earlier this month after rifle-toting security forces and paramilitaries launched an all-out assault on rebel strongholds dubbed "Operación Limpieza". Activists say that onslaught pushed the death toll to almost 450.
If you were involved in any way, you are a target … They are being hunted

Maria Elizondo, activist
"It started when Ortega decided to clean house violently," said Maria Elizondo, the founder of a local activist group providing support, food and medical care to the displaced. "If you were involved in any way, you are a target … They are being hunted."
Those now on the run include journalists, human rights activists and doctors like Pineda, a former army medic who fled Managua on 14 July after surviving an 18-hour church siege that left two dead and drew international condemnation. A draconian new "anti-terror" law, which campaigners say allows authorities to criminalise the opposition by classifying almost any kind of political dissent as terrorism, has added to their sense of dread.
But the displaced also include children and teenagers, like Brandon Sandoval, who have little grasp of the turmoil engulfing their country.
"He's 14," said Sandoval's grandmother, Flor del Carmen López, 69, her grief turning to rage as she explained how the boy's father had begged her to take him south to protect him from the violence. "'Flee – because I'm not going anywhere!" she remembered him telling her. "I'm staying put to defend Nicaragua!"

To weaken protections for our unique animals in favor of industry is short-term thinking at its very worst
Andrew Rosenberg
Andrew Rosenberg is director of the Center for Science and Democracy at the Union of Concerned Scientists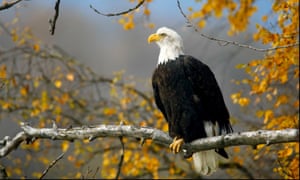 Bald eagles, grizzly bears and alligators have been brought back from the brink of extinction thanks to the Endangered Species Act. Photograph: Bob Strong/Reuters
T

he Trump administration and its conservative allies in Congress have consistently touted their efforts to "free" the American economy by rolling back regulations. The vice-president, Mike Pence, has said that the administration will deregulate so aggressively that we should all "buckle up". Pence must have forgotten that seatbelts were instituted as a safety regulation that has saved countless people from injury and death.
So far, the push for regulatory rollbacks has focused mainly on public health, safety and worker protections. (These vaunted rollbacks are still in progress – or held up in the courts – rather than accomplished.) If anti-regulation politicians and lobbyists are successful, they will significantly reduce restrictions on air and water pollution, industrial waste, toxic chemicals, and hazards in the workplace.
But it's not just public health or workplace safety at threat. Now in the crosshairs? America's commitment to protect endangered animals. On 19 July, the Trump administration proposed a plan to significantly weaken multiple provisions of the Endangered Species Act – a landmark law that has brought beloved American animals like the bald eagle, bison, grizzly bear, sage grouse, alligator, gray wolf and humpback whale back from the brink of extinction.
The Endangered Species Act (ESA) has been in place for nearly half a century. Its goal, to protect species under particularly grave threat from habitat loss, climate change, overhunting or other challenges, is simple to state but very hard to accomplish. The act works by scientifically evaluating species to determine if they are in jeopardy, and, if so, instating "reasonable and prudent" measures to limit the causes of that jeopardy. While few species have been restored to a healthy status, 99% of species listed as endangered have been saved from extinction. That's an impressive record.
Profits go up and down and up again – but species, once extinct, don't come back
Wolves, bears, sage grouse: these are animals of incredible beauty that enrich our ecological landscape. But other, less charismatic species, like burying beetles and freshwater mussels, are at risk too – all because their presence is inconvenient for some economic activities. Unfortunately, species are not just "nice to have". They are part of living, breathing ecosystems. As the biologist Paul Ehrlich put it: "The first rule of intelligent tinkering is save all the parts." We can't sacrifice species for short-term financial profit. Profits go up and down and up again – but species, once extinct, don't come back.
Although the ESA is extremely popular with the American public, it has long been a favorite bogeyman of special interest groups – especially the mining industry, oil and gas extractors, timber companies and ranchers. The reason is simple: in some cases, protecting species requires limiting activities that are putting those species at risk. If a native species is endangered, the government may place some areas on public and private lands off limits to exploitation, or require businesses to modify their operations. In the name of "freedom," however, some conservative politicians and industry groups apparently believe businesses should have the right to extinguish the last living representative of a plant or animal species on earth if it makes short-term business sense.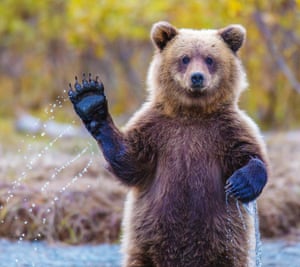 'The ESA is our last best chance to prevent the extinction of species that are part of our common heritage as Americans.' Photograph: Alex Bondarenko / EyeEm/Getty Images/EyeEm
If the overblown rhetoric of lobbyists and trade groups were to be believed, the US oil and gas industry has been brought to its knees by environmental regulations of totalitarian scope. They haven't. But conservatives in Congress, echoing these talking points, love to claim that the ESA has been a failure and blocks economic development. The chairman of the House of Representatives natural resources committee, the Utah Republican Rob Bishop,has said he would "love to invalidate" the Act.
This administration and Congress want to change ESA rules so that political officials evaluate evidence, not scientists, and economic considerations are given greater weight in deciding whether to save a species.
To do so would be deeply misguided. The ESA is our last best chance to prevent the extinction of species of animals and plants that are part of our common heritage as Americans. Our government protects them on our behalf, and on our children and grandchildren's behalf; they belong to all of us, not private industry.
More on the Environment:

World Politics
United States
President and Sulzberger each say other is damaging America

Rhetoric also criticized by Washington Post's Marty Baron
Hours after saying he had a "very good meeting" with the publisher of the New York Times about his labelling the press the "enemy of the people", Donald Trump launched a blistering attack on "anti-Trump haters in the dying newspaper industry".
"The failing New York Times and the Amazon Washington Post do nothing but write bad stories even on very positive achievements," Trump tweeted. "And they will never change!"
Earlier, the White House confirmed Trump met Times publisher AG Sulzberger on 20 July. Sulzberger then issued a statement that opened an exchange over whose activities were more damaging to America.
Sulzberger said he had raised "concerns about the president's deeply troubling anti-press rhetoric" and "implored him to reconsider his broader attacks on journalism, which I believe are dangerous and harmful to our country".
Sulzberger did not say how the president responded. Hours later, Trump obliged.
In a multi-tweet rant, he claimed reports on "internal deliberations of our government … truly put the lives of many, not just journalists, at risk". He added: "Freedom of the press also comes with a responsibility to report the news accurately."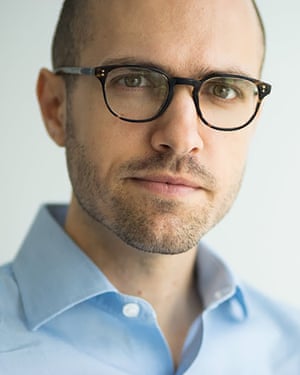 AG Sulzberger. Photograph: Todd Heisler/AFP/Getty Images
Claiming without evidence that "90% of media coverage of my administration is negative", Trump said he would "not allow our great country to be sold out by anti-Trump haters in the dying newspaper industry".
The president may have been referring to a study released last year by the conservative Media Research Center, which said 91% of mainstream coverage of Trump was negative. In a study of Trump's first 100 days in office, the Shorenstein Center, at Harvard University, reached a similar conclusion.
On Saturday night, the executive editor of the Washington Post made public remarks that were implicitly critical of Trump.
In Annapolis, Maryland, Marty Baron spoke at a benefit event for the families of five people killed last month in a shooting at the Capital Gazette newspaper. They were "friends of the people", he said. The event was also addressed by the New York Times' Washington bureau chief, Elisabeth Bumiller, and Olivier Knox, the president of the White House Correspondents' Association.
The suspect threatened the Capital Gazette after it reported his harassment of a high school acquaintance. A grand jury indicted him on 23 counts in the deaths of Gerald Fischman, Rob Hiaasen, John McNamara, Rebecca Ann Smith and Wendi Winters.
Baron did not mention Trump. Of the victims, he said: "Not one of them deserved to be seen as an enemy because of the profession they choose or the place they worked.
To demean people like these, to demonise, to dehumanise them, is to debase yourself

Marty Baron, Washington Post
"Not one of them deserved to be seen as an enemy by the man who killed them, and not one of them deserved to be called an enemy by anyone else either. Nor does anyone else in our field deserve to be labeled that way."
Baron added: "To demean people like these, to demonise, to dehumanise them, is to debase yourself."
The day after the shooting, Trump said journalists should not fear being violently attacked while doing their job. He also said the shooting "shocked the conscience of our nation and filled our hearts with grief".
But he has continued to attack the media. This week, Trump told veterans in Kansas City they should not "believe the crap you see from these people, the fake news" and added: "Just remember: what you're seeing and what you're reading is not what's happening."
Aides also barred Kaitlin Collins of CNN from an event at the White House, after she shouted questions in the Oval Office. That led to an industry-wide protest that included Fox News, Trump's preferred network.
Knox, of Sirius XM, told the audience in Annapolis he divided "threats against journalists into two eras: before 17 February 2017 and after 17 February 2017. That's because on 17 February 2017, the president of the United States, using his Twitter account, declared us enemies of the American people."
That tweet named the New York Times, NBC News, ABC, CBS and CNN. The president's use of the phrase has attracted criticism, including from within his own party. Trump has regularly attacked the Post over its ownership by Jeff Bezos, the Amazon billionaire.
His tactics appear to have benefits. On Sunday, a CBS News poll said 91% of strong Trump supporters trusted the president to give them accurate information. Only 11% said they trusted the mainstream media.
In his first tweet on the subject on Sunday, Trump wrote that he "had a very good and interesting meeting" with Sulzberger "about the vast amounts of Fake News being put out by the media & how that Fake News has morphed into phrase, 'Enemy of the People'. Sad!"
Sulzberger, 37, took over from his father on 1 January. In his statement, he said: "I told the president directly that I thought that his language was not just divisive but increasingly dangerous. I told him that although the phrase 'fake news' is untrue and harmful, I am far more concerned about his labelling journalists 'the enemy of the people'."
He also "warned that this inflammatory language is contributing to a rise in threats against journalists and will lead to violence", he said, and "repeatedly stressed that this is particularly true abroad, where the president's rhetoric is being used by some regimes to justify sweeping crackdowns on journalists".
The Times later reported a conversation with Sulzberger in which he discussed the off-record White House meeting further. Sulzberger said Trump expressed pride in popularising the term "fake news" and said countries had begun to ban it. Sulzberger said he pointed out such countries were dictatorships seeking to avoid scrutiny.
Sulzberger said Trump appeared to have listened and said he would think on the issue.
In his original statement, Sulzberger said he "made clear that I was not asking for him to soften his attacks on the Times if he felt our coverage was unfair".
This entry was posted on Monday, July 30th, 2018 at 12:35 pm and is filed under General. You can follow any responses to this entry through the RSS 2.0 feed. Both comments and pings are currently closed.