01 Aug
News and Analyses, A Foreign Perspective
Nearly all of these are English-edition daily newspapers. These sites have interesting editorials and essays, and many have links to other good news sources. We try to limit this list to those sites which are regularly updated, reliable, with a high percentage of "up" time.


Order puts hold on plan to make blueprints downloadable to print untraceable and undetectable plastic guns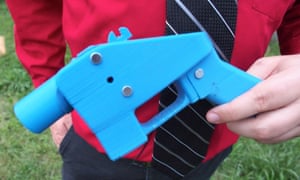 A handgun made entirely with parts from a 3D printer. Photograph: Robert Macpherson/AFP/Getty Images
A federal judge in Seattle has issued a temporary restraining order to stop the release of blueprints to make untraceable and undetectable 3D-printed plastic guns.
Eight Democratic attorneys general filed a lawsuit Monday seeking to block the federal government's settlement with the company that makes the plans available online. They also sought a restraining order, arguing the 3D guns would be a safety risk.
The US district judge Robert Lasnik issued the order Tuesday afternoon, saying: "There is a possibility of irreparable harm because of the way these guns can be made."
The company behind the plans, the Texas-based Defense Distributed, had reached a settlement with the federal government in June that allows it to make the plans for the guns available for download on Wednesday.
The restraining order puts that plan on hold for now.
In the meantime, congressional Democrats have urged Donald Trump to reverse the decision to let Defense Distributed publish the plans. Trump tweeted Tuesday that he was "looking into" the idea, saying making 3D plastic guns available to the public "doesn't seem to make much sense!"
After a years-long court battle, the state department in late June settled the case against Defense Distributed. The settlement, which took gun-control advocates by surprise, allowed the company to resume posting blueprints for the hard-plastic guns at the end of July. Those plans were put on hold by the Seattle judge's decision.
Hours before the restraining order was issued, Democrats sounded the alarm, warning about "ghost guns" that could avoid detection and posed a deadly hazard.
"All you need is a little money and you can download a blueprint from the internet to make a gun at home," said the Senate minority leader, Chuck Schumer. "No background check. No criminal history check."
The company's website had said downloads would begin on Wednesday, but blueprints for at least one gun, a plastic pistol called the Liberator, have been posted on the site since Friday. A lawyer for the company said he didn't know how many blueprints had been downloaded since then.
Senator Edward Markey of Massachusetts noted that Trump had boasted that he alone could fix problems afflicting the country.
"Well, fix this deadly mistake that once again your administration has made," Markey said.
Some Republicans also expressed concern.
"Even as a strong supporter of the Second Amendment this is not right," the Alaska senator Lisa Murkowski tweeted, linking to a news story on the guns.
Markey, Blumenthal and other Democrats filed legislation that would prohibit the publication of a digital file online that allows a 3D printer to manufacture a firearm. Democrats also filed a separate bill to require that all guns have at least one non-removable component made of metal.
The second measure is intended to ensure that even guns primarily made of plastic can be discovered by metal detectors.
People can use the blueprints to manufacture plastic guns using a 3D printer. But industry experts have expressed doubts that criminals would go to the trouble, since the printers needed to make the guns can cost thousands of dollars, the guns themselves tend to disintegrate quickly and traditional firearms are easy to come by.
Unlike traditional firearms that can fire thousands of rounds in a lifetime, the 3D-printed guns normally last only a few rounds before they fall apart, experts say. They usually hold a bullet or two and then must be manually loaded, and they are not usually very accurate.

As Carr fire claims lives and homes in pro-Trump area, local residents reject science: 'It's bull'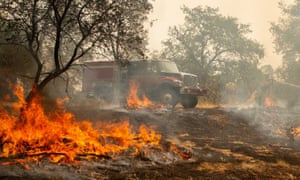 Firefighters douse a hotspot near various homes as the Carr fire continues to burn near Redding, California, over the weekend. Photograph: Josh Edelson/AFP/Getty Images
A

t a public meeting not far from the California town of Redding last year, the US congressman Doug LaMalfa said that he "didn't buy" human-made climate change.
"I think there's a lot of bad science behind what people are calling global warming," he said on another occasion.
In recent days, the outskirts of Redding have been ravaged by the Carr wildfire, and scientists have directly connected the blaze, which has claimed six lives and dozens of properties, to climate change. Yet LaMalfa sounds unswayed.
"I'm not going to quibble here today about whether it's man, or sunspot activity, or magma causing ice shelves to melt," he told the Guardian on Tuesday, citing discredited alternative explanations for rising temperatures.
Can climate-driven natural disasters shift attitudes about climate change? In Redding, the weeks to come may provide a somber test case.
Carr wildfire spawns 'firenado' in California – video
The Carr wildfire, which has destroyed more than 800 homes, caused a fire whirl or 'firenado', a phenomenon that occurs when heat from the fire rises rapidly from the ground and the air around it rushes in to fill the vacuum
As of Tuesday evening, the Carr fire was 27% contained, and it was one of sixteen wildfires burning in California.
Like LaMalfa, the citizens of Redding are far more skeptical about climate change than the average American is. In 2016, a team from the Yale Program on Climate Change Communication found that only 35% of Redding residents believed that global warming would harm them personally, five percentage points lower than the national average, and 12 points less than the average Californian.
"Experience is an important part of determining one's belief on climate change, but not necessarily the determining one," said Christopher Borick, director of the National Surveys on Energy and Environment, which has carried out long-term studies on attitudes to climate change and other environmental issues.
But he said partisan affiliation was still a more powerful influence on beliefs about climate. "If you gave me one factor to explain someone's belief, I'd ask you what party they belong to," he said. "Among Republicans, about half think there's evidence of climate change, but only a third think it's anthropocentric in its roots."
Redding is the county seat of Shasta county, which is only about 200 miles north of San Francisco but has opposite political values.
"The county went 65% for Trump," noted David Ledger, who belongs to the Shasta Environmental Alliance, a coalition of environmental groups in the area. "The media here runs a lot of very conservative talkshows. The newspapers tend to have very conservative editorials. Almost all of them are skeptical of anthropogenic climate change."
Still, Ledger held out modest hopes that the events this week would shift some attitudes. "The fire will not cause a huge shift, but it may change some attitudes in the area."
Near Redding's Sundial Bridge, a popular gathering place for locals, a longtime resident, Ray Cutchen, dismissed any contribution of climate change to the fire.
"I think it's bull," he said. "It's just fire season. It's hot. There's more people living out further and further in the woods."
His wife, Barbara Cutchen, sounded a more cautious note.
"I think it could be due to climate change," she said. "All over the country it's changing."
Ray responded with recollections of his own childhood in a nearby town.
"I can remember as a kid in Red Bluff, it'd be over 100 for three weeks at a time. People are babying themselves right into the grave," he said.
"It was an unfortunate event," he added of the Carr fire. "But everything was just right for it to happen."
Like other Republicans the Guardian spoke with, LaMalfa, who is profoundly concerned for his constituents affected by the disaster, linked it less to anthropogenic conditions in the atmosphere than to forest-management policies by federal and state authorities, and specifically to efforts to limit logging. These, he claimed, had led to "fuel loads that have been left in the forest for 30 to 40 years".
More On The Environment:

World Politics
United States
Former Trump campaign manager appears in Virginia

Focus will be on financial dealings and luxury lifestyle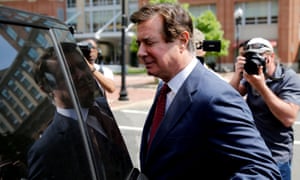 Paul Manafort leaves court in Alexandria, Virginia in May Photograph: Jonathan Ernst/Reuters
As a hotshot global political consultant, Paul Manafort traveled between Kiev and luxury homes in New York, Virginia and Florida.
On Tuesday morning in Virginia he traveled about 100 yards, from the Alexandria Detention Center to the Albert V Bryan courthouse, for the first day of his trial on multiple felony charges including tax fraud, bank fraud and conspiracy.
Manafort, a former chairman of the Donald Trump presidential campaign, was jailed in mid-June on suspicions of witness tampering. The trial marks the first court test for special counsel Robert Mueller, who is investigating Trump campaign ties to Russia and related matters, and whose team is prosecuting Manafort.
Wearing a dark suit, white shirt and blue and white tie, Manafort looked drawn and vulnerable, the sheen of his public persona stripped away, though he remained defiantly good-humoured. Occasionally the 69-year-old put on spectacles or lifted a hand to straighten his hair, the back of which was flecked with grey.
Manafort sat before the judge with two of his lawyers to his left and three to his right. At 11.40am, a hundred minutes into the day's proceedings, he turned around and offered a confident, reassuring smile to his wife, Kathleen, who sat in the front row of the public gallery.
Manafort ran Trump's campaign for five months in the spring of 2016. Trump has tried to distance himself from Manafort, saying he "worked with me, what, for 49 days or something?"
On Tuesday morning, the president claimed by tweet that "collusion is not a crime, but that doesn't matter because there was No Collusion (except by Crooked Hillary and the Democrats)".
But though the trial may touch on Manafort's communications during the campaign with his partners in the former Soviet bloc, it is not expected to focus on campaign ties to Russia. Manafort's financial dealings and the luxury lifestyle they afforded are to come under the microscope instead.
At 10am, around 65 potential jurors filed in. US district judge TS Ellis told them: "Nothing you do as an American citizen is more important than jury service." They answered to individual numbers then swore on oath. Ellis continued: "I am going to start by giving you a brief thumbnail sketch of the allegations by the government in this case."
These consist of five charges of subscribing to false income tax returns from 2010 to 2014; four charges of failing to file a foreign bank account report to the Treasury from 2011 to 2014; and five charges of bank fraud conspiracy and four charges of bank fraud in 2015 and 2016.
More than once, Ellis impressed on the potential jurors: "He is presumed to be innocent until the jury find otherwise."
The jury selection – six men and six women, predominantly white – was completed just before 2pm. Manafort rose as the oath was administered to the jurors, who were then advised not to look up the case on the internet or discuss it with anyone. The hearing adjourned until 2.45pm, when opening statements of 30 minutes each are expected.
Despite the gravity of the situation, there were some lighthearted moments. When one potential juror elicited laughter by describing herself as a "recovering attorney", Ellis played along and said his wife was an attorney for 20 years but was much happier as a high school teacher. Later, the judge said: "I know I'm predictable. My wife says that's one of my only virtues."
Manafort did not seem to object to the levity. He sometimes exchanged banter with his lawyers. When his legal team stood to introduce themselves to the potential jurors, he nodded and smiled. But at other, more serious moments he pointed to some text and spoke intensely with the lawyer to his right.
The judge ordered the activation of a device that generates white noise, intended to sound like ocean waves, so that he and both legal teams could vet jurors for potential bias at the front of the room and not be heard by the public gallery. A total of 16 jurors, 12 regular and four alternates, were being chosen.
Lawsuit alleges migrant children routinely given anti-anxiety and antidepressant drugs after being separated from their parents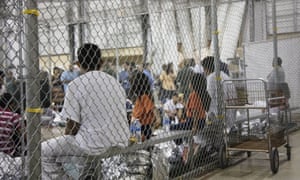 The court ruled that the medicating, forced or not, was in violation of Texas child welfare law. Photograph: AP
A federal judge in California has ruled that the government may not administer psychotropic medication to migrant children in residential centers without first obtaining a court order or consent from a parent or guardian.
The decision relates to a suit alleging that children under the care of the Office of Refugee Resettlement (ORR) were routinely given anti-anxiety and antidepressant drugs, sometimes by force, after being separated from their parents at the southern border.
"Sometimes they give me forced injections," one child alleged in filings by the Center for Human Rights & Constitutional Law. "One or two staff hold my arms, and the nurse gives me an injection."
The court ruled that the medicating, forced or not, was in violation of Texas child welfare law, which requires parental consent before providing psychotropic medication unless it is administered in a situation of medical emergency "to prevent the imminent probability of death or substantial bodily harm to the child or others".
The 1997 Reno v Flores Settlement, which broadly dictates the conditions which the government can hold migrant children, requires that ORR comply with all state laws.
Numerous children testified in affidavits to the forceful or disingenuous medicating. Some reported being told they were being given multivitamins.
"I witnessed staff members forcefully give medication four times," said one child identified as Isabella, "Two staff members pinned down the girl … and a doctor gave her one or two injections."
Isabella's mother said that her daughter has suffered ill-effects from the medications prescribed to her including nausea and trembling and falls. "Nobody asked me for permission to give medications to my daughter, even though the staff has always had my telephone number and address," Isabella's mother testified.
The decision by district judge Dolly Gee also ordered that nearly all of the children currently held in the Shiloh residential treatment facility in Texas, where the forced medicatings are alleged to have taken place, must be transferred to less restrictive facilities. Flores requires that children be held in the least restrictive conditions possible and Gee's ruling agreed with the plaintiffs that Shiloh, a "locked facility with 24-hour surveillance and monitoring," does not qualify.
Gee, along with fellow California justice Dana Sabraw, has been a persistent force against the administration's attempts to separate and detain migrant children as part of a zero-tolerance immigration stance. Earlier this month Gee rejected the administration's request to allow long-term detention of illegal immigrant children, which the Flores settlement expressly forbids. Gee also denied the government's request to suspend requirements that immigrant children be held only in facilities that meet state child welfare licensing regulations.
In a statement posted to its website Tuesday, the Shiloh treatment center, which is just one of dozens of private facilities the government contracts with for the care of migrant children, denied any wrongdoing but supported the judge's ruling.
"The allegations specifically about Shiloh have been found to be without merit by multiple regulatory and monitoring bodies," the statement said. "The judge's ruling simply upholds what is already the law, and Shiloh agrees. Children should not have to remain in a more secure placement than is necessary, and children should not receive medications without consent."