02 Aug
News and Analyses, A Foreign Perspective
Nearly all of these are English-edition daily newspapers. These sites have interesting editorials and essays, and many have links to other good news sources. We try to limit this list to those sites which are regularly updated, reliable, with a high percentage of "up" time.

Putin has been running the table on Trump and the US. Russia is now a serious player and its president keeps raising the stakes, writes Nina Khrushcheva

Russian President Vladimir Putin makes a statement as US President Donald Trump looks on at the beginning of their meeting in Helsinki last month. Picture: AP
At a summit with US President Donald Trump in Helsinki last month, Russian President Vladimir Putin proved that he remains a master of the tradecraft he perfected in the 1980s as a Soviet operative in East Germany.
Trump wilted under Putin's impassive KGB-trained gaze.
After the summit, Trump declared that he trusted Putin's assurance that Russia had no reason to meddle in the 2016 US presidential election.
The statement, which contradicted US intelligence agencies, was quickly condemned by many in the US security establishment, Democrats, and even some Republicans. Paul Ryan, the Republican speaker of the House of Representatives, said Trump "must appreciate that Russia is not our ally".
Some went so far as to call Trump's behaviour "treason".
Trump, as usual, quickly backtracked, claiming that he had mis-articulated a "double negative".
"The sentence should have been, 'I don't see any reason why it wouldn't be Russia'," he asserted.
But then, in another characteristic move, Trump hedged his correction: "It could be other people also. There are a lot of people out there."
The U.S. president said he blamed the U.S., Russia and the Mueller probe for the decline in relations.Video
Now Trump says that if Russia does meddle again, it would be to support the Democrats.
All of these flip-flops have reinforced the belief that Putin has something on Trump, a perception that the Russian president seems to welcome.
In Helsinki, Putin confirmed he had wanted Trump to win the election — a calculated move, no doubt, that he knew would seem to corroborate accusations that Trump's presidential campaign colluded with the Kremlin.
Given how beneficial the Trump- induced chaos has been to Russia thus far, Putin must have decided to stir the pot more vigorously.
Of course, in the long and complex history of US-Russia relations, each country has meddled in the other's domestic affairs. During the Cold War, the Soviets sponsored the Communist Party USA.
After the Soviet Union collapsed in 1991, the Americans were heavily involved in the transition process, contributing to the chaotic capitalism of the Boris Yeltsin era. In fact, it was partly those Western-driven reforms, which did more harm than good, that helped bring Putin to power in 2000. Russians wanted a leader who wouldn't listen too closely to US advice.
Now, it is Putin who is meddling in American politics, not only by attempting to sway the election but also by wielding considerable influence over Trump himself. Arguing that his efforts to improve relations with Russia are in America's national interest, Trump, shortly after the summit, invited Putin to visit the White House in the near future. Putin has just reciprocated with an invitation for Trump to come to the Kremlin.
Trump's enthusiasm (and desire to defy his critics) is no substitute for a genuine openness to mutually beneficial cooperation, like that seen in 1959, when Dwight Eisenhower invited Nikita Khrushchev to visit the US, and in 1986, when Mikhail Gorbachev and Ronald Reagan met in Reykjavik. Instead, Trump's actions just look like more kowtowing, raising the hackles of other US leaders. For many members of the US security establishment, Putin's apparent influence over Trump poses an existential threat to American democracy, much as the Soviet Union did at the height of the Cold War.
Mounting hysteria over Russia also amounts to a serious threat, as it is neutering US foreign policy in ways that may end up delivering to Putin the global influence he craves — and for which he has been happy to take big gambles. He invaded Georgia in 2008, annexed Crimea in 2014, and intervened in Syria's civil war to support his ally, Bashar al-Assad. Brazen meddling in the US election to weaken Hillary Clinton, a stern Kremlin critic, fits this pattern.
Let's face it: Putin has been running the table on Trump and the US. Though some of his bets have worked out better than others, the net result is that Russia is now a serious player. And, convinced he can get away with pretty much anything, Putin keeps raising the stakes………………Ultimately, however, it is Trump's aberrant — and increasingly abhorrent — presidency that poses the bigger global threat, not least by offering Putin more opportunities to engage in adventurism and degrade US power. Trump's trade war, which targets even America's closest allies, is a case in point, as it has helped drive more countries towards rapprochement with Russia.
Germany — which Trump, with a straight face, has called a "captive of the Russians" — has responded to Trump's actions, including his opposition to the Nord Stream 2 natural gas pipeline linking Russia and Germany. Chancellor Angela Merkel calmly stated that "we can make our independent policies and make independent decisions".
Likewise, China, the primary target of Trump's trade war, has now agreed to a Russian plan to retaliate against the announced deployment of US missile-defence systems in Japan and South Korea.
When asked why Nikita Khrushchev was removed from power, the long-time Soviet politician Andrei Gromyko allegedly joked: "Khrushchev was so reckless a gambler, we would be lucky to hold on to Moscow."


World Politics
United States
Alejandra Juarez forced to leave the United States for Mexico, despite her husband's years of military service

Alejandra Juarez, 39, and Pamela, 16, and Estela, nine. 'They try and punish me for something that happened a long time ago, but they're punishing my husband, my kids.' Photograph: Richard Luscombe for the Guardian
All Estela Juarez wanted for her ninth birthday was for her family to be allowed to stay together.
The gift from Donald Trump's administration, however, was fully in keeping with its zero-tolerance stance on immigration. On Friday, Juarez, an American citizen, will leave the only country she has ever known and board a plane to Mexico as US officials enforce a deportation order against her mother, Alejandra.
Her father, a former US marine, national guardsman and decorated combat veteran, will stay in Florida with Juarez's 16-year-old sister, Pamela.
The breaking apart of American military families marks a new low point in Trump's war on immigration, some White House critics believe, while Alejandra Juarez – who is being expelled 20 years after she entered the US illegally from Mexico as a teenager – says it is a "slap in the face".
Before, if you had citizen kids or an American husband you wouldn't be deported, but now they don't care

Alejandra Juarez
"When I think about the service my husband has given this country it just breaks my heart," she said.
"They try and punish me for something that happened a long time ago, but they're not punishing me, they're punishing my husband, my kids. It makes you think if it's really worth fighting for this country when it comes down to this, putting your life at risk for a country that doesn't take your service into consideration."
Juarez, 39, and her 41-year-old husband, Cuauhtemoc – known as Temo – were both born in Mexico. But while he came to the US legally as a child and became a naturalised citizen in 2002, shortly before a 16-month deployment in Iraq, Alejandra has spent their entire 18-year marriage as an undocumented immigrant.
Even so, until Trump took office in 2017, she was not at risk of deportation. "For the last four years I have been told that I wasn't a priority, I have no criminal record, I'm a military spouse, I'm untouchable, don't worry, you're fine," she said, recalling her twice-yearly check-ins with Immigration and Customs Enforcement (Ice) since a 2013 traffic stop flagged her as illegal.
"However, when this administration took over things changed. Obama didn't fix this situation but he didn't deport people like me. Immigration knew I was here and said under the Obama rules I wasn't a priority. Now this administration is deporting people with no criminal record. Before, if you had citizen kids or an American husband you wouldn't be deported, but now they don't care.
"You see Trump on TV. 'I love the military,' he says – he brags about how much. But there are 11,000 military spouses like me. It has to do with this government not caring."
On Wednesday, the family learned that Juarez's latest and final application for a so-called "parole in place", a discretionary deferment of removal proceedings against certain close relatives of serving or past military personnel, was rejected. Essentially, she was barred from the programme anyway because of a document she signed in 1998, when she was first caught in the US and deported. She said it was explained to her at the time as paperwork keeping her out of jail but learned only later it was a promise never to return.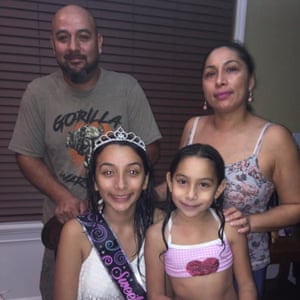 The Juarez family. Alejandra said: 'I don't know where we will go. They might as well deport me to China or England.' Photograph: Richard Luscombe for the Guardian
Their only other hope had been a political fix in Washington, but despite some bipartisan support, the Protect Patriot Spouses Act sponsored by Darren Soto, a Florida Democratic congressman who represents the Juarez family's home town of Davenport, has so far failed to win enough backing to progress.
"No military spouse should be deported. It sends the wrong message to our troops who have sacrificed everything," the politician told reporters when he unveiled the bill in April.
Soto also made no progress with a private bill for legal residence he introduced on Juarez's behalf. "I will continue to support the Juarez family and continue the fight against the Trump administration's heartless immigration policies tearing families apart," he said in a statement after an expedited order of removal was issued last week.
For Juarez and her daughters, Thursday night will be spent on the sofa watching movies for the last time together as a family and trying not to think of their imminent separation. Estela, who just weeks ago was finishing third grade and planning a summer of fun with her friends, must start at school anew in an unfamiliar country and in a language she does not speak fluently.
A lawmaker who took a #MeToo stand, an Indian immigrant and an heir to Bernie Sanders' political revolution vie for nomination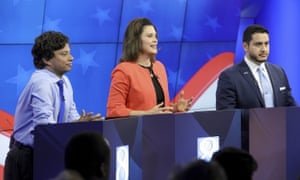 Michigan Democratic gubernatorial candidates from left: Shri Thanedar, Gretchen Whitmer and Abdul El-Sayed. Photograph: Michael Buck/AP
Gretchen Whitmer is a former state senate leader who had a powerful #MeToo moment years before the movement took hold. In 2013, in an effort to stop Republicans from passing legislation that would restrict insurance companies from covering abortions, Whitmer revealed that she had been sexually assaulted as a college student. They passed it anyway.
US president Donald Trump has called on attorney general Jeff Sessions to end a federal investigation into Russian interference in the 2016 presidential election. Trump wrote on Twitter, 'This is a terrible situation and attorney general Jeff Sessions should stop this rigged witch hunt right now, before it continues to stain our country any further'

State of the climate report found 2017 was the third warmest with a record high sea level and destructive coral bleaching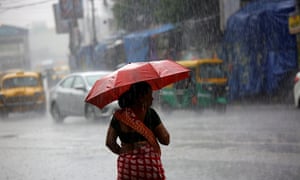 The Indian monsoon season claimed around 800 lives in 2017. Photograph: Piyal Adhikary/EPA
Last year was the warmest ever recorded on Earth that didn't feature an El Niño, a periodic climatic event that warms the Pacific Ocean, according to the annual state of the climate report by 500 climate scientists from around the world, overseen by the National Oceanic and Atmospheric Administration (Noaa) and released by the American Meteorological Society.
Climate change cast a long shadow in 2017, with the planet experiencing soaring temperatures, retreating sea ice, a record high sea level, shrinking glaciers and the most destructive coral bleaching event on record.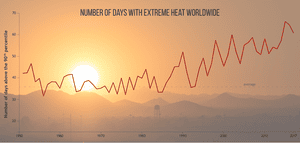 Number of hot days each year since 1950, relative to the 1961-1990 baseline. Photograph: Noaa
Overall, 2017 was third warmest year on record, Noaa said, behind 2016 and 2015. Countries including Spain, Bulgaria, Mexico and Argentina all broke their annual high temperature records.
Puerto Madryn in Argentina reached 43.4C (110.12F), the warmest temperature ever recorded so far south in the world, while Turbat in Pakistan baked in 53.5C (128.3F), the global record temperature for May.
Concentrations of planet-warming carbon dioxide continued on an upward march, reaching 405 parts per million in the atmosphere. This is 2.2ppm greater than 2016 and is the highest level discernible in modern records, as well as ice cores that show CO2 levels back as far as 800,000 years. The growth rate of CO2 has quadrupled since the early 1960s.
The consequences of this heat, which follows a string of warm years, was felt around the world in 2017.
In May of last year, ice extent in the Arctic reached its lowest maximum level in the 37-year satellite record, covering 8% less area than the long-term average. The Arctic experienced the sort of warmth that scientists say hasn't been been present in the region for the last 2,000 years, with some regions 3 or 4 degrees Celsius hotter than an average recorded since 1982. Antarctic sea ice was also below average throughout 2017.
Land-based ice mirrored these reversals, with the world's glaciers losing mass for the 38th consecutive year on record. According to the report, the total ice loss since 1980 is the equivalent to slicing 22 metres off the top of the average glacier.
Prolonged warmth in the seas helped spur a huge coral bleaching event, which is when coral reefs become stressed by high temperatures and expel their symbiotic algae. This causes them to whiten and, in some cases, die off.
A three-year stretch to May 2017 was the "longest, most widespread and almost certainty most destructive" coral bleaching event on record, the report states, taking a notable toll on places such as the Great Barrier Reef in Australia. Global average sea levels reached the highest level in the 25-year satellite record, 7.2cm (3in) above the 1993 average.
"I find it quite stunning, really, how these record temperatures have affected ocean ecosystems," said Gregory Johnson, an oceanographer at Noaa.
There were several major rainfall events in 2017 contributing to a wetter than normal year, with the Indian monsoon season claiming around 800 lives and devastating floods occurring in Venezuela and Nigeria. Global fire activity was at the lowest level since 2003, however.
More On The Environment: