05 Aug
News and Analyses, A Foreign Perspective
Nearly all of these are English-edition daily newspapers. These sites have interesting editorials and essays, and many have links to other good news sources. We try to limit this list to those sites which are regularly updated, reliable, with a high percentage of "up" time.

When the American Civil Liberties Union filed law suits on behalf of families separated at the US border with Mexico, it was the latest demonstration of what its leaders have willed it to become — a rapid legal assault force against the Trump administration, writes Joel Lovell

ON the morning of June 22, the American Civil Liberties Union won a major Supreme Court decision in Carpenter v United States, which was possibly, at least in terms of pure jurisprudence, the most important case argued before the court this past session.
It was a landmark ruling that changed the future of digital privacy in America, but news of the win was only the second-most important thing happening at the ACLU offices that day.
At 3pm, a conference call was scheduled to discuss the more than 2,000 children whose fates were tied to another ACLU suit against the US government.
That case — Ms L v ICE — was filed in late February, long before most of the rest of the world was aaware that thousands of children were being separated from their families at the border.
By comparison, a coalition of 18 state attorneys general filed a suit to stop family separation on June 26, four months to the day after the ACLU filed its suit. It began with a single client, a Congolese woman, Ms L, aged 39, whose daughter was taken from her in November 2017, but it quickly grew into a national class action on behalf of every family whose children had been taken from them.
On June 6, Judge Dana M Sabraw, a George W Bush nominee in the Southern District of California, rejected the government's motion to dismiss the case and ruled that in detaining the immigrants, it was violating the due-process clause of the Fifth Amendment.
The ACLU asked that Sabraw issue a nationwide injunction, which the judge was still considering when the White House, with no legal room to manoeuvre and public outcry intensifying by the day, issued an executive order on June 20 saying the practice would be stopped.
Now, on that Friday afternoon, Sabraw asked the lawyers to call in to discuss how the executive order affected their cases. Did the White House's decision, in theory anyway, negate the need for a nationwide injunction to stop family separation? And how did it affect the children who had already been separated?
Lee Gelernt, deputy director of the ACLU's Immigrants' Rights Project and lead lawyer on the case, dialled in from the ACLU's national offices in Lower Manhattan; Sarah Fabian, an attorney at the Department of Justice, called from Washington.
I was listening on speaker in an office next to Gelernt's. After informing the attorneys that he was in the courtroom and that the call was on the record, Sabraw immediately asked: "How does the executive order affect this case?"
An injunction was more necessary than ever, Gelernt argued, given how much worse things had got since they argued the case in Sabraw's court in early May. "As your honour has probably been following in the media," he said, "there are about 2,000 kids now who have been separated. They range from little babies less than a year old to toddlers to young children. And they are suffering immeasurably."
The executive order still had too many exceptions that would allow family separations to continue, Gelernt said, and vitally, it didn't address the issue of how the families would be reunited.
"Your honour," he said, "I realise that I am almost pleading, but we believe it is necessary for you to issue an injunction as early as tonight or this weekend."
Sabraw asked if there was any interdepartment communication that would allow the US government to even begin putting together on a plan for reunification. "I can't say today that there is a formalized process," Fabian responded.
You could hear Gelernt trying to control the emotion in his response. "At this point," he said, "I think the government has had plenty of time to realize that they are literally terrorizing these little children and creating irreparable harm to them.
"Near the end of the call, Sabraw asked for additional briefs to be filed before he issued a decision. Could the ACLU file theirs by Monday morning, clarifying what relief they were now seeking for their clients, and could the government reply by Wednesday afternoon?
Gelernt tried one more time to push for an expedited process."We could get something to you by midnight tomorrow night, if the government could respond by 9 a.m. Monday," he said. "To allow you to issue something, you know, by Tuesday, if the government is willing to do that."
Fabian declared that it was already too late on a Friday for that; the government needed time to prepare its response during normal work hours. So, it was decided, Wednesday.
I took a brief walk with Gelernt after the call. He looked totally spent. I'd thought about this a lot over the past few months, of course, but the profundity of the burden that he was under, fighting against the US government for these families, seemed suddenly unimaginable.
"I feel terrible that I couldn't get him to budge on the timeline," he said. "I did everything I could think of. Wednesday. That's another five days. How can we wait another five days?" (The judge later amended the deadline to 9am Tuesday.)


Police in riot gear use stun grenades and pepper spray on leftwing groups protesting against Patriot Prayer marchers
World Politics
United States
At Netroots Nation conference, leading Democratic presidential hopefuls embrace concept of intersectionality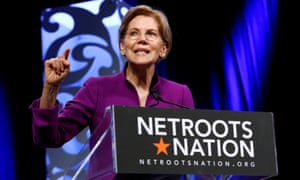 Elizabeth Warren speaks at the Netroots Nation annual conference for political progressives in New Orleans. Photograph: Jonathan Bachman/Reuters
Kamala Harris attacked critics of "identity politics". Elizabeth Warren insisted that Democrats could be both the "party of the white working class and the party of Black Lives Matter" while calling the American criminal justice system "racist". And Cory Booker said it was time "to get folk woke".
At the Netroots Nation conference in New Orleans on Friday, leading Democratic presidential hopefuls embraced the concept of intersectionality, viewing any conflict between economic populism and racial and social justice as a false choice.
"I have a problem with that phrase, 'identity politics,'" said Kamala Harris, the junior Democratic senator from California, during a keynote address at the gathering of more 3,000 liberal activists. "Let's be clear – when people say that, it's a pejorative. That phrase is used to divide and used to distract. Its purpose is to minimize and marginalize issues that impact all of us. It's used to try and shut us up."
Her remarks rebuked the argument – advanced by many on the left – that economic issues should be emphasized over those of race or gender.
Harris, the daughter of an Indian-American mother and Jamaican-American father, faulted liberals for failing to elevate people of color, especially black women, who she said have "helped build the Democratic party and have been the backbone of the Democratic party".
The California senator pointed to the 2017 special election in Alabama when 98% of African American women supported Democrat Doug Jones for the US Senate over Roy Moore, the Republican who faced allegations of sexual assault.
"It's time to respect that leadership. It's time we addressed the issues that they uniquely face," she said.
But she struck a note of optimism, remarking on her own rise to the US Senate.
"I know we're better than this because this city was once home to the nation's largest slave market," she said. "And today, Cory Booker and Kamala Harris are speaking to this conference as United States senators."
Elizabeth Warren, the liberal senator from Massachusetts, railed against the "politics of division" that pit white working class people against black working class people. She argued that progressives can and must put forward a strong economic platform without shying away from issues of race and gender.
"The pundits will say it's impossible for us to build a coalition that cuts across issues and communities – that Democrats have to choose between being the party of the white working class and the party of Black Lives Matter," Warren said in her keynote speech, which was met with emphatic applause. "They will say it. Nevertheless: We will persist."
Warren departed the convention to attend a town hall with congressman Cedric Richmond, whose district covers a large swath of New Orleans. There, Warren amplified her critique of race in America.
"Let's just start with the hard truth about our criminal justice system: it's racist," she said to loud applause in front of a racially mixed crowd at Dillard University, a local historical black college. Warren emphasized that the system was fundamentally flawed "all the way, front to back." She added "our prison system is something that America should be ashamed of. What we do to other human beings is fundamentally wrong."
Human carbon pollution is melting the Arctic, but aerosol pollution is slowing it down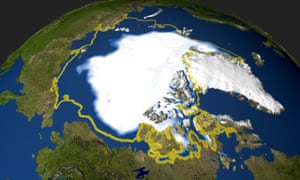 Nasa satellite photo of the minimum extent of Arctic sea ice in 2005 that occurred on September 21, when the sea ice extent dropped to 2,05 million square miles (53 094 969 million square kilometers). Photograph: HO/AFP/Getty Images
The Arctic is one of the "canaries in the coal mine" for climate change. Long ago, scientists predicted it would warm quicker than other parts of the planet, and they were right. Currently, the Arctic is among the fastest-warming places on the planet. Part of the reason is that as the Arctic warms, ice melts and ocean water is uncovered. The ocean is darker than ice so it in turn absorbs more sunlight and increases its warming. This is a feedback loop.
Another reason is that the Arctic doesn't get that much sunlight so increased energy from the atmosphere has a bigger influence there than it would have elsewhere.
Scientists have looked to the Arctic for clues and hints of human climate change over the past decades. The fact that the Arctic is warming has led to a 70% reduction in the volume of summer sea ice – an enormous loss of ice.
A recent paper just published in the Journal of Climate by the American Meteorological Society takes an in-depth look at how fast the Arctic ice is melting and why. According to the paper, the authors completed a detection and attribution study of Arctic sea ice decline from 1953 to 2012. That is 60 years of data that tell the picture of climate change. The "detection" part of this study was about detecting what long-term trends are apparent over these six decades. The "attribution" part of the study is figuring out what is the cause of the trends.
Why six decades? Well the authors wanted to go back as far as they could while still accessing high-quality records of the ice extent. They used three different sets of data that record the extent of ice in the region.
In terms of attribution, the authors looked for "fingerprints" of human activity. Humans emit greenhouse gases that trap heat. We know that and we have known that for a long time. Greenhouse gases make the Arctic warmer. But, other things are happening too. There are natural changes to the Arctic. There are also other human pollutants that affect the ice. For instance, humans emit small particles called "aerosols" that can get into the atmosphere and block sunlight. So, these human aerosol emissions can actually cause cooling.
The authors concluded that the combined cooling effect from human aerosols was detected in all three datasets of ice. That means, it didn't matter whose measurements you used – the effect of aerosol cooling was present.
So how much of an effect do aerosols have? It turns out 23% of the warming caused by greenhouse gases was offset by the cooling from aerosols. Unfortunately, this isn't good news. It means that if/when humans reduce our aerosol pollution, the warming in the Arctic and the ice loss there will be worse.
This puts us into a Faustian bargain. We want to reduce airborne pollution, like sulfur aerosols. But, if we do that, it makes the effects of greenhouse gas pollution worse.
More On The Environment: