06 Aug
News and Analyses, A Foreign Perspective
Nearly all of these are English-edition daily newspapers. These sites have interesting editorials and essays, and many have links to other good news sources. We try to limit this list to those sites which are regularly updated, reliable, with a high percentage of "up" time.
Recommended:

World Politics
United States
Trump's remarks come as one of his lawyers warns special counsel against trying to force president to be interviewed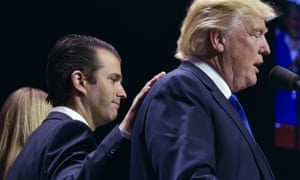 Donald Trump Jr with his father on 7 November 2016. Trump tweeted that his son's Trump Tower meeting in July 2016 was 'totally legal and done all the time in politics'. Photograph: Mandel Ngan/AFP/Getty Images
Donald Trump has admitted for the first time that his son met a Kremlin-connected lawyer in 2016 to collect information about Hillary Clinton, but insists the meeting was legal.
In one of a series of Sunday morning tweets issued in apparent reaction to a CNN report, the US president wrote: "Fake News reporting, a complete fabrication, that I am concerned about the meeting my wonderful son, Donald, had in Trump Tower. This was a meeting to get information on an opponent, totally legal and done all the time in politics – and it went nowhere. I did not know about it!"
That explanation differs entirely from one given by Trump 13 months ago, when a statement dictated by the president but released under the name of Donald Trump Jr read: "We primarily discussed a program about the adoption of Russian children that was active and popular with American families years ago."
The 2016 meeting is pivotal to the special counsel Robert Mueller's Russia collusion investigation, though Trump's tweets appeared aimed at conveying the message that he is not worried about Donald Trump Jr's exposure to the inquiry.
He made the remarks as one of his lawyers warned the special counsel against trying to force the president to be interviewed.
Trump has launched a series of new public attacks on Mueller and his team in recent weeks, which has been interpreted as possible signs the president is anxious about the inquiry reaching his family.
Trump, who is currently ensconced at his Bedlington, New Jersey, golf course for an 11-day "working holiday", has a decision to make over whether to sit for an interview with Mueller – or risk being issued a subpoena.
Trump's legal team have gone back and forth on the issue, playing each scenario out in the court of public opinion to see how it plays.
On Sunday, a Trump lawyer, Jay Sekulow, told ABC News' George Stephanopoulos that if Mueller subpoenas Trump to testify, it would spark a legal battle that would go to the supreme court.
"A subpoena for live testimony has never been tested in court as to the president of the United States," Sekulow said.
In Trump's early Sunday Twitter barrage, he again sought to link Mueller's investigation with the motives of his political opponents, government law enforcement agencies and the media's reporting of his presidency.
"Why aren't Mueller and the 17 Angry Democrats looking at the meetings concerning the Fake Dossier and all of the lying that went on in the FBI and DOJ? This is the most one sided Witch Hunt in the history of our country. Fortunately, the facts are all coming out, and fast!".
Trump Jr's claim to a Senate committee that he never told his father about the meeting have been contradicted by others in Trump's circle, including Trump's lawyer and fixer Michael Cohen, who is believed to be cooperating with the investigation.
The former White House communications director Anthony Scaramucci and the former White House chief strategist Steve Bannon have suggested that Trump, at a minimum, knew of the meeting soon after it took place.
Senior Republicans have sought to distance themselves from Trump's attempt to protect Trump Jr by claiming he, too, is the victim of a witch-hunt, a phrase Trump has tweeted 46 times over the past two months in connection to Mueller.
In private, Trump reportedly believes his son may have inadvertently exposed himself to legal ­jeopardy.
Last week, the Iowa Republican Chuck Grassley, chairman of the Senate judiciary committee, told CNN: "If he misled the committee, he's lying to Congress. That's a crime. And that'd be up to the prosecutors, not me."
Still, Trump's concern for his son, and his efforts to protect him, speaks to a larger sense of frustration that is beginning to envelop the presidency. Trump is believed to be aggrieved by Mueller's treatment of Paul Manafort, his former campaign chairman, who went on trial last week on tax evasion and bank fraud charges.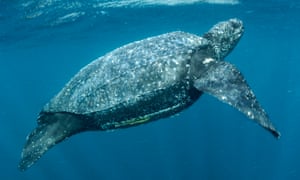 A leatherback turtle. The species is under threat because of overfishing. Photograph: Brian J Skerry/Getty
Wildlife in most of the lawless high seas faces an existential threat from fishing, shipping and the military. Next month, a landmark UN conference could finally bring hope
The leatherback turtle is one of our planet's most distinctive creatures. It can live for decades and grow to weigh up to two tonnes. It is the largest living reptile on Earth and its evolutionary roots reach back more than 100 million years.
"Leatherbacks are living fossils," says oceanographer Professor Callum Roberts, of York University. "But they are not flourishing. In fact, they are being wiped out at an extraordinary rate, particularly in the Pacific Ocean, where their numbers have declined by 97% over the past three decades. They are now critically endangered there."
Leatherbacks are suffering for several reasons. They have been hunted for their meat for centuries and the spread of tourist resorts disrupts turtles when they come ashore to lay their eggs on sandy beaches. But the cause of the most recent, most massive decline in numbers of Dermochelys coriacea has a far more pernicious cause: long-line fishing in the high seas.
Some trawlers now drag fishing lines that are more than 75 miles long, each bristling with hooks. Tens of thousands of sea turtles get snagged on these and drown every year. "It is tragic," says Roberts.
And this carnage goes unchecked – for the simple reason that there is no protection at all for species, endangered or otherwise, on seas outside national waters. The list includes fish and seabirds, plus fragile ecosystems such as deep-sea corals.
"Outside national waters, in the high seas, it is essentially a no man's land when it comes to protecting sensitive environments and their inhabitants," says Paul Snelgrove, a deep-sea biologist at Memorial University in St John's, Canada. "It is a highly unsatisfactory state of affairs."
This lack of protection has increasingly vexed conservationists who for more than a decade have been urging that global action must be taken to protect the biodiversity of the high seas. This pressure has now produced an international response. Next month a major conference, organised by the United Nations, will be held in New York in a bid to get governments to agree measures to protect the high seas before their biodiversity is irreparably damaged. This will be followed by other meetings aimed at creating a treaty that would control and protect wildlife by 2020.
"These negotiations represent the greatest opportunity in history to decide the future of our oceans," said Sandra Schöttner of Greenpeace's Global Oceans campaign. "The life of our seas – from dolphins and turtles to blue whales – depends on the outcome of the next two years of discussions. Governments now have an opportunity to deliver a treaty that will allow us to protect oceans for the first time."
Just over 70% of our planet is covered with ocean and of that ocean, 58% lies outside national jurisdiction. These are the high seas and they lie outside the 200 nautical mile limit that extends from individual countries' shorelines and marks the boundaries of their national waters. Outside these limits, on the high seas, there is simply no effective protection for creatures, plants or habitats.
"It means that more than 40% of the entire surface of the Earth has no protection for its wildlife or habitat," says Roberts. "It is a highly disturbing situation, to say the least."
Overfishing in the unregulated high seas is a threat to many species. Photograph: Monty Rakusen/Getty
And leatherbacks are certainly not the only creatures that are suffering or heading towards extinction thanks to this failure to provide protection. Numbers of whales, sharks, migratory birds including the albatross and many other creatures are also declining rapidly, with the result that species such as the North Atlantic right whale are now hovering perilously close to extinction. Indeed, whole ecosystems are threatened, as is happening in the Sargasso Sea, in the North Atlantic.
Discovered by Christopher Columbus and noted for the mats of Sargassum seaweed that cover its surface, the Sargasso is the only sea on our planet that is not bordered by land. Its extremities are instead defined by the ocean currents that sweep around it and contain it. (These are the Gulf Stream, and the North Atlantic, Canary, and North Atlantic Equatorial currents.)
But the Sargasso is under threat. It is crisscrossed by cargo ships that are increasing in tonnage year by year; more and more trawlers are dragging long lines and gill nets through its water; and the currents that circle the sea now trap vast amounts of plastic waste at its centre. Pollution is rising alarmingly and fish stocks are plummeting…………………Urgent measures are now needed to address all these threats, say biologists. However, without a high seas commission – a major goal of the forthcoming UN conference – to limit overfishing and shipping, there is little that can be done, they say.
"We first need an overarching high seas commission that would then have the power to set up marine protected areas in key zones, such as the Sargasso Sea," says Will McCallum, head of oceans for Greenpeace. "We need a legally binding mandate to protect, not just to exploit our oceans."
At present, the only bodies that control human activities in the high seas are those set up to control industries: fishing, oil, seabed minerals and shipping. These form a patchwork of around 20 organisation regulated under the United Nations Convention on the Law of the Sea,.
In the case of those involved in protecting fisheries, groups – known as regional fisheries management organisations – have been set up to maintain sustainable populations of various fish, such as the bluefin tuna, in regions of the high seas. However, in many cases, they have failed to control unregulated fishing and their success rates in protecting fish stocks have often been poor, sometimes lamentable, biologists say.
More On The Environment: