08 Aug
News and Analyses, A Foreign Perspective
Nearly all of these are English-edition daily newspapers. These sites have interesting editorials and essays, and many have links to other good news sources. We try to limit this list to those sites which are regularly updated, reliable, with a high percentage of "up" time.
Recommended:

Senate votes on bill opposed by Catholic church and pope that would legalise abortion in the first 14 weeks of pregnancy
Pro-choice activists dressed as characters from The Handmaid's Tale at a protest in Buenos Aires. The costumes have become a symbol of protest. Photograph: AFP/Getty Images
Ana María Acevedo was a 19-year-old housemaid and already the mother of three children when she was diagnosed with cancer of the jaw.
Her prognosis took a turn for the worse when doctors discovered she was two weeks pregnant, and cancelled her scheduled chemotherapy sessions.
Acevedo was admitted to Iturraspe hospital in the Argentinian city of Santa Fé, where she remained throughout her pregnancy, but she found herself trapped in a legal grey zone.
Doctors said she could not continue with chemo because of her pregnancy – but they would not consider a termination.
Abortion is banned in Argentina, and while it is legal in the case of rape or risk to the woman's life, doctors often refuse to perform the procedure.
"They said they wanted to save both lives: her life and the life of her unborn child," said Ana María's mother Norma Cuevas in an interview.
"I begged the hospital to save my daughter's life with an abortion. The hospital sent me to get an order from a judge but the judge sent me back to convince the doctors. They kept playing a game of back-and-forth with me."
Acevedo's baby daughter was eventually delivered by caesarean section six months into the pregnancy, but died within 24 hours; Acevedo died two weeks later.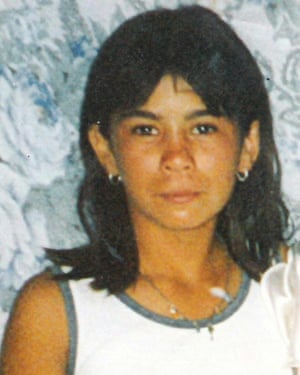 Ana Mari?a Acevedo was 20 when she died following complications from pregnancy. Photograph: Supplied
Her death in 2007 returned to the spotlight this year, when Cuevas testified at a recent congressional hearing over a proposal to reform Argentina's strict abortion laws.
On Wednesday, the debate comes to a climax when the country's senate votes on a law decriminalising abortion in the first 14 weeks of pregnancy.
If approved, Argentina would become the largest country in Latin America to legalise the procedure.
Although abortion is legal in a few jurisdictions – Mexico City, Cuba, Uruguay, Guyana and the French overseas department of French Guiana – the region as a whole has some of the most restrictive laws in the world, and includes three countries where the procedure is banned in all cases: El Salvador, the Dominican Republic and Nicaragua.
"Legalisation in Argentina would have a profound effect on the rest of Latin America, where it remains banned in all the other major countries," said legislator Victoria Donda, one of the main supporters of the bill.
Human rights activists argue that the regions's near-total bans on abortion only push women to seek unsafe clandestine terminations, a major cause of maternal mortality.
In Argentina, more than 3,000 women are reported to have died over the last 25 years as the result of unsafe abortion, according to Amnesty International.
Just on Saturday, Liliana Herrera, a 22-year-old mother of two from Santiago del Estero – a northern province with Argentina's lowest per capita income – died from complications from a clandestine abortion.
The bill before congress has been strongly opposed by both the Catholic church and evangelical Christians.
Legalisation would have a profound effect in Latin America, where it remains banned in the other major countries

Victoria Donda, legislator
Pope Francis – who remains deeply involved in the politics of his home country – has made no secret of his opposition to the bill. On Monday, the Clarín daily newspaper reported that he has asked anti-abortion legislators to pressure fellow lawmakers to reject the bill.
But the reform has been championed by Argentina's increasingly outspoken feminist movement, which grew out of a wave of protests over violence against women – under the slogan "Ni una menos" ("Not one less", meaning no more women lost to gender violence).
Polling suggests that Argentinians are heavily in favour of the bill: in a survey carried out by Amnesty earlier this year, around 60% of respondents said they supported legalisation.
President Mauricio Macri has declared himself "pro-life", but said he will not veto the law if approved by the senate.
Thirty-seven senators have pledged to oppose the bill, against 31 in favour, and pro-choice activists are hoping that a planned mass mobilisation of women outside Congress will sway undecideds in the 72-seat senate.
Tens of thousands of women – many wearing the green headscarf which has become the movement's symbol – braved a freezing southern hemisphere winter night to join a previous protest when the lower house approved the bill after a 20-hour debate in June.
Among those who will stand vigil on Wednesday will be Argentina's best-known film director, Lucrecia Martel, who has been at the forefront of the pro-legal abortion campaign in her native province of Salta.
"We need to be there with the largest amount of people possible, despite the
cold," she said.
Salta, an impoverished northern province, has Argentina's highest rate of women younger than 25 hospitalised due to complications from clandestine abortions: every year about 3,000 women end up in hospital and 17 die from unsafe terminations.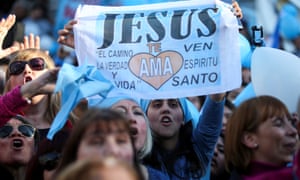 An anti-abortion demonstrator holds a banner that reads 'Jesus loves you' on Saturday. Photograph: Agustin Marcarian/Reuters
But Martel frames the campaign as a fight for women's control over their own bodies. "For some, their last bastion of power is their power over women, and those people don't want to concede that territory," she said.
Three scientists explain the unprecedented danger facing the western US and call for new solutions to a growing threat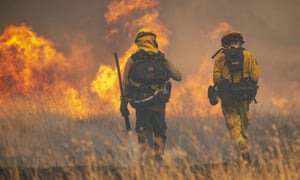 Firefighters with Cal Fire tackle spot fires near the town of Clearlake Oaks in northern California. Photograph: Mark McKenna/Zuma Wire/REX/Shutterstock
California is no stranger to fire. The temperate winters and reliably dry summers that make the Golden state such an attractive place to live are the same conditions that make this region among the most flammable places on Earth.
But even for a region accustomed to fire, the continuing wildfire siege has proven unprecedented. Although it is only early August, numerous very large, fast-moving, and exceptionally intense fires have already burned vast swaths of land throughout the state – consuming hundreds of thousands of acres and thousands of homes and claiming at least nine lives, including four firefighters. State and national firefighting resources are stretched to their limits; choking smoke inundated the state capital of Sacramento; and much of Yosemite national park is closed indefinitely.
California's governor, Jerry Brown, has characterized these devastating wildfires as California's "new normal". But it would be a mistake to assume that the region has reached any semblance of a stable plateau. Instead, the likelihood of large, fast-moving, and dangerous wildfires will continue to increase in the coming decades – and it will combine with other demographic and ecological shifts to produce a large increase in the risk of megafires that threaten both human lives and the ecosystems we depend upon.
Fueling the fires
Immediately on the heels of California's deadliest and most destructive fire season, just a year ago, the early ferocity of 2018 has unnerved even veteran firefighters. While the number of fires in California to date is unremarkable, the total area burned is extraordinary: five times the five-year average, in a decade that has already been characterized by fire activity well above historical level.
The causes are complex, and people are part of the problem. In 1980, 24 million people lived in California; today there are nearly 40 million. Much of this population growth has occurred outside of the dense urban core of cities, resulting in rapid expansion of housing in suburban and semi-rural areas adjacent to wildlands.
Of the tens of thousands of homes burned by wildfires in California in recent decades, nearly all were located in this suburban-rural borderland. With housing shortages and high prices plaguing cities throughout the state, it is unsurprising that residents build on the fringes, places often replete with natural beauty. Yet residents are often unaware of the risks inherent in living there, and the need to mitigate those risks accordingly – their lives may depend upon it.
Another exacerbating problem: the way we historically managed our forests. Demand for timber in the early 20th century ushered in a new era of federally mandated fire suppression. This national policy has been highly successful at achieving its intended goal: historically, 98% of new fires are extinguished before reaching the relatively modest size of 300 acres.
But while this well-intentioned policy of "total suppression" certainly reduced the amount of land burned in wildfires, it also had an unintended side effect: a deficit of low-intensity and forest-regenerating natural fires. This deficit has allowed for an accumulation of wildfire "fuel" in the form of more densely spaced trees and thicker undergrowth in areas that had previously experienced frequent fire. Forests and wildlands are increasingly "primed to burn" under hot and dry conditions.
Enter climate change, wildfire "threat multiplier". While record-breaking heatwaves grab headlines, some of the most consequential warming in California (from a wildfire perspective) is more subtle. Nights have warmed nearly three times as fast as days during fire season – lowering night-time humidity and supporting unprecedented nocturnal fire behavior.
Mendocino Complex fire: aerial footage shows scale of California's biggest ever blaze – video report
Declining spring snowpack and increased evaporation have reduced the moisture available to plants later in summer and autumn. The fire season itself is lengthening: not only have autumn and spring temperatures risen, but there are signs that California's already short rainy season is becoming further compressed into the winter months. We are truly burning the candle at both ends.
Despite this confluence of factors, the total number of fires in California has not increased in recent decades. Instead, climate change appears to be manifesting itself primarily through changes in the character (rather than frequency) of wildfire. Flames are spreading more rapidly and with greater intensity. Around half of the increase in area burned during western forest fires in recent decades can be attributed to the long-term warming trend.
In California, not all wildfires are forest fires – some of the state's deadliest and fastest-moving fires have burned primarily in shrubs and oak woodlands. With climate change tipping the scales in favor of hotter temperatures and drier conditions across the entire landscape, vegetation of all types is becoming more flammable.
Facing the megafires to come
Just as Californians have found strategies to cope with the ever-present risk of earthquakes and other natural hazards, resilience in a dawning "era of megafires" will require Californians to proactively adapt to the wildfires of the future.
More On The Environment
World Politics
United States
To manufacture a blue wave and wipe out the Republicans, candidates need to boost their appeal among rural former Democrats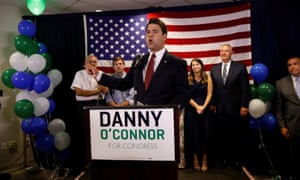 Democratic candidate Danny O'Connor addresses supporters at his election night party for a special election in Ohio's 12th congressional district in Westerville, Ohio. Photograph: Shannon Stapleton/Reuters
Democrats did not get the win they wanted in Tuesday's special election in Ohio's 12th congressional district.
The apparent narrow loss, nevertheless, contains some good news for Democratic chances in the fall. But it also contains two sobering lessons that Democrats should heed if they want to ensure a blue wave actually hits Republican shores in November.
First, the good news. Democrat Danny O'Connor lost by less than 1% in a district that Donald Trump carried by 11%. If other Democrats run just as well in their House races this fall, the Democrats will easily take control of the House. Republicans currently hold 69 seats that Trump either lost or carried by a smaller margin than his margin in Ohio 12. Democrats only need to win 24 of these to take back the House.
O'Connor also performed well in the high income, well-educated suburbs that Democrats need to carry to do well in November. He beat the Republican, Troy Balderson, by more than 20% in Franklin County and lost the wealthiest part of the seat, Delaware County, by less than 10%. According to data from the progressive website the Daily Kos, Republican Mitt Romney lost Franklin County by less than 3% against former president Barack Obama while carrying Delaware by over 23%.
This continues a pattern that has pertained since Trump's inauguration: former Republicans who cast votes for Hillary Clinton in 2016 are now voting for Democrats across the board.
Democratic turnout also was very strong. Polls have continually shown that Democrats are more enthusiastic about voting this year, and that certainly was true last night. Franklin County is the most Democratic part of the district and it had easily the highest voter turnout of any of the seat's seven counties. It and Delaware County combined to cast over 64% of the vote in the race, a large increase from the 59% the two counties cast in the 2016 presidential contest. People who oppose Trump continue to turn out at much higher rates than those who support him. That will help Democrats in the fall.
This turnout advantage, however, is a double-edged sword for Democrats upon closer analysis.
While high turnout among Democrats and anti-Trump former Republicans is good news for them, the disparity in turnout we saw last night between Democratic and Republican areas is unlikely to be so great in the fall. That's because November's election is a regularly scheduled vote for a slew of races, many of which are local and unconnected to Trump. Many reluctant Republicans will turn out to vote for these contests, and in doing so will likely cast unenthusiastic ballots for Republican candidates elsewhere. O'Connor could only come within one point with a strong turnout advantage; that means Democrats running in similarly strongly Republican seats are unlikely to come as close without doing something more.
That something extra is simple: do better with rural former Democrats.
Trump's large margins in Ohio 12 came from former Democrats who switched parties to back the populist billionaire. Just as Trump did much worse than Romney in the two suburban, educated counties, he ran between 15 and 29% higher than Romney in the seat's five rural counties. O'Connor's Republican opponent, Troy Balderson, nearly reached these record high percentages in these places. Had O'Connor lost those areas by only as much as Barack Obama lost them, he, not Balderson, would be going to Washington.
These voters are especially important for Democratic chances to gain control of the Senate. Democrats hold six Senate seats up for election this fall with significant numbers of these "Obama-Trump" voters. Trump won five of those states by margins of 18% or more, well in excess of his margin in Ohio 12. Democratic Senate candidates must do much, much better than O'Connor in reaching these voters if they have a prayer of holding onto their seats.
Democrats also must do better with these voters if they want to flip Republican-held Senate seats. Even if Democrats hold all of the seats they are defending, they must win at least two of three GOP seats that they are seriously contesting. Lose even one of their own seats and they must win all three Republican held ones to regain Senate control. That third seat is Tennessee, a rural, Southern state that Trump carried by 26%, nearly 6% more than Romney won it by. The Democrat's nominee there, former Governor Phil Bredesen, must do significantly better than O'Connor in reaching Obama-Trump and rural Republican voters to have even a prayer of winning.