09 Aug
News and Analyses, A Foreign Perspective
Nearly all of these are English-edition daily newspapers. These sites have interesting editorials and essays, and many have links to other good news sources. We try to limit this list to those sites which are regularly updated, reliable, with a high percentage of "up" time.
Recommended:

For the more than 300,000 people who fled after Hurricane Maria the Sunshine State proved to be no Disney World but they are poised to have an electoral impact in the midterms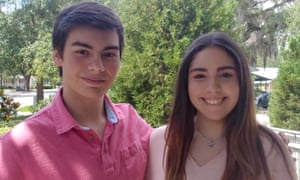 Claudia Sofía Báez Sola, 18, and her brother Esteban Rene Báez Sola, 15, fled Puerto Rico for Florida after the island was battered by Hurricane Maria. Photograph: Richard Luscombe
H

uddled with her family listening to Hurricane Maria's 115mph winds tearing apart their residential community in Caguas, Claudia Sofía Báez's 18th birthday was not the coming of age celebration she had anticipated. When the deadly winds and rain subsided and it was finally safe to leave their storm-battered house, a scene of complete devastation greeted them.
"It looked like a bomb had fallen," Báez said. "It was pure destruction, the town was destroyed. I couldn't recognise it. Absolutely nothing was the same."
Faced with months of no electricity, running water or gasoline, and six-hour lines at the supermarket for even the most basic supplies, the Báez family made the only decision they could: sending Claudia, her then 14-year-old brother Esteban, and 73-year-old grandmother Gladys to start anew in Florida, joining hundreds of thousands of other Puerto Ricans fleeing the aftermath of the worst natural disaster ever to hit the US territory.
"During those times of crisis we saw hope in coming here," said Báez, who was forced to abandon her higher education at the University of Puerto Rico and is now enrolled at Orlando's Valencia College studying psychology.
With her father Héctor, a Puerto Rican government worker, and mother Sonia, a real estate insurance agent, required to stay behind, Báez grew up quickly as the new head of her household in an unfamiliar country. No cellular phone signals on the island meant it was often impossible to talk to her parents, and only in May was the family reunited in Orlando after almost eight months apart.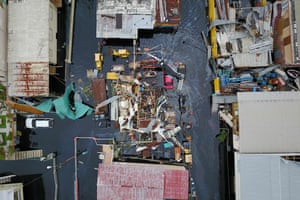 Wreckage left by Hurricane Maria, which pummeled Puerto Rico in September 2017 and is probably responsible for the deaths of more than 4,600 people. Photograph: Ricardo Arduengo/AFP/Getty Images
"It was a trauma," she said. "Even the plane ride was difficult. The majority of the people were there for the same reasons we were and you could hear people talking about their experiences during the hurricane, where they were going, how they had to also leave everything behind.
"You could hear people crying in all parts of the plane and none of those things helped in the process of leaving. We didn't have time to say goodbye to friends or family members. The biggest challenge has been starting over, no friends, nothing. This is a new country, nothing like Puerto Rico."
The Báezes realise they were among the lucky ones. A cousin took them into a tiny apartment and with time – and her parents' wages – they were fortunate to find a rental apartment of their own.
But the challenges they faced are typical of those that still confront many who came to the US mainland in the wake of the storm, arriving shocked and bewildered and in many cases possessing only the clothes they stood up in.
While some headed for Pennsylvania, New York and other areas with a sizeable Puerto Rican community, the vast majority, more than 300,000 by some estimates, arrived at airports and cruise terminals in Florida. They quickly found that it was no Disney World, despite the best efforts of charities, aid agencies and Orlando's Hispanic Office of Local Assistance, which provided advice and resources on everything from housing and healthcare to employment and education.
And with the Orlando/Kissimmee/Sanford area third in the US for its dearth of affordable housing options, low-cost rentals are especially hard to come by, forcing even more to remain in $60-a-night hotel rooms in rundown areas, especially along the US 192 highway in Kissimmee.
"It's been really a tragedy and it didn't have to be that way," said Darren Soto, the first US congressman of Puerto Rican descent elected in Florida, who blames the ongoing crisis on the White House. Soto, a Democrat, says Donald Trump continually refused to sanction for Puerto Rican evacuees the same federal disaster assistance programme that provided rent subsidies to thousands of Hurricane Katrina victims in 2005 and enabled them to escape the misery of budget hotel living. Additionally, the Fema aid for temporary housing is set to end on 23 July.
Lawmakers vote against allowing elective abortion in first 14 weeks of pregnancy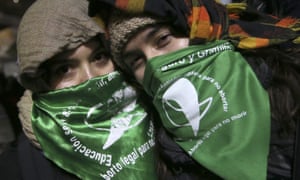 Pro-choice protesters in Buenos Aires. Photograph: David Fernandez/EPA
Argentina's senate has rejected a bill to legalise abortion in the first 14 weeks of pregnancy.
Lawmakers debated for more than 15 hours and voted 38 against to 31 in favour, despite the fact opinion polls showed the bill had strong public support.
Pressure from the Catholic church prevented its approval, according to female activists who supported the bill. Argentina is the homeland of Pope Francis.
"The church put pressure on senators to vote against the bill," said Ana Correa, an original member of the #NiUnaMenos ("Not one woman less") feminist movement that supported the bill.
The lower house had already passed the measure and President Mauricio Macri had said he would sign it.
Rejection of the bill means that abortion remains legal only in the case of rape and danger to the life of the woman.
Mariela Belski, Argentina's Amnesty International director, said a survey had shown 60% support for the bill, and described its failure as "an unforgivable step backwards".
"Lawmakers chose today to turn their backs on hundreds of thousands of women and girls who have been fighting for their sexual and reproductive rights," Belski said. "All that this decision does is perpetuate the circle of violence which women, girls and others who can become pregnant are forced into."
Hundreds of thousands of people, mostly women, braved a cold and rainy night to stand vigil outside the congress building on Wednesday while the votes were counted inside. Despite the final result of the vote, many women said they believed Argentina would have legal abortion eventually.
"I'm still optimistic. It didn't pass today, but it will pass tomorrow, it will pass the next day," said Natalia Carol, a 23-year-old abortion rights supporter. "This is not over."
Argentina pro-choice activist: 'Sooner or later we'll have an abortion law' – video
The journalist Silvina Márquez, who joined the crowd outside the congress building early in the afternoon, said: "We might not have a law today, but it is going to happen. Argentina is not going back to this, it is important for the women, especially for the young women. So sooner or later we'll have an abortion law."
"What this vote showed is that Argentina is still a country that represents family values," the anti-abortion activist Victoria Osuna, 32, told Reuters.
A nearby group of secondary school students, megaphone in hand, chanted: "Beware, beware, machistas [chauvinists] beware, all Latin America will be feminist."
The pope, who remains deeply involved in the politics of his home country, has made no secret of his opposition to the bill. On Monday, the Clarín daily newspaper reported that Francis had asked anti-abortion legislators to pressure fellow lawmakers to reject the bill.
Despite a recent survey that showed 71% of Argentinians opposed political interference by the church, leading Catholic authorities have spoken out recently against the bill. "This would be the first time a law is passed in democratic Argentina permitting the elimination of a human being by another human," Monsignor Óscar Ojea, president of Argentina's synod of bishops, said in a homily at the Basilica of Our Lady of Luján, one of Argentina's leading pilgrimage sites, last month.
In a pointed signal, Bishop Ojea and and Cardinal Mario Poli – who succeeded Jorge Bergoglio as archbishop of Buenos Aires after Bergoglio became pope – held a mass on Wednesday at 8pm at Buenos Aires Cathedral while the senators debated the bill.
Although the law as it stands also permits abortion when there is risk to the woman's health, few of Argentina's 23 provinces have implemented this third instance.
In the city of Rosario, in the province of Santa Fe, where this option has been available since 2012, deaths as a result of complications from clandestine abortions have fallen to zero. Complications related to clandestine abortions are the main cause of death among pregnant women in Argentina.
"Senators and anti-rights can go to sleep pleased that they saved the lives
of people who literally speaking do not exist and pleased that they fought
for women to keep dying," tweeted Malena Pichot, a well-known comedian and legal abortion activist.
World Politics
United States
Liberal groups are working to stop Brett Kavanaugh's confirmation – which could threaten to unravel abortion rights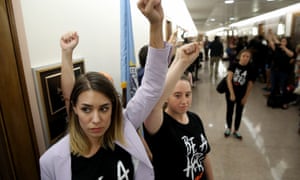 Protesters opposed to the nomination of supreme court nominee Brett Kavanaugh on Capitol Hill on 1 August. Photograph: Win McNamee/Getty Images
Two thousand Planned Parenthood organizers and volunteers, mostly female and young, gathered recently in Detroit to imagine what they see as a kinder, more peaceful America.
But eighteen months and counting into the presidency of Donald Trump and with the threat of a conservative supreme court that could unravel abortion rights in the US, their mission was nothing short of political trench warfare.
"Are women going to be equal members of this society or not? Are they going to have equal rights or not?" said Deirdre Schifeling, the executive director of Planned Parenthood Action Fund said. "That is what is on the line."
As part of that fight, the 100-year-old women's health organization convened Power of Pink, the "biggest, baddest, raddest grassroots training ever". Planned Parenthood, along with a coalition of other liberal groups, are working to mobilize opposition to Brett Kavanaugh, whose supreme court nomination was been cheered by social conservatives as a chance to finally overturn Roe v Wade, the 1973 landmark supreme court decision that established a constitutional right to abortion.
The stakes are particularly high as Kavanaugh would replace moderate Justice Anthony Kennedy, a sometime-swing vote who consistently embraced more liberal views on abortion. The volunteers at the Power of Pink training are the ground troops in an uphill, multi-million dollar battle to stop Kavanaugh from being confirmed to the supreme court.
"I have my kevlar on. I have my boots on, my pink camouflage . I'm ready to fight," said Peshka Calloway, an Army veteran from Parkersburg, West Virginia.
Calloway has relied on Planned Parenthood for care and support after being sexually assaulted by a soldier. Now she's doing everything she can to protect the organization and the access it provides to reproductive health services.
"I may even run for office," she exclaimed, having just left a candidate training run by Emily's List, which helps to elect pro-choice women. "A lot of people tell me I should."
The three-day training was held at the Cobo Center, a sprawling structure with a glass atrium boasting views of Canada. That just across the Detroit River, healthcare is free and the prime minister is an unapologetic feminist was not lost on attendees.
Throughout the weekend, participants heard from Cecile Richards, who recently stepped down after serving a decade as president of Planned Parenthood, Debbie Stabenow, a US senator from Michigan, and Barack Obama, who applauded their activism in a pre-taped video. Then, in break-out sessions and panels, they strategized how to stop Kavanaugh's confirmation.
Democrats alone do not have the votes to derail a supreme court confirmation. But if they hold their party together and persuade two Republican senators over to their side it would be a death knell for Kavanaugh's nomination.
The plan is to pressure red-state Democrats like senator Joe Manchin of West Virginia who are still undecided on Kavanaugh and moderate Republicans like Lisa Murkowski of Alaska and Susan Collins of Maine, who have said they support abortion access. It is widely seen as a long shot, but that is not deterring them.
"We know from the fight over the Affordable Care Act that hearing from thousands of Alaskans across the state really impacted her decision," Jessica Cler, an organizer with Planned Parenthood in Anchorage, said of Murkowski, who helped block a Republican bill that would have repealed the healthcare law. "We know it will be the same with Scotus, so folks are doing anything and everything they can to make sure that she's hearing from us."…………….."It has been the singular goal of the anti-abortion right to get the courts packed with conservative justices who will overturn Roe," said Dawn Laguens, executive vice president of Planned Parenthood Action Fund. "They were gleeful until they realized that their glee collided with what the American people want."