15 Aug
News and Analyses, A Foreign Perspective
Nearly all of these are English-edition daily newspapers. These sites have interesting editorials and essays, and many have links to other good news sources. We try to limit this list to those sites which are regularly updated, reliable, with a high percentage of "up" time.
Recommended:

Priests harmed more than 1,000 children according to a grand jury report released by the state supreme court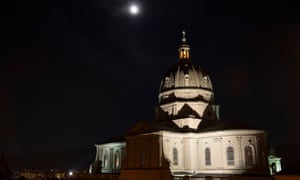 More than a dozen priests appeared before the grand jury and 'most of them admitted what they had done', the report said. Photograph: Alamy
More than 300 "predator priests" were found to have committed sexual abuse in Pennsylvania, harming more than 1,000 children, according to a grand jury report released by the state supreme court on Tuesday.
The near-900-page report is the result of one of the largest US investigations into sexual abuse in the Catholic church. In painful detail, it showcases how for decades one of the most powerful churches in the world hid the abuse and suffering of children.
"There have been other reports about child sex abuse within the Catholic church," the report said. "But never on this scale. For many of us, those earlier stories happened someplace else, someplace away. Now we know the truth: it happened everywhere."
The incidents described include a priest who impregnated a minor and helped her get an abortion, then was allowed to stay in the ministry; a priest who confessed to the oral and anal rape of at least 15 boys, including one as young as seven; and a priest who collected the urine, pubic hair and menstrual blood of girls he abused in his home.
The report said "almost every instance of abuse" was too old to be prosecuted, though two priests were identified and charged because of the report, including one who sexually assaulted two children monthly for several years until 2010.
"We know that child abuse in the church has not yet disappeared because we are charging two priests, in two different dioceses, with crimes that fall within the statute of limitations," the report said.
Twenty-three grand jurors – including practicing Catholics – worked for two years to compile the report based on internal documents surrendered by the six dioceses it investigated and testimony from victims. More than a dozen priests appeared before the grand jury and "most of them admitted what they had done", the report said.
The grand jury wrote that they also consulted the FBI, which analyzed cover-ups to find what the grand jury described as "a playbook for concealing the truth".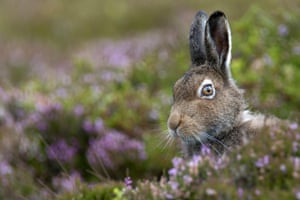 A mountain Hare (Lepus Timidus) in the Scottish Highlands. Photograph: Karen Miller Photography/Alamy
The number of mountain hares on moorlands in the eastern Scottish Highlands has fallen to less than 1% of the level recorded more than 60 years ago, according to a long-term study.
The Centre for Ecology & Hydrology and the RSPB teamed up to study counts of the animals over several decades on moorland managed for red grouse shooting and nearby mountain land.
From 1954 to 1999, the mountain hare population on moorland sites decreased by almost 5% every year, the study found, saying the long-term decline was likely to be due to land use changes such as the loss of grouse moors to conifer forests.
However, from 1999 to 2017 the scale of the "severe" moorland declines increased to over 30% every year, leading to counts last year of less than 1% of original levels in 1954, researchers said.
On higher, alpine sites, numbers of mountain hares fluctuated, but increased overall until 2007, and then declined, although not to the lows seen on the moorland sites, the study noted.
The report stated: "The study found long-term declines in mountain hare densities on moorland, but not alpine, sites in the core area of UK mountain hare distribution in the eastern Highlands of Scotland.
"These moorland declines were faster after 1999 at a time when hare culling by grouse moor managers with the specific aim of tick and LIV [Louping ill virus, which is spread by ticks] control has become more frequent."
Gamekeepers and estate managers claim culls limit the spread of ticks, protect trees and safeguard fragile environments, and a policy of voluntary restraint is in place. However, campaigners believe the practice is cruel and unnecessary.
The research paper, being published in the Journal of Applied Ecology, stated: "On moorland sites, a long-term decline (4.6% per annum) from 1954 to 1999 increased to 30.7% per annum from then until 2017, with a density index falling to 1% of initial levels after 2008.
"Before 1999, declines were associated with conifer planting and were least severe where heather burning characteristic of grouse management was present. Grouse moors had the highest rate of decline after 1999." Burning the heather removes the old woody plants, and allows young, tasty shoots to grow, providing improved nutrition for the animals.
The findings were revealed after the annual grouse shooting season got under way on Monday.
The lead author of the study, Dr Adam Watson of the Centre for Ecology & Hydrology, said: ""Having counted mountain hares across the moors and high tops of the eastern Highlands since 1943, I find the decline in numbers of these beautiful animals both compelling and of great concern.", I find the decline in numbers of these beautiful animals both compelling and of great concern.
"We need the Scottish government and Scottish Natural Heritage to take action to help these iconic mammals of the hill – I hope they will listen to the voice of scientific research."
The RSPB said urgent action is needed to protect mountain hares. Duncan Orr Ewing, head of species and land management at the charity in Scotland, said: "We consider that large-scale population reduction culls are both illegal under EU law and unwarranted as a method for controlling grouse disease.
"Management of this species should now be more tightly controlled by Scottish Natural Heritage to safeguard mountain hare populations."
More On The Environment:

World Politics
Australia

 
Malcolm Turnbull says words are 'rejected by us all' while Bill Shorten describes senator's comments as 'repugnant'
Politicians unite in condemnation of Fraser Anning's speech – video
Australian Senator Fraser Anning Calls For 'Final Solution' To Deal With Non-Euroepan Immigration Video
Later in the lower house, Turnbull said the reference to a "final solution" on immigration was a "shocking insult" to the Jewish people.
Bill Shorten said that Anning's speech was "racist", "repugnant and disgraceful".
He said it was not "political correctness to stand up for minorities" but rather "just good manners". "The idea in this country that someone's faith makes you a first- or second-class Australian is rubbish."
The motions in both houses acknowledged the white Australia policy was dismantled with bipartisan support and committed that "race, faith or ethnic origin shall never, explicitly or implicitly" be criteria for determining Australia's immigration intake.
During the debate the One Nation leader Pauline Hanson disowned Anning, saying she was "appalled" by his comments, despite the fact he was elected on her Senate ticket and Hanson has previously said Australia is in danger of being "swamped by Muslims".
Earlier on Wednesday the energy and environment minister, Josh Frydenberg, labelled the comments "extremely ignorant" and "hurtful, divisive and unacceptable".
"Fraser Anning should not only retract his comments last night but he should also immediately go and visit a Holocaust museum … and hear first hand from survivors how raw the pain is and hear about and see the destruction and devastation caused by the Nazi killing machine," he told Channel Nine.
Frydenberg said he was "deeply offended" by the remarks and called on Anning to apologise.
On Tuesday evening the citizenship and multicultural affairs minister, Alan Tudge, said Anning's comments "do not reflect the views of the government nor the views of fair-minded Australians".
Anning did a round of interviews on Wednesday morning claiming the use of the term "final solution" – used by the Nazi regime to describe a genocidal policy of exterminating Jewish people – was inadvertent but refused to apologise because he claimed the outrage was solely coming from political opponents.
Condemnation came from all sides of the political spectrum and motions in the House of Representatives and Senate backing Australia's non-discriminatory immigration program were supported by the Coalition, the Greens and minor parties.
But while he was roundly condemned in Canberra, Anning's running mate, Bob Katter, backed the senator. "His speech was absolutely magnificent. It is everything that this country should be doing," Katter told reporters in Cairns.
At a doorstop on Wednesday, the prime minister condemned Anning's remarks, saying Australians are defined not by race or religion but a "commitment to shared political values of freedom, of democracy and the rule of law".
"And people from every corner of the earth, from every religion or of none, and every race, can connect, be inspired by, [and] be part of those values.
"That is Australia. So we reject, we condemn racism in any form, and the remarks by Senator Anning are justly condemned and rejected by us all."
Anning was unrepentant on Wednesday morning, telling Nine his intention was "not necessarily" to cause outrage but people are "entitled to be outraged if they want to be".
Anning claimed the speech had been taken "completely out of context" and his remarks had "nothing to do with" the Nazi party's Final Solution.
"The fact is all I said was the final solution to the immigration problem is a vote of the Australian people," he said. "I don't regret anything … I'm not going to apologise or regret anything I say."
Criticism of Anning's speech has not been limited to the use of the term "final solution". Anning also invoked the White Australia policy, suggesting Australians may want "to return to the predominately European immigration policy of the pre-Whitlam consensus". The White Australia policy, which restricted non-European immigration, ran from 1901 until it began to be dismantled in the late 1960s.
The Labor leader in the Senate, Penny Wong, said the speech did not reflect "the strong, proud multicultural country that we are".
"It reflected a time that we have moved on from and it reflected division and prejudice," she told reporters in Canberra.
Wong added it was "disappointing" that Turnbull has negotiated with Pauline Hanson, who called for a ban on immigration in 2016 and helped get Anning elected on her One Nation ticket.
She said the prime minister's conduct amounted to "legitimising [Hanson] and those people who share those views by negotiating with her" and the Coalition giving preferences to One Nation.
He criticised Hanson for an incident in which she wore a burqa in parliament and various Turnbull government ministers for their rhetoric on African gangs and ethnic separatism in a fiery final speech before departing his post at the Australian Human Rights Commission.
Related:
United States
Secret recordings of Trump and his chief of staff are seen as security breach and have also left lingering questions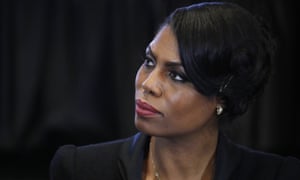 Omarosa Manigault Newman, former White House aide, released secret recordings of her conversations with Donald Trump and his chief of staff, John Kelly. Photograph: Manuel Balce Ceneta/AP
Omarosa Manigault Newman has released secret recordings of her conversations with Donald Trump and his chief of staff, John Kelly, which have made international headlines but have also left lingering questions.
What happened?
Manigault Newman says she secretly recorded Kelly firing her in the White House Situation Room in December 2017, and she played the recording on NBC's Meet The Press on Sunday. On Monday, she released another recording, aired on NBC's Today program, in which Trump appears to express surprise that she had been ousted.
The former White House aide, who had previously been a contestant on Trump's reality television show The Apprentice, shared the recording as part of her promotional tour for her new book about her stint in the White House, Unhinged. The Guardian first reported excerpts from the book, which also included claims that Trump has used racial epithets.
Is this normal?
Juliette Kayyem, a former assistant secretary for intergovernmental affairs in the Department of Homeland Security, pointed to Manigault Newman's recording device as signifying the lack of "security culture" in the Trump administration. The former Obama administration aide noted that Trump has "essentially mocked this ideal of a security culture". She pointed out instances such as White House staffers working without security clearances, Trump using an unsecured phone and his 2017 dinner with Japanese prime minister Shinzo Abe about North Korea among diners at Mar-a-Lago.
Bradley Moss, a national security lawyer in Washington, noted that it was unusual for a personnel meeting to happen in the Situation Room. In his opinion, the most obvious reason would be that the White House "had its own suspicions that she was the type of person who might try to secretly record [the meeting], and put it in the Situation Room."
Is this a security risk?
Moss also told the Guardian that Manigault Newman's use of a recording device presented counterintelligence risks. "All it takes is one foreign agency hacking [the recording device], and setting it to passive record mode," said Moss. The result would mean all conversations, not just those Manigault Newman chose to record, would be "accessible to foreign entities".
This concern was shared by Kayyem. "There might be the perception, particularly by our enemies, that the entire White House might be compromised, and that's kind of scary," she said, adding: "The audience isn't just us and Omarosa and Trump. It's the Chinese and the Russians."
Is recording in the Situation Room a crime?
Moss said, however, that just because the conversation occurred in the Situation Room, which is actually a secured series of connected rooms, there is "no real obvious criminal liability". All staffers entering the area must lock away their cell phones and other insecure electronic devices. But he noted the violation would likely be enough to deny Manigault Newman a security clearance if she ever wishes to work for the federal government in the future.
What has the White House said?
"The very idea a staff member would sneak a recording device into the White House Situation Room shows a blatant disregard for our national security," said White House press secretary Sarah Sanders. She added: "Then to brag about it on national television further proves the lack of character and integrity of this disgruntled former White House employee."