17 Aug
News and Analyses, A Foreign Perspective
Nearly all of these are English-edition daily newspapers. These sites have interesting editorials and essays, and many have links to other good news sources. We try to limit this list to those sites which are regularly updated, reliable, with a high percentage of "up" time.
Recommended:

© Gabriel Olsen, Getty Images/AFP | Flowers and mementos are left at a growing memorial at Aretha Franklin's star on the Hollywood Walk of Fame on August 16, 2018 in Los Angeles, CaliforniText by FRANCE 24
Tributes have poured in for Aretha Franklin after the legendary singer died at home on Thursday at the age of 76.
Presidents, musicians and celebrities have taken to social media to express their love for the 'Queen of Soul', who was famous for singing classics such as 'Think', 'Say A Little Prayer' and 'Respect'.
At the 38th Annual Kennedy Center Honors in 2015, then US president Barack Obama wiped away tears as Franklin brought the house to a standing ovation with her passionate rendition of '(You Make Me Feel Like) A Natural Woman'. He and Michelle Obama paid tribute to her on Twitter on Thursday, saying that she "defined the American experience".
A 'remarkable' music legacy
The music industry mourned the loss of one of its greats. Smokey Robinson, Franklin's longtime friend and collaborator, said in a statement yesterday that, "This morning my longest friend in this world went home to be with our father. I will miss her so much but I know she's at peace."
Barbra Streisand, who had also performed with her, said on Instagram that it was "difficult to conceive of a world without her".
barbrastreisand

This photo was taken in 2012 when Aretha and I performed at a tribute celebration for our friend Marvin Hamlisch. It's difficult to conceive of a world without her. Not only was she a uniquely brilliant singer, but her commitment to civil rights made an indelible impact on the world.


Aretha Franklin provided the civil rights movement with a powerful voice — and financial support — and made sure Black women wouldn't be ignored. Today we say goodbye to a lifelong champion for racial justice.


An anaesthetised polar bear, a surprising pine marten and a potty-mouthed parrot are among this week's images

Doxing arrested protesters has become common, and can have lasting consequences even after the charges are dropped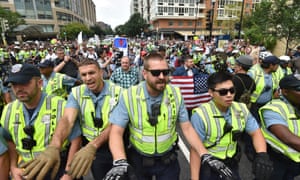 Anti-fascists say that police are doxing arrested protestors by posting mugshots on Twitter. Photograph: Nicholas Kamm/AFP/Getty Images
M

ichelle Higgins was protesting a high-profile police killing in St Louis when the officers grabbed her.
The activist's arrest for "failure to disperse" on 15 September 2017 wasn't the only punishment she faced for marching. When she was released a day later, she learned that the police department had posted her name, age and address on Twitter, alongside 32 others arrested during the chaotic demonstrations sparked by the acquittal of an officer.
Most of the arrests did not result in charges, but the damage was done. It's a law enforcement tactic that activists say has become increasingly common: police arrest protesters en masse, publicly shame them on social media, and then drop the cases.
The strategy can lead to intense online abuse for Black Lives Matter activists and other protesters. In the case of anti-fascist protesters, some critics argue that police are also boosting the agenda of neo-Nazis and white supremacists by exposing counter-protesters' identities – and branding them violent offenders before they've gone to court.
"You criminalize folks who are trying to hold people accountable, then you dehumanize them by telling everyone where they live," said Higgins, who was not prosecuted after her arrest. The St Louis police tweets, she said, posed an "active threat" to activists and sent a message that "these animals were out protesting when they should've been sitting at home".
Although rightwing extremist groups have a documented record of violence and killings, the police response at far-right events in recent weeks has repeatedly targeted the leftwing resistance. Some of the news coverage has also focused on the alleged threats of "antifa", or anti-fascists.
In Berkeley this month, police arrested 20 counter-protesters at an "alt-right" rally and posted many of their mugshots, names and alleged offenses on Twitter.
Once your mugshot is out there, you become a piece of public property
"The intention is to intimidate other protesters and silence political speech," Blake Griffith, one of the activists taken into custody, said in an interview. "They needed to publicly show they were doing something."
Griffith, who is active in the Democratic Socialists of America, was cited for misdemeanor vandalism. The National Lawyers Guild (NLG) of San Francisco, which is representing the activists, said it appeared that no one on the "alt-right" side was arrested.
Many of those arrested were cited for "possession of a banned weapon", which police said included "anything" that could be used in a "riot". Some had scarves and bandanas that police considered "masks", according to Jay Kim, the executive director of the local NLG chapter.
Whether any of them will ultimately face charges remains to be seen. Five activists who were scheduled to be arraigned in court last week were not charged, the NLG said.
In St Louis, the circumstances surrounding the initial arrests were also questionable. Groups were taken into custody while police were "kettling" protesters, said the city counselor Julian Bush, referring to the practice of police surrounding protesters and then arresting them for failure to disperse.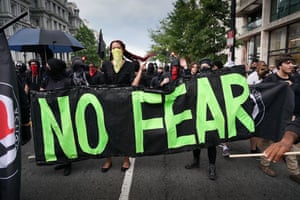 Antifa counter-protesters in Washington DC during a Unite the Right protest. Photograph: Jay Mallin/ZUMA Wire/REX/Shutterstock
Bush's office reviewed many of the 33 cases and declined to file charges. Only four of the activists named on Twitter were charged in state court, but the charges were dropped for two of them due to "insufficient evidence", a spokeswoman for the prosecutor said.
Blake Strode, executive director of ArchCity Defenders, a local civil rights group, said the mass arrests and social media posts may have been an effort to rationalize the police department's intense spending and highly militarized operation: "The scare tactic of violent rioters and protesters is used to justify a police overreaction."
Eddy Robinson, an Oakland-based activist, said he was on his way to a Berkeley protest event last fall carrying a tote bag filled with signs when police stopped him for having a "banned weapon".
The signs, he said, had anti-fascist messages and small wooden handles. He thought he would simply have to return home with his bag, but instead police took him to jail.
'There are real consequences'
Robinson was one of the first activists targeted on Berkeley's Twitter feed last year, with his name and mugshot getting thousands of retweets and responses, which led to a flurry of news articles, hate mail, threats and abusive comments.
"Being arrested for having the wrong type of protest sign was treated as a reason to put it out on Twitter to a global audience," he said, recounting prison rape threats and other violent remarks. "Once your mugshot is out there, you become a piece of public property."
Griffith said he got calls from relatives who saw him named on Fox News. He said he also fears the outing on Twitter may have cost him a job last week.
In additional to national media attention, those targeted by the Berkeley police department have found their names on rightwing forums dedicated to harassing and "doxing" anti-fascists, referring to the practice of publishing people's personal information in an attempt to invite abuse.
"BPD should already know that releasing photos and information of arrestees is putting them in danger," said Kim. "There are real consequences."
Caroline Sinders, a design researcher who has advocated for police to stop tweeting mugshots, said the tactic results in people having a "tarnished digital reputation" that can be impossible to fix.

World Politics
United States
Admiral who oversaw Osama bin Laden raid says he would be honoured to have his security clearance removed like John Brennan's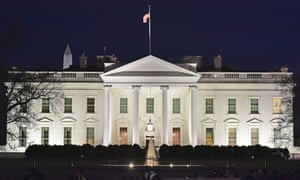 William H McRaven said Donald Trump had shown few of the qualities of a leader. Photograph: Mandel Ngan/AFP/Getty Images
More than a dozen senior intelligence officials, including the retired navy admiral who oversaw the raid that killed Osama bin Laden, have heavily criticised Donald Trump, accusing him of trying to stifle free speech in revoking the security clearance of former spy chief John Brennan.
Writing in the Washington Post, William H McRaven, who presided over the Bin Laden raid, called Trump's moves "McCarthy-era tactics" and said he would "consider it an honor" if Trump revoked his clearance as well.
"Like most Americans, I had hoped that when you became president, you would rise to the occasion and become the leader this great nation needs," he wrote. "A good leader tries to embody the best qualities of his or her organization. A good leader sets the example for others to follow. A good leader always puts the welfare of others before himself or herself.
"Your leadership, however, has shown little of these qualities. Through your actions, you have embarrassed us in the eyes of our children, humiliated us on the world stage and, worst of all, divided us as a nation."
McRaven also praised Brennan as "a man of unparalleled integrity, whose honesty and character have never been in question, except by those who don't know him".

"Director Brennan's recent statements purport to know as fact that the Trump campaign colluded with a foreign power. If Director Brennan's statement is based on intelligence he received while leading the CIA, why didn't he include it in the Intelligence Community Assessment……
It came after Brennan called Trump's repeated denials that his campaign colluded with Russia during the 2016 election "hogwash" and accused the president of revoking his security clearance as part of a "desperate" attempt to interfere with the special counsel's investigation.
The criticism was followed late on Thursday by a joint letter from 12 former senior intelligence officials calling Trump's action "ill-considered and unprecedented". They said it "has nothing to do with who should and should not hold security clearances – and everything to do with an attempt to stifle free speech".
The signatories included six former CIA directors, five former deputy directors and former director of national intelligence James Clapper. Two of them – Clapper and former CIA director Michael Hayden – have appeared on a list of people whose security clearance the White House has publicly threatened to remove.
Trump on Wednesday openly tied his decision to strip Brennan of his clearance – and threaten nearly a dozen other former and current officials – to the investigation into Russian election meddling and possible collusion with his campaign. In an interview with the Wall Street Journal, Trump again called the probe a "rigged witch hunt" and said "These people led it!"
"So I think it's something that had to be done," he said.
The president's comments were a swift departure from the official explanation given by the White House earlier on Wednesday that cited the "the risks" posed by Brennan's alleged "erratic conduct and behavior".
Attorneys said the revocation appeared to be within the president's authority. But they noted the power play also could be used to reinforce a case alleging obstruction of justice, following the president's firing of former FBI director James Comey and his repeated tweets calling for the investigation to end.
Patrick Cotter, a former assistant US attorney in the eastern district of New York, said a prosecutor could argue Trump's move was intended as a warning against helping the Russia investigation, but probably not obstruction in itself. However, he said the move would be a "powerful piece of evidence" for prosecutors as part of a pattern to demonstrate an intent to use presidential power in connection with the investigation.
Renato Mariotti, a former federal prosecutor, agreed. "What it shows is that the president is fixated on the Russia investigation, he's angry about it, and he wants to do everything he can to discourage or slow down the investigation," he said.
Special counsel Mueller and his team have been looking at Trump's public statements and tweets as they investigate whether the president could be guilty of obstruction. "I don't think it advances the criminal obstruction case, but I think it's factually relevant," said Mark Zaid, a national security attorney. "I think it shows the state of mind and intent to interfere or impede any unfavorable discussion of his potential connection to Russia."
Former CIA directors and other top national security officials are typically allowed to keep their clearances, at least for some period.
The initial White House statement about Brennan's clearance made no reference to the Russia investigation. Instead, the president said he was fulfilling his "constitutional responsibility to protect the nation's classified information," even though he made no suggestion that Brennan was improperly exposing the nation's secrets.
"Mr Brennan's lying and recent conduct characterized by increasingly frenzied commentary is wholly inconsistent with access to the nations' most closely held secrets," Trump said.
A few hours later his explanation had changed. "You look at any of them and you see the things they've done," Trump told the Journal. "In some cases they've lied before Congress. The Hillary Clinton whole investigation was a total sham."
"I don't trust many of those people on that list," he said. "I think that they're very duplicitous. I think they're not good people."
The episode was reminiscent of Trump's shifting explanations for firing Comey and the evolving descriptions of the Trump Tower meeting between top campaign aides and a Kremlin-connected lawyer – both topics of interest to Mueller.