22 Aug
News and Analyses, A Foreign Perspective
Nearly all of these are English-edition daily newspapers. These sites have interesting editorials and essays, and many have links to other good news sources. We try to limit this list to those sites which are regularly updated, reliable, with a high percentage of "up" time.
Recommended:

Nobel peace prize winner loses seventh honour over refusal to act over violence committed by Myanmar military against Rohingya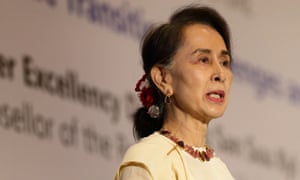 Aung San Suu Kyi has been stripped of a variety of accolades and awards in response to the events in Rahkine Photograph: Suhaimi Abdullah/Getty Images
Aung San Suu Kyi is set to be stripped of her Freedom of Edinburgh award for her refusal to condemn the violence against the Rohingya in Myanmar.
This will be the seventh honour that the former Nobel peace prize winner has been stripped of over the past year, with Edinburgh following the example of Oxford, Glasgow and Newcastle which also revoked Suu Kyi's Freedom of the City awards.
Suu Kyi was given the award in 2005 to honour her role in championing peace and democracy in Burma, where she was living under house arrest. At the time the Lord Provost of Edinburgh compared Suu Kyi to Nelson Mandela, describing her as "a symbol of peaceful resistance in the face of oppression. By honouring her Edinburgh citizens will be publicly supporting her tireless work for democracy and human rights."
However, as state counsellor in Myanmar, Suu Kyi has repeatedly refused to speak out against violence committed by the military against the Rohingya in Rahkine state, which saw more than 700,000 people flee over the border to Bangladesh. The crackdown, which began in August last years, saw villages razed to the ground, tens of thousands killed and women assaulted and raped at the hands of the military. The United Nations have said the violence amounted to "ethnic cleansing".
Frank Ross, the city's Lord Provost, wrote to Suu Kyi in November calling on her "immeasurable moral courage and influence" and asking her to allow the safe return of the Rohingya to Rahkine. After no communication from Suu Kyi, Ross has now tabled a council motion on Thursday calling for her freedom of the city to be removed with immediate effect.
This will only be the second time in 200 years that Edinburgh has revoked a freedom of the city award, following Charles Parnell in 1890, an Irish nationalist who fell into disrepute for a scandalous affair.
The past year has seen Suu Kyi's international reputation as a beacon of hope tarnished by what many see as her complicity or apathy towards the crimes committed in Rahkine. She has repeatedly refused to call the Rohingya by their name- which is seen as an acceptance of their belonging in Myanmar- and in a speech in Singapore yesterday, she described them simply as the "displaced persons from northern Rakhine."
In the same speech, Suu Kyi blamed terrorism, not the military, for the violence in Rahkine and criticised the international community, saying: "The outside world can choose the issues on which they wish to focus."
In response to the events in Rahkine, Suu Kyi has been stripped of a variety of accolades and awards. The most high profile withdrawal came from the US Holocaust museum in March, who revoked the Elie Weisel award, given to Suu Kyi in 2012, for her refusal to condemn the mass killing of the Rohingya. LSE students Union also stripped Suu Kyi of the title of honourary President and UNISON revoked her honourary membership.
Related:
.

World Politics
United States
Donald Trump and his team have been under investigation for months by former FBI-head Robert Mueller. Mueller is investigating whether the Trump campaign colluded with Russia to help win the 2016 election and defeat Hillary Clinton. Mueller is also looking into whether the campaign and the president have sought to obstruct justice. Trump's inner circle has been under increasing pressure from the investigation, but can it hold?

Former campaign chairman's conviction and ex-lawyer's plea deliver double blow as president faces legal jeopardy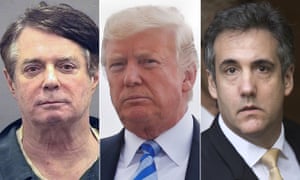 'These are witch hunts and it's a disgrace,' Trump told reporters in Charleston on Tuesday night. Composite: AP/Reuters
Donald Trump has suffered a huge double blow after one of his former associates pleaded guilty and another was convicted of financial crimes, potentially leaving the president himself in legal jeopardy.
Michael Cohen, his longtime lawyer and "fixer", pleaded guilty to eight charges including campaign finance violations and directly implicated Trump in paying "hush money" to women with whom he allegedly had affairs.
Just minutes earlier, Paul Manafort, the president's former campaign chairman, was convicted on eight charges of bank and tax fraud. The dual courtroom dramas set up a moment of rare peril for the president.
"This is the worst hour of Trump's entire presidency – no, make that entire life," tweeted Norman Eisen, a former special counsel to President Barack Obama for ethics and government reform.
The outcomes also raised grave questions about Trump's judgment. Since his election, his national security adviser, personal lawyer, campaign chairman, deputy campaign manager and a foreign policy aide have all admitted or been convicted of crimes.
The cases arose from special counsel Robert Mueller's investigation into Russian interference in the 2016 presidential election. Tuesday's events represent a significant victory for Mueller, who has been under pressure from Trump's supporters to wind up what the president calls a "witch hunt".
In New York, Cohen claimed Trump directed him to make payments that violated campaign finance laws in an effort to stop Stormy Daniels, the pornographic film actor, and Karen McDougal, the former Playboy model, going public about alleged extramarital affairs. In entering the plea, Cohen did not name the two women, nor Trump.
Lanny Davis, Cohen's lawyer, asked in a tweet: "If those payments were a crime for Michael Cohen, then why wouldn't they be a crime for Donald Trump?" Whether or when a president can be prosecuted remains a matter of legal dispute. Trump has denied any knowledge of the payments at the time they were made.

Today he stood up and testified under oath that Donald Trump directed him to commit a crime by making payments to two women for the principal purpose of influencing an election. If those payments were a crime for Michael Cohen, then why wouldn't they be a crime for Donald Trump?
The disclosure was made as Cohen, once loyal to Trump, pleaded guilty to bank fraud, tax fraud and campaign finance violations in a deal reached with federal prosecutors. He could get about four to five years in prison at sentencing on 12 December.
Davis, Cohen's lawyer, said on Tuesday night that Mr Cohen was open to talking to Robert Mueller for his investigation, telling MSNBC: "Mr Cohen has knowledge on certain subjects that should be of interest to the special counsel and is more than happy to tell the special counsel all that he knows."
Davis told MSNBC Cohen had knowledge of "the obvious possibility of a conspiracy to collude and corrupt the American democracy system in the 2016 election" as well as "knowledge about the computer crime of hacking and whether or not Mr Trump knew ahead of time about that crime."
Meanwhile, in Alexandria, Virginia, after the fourth day of jury deliberation, Manafort was found guilty of bank fraud, tax fraud and failure to report a foreign bank account. The charges carry a maximum sentence of decades in prison. He avoided conviction on some charges, however, with the jury saying it could not reach a consensus on 10 out of 18 total counts.
Manafort faces additional charges in a separate case, to convene in Washington DC next month.
In Charleston, West Virginia, arriving for a rally on Tuesday night, Trump told reporters: "This has nothing to do with Russian collusion. These are witch hunts and it's a disgrace."
Read Full Article>>