24 Aug
News and Analyses, A Foreign Perspective
Nearly all of these are English-edition daily newspapers. These sites have interesting editorials and essays, and many have links to other good news sources. We try to limit this list to those sites which are regularly updated, reliable, with a high percentage of "up" time.
Recommended:
A clerical abuse survivor has said that every "rotten apple" in the Catholic Church should be removed.
Digital Desk
The McGlynn: Amen!
Marie Collins told The World Meeting of Families today that there is denial within the Catholic Church about the scale of clerical sex abuse.

Marie Collins speaking at the World Meeting of Families event in the RDS today. Photo: Leah Farrell/RollingNews.ie
Ahead of the arrival of Pope Francis tomorrow, there are calls for the Vatican to come up with a plan to address the issue.
The Pontiff will meet with some victims, many of them have called for action, rather than just apologies.
In her speech, Ms Collins criticised the Vatican for "defending the indefensible" and called for a zero-tolerance approach to those found to be perpetrating or covering up abuse.
As part of a panel discussion titled 'Safeguarding Children and Vulnerable Adult', Ms Collins criticised Pope Francis' letter to all Catholics this week on clerical child abuse.
She said there were many within the Church who believe "that all this is a media conspiracy" and that survivors were out to destroy the church.
Ms Collins appealed to them to put their energies into effecting change, rather than "defending the indefensible" and denial.
Primate of All Ireland Eamon Martin was among those in the audience for her speech and acknowledged the church needs to take tougher action.
"We need to listen to Marie, and other Prophets like her, and take the actions that she feels need to be taken at global level," he said.

Meanwhile, final preparations are underway ahead of the Pope's arrival as he is due to touch down on Irish soil tomorrow morning for a two day two visit that will see him spend just 36 hours in the country.
It is the biggest event organised in Ireland in 40 years and the biggest in Europe this year.
Pope Francis is due to arrive at Dublin airport at around 10.30 tomorrow morning then it is on to the Aras for a private meeting with President Michael D Higgins.
From there he will travel to Dublin Castle for a meeting with the Taoiseach and then St Mary's Pro Cathedral.
Around 100,000 people are expected to line the streets of the capital to see him on the Popemobile as he makes his way to the Capuchin day centre for a private meeting with homeless people before a concert in Croke Park tomorrow evening attended by more than 80,000.
On Sunday, he will fly to Knock where he will visit the Shrine and say the Angelus in front of a crowd of 45,000 before returning to Dublin for mass in the Phoenix Park where half a million people are due to attend.
More than 1,200 journalists from 31 countries are covering the two-day visit.

Red avadavat birds, pink dolphins and a bamboo rat are among this week's pick of images from the natural world
The families of Grechario Mack and Kenneth Ross Jr, whose deaths made few headlines, speak out: 'They took a part of me'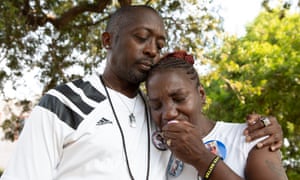 Catherine Walker and Quintus Moore, mother and father of Grechario Mack, in Los Angeles. 'I couldn't save my baby,' Walker says. Photograph: Dan Tuffs for the Guardian
Catherine Walker closed her eyes, pressed her hands over her ears, and tried to escape.
It's been four months since Los Angeles police killed her son, Grechario Mack, whose death barely made headlines, who did not become a viral hashtag. On a recent afternoon, the 59-year-old mother wore pins with her son's face and said she was ready to speak. But when the moment came, she could hardly talk.
As relatives recounted the killing around her, she tried to shut out the words describing Mack's last moments. Eventually, she collapsed in her chair in anguish.
"I couldn't save my baby," she cried as someone held her. "When they took my son's life, they took a part of me."
Police shot Mack, a 30-year-old father of two, in the middle of a mall on the afternoon of 10 April, as he was holding a kitchen knife and having a mental health crisis. Less than 24 hours later, officers arrived at a park and killed Kenneth Ross Jr, another black resident who struggled with mental illness and was said to be fleeing when police shot him with a military-style rifle.
The two families, brought together by Black Lives Matter the day of Ross's death, are now channeling their grief into a fight for justice – taking on one of the country's deadliest police systems, where law enforcement killings of black mentally ill residents are so normalized, families struggle to be heard. They face an uphill battle in the most secretive state in the US for police misconduct, in a region where officers who shoot are never prosecuted.
"Mentally, I can't even do nothing right now," said Fouzia Almarou, Ross's mother. "But I'm gonna stay strong … I want to make sure my son is remembered."
'Police don't have to care'
Police in America kill more people in days than other countries do in years, and Los Angeles law enforcement has repeatedly led the US with its body count, according to The Counted, a Guardian US project that tracked deaths at the hands of law enforcement.
From 2010 to 2014, police in LA county shot 375 people, about one person every five days. Black residents make up 9% of the population, but represented 24% of deaths.
Across the US, the odds are stacked against families who look to courts for justice. Charges are extremely rare and convictions even rarer, with the law widely protecting officers who claim they feared for their lives. In LA, the odds of prosecution are effectively zero.
Since 2000, there have been no charges for the more than 1,500 shootings by police in the county. Since the district attorney Jackie Lacey was elected in 2012, roughly 400 people have been killed by on-duty officers or died in custody, according to Black Lives Matter LA. Lacey even declined to file charges when the chief of the LA police department (LAPD) called for the prosecution of one of his own officers.
"It really greenlights this type of behavior," said Melina Abdullah, a BLM organizer in LA. "Police don't have to care about anybody's life, especially if they're black or brown or poor."
Abdullah and other activists are part of the Justice Teams Network, which provides "rapid response" after killings. They go to the scenes, interview witnesses, offer the family assistance with press and funerals, and work to counter the police narratives.
On a recent afternoon, Abdullah took the Guardian to sites of police killings in south LA. One stop was a quiet alley where three years earlier, LAPD officers had killed Redel Jones, a 30-year-old woman who had a kitchen knife and was fleeing police.
Jones, who had struggled on and off with homelessness, loved web design, dancing, cartoon shows, electronic music and rap and had a "brain that was always moving", said Marcus Vaughn, Jones's husband, recounting their dream of traveling in a mobile home together.
Members of parliament have called for Myanmar military to be brought to justice for its 'murderous operation'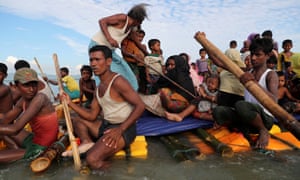 The statement was released ahead of the first anniversary of the start of the violence against the Rohingya in Rakhine state. Photograph: Mohammad Ponir Hossain/Reuters
More than 130 members of parliament, across five countries in south-east Asia, have demanded that Myanmar be investigated by the International Criminal Court (ICC), the most united condemnation from the region since the violence began against the Rohingya a year ago.
In a joint statement released by Asean Parliamentarians for Human Rights, they called for the Myanmar military to be "brought to justice" for its " murderous operation in Rakhine State".
Speaking on behalf of those 132 who had issued the statement, APHR member Charles Santiago, a Malaysian politician in the ruling coalition, said: "As Myanmar is clearly both unwilling and unable to investigate itself, we are now at a stage where the international community must step in to ensure accountability."
He added: "I stand together with 131 of my elected peers in calling on the members of the UNSC to immediately refer the situation in Myanmar to the ICC. Those in Myanmar responsible for these horrific crimes must be held to account; they cannot be left free to commit the same abuses again in the future."
The united call comes just ahead of the first anniversary of the start of the military campaign of violence against the Rohingya in Rahkine state. Since that began 700,000 people have fled over the border to Bangladesh and 25,000 people have been killed, with villages razed to the ground and women sexually assaulted and raped. The violence has been described as ethnic cleansing by the UN; a charge Myanmar denies.
Asean, an intergovernmental organisation made up of ten countries in south-east Asia, has been accused of turning a blind eye to the violence over the past year, and has shied away from adopting a strong line on the crisis, even as boats of Rohingya refugees have washed up on the shores of Thailand, Malaysia and Indonesia.
But APHR board member, Eva Kusuma Sundari, a member of the Indonesian House of Representatives, said it was time that Asean countries "set aside their destructive 'non-interference' policy and take genuine action."
"Justice for the Rohingya is an issue that goes beyond regional politics – it concerns humanity as a whole," she said. "We cannot allow these atrocities to take place in one of our member countries with complete impunity."
Though a large number of politicians put their names to the statement, these 132 politicians came from just five countries – Indonesia, Malaysia, Philippines Timor Leste and Singapore – indicating that there is still regional reluctance to speak out against Myanmar.
The ICC is currently in discussion over whether it has the legal basis to open an investigation into the crimes committed in Rahkine. While Bangladesh is a member state, which gives the ICC power to investigate crimes committed there, Myanmar is not, and denies any ethnic cleansing was carried out against the Rohingya.
In June a coalition of Bangladeshi organisations sent a body of evidence to ICC prosecutors, documenting torture, rape and indiscriminate killing by the Myanmar military. The legal argument for an ICC investigation is being led by prosecutor Fatou Bensouda who argues the cross-border nature of the forced deportation of the Rohingya into Bangladesh means it could legally fall within the ICC's remit.
In a move perceived as an attempt to appease the international community in the wake of the push for an ICC investigation, the Myanmar government announced in July it was carrying out another commission of inquiry to probe allegations of human rights abuses in Rakhine state.

World Politics
United States