25 Aug
News and Analyses, A Foreign Perspective
Nearly all of these are English-edition daily newspapers. These sites have interesting editorials and essays, and many have links to other good news sources. We try to limit this list to those sites which are regularly updated, reliable, with a high percentage of "up" time.
Recommended:
Colm O'Gorman said it is 'mind boggling to me that to ask a pope to tell the damn truth is a radical thing to suggest'
Colm O Gorman, Director Amnesty International Ireland, and an abuse survivor at Dublin Castle during the visit of Pope Francis. Photograph: Cyril Byrne/ The Irish Times
The Pope's first speech on his visit to Ireland was "an incredible missed opportunity" to accept that the Vatican directed a cover-up of crimes, clerical abuse survivor Colm O'Gorman has said.
Speaking at Dublin Castle where he was invited to be in the audience for the pope's speech, Mr O'Gorman told reporters that the speech was "a huge shame" and "rather disgraceful" in its failure to address the Church's shortcomings on the issue of clerical sex abuse and its cover-up.
"We have the head of state of the Vatican City state here speaking in a public context. He could have talked to the people of Ireland beyond just those who might identify as faithful Catholics," he said.
"He could have talked to us all in a way that was blunt, clear and frank, that was human and that was accessible. He refused clearly to do so and that's a huge shame. I think frankly it is rather disgraceful."
Mr O'Gorman said he had been taught as a boy by his parents and by his Church at the time that if he wanted to apologise for actions, the first thing he had to do was to take responsibility for them.
"It is staggering to me that in 2018 we are still asking a pope to take responsibility not for his own actions necessarily but for the actions of the institution that he heads," he said.
"It is mind boggling to me that to ask a pope to tell the damn truth is a radical thing to suggest."

Cardinal Donald Wuerl, archbishop of Washington. He called the abuse of children "a terrible tragedy", as though it was a calamity no one could have foreseen or stopped. Photograph: EPA/Ettore Ferrari
By now you'll be thoroughly sick of hearing the numbers involved in Pope Francis's visit to Ireland this weekend.
25,000: The quantity of sliced pans that, it's estimated, will be consumed by the peckish faithful in the Phoenix Park.
31,250: the total litres of milk to be drunk in their flasks of tea.
2,500: the number of portaloos.
500,000: the estimated crowds expected to congregate in the park.
Here are some other numbers you'll be sickened to hear.
300: the number of priests who abused children over 70 years in six parishes in the US state of Pennsylvania.
900: the number of pages in a report published last week following a two-year grand jury investigation detailing the abuse of those priests.
1,000: the number of identifiable victims.
7: the age of a little girl who was raped in hospital after she got her tonsils out.
18 months: the age of the youngest victim.
There are details in the report that make for physically nauseating and – for anyone who has opened a newspaper in Ireland in the past 16 years – horribly familiar reading.
The Murphy report on the sex abuse scandal in the Catholic archdiocese of Dublin was published nine years ago, but it foreshadows with depressing accuracy what the FBI agents involved in the Pennsylvania report last week called the "playbook" for concealing the truth.
Rule number one: rely on euphemisms. "Never say 'rape'; say 'inappropriate contact' or 'boundary issues'," the Pennsylvania report notes. When a priest has to be removed tell parishioners he is on "sick leave".
Rule number two: don't ask too many hard questions, and make sure whoever is asking the questions is one of your own.
Rule number three: avoid scandal. Scandal is a word that crops up again and again in the grand jury report, something to be avoided at all costs, the worst possible thing that could befall the community. Not the rape of children, mind, just the scandal it might cause.
Rule number six: if a predator's conduct becomes known and scandal is looming move him on to somewhere no one will know he is an abuser. Finally, and most crucially: never, ever go to the police. Scandal averted. Job done.
Secrecy
The Murphy report also found that the Dublin archdiocese's preoccupations, at least until the mid-1990s, were "the maintenance of secrecy, the avoidance of scandal, the protection of the reputation of the Church, and the preservation of its assets".
Judge Yvonne Murphy found that the welfare of children, "which should have been the first priority, was not even a factor to be considered in the early stages".
In the spirit of transparency, let's dispense with the euphemisms. This is what we know. The Catholic Church was responsible for a systematic, decades-long, global cover-up of the rape and abuse of hundreds of thousands of children by its own foot soldiers.
Until it admits that at the highest level, the expressions of deep regret and sadness; the promises to do better; the thoughts and prayers for forgiveness and healing; aren't merely meaningless. They're insulting to victims.
They're also insulting to the well-intentioned three-quarters of a million or so people who will turn out to see Pope Francis over this weekend.
One of those whose name crops up more than 200 times in the Pennsylvania report, Cardinal Donald Wuerl, currently the archbishop of Washington, was due to address the World Meeting of Families this week. He called the abuse of children "a terrible tragedy", as though it was a calamity no one could have foreseen or stopped.
I was a very small child when Pope John Paul visited. I have only dim memories of most of it. A hum of excitement at my convent school. An older relative talking about getting a tent and going with her father to the Phoenix Park.
But I do clearly remember my adored granddad, a thoughtful, intelligent man not given to high drama, saying that he wouldn't go into the back garden to see a pope. I was shocked enough that the words imprinted themselves on my four-year-old brain. These days I wonder how he knew.
Opportunity
The Catholic Church believes itself to be the "one true church". These 36 hours represent an unparalleled opportunity for Pope Francis to confront the one incontrovertible truth in all of this: that his church knew about the paedophiles in its ranks all along, and it did nothing to stop them, and it knowingly covered up their abuse. The actions of the priests who were raping little boys and girls were hidden.
It is an opportunity for Pope Francis, who appears to be a compassionate, humane man, to state clearly what the church will now do differently.
There are lines in the Pennsylvania report I can't get out of my head. In one case a priest said he wasn't sure about the scale of his abuse. "With my history anything is possible."
Another priest finally agreed to step down after years of complaints, asking – and receiving – in return for a letter for his next job. That job was at Walt Disney World. Think about that when you're picnicking in the park this weekend.

Food is dwindling and agencies warn of 'lost generation' of children growing up without school
Rohingya refugees outside their makeshift tent in the Kutupalong camp in Cox's Bazar. Photograph: Mohammad Ponir Hossain/Reuters
W

hen the armed men arrived at her northern Myanmar village, Anuwara, a 33-year-old Rohingya woman, first wondered how she could protect her six children.
When villagers delivered the body of her husband, a teacher who was shot dead as he returned from school, she thought of how her family could escape.
As they fled to Bangladesh, first on foot, then by boat, she was consumed by the urge to survive. "The armed men shot a nine-year-old girl in front of us," she says. "People tried to cross the river too quickly because gunmen were behind them. Some sank in the water and died."
It was only months later, when Anuwara and her children were safe in Bangladesh, sheltering inside a plastic and bamboo tent, receiving regular food and water, that she says her mind turned to the next question: now what?
On 25 August last year, Rohingya militants attacked a series of Burmese police outposts with knives and homemade bombs, killing 12 people, according to the Myanmar government. In response, the Burmese army launched "clearance operations" against what they called terrorists in Rohingya villages, driving the majority of the ethnic group into neighbouring Bangladesh.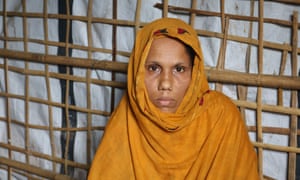 Anuwara, who fled her village Merulla in Rakhine state last year after armed men killed her husband. Photograph: The Guardian
One year later, more than 900,000 Rohingya people, most of them children, are living in five refugees camps wedged into the Cox's Bazar district of southern Bangladesh. One of them, Kutupalong, is the largest refugee camp in the world, with at least 700,000 residents. An unprecedented humanitarian operation is feeding the Rohingya, providing them with shelter and keeping disease and the elements at bay.
"There was nothing a year ago, and now we have the fourth-largest city in Bangladesh," says Sumbul Rizvi, the chief of the Inter Sector Coordination Group, which coordinates the dozens of agencies operating in the camp.
But there is no answer yet to Anuwara's question. A year after their latest – and largest – mass exodus from Myanmar, nobody knows what will become of the Rohingya. "Quite a few issues make it still unclear," says Mohammed Abdul Kalam Azad, the head of the refugee relief and repatriation commission, the Bangladesh government body overseeing the response.
History warns against a return
Bangladesh and Myanmar both agree the refugees should be returned, and so do Rohingya leaders. "Myanmar is our original country, our land, and we wish to return as quickly as possible," says Mohib Ullah, the chairman of the Arakan Rohingya Society for Peace and Human Rights.
But he also recalls the events of 1991, when a quarter of a million Rohingya fled Myanmar to Cox's Bazar in Bangladesh, accompanied by stories of rape, forced labour and murder by Burmese soldiers. Most agreed to return a year later – only to find themselves facing the same persecution from Myanmar's authorities.
Dhaka has said it will not force any Rohingya to return involuntarily, and Ullah is determined history will not be repeated. "1992 was a lesson for us," he says. "Back then, we agreed with Bangladesh and the UNHCR. We obeyed their messages and their rules, and our people returned. And we faced a genocide. Everything got worse."
The walls of his headquarters are covered in a list of demands, without which he says the Rohingya will never return. "We must be fully guaranteed citizenship, our safety and our original land," Ullah says.
The UN said this week that, months after it signed an agreement with Myanmar to support the refugees' return, it was still being denied effective access to Rakhine state, the region from which the majority of Rohingya were driven out.
Azad recently returned from Rakhine. He says progress is slow, but that Myanmar authorities claim to have set aside 42 villages to rebuild for the Rohingya. Asked if he thinks they are sincere, Azad shrugs. "It's the million-dollar question," he says. "We still want to trust the Myanmar side will stick their promises."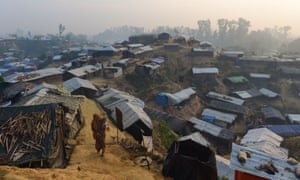 A female Rohingya refugee walks with a child in the refugee camp. Photograph: Munir Uz Zaman/AFP/Getty Images
A year on, the scale of the army-led operations that forced the Rohingya from Bangladesh is still being unearthed. At least 6,000 Rohingya children crossed the border without their parents. In July, the humanitarian agency Save the Children set out to understand how many unaccompanied minors could be reunited with a parent. "We made an assumption that the majority of kids could be," says Daphnee Cook, a spokeswoman for the agency.

World Politics
United States
This entry was posted on Saturday, August 25th, 2018 at 12:58 pm and is filed under General. You can follow any responses to this entry through the RSS 2.0 feed. Both comments and pings are currently closed.