26 Aug
News and Analyses, A Foreign Perspective
Nearly all of these are English-edition daily newspapers. These sites have interesting editorials and essays, and many have links to other good news sources. We try to limit this list to those sites which are regularly updated, reliable, with a high percentage of "up" time.
Recommended:

A vigil to remember babies who died at the home is being held this afternoon.
Catherine Corless at the site of the mother and baby home in Tuam
CATHERINE CORLESS HAS said she is disappointed that Pope Francis has not publicly mentioned the Tuam mother and baby home, at which 796 children are known to have died, during his visit to Ireland.
Her work as an amateur historian led to the discovery of human remains at the site in Co Galway.
In March 2017 the Commission into Mother and Baby Homes confirmed that a "significant" number of human remains were discovered at the site of the former Bon Secours home. Scientific analysis put the age of death between 35 foetal weeks and two to three years.
Speaking to RTÉ Radio 1?s This Week Corless said Pope Francis' visit to Knock Shrine earlier today provided the perfect opportunity to mention the home.
"Particularly today in Knock I did think that the pope would mention Tuam, he was in the diocese and Tuam is just half an hour's drive away from where he was. I thought it appropriate that he would have specifically mentioned those babies who were buried so unceremoniously. I'm just disappointed in that."
Corless said, had the pope mentioned the site, "It would carry a lot of weight and it would have made a huge impact in our cause to exhume those babies out of that deplorable area."
Children's Minister Katherine Zappone is understood to have raised the Tuam home with the pope yesterday.
Read out every name 
A vigil is set to take place at the site this afternoon.
We will walk from the square in Tuam up to the mother and baby home site where all those little babies and children are buried unnamed, unclaimed, and just nobody seems to want to know about them.
"We feel our stand is with the home babies who are completely forgotten about," Corless said.
She added that candles will be lit and the name, age and year of death of each child will be read aloud.
"It's just a little memorial for the children in the middle of all this, the pope's visit and all the hundreds, thousands, that are going to see him, we feel that those babies must be recognised, must be exhumed and taken out of the sewage area that they're in at the moment," she said.
'A missed opportunity' 
Pope Francis met with abuse survivors and mother and baby home survivors in Dublin yesterday evening. He is said to have made a commitment to those present that action will be taken.
In relation to clerical abuse, he begged for "forgiveness for these sins and for the scandal and betrayal felt by so many others in God's family" while delivering a speech at Knock Shrine.
The pontiff also addressed the issue of clerical abuse in his keynote speech at Dublin Castle yesterday, commenting that be could not fail to "acknowledge" the scandal. However, abuse survivors have pointed out he did not apologise to them publicly or mention the overall responsibility of the Church in relation to this abuse.
Corless had turned down an invite to attend the Dublin Castle event. She said not apologising publicly was "a missed opportunity".
It would've given a very loud, clear, strong, believable message that the Vatican are going to really take this on board, if this was public and if the survivors were allowed to talk in public
"I mean it's better than the pope not meeting survivors at all but it would have had much more impact if it was an open discussion."
Referring to the pope asking for prayers to help the healing process, Corless said: "The survivors at this stage don't particularly need prayers, they need action.
"They need to see that the Vatican have taken their cause on board and that they're going to do something about it and ensure, with action, that this will never happen (again). Praying alone is not enough…
"I don't think it's much consolation to survivors after what they've been through, after what their mothers have been through."

Retired diplomat urges pope to resign over allegations against former archbishop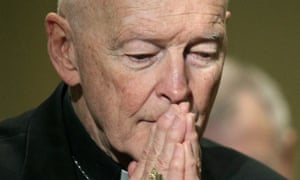 Theodore McCarrick resigned as a cardinal last month, but says that he is innocent. Photograph: Patrick Semansky/AP
A retired Vatican diplomat has called on Pope Francis to resign, claiming he was aware of abuse allegations against a prominent figure in the church hierarchy from 2013 but failed to take action.
There was a "conspiracy of silence not so dissimilar from the one that prevails in the mafia", said Archbishop Carlo Maria Viganò, 77, a former Vatican ambassador to the US.
The publication of the testament – which also contains a lengthy attack on homosexuality in the Catholic church – is another sign of growing rancour and divisions within the Vatican and top levels of the church over Francis's papacy. It came during the second day of the pope's visit to Ireland, which has had a shadow cast over it by the ongoing abuse scandal.
In a highly charged 11-page testament, Viganò – who is known for his conservative views – claimed Francis knew Theodore McCarrick, the former archbishop of Washington, "was a corrupt man, [but] he covered for him to the bitter end".
The former diplomat said he had an exchange with the pope in June 2013, three months after Francis was elected, in which he told him there was a thick dossier on McCarrick. According to Viganò, the pope did not respond, and McCarrick continued in his role as a public emissary for the church.
Viganò named a string of cardinals and archbishops who he said also knew about the McCarrick claims. "Corruption has reached the very top of the church's hierarchy," he wrote.
Last month, Francis accepted McCarrick's resignation as a cardinal after fresh claims he sexually abused an 11-year-old altar boy and seminary students. Francis also ordered him to conduct "a life of prayer and penance" until accusations against him were examined in a church trial.
McCarrick, 88, has maintained that he is innocent.
Viganò, a former ambassador to the United States, called for Francis to step down, saying: "In this extremely dramatic moment for the universal church, he must acknowledge his mistakes and, in keeping with the proclaimed principle of zero tolerance, Pope Francis must be the first to set a good example to cardinals and bishops who covered up McCarrick's abuses and resign along with all of them."
He wrote: "If we truly want to free the church from the fetid swamp into which she has fallen, we must have the courage to tear down the culture of secrecy and publicly confess the truths we have kept hidden.
"We must tear down the conspiracy of silence with which bishops and priests have protected themselves at the expense of their faithful, a conspiracy of silence that in the eyes of the world risks making the church look like a sect, a conspiracy of silence not so dissimilar from the one that prevails in the mafia."
Opponents of Francis have seized on a wave of scandals this year to step up their attacks on the pope. Some have also sought to conflate sexual abuse and homosexuality.
Vatican officials declined to comment on Viganò's testament, which was released to conservative Catholic media outlets.
Francis is facing sexual abuse crises in several countries, including the US, Australia and Chile. Last week, he wrote an unprecedented letter to all Catholics, saying the "culture of death" should be rooted out and vowing there would be no more cover-ups. It followed a damning grand jury report on decades of abuse and cover-up in Pennsylvania.
Viganò has also has had his own problems with allegations of cover-up, and he and Francis had a major disagreement during Francis' 2015 visit to the US, which Vigano organised.
In that incident, a leading US campaigner against gay marriage, Kim Davis, was among those invited to meet with the pope at Viganò's Washington residence. Francis was so enraged that Davis' supporters had leaked word of her meeting that the Vatican subsequently insisted he only held one private audience while there: with one of his former students, a gay man and his partner.
The cover-up accusation, which Viganò denied, concerned allegations that he tried to quash an investigation into the former archbishop of St. Paul-Minneapolis, Minnesota, John Nienstedt, who was accused of misconduct with adult seminarians.
In 2016, the National Catholic Reporter said Viganò allegedly ordered the investigation wrapped up and a piece of evidence destroyed. The report cited a 2014 memo from a diocesan official that was unsealed following the conclusion of a criminal investigation into the archdiocese. No charges were filed.
Nienstedt was forced to resign in 2015 over complaints about his handling of sex abuse cases.
General's grandchildren express 'firm and unanimous' opposition to moving dictator's remains from mausoleum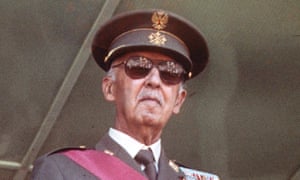 Spain's fascist dictator Francisco Franco, whose remains are set to be exhumed from a grand monument near Madrid. Photograph: REX
The family of Spain's late fascist dictator Francisco Franco will use all possible legal means to prevent a government plan to move their ancestor's remains from a grand monument near Madrid.
According to several national Spanish newspapers, seven grandchildren of Franco issued a statement expressing their "firm and unanimous" opposition to the exhumation.
The statement, reported in El País, El Mundo and La Vanguardia among others, was a response to a decree passed on Friday to reduce the risk that legal claims could impede the plan, a longstanding ambition of the ruling Socialists.
The Valley of the Fallen site, where Franco and tens of thousands of victims of Spain's 1936-39 civil war are buried, has been criticised as Europe's only remaining monument to a fascist leader.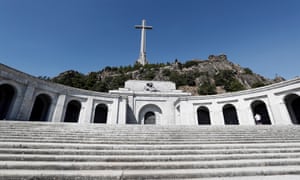 The Valley of the Fallen monument, where Franco is buried. Photograph: MARISCAL/EPA
During Franco's 1939-1975 rule – which remains a highly sensitive topic more than four decades after his death – tens of thousands of his enemies were killed and imprisoned in a campaign to wipe out dissent, while as many as 500,000 combatants and civilians died in the civil war, which split the nation in two.
It was not immediately clear what legal avenues are open to Franco's descendants in the face of a decree that needs to be approved by parliament, but is unlikely to be voted down.
The statement said the family hoped the Benedictine order in charge of the site, which is marked by a 152-metre (500ft) high cross, would prevent the state's "vengefulness", the papers said.
The decree gives the family 15 days from the end of August to decide where they want the remains to be taken, or cede that decision to the government.
"If an exhumation were to be performed against our will, we would demand that [the remains] are delivered to us so that we can proceed with a Christian burial," the family's statement said.
The fate of his burial monument is uncertain – why not turn it into a civil war museum, to warn of the horrors of fascism?
B

efore they buried Francisco Franco in 1975, a waiting mourner fell into the hole reserved for the Spanish dictator. The unconscious man had to be pulled out. More than four decades later, Spain's socialist prime minister, Pedro Sánchez, has declared that Franco must now also be removed from the vast underground basilica the dictator had built at El Valle de Los Caídos – a dramatic, wild valley that overlooks the northern suburbs of Madrid. The government announced on Friday a new law giving it powers to dig up the grave, situated behind the basilica's main altar, later this year.
So far, so good. The trouble is, however, that not only have we been here before, but that this measure on its own is not enough. For even if Franco goes, this will still be an obnoxious reminder of his 36-year rule; the ghostly home to the bones of 33,000 combatants of a civil war that he provoked by helping to lead a coup d'etat against democracy. Looming high above the basilica, a massive 150-metre tall granite cross sits like a giant finger raised to the families of those assassinated by his regime, to the victims of his political courts and to the families refused permission to take their dead elsewhere. Those dead are stuffed into damp, collapsing chambers that are invisible to visitors, who can only see Franco's well-kept tomb and that of José Antonio Primo de Rivera – the ideologue and leader of Falange Española, the violent Spanish fascist movement.
What should happen to all of that? Some have suggested that the cross is so ghastly that it should be dynamited, along with the rest of the monument. That, however, misses the point. Erasing Franco's symbols, rather than explaining them, does nothing to teach Spaniards what went wrong. Nor does the removal of his embalmed body, though this is a positive first step.
Sánchez knows that there is a much bigger and better solution – the one proposed by a commission set up by a previous socialist government five years ago, and roundly ignored since then. That proposal was to turn this morbid, decaying monument into a proper museum of national conciliation and remembrance.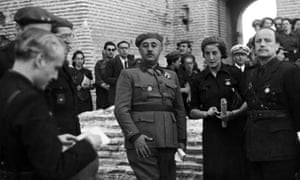 'Spaniards must come to terms with the fact that Franco did not act alone and that his crimes and achievements were aided by a whole tranche of Spanish society.' Photograph: AP
The report, written by a committee of historians and anthropologists, calls for the valley to be radically transformed, or "resignified". It can no longer be allowed to represent, as its founding documents state, Franco's "glorious crusade" – meaning his Spanish, Roman Catholic version of fascism. Instead, with the names of the 33,000 dead to be inscribed on the vast esplanade outside, it would serve to recall the horrors of a fratricidal confrontation that inspired the most famous anti-war painting of all time, Pablo Picasso's Guernica. The museum would also explain how this monument was created, why political prisoners were used to build it, and how people died during its 20-year construction. It would, in effect, oblige people to confront the past.
This is not an easy task. Spaniards must come to terms, for example, with the fact that Franco did not act alone and that his crimes and achievements (some economic progress, after all, was inevitable over almost four decades) were committed by a whole tranche of Spanish society, along with the dictator and his henchmen. "What did you do during the dictatorship, Abuelo (Grandad)?" is not a common question. Nor have Spaniards yet investigated the idea mooted by the Czech playwright-president Václav Havel (Spain, after all, is not unique in having had a totalitarian or authoritarian past) that the line between regime collaborators and victims often runs through people, rather than between them. How else does one explain that the founding editor of El País newspaper, for example, once ran Franco's state television news?
Coming to terms with the past this way is uncomfortable, which is why it is so much easier to demolish it. Smaller monuments have already been removed. In Barcelona a massive, sculpted street monument to Primo de Rivera that was inaugurated in front of a crowd of stiff-armed local Francoists in the 1960s has gone. Its removal – and the absence of any reminder that the monument was ever there – helps reinforce the false idea there that local Francoists, like the future International Olympic Committee head Juan Antonio Samaranch, were few and far between. Spanish fascism, it is worth remembering, was not a purely Castilian invention.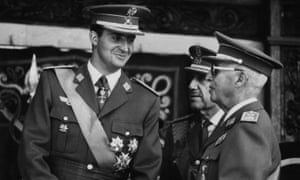 'King Juan Carlos (left) once described Franco (right) as "that exceptional man whom Spain has been immensely fortunate to have".' Photograph: AFP/Getty Images
There is much else to explain. Spain's civil war was a curtain-raiser for the second world war, which started soon after, and was also the first great fascist military victory in Europe. Without troops and air support from Hitler and Mussolini, this would have been impossible. Democracies like Britain, the United States and France – it should also be remembered – stood by and allowed that to happen. The Roman Catholic church, meanwhile, backed and blessed this "crusade" against an elected leftwing government. US support during the cold war then enabled Franco to survive for decades.
World Politics
United States