27 Aug
News and Analyses, A Foreign Perspective
Nearly all of these are English-edition daily newspapers. These sites have interesting editorials and essays, and many have links to other good news sources. We try to limit this list to those sites which are regularly updated, reliable, with a high percentage of "up" time.
Recommended:

Mission concludes army has carried out 'gravest crimes' against Rohingya in Rakhine and minorities elsewhere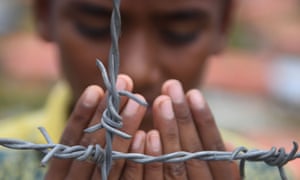 A Rohingya refugee in Bangladesh at a ceremony to mark the first anniversary of the military crackdown. Photograph: Dibyangshu Sarkar/AFP/Getty Images
Myanmar's military has been accused of genocide against the Rohingya in Rakhine state in a damning UN report that alleged the army was responsible for war crimes and crimes against humanity against minorities across the country.
The report, based on a fact-finding mission, said it found conclusive evidence that the actions of the country's armed forces, known as the Tatmadaw, "undoubtedly amounted to the gravest crimes under international law" in Rakhine as well as in Kachin and Shan, states also riven by internal conflicts.
The UN investigators were denied access to Myanmar by the government but interviewed 875 witnesses who had fled the country. They found that the military were "killing indiscriminately, gang-raping women, assaulting children and burning entire villages" in Rakhine, home to the Muslim Rohingya, and in Shan and Kachin. The Tatmadaw also carried out murders, imprisonments, enforced disappearances, torture, rapes and used sexual slavery and other forms of sexual violence, persecution and enslavement – all of which constitute crimes against humanity.
In northern Rakhine, the mission also found evidence of mass extermination and deportation.
"The fact-finding mission's powerful report and clear recommendations demonstrate the obvious need for concrete steps to advance criminal justice for atrocious crimes, instead of more hollow condemnations and expressions of concern," said Brad Adams, Asia director at Human Rights Watch. "This report should eliminate any doubt about the urgency of investigating those responsible for mass atrocities."
The mission, prompted by the UN security council visit in March, called for an investigation into the military's actions in Rakhine. The campaign of violence against the Rohingya began a year ago. An estimated 25,000 people have been killed and 700,000 have fled over the border to Bangladesh.
Laying out the legal argument for genocide to have taken place, the UN report said: "The crimes in Rakhine state, and the manner in which they were perpetrated, are similar in nature, gravity and scope to those that have allowed genocidal intent to be established in other contexts."
Individuals singled out for investigation and prosecution for genocide and crimes against humanity included Min Aung Hlaing, the commander-in-chief of the Tatmadaw, who has openly stated his intention to solve "the long-standing Bengali problem".
"There is sufficient information to warrant the investigation and prosecution of senior officials in the Tatmadaw chain of command, so that a competent court can determine their liability for genocide in relation to the situation in Rakhine state," the report said.
Minutes after the report was released, Facebook removed 18 accounts and 52 pages associated with the Myanmar military, including that of Min Aung Hlaing. It comes in the wake of months of criticism of the company for failing to combat the spread of hate speech on Facebook in Myanmar. The Tatmadaw have often used their Facebook pages to spread disinformation and anti-Rohingya sentiment, such as photos of dismembered children posted to Min Aung Hlaing's page, claiming they were killed by "Muslim terrorists".
"We want to prevent them from using our service to further inflame ethnic and religious tensions," the company said. The pages and accounts that were removed had a total of almost 12 million followers.
The UN mission called for Myanmar, formerly known as Burma, to be investigated by the international criminal court (ICC). Although the country is not a signatory to the Rome statute, and therefore not under the jurisdiction of the court, ICC prosecutors are deliberating whether they can investigate the violence in Rakhine.
The UN report also prompted Amnesty International, Human Rights Watch, Fortify Rights and Save the Children to push for Myanmar to be investigated by the ICC.
Despite everything, we want to go back to Myanmar, but only with citizenship and our rights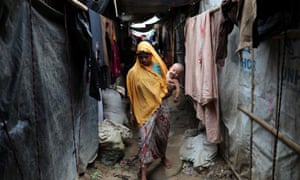 A Rohingya refugee woman walks through the Kutupalong camp in Cox's Bazar in Bangladesh. Photograph: Mohammad Ponir Hossain/Reuters
I

come from a village called Nga Sarkyue. It is a romantic place with lots of green gardens and many kinds of trees and flowers. It is surrounded by a small river on three sides, and on its eastern side there are high mountains. We used to go up there with friends to get fresh air and to debate. It is surrounded by farmland as well. But after October 2016, most of that was taken by the Myanmar government.
In the past few years, I became more and more like a prisoner in my village. I could not move freely to other places without getting the permission of authorities – and that always cost a large amount of money.
Things became worse from 2012. In June that year, some Rakhine people killed 10 Rohingya in a village called Toung Gu. Then we heard they and the government were involved in killing hundreds more Rohingya in other towns and districts – burning them alive and shooting them dead. Many women were gang-raped. Villages were burned down and Rohingya were arbitrarily arrested. Many died in jail.
Four years later, when I was 26, nearly 300 villages were burned down by the Myanmar military. Mosques and Islamic schools were also set on fire. Uncountable numbers of Rohingya people were arrested and sentenced to prison.
I also feared being arrested, so around October 2016, I stopped sleeping in my house. Many times I slept in the mud, or in bushes, or up in the mountains above Nga Sarkyue.
The Myanmar government had been trying to dismiss us from Arakan [the Rohingya name for Rakhine state] for a long time. Last year they succeeded.
Armed men arrived one day in August 2017 with big guns. They fired indiscriminately into the village for hours. We had been hearing stories of what was happening in other places. We knew we had to go.
I left my beloved village on 31 August. It was 8.10am – I wrote the exact time. I was with my family, neighbours and relatives. Our eyes were full of tears and our hearts were full of fear.
We walked for a day and reached a village called Singgri Para. Some of us rested there for a week, telling each other the situation would calm down, that there was no need to flee to Bangladesh.
Each day, we listened to the radio for good news about the Myanmar government. But we didn't get any. When the brutal military set fire to the villages of Duden and Lambaguna, which are near Singgri Para, we could see the smoke. We finally decided to go to the border.
It was a difficult journey. We had to cross rivers and go through long passages of mud. Old people died in front of our eyes and many weak people were left behind by their families because they couldn't carry them. One night we slept in a mosque in Shilhali village. There was no food to eat.
When we arrived at the border, we had to cross over into Bangladesh using a boat. When I saw the Bangladesh shore, all the fear left my heart. Bangladeshis gave us food to eat – we were so hungry.
I spent the first night in Unsiparag camp, in the hut of a relative who came before me. It was full of mud. I couldn't sleep all night. I just laid there on the muddy ground.
The next day, I built my own hut, searching everywhere for plastic sheets to cover the roof and walls. I stayed there with my family for two weeks, then we moved to Moinaghuna camp. There I built another hut in the middle of a wet paddy field. We had nothing to drink and no proper places to sleep.
Two months after arriving in Bangladesh, I got married. The wedding had been fixed in Myanmar. We were married in the hut I was living in. There was no ceremony, and no happiness either.
Humanitarian groups are giving us rations like rice, oil and lentils. We are grateful, but it is not enough to feed my family, and we lack fresh water and cover from the sun. The camp does not even have a single green tree. You won't find one, no matter how long you search.
World Politics
United States
Some of the reporting of the climate impacts of the Dirty Power Plan has been inaccurate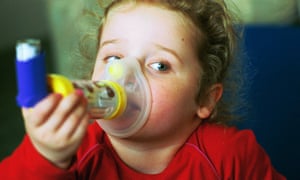 Georgia Conely, a young girl with a ventolin inhaler. Photograph: Sean Smith for the Guardian
Last October, then-EPA Administrator Scott Pruitt announced that the agency would repeal the Obama administration's Clean Power Plan. But because the Supreme Court ruled in 2007 that carbon dioxide is an air pollutant and the Obama EPA correctly concluded that it poses a threat to public welfare via climate change, the EPA is legally obligated to do something to address that threat. That meant they needed a replacement plan.
Last week, the Trump EPA unveiled that plan and inaccurately named it the 'Affordable Clean Energy Rule.' The rule basically just extends the life of some dirty coal power plants and encourages them to run a bit more efficiently. The rule's costs in worsening public health far exceed its monetary benefits. It would more accurately be named the 'Expensive Dirty Power Plan.'
But there's a silver lining – coal plants are already shutting down so quickly because they can't compete with cheaper, cleaner alternatives that it turns out we don't even need the Clean Power Plan to meet Obama's targets.
Dirty Power Plan's climate impact is small
Many news stories about the Dirty Power Plan exaggerated its climate impact due to confusion about various points of comparison. For example, the Clean Power Plan aimed to reduce carbon pollution from US electricity generation 32% below 2005 levels by 2030. The Dirty Power Plan will encourage coal plants to operate more efficiently, which the EPA estimates will reduce emissions about 1% more than simply repealing the Clean Power Plan.
That sounds like a big difference between the two plans, and it confused a lot of reporters. The key point is that US electricity generation was already becoming cleaner years before the Clean Power Plan was even conceived. Coal plants have been shutting down so rapidly that power sector carbon pollution is already 25% below 2005 levels. That happened without the Clean Power Plan ever going into effect – we basically didn't need it, because coal was replaced anyway just for being too expensive.
Robert Rohde (@rarohde)

One of the remarkable things about the new EPA assessment released for Trump's power plan, isn't even related to the new plan.

The EPA has radically reduced the estimated impact of Obama's Clean Power Plan. 1/
The EPA's new analysis found that under the Clean Power Plan, carbon pollution from US electricity generation would have fallen 29% below 2005 levels by 2030, and under the Dirty Power Plan, it would fall 26% below 2005 levels by 2030.
Both appear to be extremely conservative estimates – remember, US power sector carbon pollution already fell 25% below 2005 levels by 2016 – but the point is that the climate difference between the plans is relatively small.
Basically, the Obama Clean Power Plan tried to accelerate the transition away from coal power, but it's already happening so fast that it couldn't go much faster. The Trump Dirty Power Plan tried to save the coal industry, but the coal death spiral has so much momentum that they could only tap the brakes and slow it down a bit. The EPA estimates that US coal production will be just 8% higher in 2030 under the Dirty Power Plan than it would have been under the Clean Power Plan.
That's bad for our air, our health, and it's expensive
While that slight increase in coal production won't have a big climate impact, it's bad news for anyone living near a coal power plant – mainly poor people and minorities, in places like West Virginia. Specifically, the EPA analysis estimates that the Dirty Power Plan will cause:
900 more premature deaths per year

40,000 more annual cases of asthma

42,000 lost work days

60,000 more school absence days

230,000 more restricted-activity days for kids
The EPA analysis concludes that the costs of these adverse health effects will far exceed the minimal costs of compliance with the Clean Power Plan. Specifically, the Dirty Power Plan represents a $2.7bn to $6.1bn annual loss for the US economy. Over a 15-year period, it adds up to an approximately $50bn loss due to the adverse effects of the increased coal pollution from the Dirty Power Plan. As Joe Romm put it:
In short, Obama's CPP is a no brainer — small cost, huge benefits. And remember, this is according to figures buried in calculations released alongside the announced plan to repeal the CPP.

Yet, Trump has asserted for years that the CPP was a costly mistake, and that's why the U.S. had to become the only major country in the world to withdraw from the Paris climate accord.……………….

The silver lining is that Trump can't save the dying dirty coal industry, and his EPA's pollution plans will be reversed by the next administration in 2021. But it's important to remember that a vote for Trump and the Republican Party is a vote for dirty air that makes Americans sick and as a result costs the economy billions of dollars.