31 Aug
News and Analyses, A Foreign Perspective
Nearly all of these are English-edition daily newspapers. These sites have interesting editorials and essays, and many have links to other good news sources. We try to limit this list to those sites which are regularly updated, reliable, with a high percentage of "up" time.
Recommended:

An anaesthetised polar bear, a surprising pine marten and a potty-mouthed parrot are among this week's images

A squirrel climbs a tree at Sungei Buloh wetland reserve in Singapore. The reserve became Singapore's first ASEAN heritage park in 2003 and is recognised as a site of international importance for migratory birds
Photograph: Roslan Rahman/AFP/Getty Images
Propaganda unit's 117-page book contains pictures purportedly taken in Rakhine state that are really from Tanzania and Bangladesh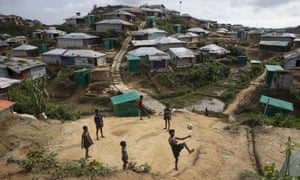 Violence has forced more than 720,000 Rohingya to flee Myanmar to areas like Kutupalong camp in Bangladesh. Photograph: Paula Bronstein/Getty Images
A new book on the Rohingya crisis written by Myanmar military propagandists uses fake photographs and a chilling rewriting of history in what appears to be an attempt to justify the killing of thousands of Rohingya over the last year in attacks by the army that the UN has condemned as genocide.
The 117-page book, published in July by the army's department of public relations and psychological warfare, includes what it calls "documentary photos". A Reuters investigation reveals that the provenance of three of the eight historical photographs contained in the book were faked.
The book purports they were taken in the western state of Rakhine, when in fact one was taken in Bangladesh, one in Tanzania and a third is falsely labelled as depicting Rohingya entering Myanmar from Bangladesh, when in reality it shows them attempting to leave.
One of the photographs shows a man standing over two bodies, wielding a farming tool. The text says the image shows Buddhists murdered by Rohingya during ethnic riots in the 1940s. But a Reuters examination of the photograph shows it was actually taken during Bangladesh's 1971 independence war when hundreds of thousands of Bangladeshis were killed by Pakistani troops.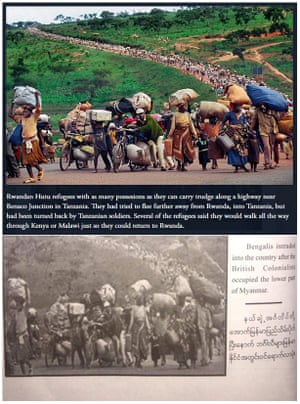 The image of Hutus fleeing Rwanda in 1996 (top) taken by Martha Rial for the Pittsburgh Post-Gazette appears in the Myanmar army's recently published book (bottom), purporting to show Rohingya entering the country. Photograph: Handout/Reuters
Another image shows a crowd of men who appear to be on a long march with their backs bent over. "Bengalis intruded into the country after the British Colonialism occupied the lower part of Myanmar," the caption reads.
The photo is apparently intended to depict Rohingya arriving in Myanmar during the colonial era, which ended in 1948. Reuters determined the picture is in fact a distorted version of a colour image taken in 1996 of refugees fleeing the genocide in Rwanda.
The photograph was taken by Martha Rial for the Pittsburgh Post-Gazette. The newspaper did not immediately respond to a request for comment on the use of its photo.
Another picture, also printed in black and white, shows men aboard a rickety boat. "Bengalis entered Myanmar via the watercourse," the caption reads.
Actually, the original photo depicts Rohingya and Bangladeshi migrants leaving Myanmar in 2015, when tens of thousands fled for Thailand and Malaysia. The original has been rotated and blurred so the photo looks grainy. It was sourced from Myanmar's own Ministry of Information.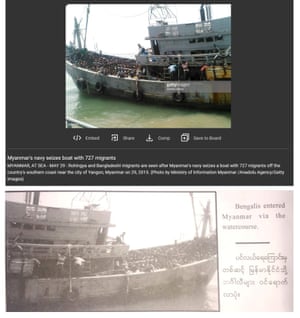 An image from Getty Images (top) showing Rohingya and Bangladeshi migrants, whose boat was seized by Myanmar's navy as they began to flee. The same image (bottom) appears in the Myanmar army's book describing Bengalis entering Myanmar. Photograph: Handout/Reuters
Government spokesman Zaw Htay and a military spokesman could not be reached for comment on the authenticity of the images. U Myo Myint Maung, permanent secretary at the Ministry of Information, declined to comment, saying he had not read the book.
The 117-page "Myanmar Politics and the Tatmadaw: Part I" relates the army's narrative of August last year when some 700,000 Rohingya fled Rakhine to Bangladesh, according to United Nations agencies, reporting mass killings, rape, and arson.
The book is on sale at bookstores across the commercial capital of Yangon.
Much of the content is sourced to the military's True News information unit, which has distributed news giving the army's perspective since the start of the crisis, mostly via Facebook.
On Monday, Facebook banned the army chief and other military officials accused of using the platform to "inflame ethnic and religious tensions". The same day, UN investigators accused Senior General Min Aung Hlaing of overseeing a campaign with "genocidal intent" and recommended he and other senior officials be prosecuted for crimes against humanity.
'They slaughtered our people': Rohingya refugees on Myanmar's brutal crackdown – video
In its new book the military denies the allegations of abuses, blaming the violence on "Bengali terrorists" it says were intent on carving out a Rohingya state named Arkistan.
Attacks by Rohingya militants calling themselves the Arakan Rohingya Salvation Army preceded the military's crackdown in August 2017 in Rakhine state, in which the UN investigators say 10,000 people may have been killed. The group denies it has separatist aims.
The book also seeks to trace the history of the Rohingya – who regard themselves as native to western Myanmar – casting them as interlopers from Bangladesh.
If illegal levels of air pollution had a role in Ella's death, a new inquest could help save other children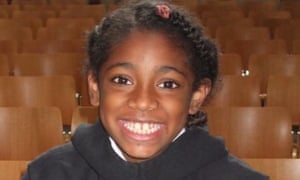 Ella Kissi-Debrah, a 'bubbly, healthy and happy child'. Photograph: Family Photo
M

y beloved nine-year old daughter Ella Roberta was a bubbly, healthy and happy child, yet she died on 15 February 2013. It all started with a chest infection in October 2010, which led to Ella suffering from respiratory issues for the remainder of her short life. She was admitted to hospital 27 times over a three-year period with life-threatening asthma, including three spells in intensive care.
Ella's final hospital admission happened during one of the worst air pollution episodes in our area of south London
I am still fighting for answers. At the inquest into her unexpected death, the pathologist told the court that Ella had one of the worst cases of asthma recorded. The inquest concluded that Ella died due to a severe asthma attack followed by a seizure, possibly caused by an allergic reaction to something in the air. But the exact cause has remained a mystery. Today I'm delivering a petition with more than 100,000 signatures to the attorney general, asking for a new inquest.
I am getting closer to understanding what that "something in the air" was. After Ella died, a member of the public suggested that I investigate the spike in air pollution on the night before Ella's death. That was a turning point. After a lot of research, and with the help of my lawyer, Jocelyn Cockburn, I now have research evidence from Prof Stephen Holgate, an expert in asthma management, that Ella's frequent hospital admissions were linked to illegal levels of air pollution.
Using data from pollution monitoring stations close to our home, Holgate found that air pollution levels exceeded EU limits for large periods of Ella's illness. In a report he wrote for us, he concluded that unlawful levels of air pollution contributed to the cause and seriousness of Ella's asthma in a way that greatly compromised her quality of life, and was a causative factor in her fatal asthma attack. He said that there was a real prospect that without the unlawful levels of pollution at the time, Ella would not have died – and gave his "firm view" that Ella's death certificate should take the air pollution into account. Crucially, he discovered that Ella's final hospital admission happened during one of the worst air pollution episodes in our area of south London.
It was devastating to hear all this. If I'd known then what I know now, things could have been so different. I can't turn the clock back, but I can now better protect my 11-year-old twins, who miss their big sister every day. If I am successful in getting a new inquest opened, it could be the first time that air pollution has ever been cited on a UK death certificate. Ella's case also has the support of London's mayor, Sadiq Khan – who is himself an asthma sufferer. He too has written to the attorney general, asking him to order a new inquest to help us understand the role that air pollution may have played in Ella's death, and make sure no more children die as a result of the air they breathe.
This isn't just about Ella. Air pollution causes about 40,000 premature deaths per year in the UK, and has been linked to a huge "reduction in intelligence". In London a staggering 240,000 children and young people have an asthma diagnosis, and every year this will prove fatal for between eight and 12 of them. Levels of nitrogen dioxide have been illegally high since 2010 in the vast majority of UK urban areas. The government has lost three court cases over the illegal levels of air pollution. And yet still the authorities are failing to act. If this continues we'll be facing a public health crisis of epic proportions.
•
Rosamund Kissi-Debrah is an air pollution campaigner
More On The Environment:

World Politics
United States
Chris Riddell on the president's denial of collusion in the runup to the November mid-term elections
US administration to withdraw from services affecting 5 million people, reports say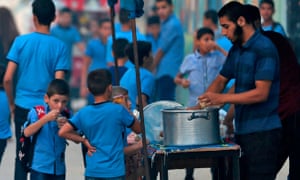 Pupils gather in front of a school run by the United Nations agency for Palestinian refugees in Gaza City. Photograph: Mahmud Hams/AFP/Getty Images

US president Donald Trump. Photograph: Brian Cahn/Zuma Wire/Rex/Shutterstock
The Trump administration is planning to cut all remaining US funding for the main UN programme for Palestinian refugees, with potentially devastating impacts, and is lobbying other countries to follow suit.
The move, reported in several US media outlets, has been anticipated both by senior officials at the UN Relief and Works Agency (UNRWA) and other Washington insiders, who told the Guardian the defunding could be announced as early as next week.
Speculation about the future of US funding for the agency, which provides services to more than five million Palestinians in the occupied territories as well as Jordan, Syria and Lebanon, comes as European and Arab countries pledged to protect the agency and Germany promised a significant increase in financial backing.
The threat emerged days after the US announced it was withdrawing $200mfrom its main development agency, USAid, for programmes based largely in Gaza where they help tens of thousands of people.
According to a report in the Washington Post, the Trump administration will use the announcement of its cessation of UNRWA funding to push for a huge reduction in the number of Palestinians officially registered as refugees.
The reported aim was to reduce those designated as refugees from five million to around 500,000, representing only those who were physically displaced from their homes when the agency was created seven decades ago, thus excluding millions of their descendants.
The US has long been the largest individual donor to UNRWA, pledging about one third of the agency's $1.1bn annual budget, but earlier this year the administration cut a scheduled UNRWA payment of $130m to $65m, saying the agency needed to make unspecified reforms and calling on the Palestinians to renew peace talks.
The move has been widely interpreted in both Israel and Palestine as a blunt move by the US to unilaterally sweep aside one of the main sticking points in peace negotiations – the right of return of Palestinians.
Asked on Tuesday if the US should "get the right of return off the table", the US ambassador to the UN, Nikki Haley, said she thought it should.
"I do agree with that … I absolutely think we have to look at right of return."
FBI says Robert Chain began a series of threatening calls after the newspaper announced it was coordinating a response to Trump's attacks on the media
A man has been arrested and charged with threatening to kill employees of the Boston Globe newspaper, in messages repeating Donald Trump's claims that journalists are the "enemy of the people" and "fake news".
Robert Chain called the Globe's newsroom and claimed he would shoot staff members in the head, according to the FBI, which said Chain later specified that he was retaliating against the newspaper's criticism of Trump's attacks on the news media.
Chain, of Encino, California, owns several firearms and was found to have purchased a new 9mm carbine rifle in May this year, according to US authorities.
Andrew Lelling, the US attorney for Massachusetts, said in a statement: "In a time of increasing political polarisation, and amid the increasing incidence of mass shootings, members of the public must police their own political rhetoric. Or we will."
Chain, 68, is due to appear in a federal court in Los Angeles on Thursday afternoon charged with making threatening communications in interstate commerce. He will later be transferred to Boston, officials said.
In an affidavit filed to federal court in Boston, the FBI said Chain began a series of 14 threatening calls to the Globe soon after the newspaper announced on 10 August that it was coordinating a response by US publications to Trump's attacks. Dozens of outlets agreed to publish editorial columns on the subject on 16 August.
Trump has led an unprecedented assault on the American media over the past three years, falsely claiming that coverage unfavourable to him is "fake news" and declaring journalists to be enemies of the public. He has frequently urged supporters at rallies to direct abuse at individual reporters, leading some to hire bodyguards.
Chain allegedly called the Globe from a blocked number on 16 August and said: "You're the enemy of the people, and we're going to kill every fucking one of you." After suggesting that staff call special counsel Robert Mueller for help, Chain allegedly said: "I'm going to shoot you in the fucking head later today, at four o'clock." Telephone records traced the call back to Chain's home landline, the FBI said.
That morning, Trump had posted several attacks on the media to Twitter, complaining about "fake news" and declaring that the media was "opposition party" and "very bad for our great country".
The FBI said Chain's calls scared employees of the Globe, leading the newspaper to call police and contract a private security company to protect its staff.
Six days later, Chain allegedly called the newspaper from a cellphone registered to his wife. When asked by a Globe employee why he was calling, Chain allegedly said: "Because you are the enemy of the people."
Chain allegedly continued: "As long as you keep attacking the president, the duly elected president of the United States, in the continuation of your treasonous and seditious acts, I will continue to threat, harass, and annoy the Boston Globe, owned by the New York Times, the other fake news."