In the wake of his death, too many fell into the simplistic binary thinking that plagues our country and steamrolls politics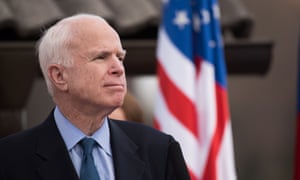 "With [McCain's] death, the last shreds of conscience in his party have gone, though they were often only present in him in flickers of conflicted, contradicted impulses." Photograph: Rok Rakun/Pacific Press via ZUMA Wire/REX/Shutterstock
I

come not to praise Senator John McCain nor to bury him – plenty of people are taking care those things – but to describe him and our problems with complex people and complex descriptions. I found McCain a fascinating, frustrating character who often expressed high ideals and as often betrayed them. That is something quite different than, say, the ruthlessly mercenary instincts of Mitch McConnell or the transparently self-serving amorality of Paul Ryan. With his death, the last shreds of conscience in his party have gone, though they were often only present in him in flickers of conflicted, contradicted impulses.
McCain seemed to believe in a gallant idea of what a soldier, a politician and an American should be. Though his version was often deeply at odds with mine, it appeared to be a genuine set of ideals. His life was a public performance of his meandering path to and from and around those ideals, and those trajectories were fascinating to watch, with the sense of some Faustian private struggle behind the public drama. He was often called a maverick and embraced the term, which comes from a Mr Maverick of Texas who didn't brand his calves. The term is now used to mean a dissident, an untamed soul, someone who doesn't run with the herd, but McCain's orthodoxies jostled with his unorthodoxies, and he often ended up back in the Republican corral with the rest of the conservative cattle. Or on the other side after all, regretting Sarah Palin, regretting his consent to the Iraq war, which he admitted was a disaster. At this point in political history even the admission of error is an endangered species.
In the wake of his death last week, too many people fell into the simplistic binary thinking that plagues our country and steamrolls its politics: that he had been good and thus nothing bad could be said of him, or the opposite, that he had done evil and nothing good could be admitted of him, and if nothing good could be said of him nothing at all could be thought about him. This not only refused an accurate picture of a complex figure, but the possibility of complex conversation, and perhaps even that habit of appraising and evaluating and reaching ambiguous, ambivalent conclusions we call thinking.
It's a far wider problem than one of writing the obituary of a rightwing icon, a habit that seeks to reduce all things to something as simple and binary as computer code and divides the world into sides or categories beyond which nothing remains to be said or thought. Good or evil, swipe right or left, like or dislike, ours or theirs– as George W Bush infamously declared on 20 September 2001, "Either you are with us or you are with the terrorists," which is the authoritarian way to say shut up and fall in line.
Our country was founded in conflict – not the ordinary conflict of the Revolutionary war, but the conflict between Thomas Jefferson's ideals and his actions as an owner and exploiter of other human beings. You can dismiss the slavery and uphold the ideals, or vice versa, but an understanding of who we have been and how we got here means recognizing both and how they inflect each other. And how often we use the master's tools to dismantle the master's house, including using the ideals in the constitution against the founding fathers' many shortcomings on human rights.
It means recognizing Abraham Lincoln's greatness and his monstrous policies toward the Lakota, recognizing that we have been neither – as American exceptionalism would have it – the best of nations, or the worst, but a magnificent, unresolved pile of conundrums and paradoxes and populations at odds with each other and ideals that are more often held up for admiration than they're upheld. Those ideals are lived out best by rebels and dissidents, not in the Senate, but in the streets and jails and strikes. It's when those people – those true mavericks – succeed in those marginal arenas that the causes are eventually championed in the Senate.
We hear a lot about bitter partisanship now. Perhaps it begins with the willingness to reduce into simple categories or the refusal to have thoughts that reveal how leaky those categories are. Or perhaps it's about the desire to have heroes, villains and simple dramas, to live in a world of cartoons where no thought needs to be more complex than a headline, or the fact that so much of our conversation now is uninflected headlines, tweets, texts and soundbites………………………………..
That is, partisan absolutism may begin in oversimplification and devout faith in categories. You can think McCain was wholly evil and still have nuanced ideas about him, because the differences between, say, Pol Pot and Joseph Stalin, or Jeff Bezos and Rupert Murdoch, are worth exploring. If we want to be able to perceive and describe the world, our conversations have to have room for the occasional harmful acts of people we like and the beneficial acts of those we don't.
McCain did a lot of harm by my estimation, and some of it he did because he genuinely believed that the collateral damage was worth it for some good cause. He believed devoutly in war and the military, and the military was perhaps the constituency he served most faithfully. He was one of the grandest characters in the theater of Congress, and his performance was first of all theater, sometimes intentionally so – as when, last year, he came into the Senate chamber at the last minute and, with a thumbs-down gesture like that of a Roman emperor, ended the Trump plan to kill the Affordable Care Act (which he had, of course, opposed when it was put forth). As Jordan Weissman wrote in Slate, his veto was "delivered in front of a sulking Mitch McConnell, elicited a gasp from the Senate floor and brought months of frantic work by the GOP to a crashing stop"………………
On Twitter, the national security journalist Benjamin Wittes tells a story from 15 years ago when he saw McCain introduce Anne Appelbaum's book Gulags at the Polish Embassy in Washington DC. Wittes writes, "While McCain had many thoughts about the book, he said that the part that really hit him in the gut was Anne's description of prisoner tapping codes – by which prisoners would tap on cell walls in specific patterns to make out letters to communicate with those in adjacent cells." He described the version he and his fellow prisoners used. "Then he paused and said that he still dreamed in that code sometimes. And then he tapped."
Clockwise from centre: Nur Begum; granddaughter Sonjida; daughter-in-law Zaheda; granddaughters Rojia and Gulsar; great-grandson Sultan. Photograph: Abbie Trayler-Smith/Oxfam
Nur Begum, 70, and 13 of her relatives are among the million Rohingya sheltering in the world's largest refugee camp in Bangladesh
Z

aheda is worrying about her daughters. At 20 and 18, respectively, Gulsar and Abeda should be married by now, but life is not as it should be. It hasn't been since they fled their homes with a dozen other family members almost a year ago. "Marriage is what is expected of women," 40-year-old Zaheda says. "It is tied up with honour; not being married brings shame." A man she knew in Myanmar wants them to marry his sons, but she can't pay the dowry he's hoping for.
Zaheda and her daughters are clustered together on the floor of a shelter in the world's largest refugee camp, in the Cox's Bazar district of south-eastern Bangladesh. Formerly two separate camps, it now holds over 700,000 Rohingya people who have fled Myanmar, spread across the hills in row upon row of tarpaulin and bamboo shelters. Four generations of the Begum family live here: 70-year-old Nur; her 50-year-old son Anwar and his wife Zaheda; their 10 children, aged from two to 25; and Nur's great-grandson, Sultan, aged two.
The Begums left their home in Rakhine state, a low-lying coastal area in western Myanmar, just after 3am in late August 2017, after shouts from the village warned that government forces had arrived. They had heard tales of what the army had done to the Rohingya in recent months – killing unarmed civilians, mass rape, burning homes. Anwar, a farmer, wanted to get his family out as soon as possible. "I wanted to pack, but my son grabbed me and said, 'Let's just go – leave everything behind,'" Nur says. "I put some clothes in a bag but there was shooting and I dropped the bag." Fourteen members of the family left together on foot.
Twelve are crammed into three rooms, with no doors. When it rains, thick mud sucks the shoes off their feet
Eighteen days later they arrived at the camp, 130 miles away, having crossed jungle, mountains and the Naf river on the Myanmar-Bangladesh border. "Because the military were everywhere we were afraid that if we went by road they would catch us, so we went over the mountains," Nur says. "We just followed all the other people. Sometimes my son carried me, but when we came down the hills, he couldn't help me because both of us would have fallen. So I slid down on my backside." She arrived on Anwar's shoulders.
Almost a year on Nur lives with her son and daughter-in-law and nine of their children in one shelter. Zaheda's oldest daughter, Rojia, and her son Sultan live elsewhere on the camp, as do Nur's four other children, who arrived separately.
The camp has evolved into a makeshift metropolis. It has roads, bridges, hospitals, but no official schools or paid jobs because the Bangladeshi government does not plan to integrate Rohingya refugees with the local population. The camp offers shelter from the Myanmar army – but also the risk of landslides and disease.
Run by the UN Refugee Agency (UNHCR), the International Organisation for Migration and the government of Bangladesh, with the support of more than 100 NGOs, the camp is about a two-hour drive from Cox's Bazar, a seaside town still popular with Bangladeshi tourists. Until a year ago there was nothing much in the vicinity: some villages, schools and small refugee camps for Rohingya who were here before the recent crisis, some displaced for over 20 years. But then came the flow of refugees into Bangladesh – thousands every day. The camps in Kutupalong and Balukhali doubled in size and have now expanded into one "megacamp". There are dozens of other camps in the region, housing a further 300,000 refugees. While there has been talk of repatriation, negotiations have stalled. There are now more Rohingya here than in Myanmar; the population is the size of Birmingham – and their lives are in limbo.
T

he Begums' shelter is bare of furniture; I sit with the family on a thin plastic mat. The room is hot, the camp noises are loud. Twelve are crammed into three rooms, with no doors to separate them. The flimsy roof is weighed down with bags of sand. When it rains, thick mud sucks the shoes off their feet; when it is hot, their clothes are drenched with sweat. But at least they feel part of a community – they know some of the other families sleeping beside them in the camp from their village back home.Today the shelter is even busier than normal; it is the scene of intense marriage negotiations. Dil Mohammed, who used to live near Zaheda's village in Myanmar, has two sons, Yaseen, 20, and Mohashan, 19, and has travelled across the camp with his wife to discuss a match with Gulsar and Abeda. "My sons are very good and handsome and…" Mohammed pauses for dramatic effect. "They went to school. They are literate."
Zaheda is open to the suggestion – she has known the boys since they were very young. "They are good. Their manners are good," she says. But the Begums can't afford the 40,000 taka (£370) dowry. They had been quite well off in Myanmar. "We had 25 acres of land, 12 cows, six goats and lots of chickens," Zaheda says. Now they have nothing.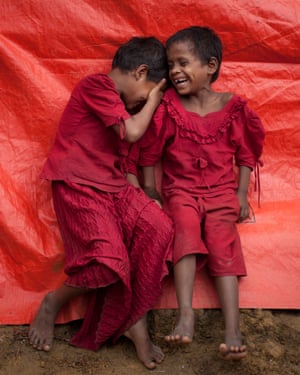 Six-year-old Arofa and her best friend. Photograph: Abbie Trayler-Smith/Oxfam
"Whatever they give we will accept, willingly, happily," Mohammed says. My interpreter is doubtful: she's seen conversations like this before. "That is what he says, but I don't think he will accept anything less than the full amount," she says. Nothing is agreed today. Zaheda cooks Mohammed and his wife treats – noodles and lentils – before they head back to their shelter. "By God's grace I will come back," Mohammed says………………..

Rashida with her son Nurul. Her husband now lives with a woman he met on a previous trip to Bangladesh. Photograph: Abbie Trayler-Smith/Oxfam
The refugee crisis, meanwhile, shows no sign of ending. In a speech on 21 August, Aung San Suu Kyi, Myanmar's de facto leader, defended her government's handling of the Rohingya. "We, who are living through the transition in Myanmar, view it differently than those who observe it from the outside and who will remain untouched by its outcome," she said. She did not name the Rohingya, but said: "The danger of terrorist activities, which was the initial cause of events leading to the humanitarian crisis in Rakhine, remains real and present today." She offered "deep sympathy and concern for all displaced persons, especially the women and children". But she would not be drawn into setting a timetable for the crisis to be resolved. Potential resettlement sites have been mapped out in Myanmar since January, but human rights groups are concerned about the safety of returning Rohingya.