04 Sep
News and Analyses, A Foreign Perspective
Nearly all of these are English-edition daily newspapers. These sites have interesting editorials and essays, and many have links to other good news sources. We try to limit this list to those sites which are regularly updated, reliable, with a high percentage of "up" time.
Recommended:
© Chip Somodevilla, Getty Images, AFP | Supreme Court nominee Judge Brett Kavanaugh sits down for his confirmation hearing in Washington, DC., on September 4, 2018.
Quarreling and confusion marked the start of the Senate's confirmation hearings for Supreme Court nominee Brett Kavanaugh on Tuesday, with Democrats trying to block the proceedings because of documents being withheld by the White House.
Protesters also disrupted the proceedings.
In his opening remarks released ahead of delivery, Kavanaugh sought to tamp down the controversy over his nomination, which would likely shift the closely divided court to the right. He promised to be a "team player" if confirmed, declaring that he would be a "pro-law judge" who would not decide cases based on his personal views.
But Democrats raised objections from the moment Chairman Chuck Grassley gaveled the committee to order. They want to review 100,000 documents about Kavanaugh's record being withheld by the White House as well as some 42,000 documents released to the committee on a confidential basis on the eve of the hearing, along with others not sought by Republicans on the committee.
"We have not been given an opportunity to have a meaningful hearing on this nominee," said Sen. Kamala Harris, D-Calif. Sen. Richard Blumenthal, D-Conn., made a motion to adjourn.
Grassley denied his request, but the arguments persisted.
More than a dozen protesters, shouting one by one, disrupted the hearing at several points and were removed by police. "This is a mockery and a travesty of justice," shouted one woman. "Cancel Brett Kavanaugh!"
Grassley defended the document production as the most open in history, saying there was "no reason to delay the hearing". He asked Kavanaugh, who sat before the committee with White House officials behind him, to introduce his parents, wife and children.
"I'm very honored to be here," Kavanaugh said.
With majority Republicans appearing united, it's doubtful the hearings will affect the eventual confirmation of President Donald Trump's nominee. But they will likely become a rallying cry for both parties just two months before the midterm elections.
Kavanaugh declared he would be even-handed in his approach to the law.
"A good judge must be an umpire, a neutral and impartial arbiter who favors no litigant or policy," Kavanaugh said in prepared opening remarks. "I am not a pro-plaintiff or pro-defendant judge. I am not a pro-prosecution or pro-defense judge."
"I would always strive to be a team player on the Team of Nine," he added.
The Supreme Court is more often thought of as nine separate judges, rather than a team. And on the most contentious cases, the court tends to split into two sides, conservative and liberal. But the justices often say they seek consensus when they can, and they like to focus on how frequently they reach unanimous decisions.
On George W Bush's and Kenneth Starr's teams
Kavanaugh, 53, has served for the past 12 years on the federal appeals court in Washington, D.C., which is considered the second most important court in the country after the Supreme Court. His conservative record includes a dissenting opinion last year that would have denied immediate access to an abortion for an immigrant teenager in federal custody.
Kavanaugh worked in key White House positions when George W. Bush was president and was a member of independent counsel Kenneth Starr's legal team that investigated President Bill Clinton in the late 1990s, leading to Clinton's impeachment.
As a young lawyer, Kavanaugh worked for Justice Anthony Kennedy, whom he would replace on the high court. Kennedy retired at the end of July. Trump's successful first nominee, Neil Gorsuch, also was a Kennedy law clerk the same year as Kavanaugh.
When he was sworn in as an appellate judge in 2006, Kavanaugh called an independent judiciary "the crown jewel of our constitutional democracy."
Questioning of the nominee will begin on Wednesday, and votes in committee and on the Senate floor could occur later in September. If all goes as Republicans plan, Kavanaugh could be on the bench when the court begins its new term on Oct. 1.
Grassley has called Kavanaugh "one of the most qualified nominees ever picked for the court." The American Bar Association has given Kavanaugh its highest rating, well qualified.
Monday night, some 42,000 documents pertaining to Kavanaugh's work with previous administrations were released to the committee. Senate Democratic Leader Chuck Schumer complained it was impossible to go through them in time. Democrats have also complained that they have not received all relevant documents.
Rebuffed in their request to delay the hearing, Democrats are planning to shine a light on Kavanaugh's views on abortion, executive power and whether Trump could be forced to testify as part of special counsel Robert Mueller's Russia investigation.
Many Democratic senators already have announced their intention to vote against Kavanaugh and many Republicans have likewise signaled their support. A handful of Democrats seeking re-election in states Trump carried in 2016 could vote for Kavanaugh.
If no Democrat ultimately supports the nomination, the Republicans have no margin for error in a Senate they control by 50-49. Sens. Susan Collins of Maine and Lisa Murkowski of Alaska are the only two Republicans even remotely open to voting against Kavanaugh, though neither has said she would do so. Abortion rights supporters are trying to appeal to those senators by focusing on concerns that Kavanaugh could vote to limit abortion rights or even overturn the landmark Roe v. Wade ruling from 1973 that first established a woman's constitutional right to an abortion.
Democrats have been under intense pressure from liberal voters to resist Trump, and many remain irate, even two years later, over the treatment of Merrick Garland, President Barack Obama's nominee for the Supreme Court, who was denied so much as a hearing last year by Majority Leader Mitch McConnell.
Kavanaugh, in his statement Tuesday, gave a shout-out to Garland, "our superb chief judge". Garland is the chief judge of the appeals court on which Kavanaugh has served.
But Democrats are powerless to delay a vote on Kavanaugh since McConnell led Republicans, during the Gorsuch nomination, in eliminating the 60-vote filibuster threshold that had been in place for Supreme Court nominations.
The filibuster rule required 60 of the 100 votes to advance a bill or nomination. That's in contrast to the simple 51-vote majority that applies in most cases.

Painful legacy of sexual abuse cover-up is engulfing church and its leader, as allegations divide Vatican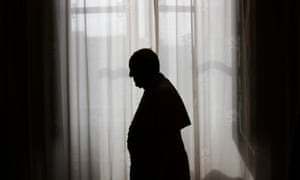 Pope Francis, who has said little apart from appealing to the public to make their own judgment. Photograph: Max Rossi/Reuters
Ever since he was elected as the leader of the world's Roman Catholics, Pope Francis has been the target of conservative adversaries deeply opposed to his focus on the poor and marginalised, and his efforts to reform the church.
But in the past week, the war at the heart of the Vatican has exploded into the open, plunging Francis into the worst crisis of his five-year papacy. Cardinals and bishops have openly fired shots; accusations of lies, treachery, score-settling, character assassination and fake news have engulfed the global church.
The touchpaper was lit while Francis was on a challenging trip to Ireland last weekend. The painful legacy of sexual abuse cover-up cast a long, dark shadow over his visit; however many times Francis spoke of the church's shame and sorrow, it was not enough for survivors who demanded action. The highlight, an open-air papal mass in Phoenix Park, was attended, according to some estimates, by a quarter of the 500,000 expected.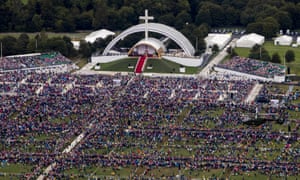 An aerial view of the crowd at Phoenix Park in Dublin as Pope Francis attends the closing mass at the World Meeting of Families. Photograph: Pool/Getty Images
Archbishop Carlo Maria Viganò, 77, a former Vatican ambassador to the US and a conservative within the church, said the pope knew that Theodore McCarrick, the former archbishop of Washington, "was a corrupt man, [but] he covered for him to the bitter end".
Viganò named a string of cardinals and archbishops who he said also knew about the McCarrick claims. "Corruption has reached the very top of the church's hierarchy,"; Francis should resign, he said.
The letter was released as the issue of abuse was already engulfing the church and its leader. In July, Francis had accepted McCarrick's resignation as a cardinal following fresh claims of sexual abuse, which the former archbishop denies. In Pennsylvania, a grand jury report contained devastating details of clerical sex crimes and their cover-up; an Australian archbishop was convicted of concealing child abuse; in Chile, 34 bishops offered their resignation in a cover-up scandal. Further criminal trials of high-ranking church figures are scheduled in the coming months. Facing scandals on multiple fronts, Francis released an unprecedented missive to the world's Catholic faithful, publicly acknowledging the church's failures.
Viganò's claims – timed when Francis was already vulnerable – unleashed opposing forces within the church. The old guard of the Curia – the Vatican's governing bodies, a hotbed of power struggles, intrigue and paranoia – bitterly resents Francis's efforts to root out what they view as centuries of clerical tradition and he sees as hypocrisy, narcissism and "spiritual Alzheimer's". Now the gloves were off.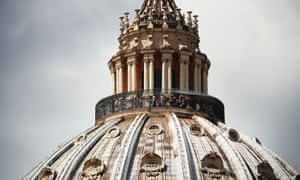 St Peter's dome in the Vatican. Photograph: Spencer Platt/Getty Images
Francis loyalists leaped to his defence and lambasted the former diplomat. Robert McElroy, the bishop of San Diego, said Viganò's letter contained "clear efforts to settle old personal scores" and promoted a "hatred of Pope Francis and all that he has taught". Viganò "consistently subordinates the pursuit of comprehensive truth to partisanship, division and distortion," he added.
Bishops in Argentina publicly supported their compatriot, saying Viganò had made a "ruthless" attack on the pope. Bishops in Spain and Peru issued similar statements, with the Peruvians denouncing "attempts to destabilise the church".
The head of a Latin American bishops' council, Cardinal Ruben Salazar of Bogotá, condemned "attacks on the pope as a person". Father Antonio Spadaro, an Italian Jesuit and staunch defender of Pope Francis, warned of "fake news".
But others said Viganò's allegations must be taken seriously. Salvatore Cordileone, archbishop of San Francisco, said Viganò was a man of integrity and "selfless dedication". "To dismiss [his claims] lightly would continue a culture of denial and obfuscation."
Robert Barron, auxiliary bishop of Los Angeles, said: "This is not some minor player, this is the former Apostolic Nuncio to the United States … He's making some serious claims, and I'd say look into them. Let's take an honest, objective look at what's being claimed here."
More than 29,000 people have added their names to an open letter to Francis from the US-based Catholic Women's Forum, asking for a direct response to Viganò's "devastating" allegations. "Our hearts are broken, our faith tested, by the escalating crisis engulfing our beloved church … Each news cycle brings more horrific revelations of sexual abuse, sexual misconduct, cover-ups and deceit – even at the church's highest levels." It asks for "leadership, truth and transparency".
World Politics
Belgium
Catholic lay reader read verses calling on women to submit to their husbands in Songs of Praise-style programme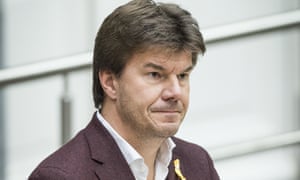 Seven Gatz, the minister for media in Flanders, tweeted: 'No outdated, woman-unfriendly statements … please.' Photograph: Jasper Jacobs/Rex/Shutterstock
The future of Songs of Praise-style religious programmes on Belgian television has been thrown into doubt after a Catholic lay reader gave an on-screen Bible reading calling for women to be submissive to their husbands.
Sven Gatz, the minister for media in Flanders, called for a ban on religious services being shown by public broadcasters in response to the service aired on radio and the television station VRT.
The reading, made by a lay reader during a service at Sint-Servaasbasiliek in Grimbergen, from Ephesians 5:22-33 in the New Testament, said: "Women, be submissive to your husband as the husband to the Lord. For the man is the head of the woman as Christ is the head of the church. He gave his life to save her. In this way the woman must submit her husband to everything as the church is submissive to Christ." The reader has not been named.
Gatz tweeted in response: "No outdated, woman-unfriendly statements … please. What if, for example, an imam would have said this?"
The minister, from the Flemish liberal party, Open VLD, later told the Belgian daily Het Nieuwsblad that he would make a renewed push for the abolition of religious services on publicly funded channels, a call he first made in December.
He said: "Of course I am not behind these kinds of statements. The fact that they come from an old book is not an argument for letting them go to our people. This is not of this time, and that it is broadcast on the VRT for the whole of Flanders is already completely crazy."
Gatz added of his previous call for abolition: "My coalition partners CD&V and N-VA did not agree with that at the time. I hope that we can use incidents like this to reintroduce the debate."
The representation of religion, language and culture on television is often a point of heated debate in Belgium, where French, Dutch and German are the officially recognised home languages.
The Dutch Bible Society, which also has Flemish members, said the excerpt read should not have been "ripped out of its context".
A spokesman said: "The contested statement is preceded by a very different sentence: 'Accept each other's authority out of respect for Christ'. This indicates that this is a very different matter than legitimisation of the oppression of women by men."
In a statement, TV channel VRT said it "continues to regard the broadcasting of eucharistic celebrations as a service to the viewers: both for religious viewers and for viewers who want to get acquainted with such a celebration and do not always agree with what is said in the church. The VRT has no problem with these broadcasts leading to debate and discussion."
The BBC's Songs of Praise, which has been broadcast since 1961, has been criticised in recent years for being out of step with British society. There have been calls for the Christian-focused programme to be multi-faith.
United States
President says legal actions against 'very popular' congressmen have put victories in doubt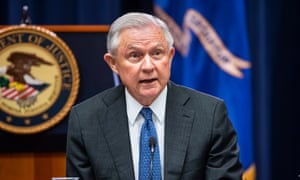 Jeff Sessions has faced repeated attacks from Trump over his decision to recuse himself from overseeing the inquiry into Russian election interference. Photograph: Jim Lo Scalzo/EPA
Donald Trump has mounted another extraordinary attack on his attorney general, Jeff Sessions, blaming him for charges against two congressmen that he said jeopardised Republican chances in the forthcoming midterm elections.
On Monday afternoon, the president tweeted: "Two long running, Obama era, investigations of two very popular Republican Congressmen were brought to a well publicized charge, just ahead of the Mid-Terms, by the Jeff Sessions Justice Department. Two easy wins now in doubt because there is not enough time. Good job Jeff……
"….The Democrats, none of whom voted for Jeff Sessions, must love him now."
In fact, one Democratic senator, Joe Manchin of West Virginia, voted for Sessions when he was confirmed as attorney general by a 52-47 vote in February 2017.
Trump did not name the congressmen he was talking about. But last month Duncan Hunter, a California representative, was charged with misuse of campaign funds while Chris Collins of New York was indicted for insider trading – over a share tip alleged to have been made in 2017, when Trump was in power.
The two men were Trump's first supporters in the House. Hunter will run for re-election. Collins will step down.
Sessions, a former Alabama senator, was also one of the earliest supporters of Trump. But the president has attacked him repeatedly for his decision in March 2017 to recuse himself from oversight of the investigation into Russian election interference.
Sessions made that call after it was revealed he did not disclose to senators meetings with the Russian ambassador during the election campaign.
Trump indicated last week that he would fire Sessions after the midterm elections, a move some observers said might presage the firing of deputy attorney general Rod Rosenstein and the special counsel, Robert Mueller, whose work on links between Trump aides and Moscow has circled ever closer to Trump's inner sanctum.
Some senior Republicans have indicated they would accept a move against Sessions, which would echo the infamous "Saturday night massacre" carried out by Richard Nixon against top law enforcement officials during his downfall in 1973. Some have said they would not.
On Monday, Senator Ben Sasse of Nebraska, a frequent Trump critic, said: "The United States is not some banana republic with a two-tiered system of justice – one for the majority party and one for the minority party.
"These two men have been charged with crimes because of evidence, not because of who the president was when the investigations began."
Trump's positive remarks about supporters charged with criminal wrongdoing echoed his comments about the case of Paul Manafort, his former campaign chairman who was convicted last month on eight counts of tax and bank fraud brought by Mueller's team. Trump praised Manafort for not "flipping" to testify against him, and told Fox News he thought the practice, common in criminal cases, should "almost" be illegal.
The president has not spoken positively of Michael Cohen, his former personal lawyer who pleaded guilty to charges of fraud and violating campaign finance law brought by federal prosecutors in New York. Cohen said Trump directed him to make payments to women who claim to have had affairs with him.
Trump's implication that the Department of Justice runs politically motivated investigations is contrary to stated DoJ policy.
Sessions issued a rare response to Trump's threats and abuse last month, saying in a statement: "While I am attorney general, the actions of the Department of Justice will not be improperly influenced by political considerations."
On Monday afternoon, Trump was at the White House after what appeared to be a trip to his golf course in Virginia was called off, with vehicles and secret service agents waiting. The Washington Post reported that he spent the day watching television.
Most of the extinctions were caused by deforestation in South America, a new study of endangered birds shows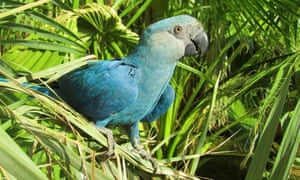 The Brazilian Spix's macaw, as seen in the children's movie Rio, is one of the eight birds to become extinct Photograph: Al Wabra Wildlife Preservation
Spix's macaw, a brilliant blue species of Brazilian parrot that starred in the children's animation Rio, has become extinct this century, according to a new assessment of endangered birds.
The macaw is one of eight species, including the poo-uli, the Pernambuco pygmy-owl and the cryptic treehunter, that can be added to the growing list of confirmed or highly likely extinctions, according to a new statistical analysis by BirdLife International.
Historically, most bird extinctions have been small-island species vulnerable to hunting or invasive species but five of these new extinctions have occurred in South America and are attributed by scientists to deforestation.
Stuart Butchart, BirdLife International's chief scientist, said the new study highlighted that an extinction crisis was now unfolding on large continents, driven by human habitat destruction.
"People think of extinctions and think of the dodo but our analysis shows that extinctions are continuing and accelerating today," he said. "Historically 90% of bird extinctions have been small populations on remote islands. Our evidence shows there is a growing wave of extinctions washing over the continent driven by habitat loss from unsustainable agriculture, drainage and logging."
More than 26,000 of the world's species are now threatened, according to the latest "red list" assessment, with scientists warning that humans are driving a sixth great extinction event.
Four of the eight newly identified bird extinctions took place in Brazil, once home to Spix's macaw. The attractive parrot was caged and traded for 150 years before any wild populations were discovered but in 1985, three birds were found in a Brazilian forest. Two were illegally captured for the pet trade, and attempts to breed the final male were unsuccessful. A 2016 sighting in the wild is now thought to have been an escaped caged bird, leaving the last known sighting in 2000.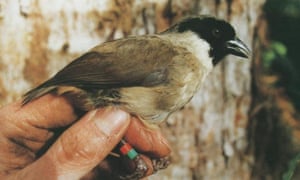 The poo'uli was last seen in 2004. Photograph: Paul E Baker
While captive populations of Spix's macaw are being bred for reintroduction into restored woodland habitat there is no second chance for the poo-uli, the cryptic treehunter and the Alagoas foliage-gleaner: they have disappeared from the skies forever.
According to the new analysis, published in Biological Conservation, the Alagoas foliage-gleaner, a small gingery forest bird which picks invertebrates from leaves, became extinct in 2011, disappearing from a heavily logged patch of Brazil.
The cryptic treehunter was only discovered in two patches of forest of Murici in north-eastern Brazil in 2002 but has not been seen since 2007 after these small forests were felled and replaced with sugar cane plantations and pasture.
The poo-uli, or black-faced honeycreeper, was found on the island of Maui in Hawaii but was last sighted in 2004. Attempts to breed the bird in captivity failed…………."Obviously it's too late to help some of these iconic species but because we know birds better than any other taxonomic class we know which other species are most at risk. We hope this study will inspire a redoubling of efforts to prevent other extinctions."
More On The Environment: