07 Sep
News and Analyses, A Foreign Perspective
Nearly all of these are English-edition daily newspapers. These sites have interesting editorials and essays, and many have links to other good news sources. We try to limit this list to those sites which are regularly updated, reliable, with a high percentage of "up" time.
Recommended:

Protests against politicians' failure to tackle the environmental crisis will take place in more than 90 countries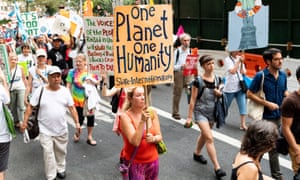 Protesters at the Climate, Jobs, and Justice March in New York, US on 6 Sep 2018. Photograph: Michael Brochstein/SOPA Images/REX/Shutterstock
Hundreds of thousand of people in more than 90 countries are expected to take part in demonstrations this weekend to protest about the failure of politicians to tackle the global environmental crisis.
Organisers say more than 800 events – from marches to street theatre, acts of civil disobedience to mini festivals – will take place in towns and cities amid growing frustration at the lack of meaningful political action over the emerging climate breakdown.
Nick Bryer from campaign group 350.org which is organising the event said: "Politicians are failing. They are still protecting the interests of the fossil fuel companies over the interests of people, despite mounting evidence of the devastation these companies and this system is causing the planet."
He said the day of global demonstrations was about people around the world "rising up and demanding a different cause of action, a different future which puts people and a sustainable future before the interests of these huge corporations".
In the UK there are events organised in cities from London to Wigan, Bradford to Durham.
Jane Thewlis, from Fossil Free West Yorkshire, is organising an event in Bradford.
"We have a brilliant jazz band the Peace Artistes which are well known round here and the focus is divestment and a celebration of what has already been achieved from New York to Ireland."
Thewlis said the group were campaigning to persuade the five West Yorkshire councils to divest their pension funds from fossil fuels and hoped the event would galvanise support – especially among young people.
"There will be several young people speaking, many of them associated with a group called Hope Rising which is based on a local council estate."
Thewlis said the same policies that are damaging the lives of poor people in Bradford were driving the destruction of the planet and killing marginalised people around the world.
"These young people are making those links, and that's why we have specifically got young, working class people of colour to talk on Saturday. We hope that these young people will form their own environmental group following the event and build a sustainable movement."
One of the biggest protests is expected in Paris where up to 100,000 people are expected. Events in other European cities including Copenhagen, Brussels and Lisbon are also expected to attract tens of thousands of protesters.
The events come ahead of the Global Climate Action Summit that starts in San Fransisco next week and will see politicians and city leaders from around the world gather to discuss the climate crisis.
More On The Environment:
World Politics
United States
Judge has likened a ban on assault rifles 'to a ban on a category of speech'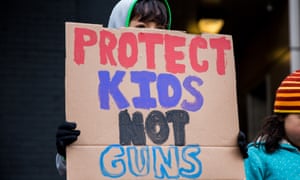 A boy watches marchers go by at a March for Our Lives rally organized by survivors of the Parkland, Florida, school shooting. Photograph: Lindsey Wasson/Getty Images
An AR-15 can spray 150 rounds in six minutes. I know this because this is exactly what happened the day my two sons Cameron and Holden were trapped in a classroom at Marjory Stoneman Douglas high school, the day a mentally ill person slaughtered their friends using an AR-15, a weapon of war.
It was a slap in the face to the Parkland community on 9 July 2018 when Donald Trump announced his supreme court nominee to replace retiring justice Anthony Kennedy. To the delight of some and the chagrin of many, Trump chose Judge Brett Kavanaugh.
On 24 February 2018, following the shooting at Marjory Stoneman Douglas, President Trump declared he would make access to assault weapons very difficult, saying:
"Bump stocks, we are writing that out. I'm writing that out myself. I don't care if Congress does it or not, I'm writing it out myself. You put it into the machine gun category which is what it becomes essentially, a machine gun, and nobody's going to be able, it's going to be very hard to get them."
Now he has nominated a potential supreme court justice who believes in an extreme interpretation of the second amendment, one that the majority of Americans do not support.
In 2011, Kavanaugh issued a lone dissent against the 2008 supreme court ruling in District of Columbia v Heller voting to strike down the District of Columbia's prohibition on assault weapons. The court's opinion in the Heller case affirmed the constitutionality of reasonable restrictions on the second amendment. Kavanaugh's dissent in the 2011 case in which Heller was heavily invoked signals his willingness to avoid even the most basic commonsense restrictions. His meeting with the NRA's Chris Cox at the White House this past March, mere weeks after the shooting at my sons' school in Parkland, Florida, signals where his allegiance lies.
Kavanaugh has likened a ban on assault rifles to a ban on a category of speech. It is long settled that no right is absolute. Our first amendment right to free speech is tempered by a small variety of exceptions, the most famous of course being that you can't yell "fire" in a crowded theater. Why? Because if you do, it could have a harmful effect on others' right to their own life, liberty and pursuit of happiness, in the form of a stampede that could cause injury or death.
The second amendment is similarly reasonably restricted. Most would agree that a five-year-old should not be able to legally purchase a handgun. In many jurisdictions, convicted felons and domestic abusers are prohibited from owning or possessing firearms. Few object to these reasonable restrictions on our constitutionally enumerated (as opposed to "God-given") right to bear arms.
Reasonable restrictions on purchase, ownership and availability of firearms, especially those weapons of war commonly referred to as "assault weapons", are not a radical concept, nor should they be partisan in any way. There should not be a liberal or conservative bent on a desire to keep one's family safe.
The memory of the Valentine's Day shooting in Parkland has not faded. Every day, all day, our community is reminded of the seventeen innocent lives lost. No parent should have to go through hours of fear and anguish, wondering whether their child is going to leave school that day in a body bag. No child should have to huddle in a closet with 30 other children, texting his parent: "I don't know if I'm going to make it out of here alive. I love you." No parent should have to find out that their child was one of the murdered ones.
If there is continued easy access to assault weapons, every school, concert, movie theater, church, and virtually any other venue where people gather, remains vulnerable to becoming a mass shooting crime scene. Parkland was voted one of the safest cities in the state of Florida for the past eight years, including 2018. If this atrocity can happen here, it can happen anywhere. I urge the Senate to vote the nomination of Brett Kavanaugh down. The lives of our children, this nation's greatest asset, depend on it.
Jeffrey A Kasky is the president of Families v Assault Rifles Pac

At Montana rally, president hails Republican who assaulted Guardian reporter as fighter 'in more ways than one'