11 Sep
Nearly all of these are English-edition daily newspapers. These sites have interesting editorials and essays, and many have links to other good news sources. We try to limit this list to those sites which are regularly updated, reliable, with a high percentage of "up" time.
Recommended:

Governments are failing to tackle the crisis that causes 1,000 early deaths a day, says damning EU report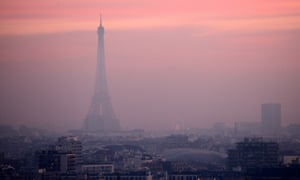 The Eiffel Tower clouded by high levels of air pollution in Paris, France. Photograph: Chesnot/Getty Images
Air pollution is now "the biggest environmental risk" to public health in Europe but governments are failing to adequately deal with the crisis, the EU Court of Auditors has found.
Europe's air pollution limits are "much weaker" than WHO guidelines – and most EU countries do not comply with them anyway, according to the damning new report.
Toxic air kills an estimated 400,000 Europeans before their time each year – up to 40,000 of them in Britain. But the UK government has been in breach of EU air quality limits since 2010 and now faces multimillion pound fines at the European court.
Seb Dance MEP, Labour's deputy leader in the European parliament, branded the Conservatives' response to the air quality crisis "a disgrace".
"Why should anyone believe the Tories' claims to lead a 'Green Brexit' when they can't even meet basic pollution targets already set at the EU level?" he asked. "Time is running out to protect those at risk and this government has shown time and time again that it is not willing to do so."
The UK was one of 11 countries last month accused by the European Environmental Bureau of using an "inventory adjustment" loophole to effectively raise the limit on its past nitrogen dioxide emissions.
"The government has become a danger to the British people," Dance said.
In their audit, the EU court calls for Europe's air quality laws to be brought in line with WHO standards, which are at least twice as exacting for particulate (PM2.5 and PM10) emissions and six times stricter for sulphur dioxide (SO2).
Janusz Wojciechowski, the audit's lead reporter, told the Guardian that the scale of the silent death toll from poisoned air was "not acceptable".
"We have a public health crisis in Europe because of air pollution," he said. "More than 1,000 premature deaths every day across the EU [and] more than 1% of the daily total of deaths in the EU. This is 10 times higher than the number of car accident [deaths]."
"Air pollution should be treated as a priority by the EU," he added. "We hope that in the next financial period it will be."
Wojciechowski noted that the bloc currently spends €3.4bn of its cohesion funds on highly polluting biomass – almost twice as much as the €1.8bn it reserves for fighting air pollution.
The auditors' paper advises a reassessment of Europe's funding priorities – and a speeding up of the current six to eight year delay before referring violations of law on to the European court.
The auditors also observed widely diverging standards for pollution monitoring stations.
One, in Ostrava in the Czech Republic, did not report validated data despite exceeding its daily particulates limit 98 times in 2015. Another, close to the European commission offices in Brussels, was closed "due to works" after reporting very high nitrogen dioxide readings in 2008. It never reopened.
There was a risk that the monitoring data used by the European commission was "not always credible," Wojciechowski said.
More On The Environment:
Wesley Bell stunned Bob McCulloch, who held the post for nearly three decades, including during the police killing of an unarmed black teen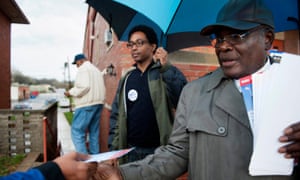 Wesley Bell, left, handing out election information with Lee Smith, right, gained national attention when he won a seat on Ferguson city council in 2015. Photograph: Sid Hastings/EPA
When Wesley Bell declared victory in the battle to become St Louis county prosecutor last month, it came just two days before the region came together once again to honor the life of Michael Brown, an unarmed black teenager killed by a white police officer, sparking months of protests in Ferguson, Missouri.
Bell's win was a stunning upset that has pushed the previous prosecutor and fellow Democrat, Bob McCulloch, from an office he had held for nearly three decades. With no Republican challenger, Bell is now a shoo-in for the post.
The vote, decided by a large margin, was seen as an indictment of McCulloch, on whose watch the Ferguson officer Darren Wilson was cleared of all charges in Brown's killing.
But it was also seen as an endorsement for a man who promised a different way of doing things, and energized voters.
"People with different politics came together, people were making phone calls around the clock, knocking on doors. It was an across-the-table effort," says St Louis native Tef Poe, a rapper, organizer and Harvard fellow. "I saw people who never vote go out and vote."
McCulloch had the financial and institutional advantage and, right up to the end, polls showed him ahead of Bell. McCulloch, even despite his infamy in the eyes of many, also had the advantage of looking like the majority of St Louis county and the majority of prosecutors nationwide. In 2015, a study found 95% of prosecutors are white and just under 80% are white men.
"I don't come from money like that," Bell told the Guardian after his victory. "I come from regular people."
Bell says he's proud of his campaign. "It was smaller donations, you know? I got a check for five dollars … that's what they had and that's my constituency and I appreciated it. That's who I represent."
Bell, an advocate of robust criminal justice reform, had already garnered national attention when he won a seat on Ferguson city council in 2015.
"I grew up, initially, in the projects in Alton, Illinois. I was seeing a lot of people on the other side of law enforcement," said Bell, who went to high school near Ferguson.
"Growing up in this area, I was being pulled over, car searched so often I didn't think anything of it – I thought it was normal," Bell said. "But then I got to law school and thought, 'Oh, so they weren't supposed to be doing that!'"
Bell won on a platform of progressive ideals such as reforming cash bail and mandatory minimum sentencing, as well as not pursuing the death penalty.
But he is also emblematic of a new wave of prosecutors who are aware of and against inequalities in the justice system, as well as the war on drugs and its resulting mass incarceration.
"One thing I learned then [in 2015], is the absolute need for public engagement from leaders," Bell said. "I went out to the streets for protests at the time because I wanted the people to see, to ask me questions. We have a trust deficit here and I saw my role as a bridge-builder."
But, as Poe says, Bell still has a great deal to prove to a skeptical community riven by grief for Brown and others.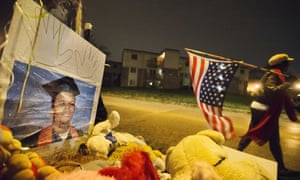 A woman carries an American flag past a high school graduation photo of Michael Brown at a memorial in Ferguson. Photograph: David Goldman/AP
"I had a real moment when I realized I was knocking doors on behalf of a prosecutor, you know? That's how wild the system is," Poe said. "St Louis county is still St Louis county – the budget is still there, folks still going to jail, getting these same traffic tickets as we speak."
"I don't see this as a big statement about democracy, honestly, or what can happen when people vote," he said. "This is what happens when you kill an unarmed teenager and leave him dead in the street for four and a half hours. And we have a community and a generation that watched it happen and responded. Now here we are."
Many activists, like Poe, are holding their praise for Bell for now.
I don't put my faith in candidates, I place all of my faith in the people. And in the people's ability to push candidates to enact change

Tef Poe, rapper, organizer, and Harvard fellow
"It's a chance now for us to engage with power differently than in the past," Poe said, "I don't put my faith in candidates, I place all of my faith in the people. And in the people's ability to push candidates to enact change."
"It's hard, though, to get too excited for someone in the same party as McCulloch. But we're in a long-term struggle here," he said. "I'm waiting to see. I can't give him credit for a game he hasn't played yet."
Blake Strode, the executive director for the not-for-profit civil rights law firm ArchCity Defenders, agrees. "It's certainly a victory for the organizers who worked so hard on his campaign," he said. "But, for the community, it's an opportunity – and now Wesley has the chance to turn that opportunity into a victory."
"If there's a victory in it for me, as a community member," Poe added, "through the lens of retaliation for all the people I knew that were unjustly thrown away by Bob McCulloch."
Strode said: "Bell can now challenge these old notions around arresting and incarcerating people as a solution to all of our social problems in the region."

World Politics
United States
Alex Azar rejected notion that juvenile who committed a crime was 'salvageable human'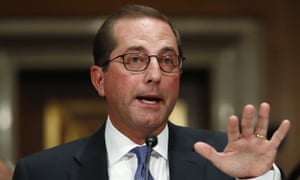 Alex Azar's memo outlined the legal rationale for a criminal justice policy that favoured reducing crime via mass incarceration. Photograph: Carolyn Kaster/AP
Donald Trump's health secretary, who defended the administration's child separation policy as "charity", once argued in a private paper that repeat juvenile offenders cannot be rehabilitated and ought to be jailed until they reach middle age, according to a memo obtained by the Guardian.
A 1991 legal memo written by Alex Azar, a former drug industry executive who is now secretary of health and human services (HHS), rejected the notion that a juvenile who committed a crime was a "salvageable human" who could be treated rather than punished.
Instead, the memo, written for a senior attorney at a private law practice, outlined the legal rationale for a criminal justice policy that favoured reducing and deterring crime via mass incarceration.
Azar is closely linked personally and ideologically to Brett Kavanaugh, the Trump administration's nominee to the supreme court. The two men were among the first young prosecutors hired by Kenneth Starr when he became independent counsel and investigated the Clinton administration. In a tweet following Kavanaugh's nomination to the high court, Azar said the judge had been a "close friend for 30 years".
Azar has recently come under scrutiny because HHS has been charged with overseeing the supervision of more than 2,000 children separated from their parents as part of the Trump administration's "zero tolerance" immigration policy. The separation policy was designed to deter illegal crossings into the US.
Azar has defended the policy. In a July interview on CNN, he said the care of immigrant children represented "one of the great acts of American generosity and charity". He also said the children were being cared for in federal facilities by "well-meaning, altruistic individuals" and were happy and loved in a "compassionate environment".
The policy of separating parents from their children has ended but it is unclear how hundreds of children who remain in US custody will be reunited with their families.
The 1991 memo on criminal justice policy, which explores the legal rationale for mass incarceration, was written when Azar was a fresh graduate of Yale Law School, working as a summer associate for Richard Willard, a Reagan administration lawyer and attorney at Steptoe & Johnson.