12 Sep
News and Analyses, A Foreign Perspective
Nearly all of these are English-edition daily newspapers. These sites have interesting editorials and essays, and many have links to other good news sources. We try to limit this list to those sites which are regularly updated, reliable, with a high percentage of "up" time.
Recommended:

Julia Salazar, the insurgent candidate in a Democratic primary, tweets about alleged incident in 2013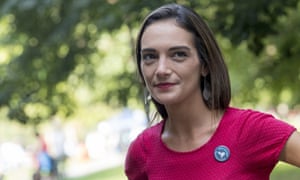 Julia Salazar had earlier accused David Keyes of sexual assault in a Facebook post. He denies the allegations. Photograph: Mary Altaffer/AP
Julia Salazar, a candidate for New York's state senate, has accused the Israeli prime minister's spokesman of sexually assaulting her.
David Keyes denied the accusation and said Salazar was "dishonest".
Salazar, 27, said on Twitter that she had been informed her story was about to be reported by an unnamed news organisation in what appeared to be "an effort to cast doubt upon my and other women's accusations against Keyes".
"Before this runs, I want to come forward and confirm that I was a victim of sexual assault by David Keyes," she wrote. "There's a reason women don't often come forward after a traumatic experience – because of the triggering and vicious responses that follow."

Following the post, the Wall Street Journal reporter Shayndi Raice tweeted that she also had a "terrible encounter with David Keyes" before he joined Benjamin Netanyahu's office, and claimed his "mistreatment of women was an open secret".
"The man had absolutely no conception of the word 'no'," Raice wrote. "No matter how often I said no, he would not stop pushing himself on me. I was able to extricate myself quickly and it was a very brief and uncomfortable moment, but I knew as I walked away I had encountered a predator."
The Guardian has contacted Keyes for comment on Raice's allegations.
Allegations against Keyes, an American-born spokesman for foreign media who has worked for the Israeli prime minister since 2016, first surfaced shortly after he was appointed to the position.
Salazar, who was not named at the time in media reports, had said in a Facebook post that was later deleted that he sexually assaulted her in his Manhattan apartment in 2013 when she was studying at Columbia University.
"He tried to … make me do things I didn't want to do," a copy of the post said. "I resisted, tried to laugh it off, tried to be polite," she said, adding she had told him no "at least a dozen times".
"Eventually, after I insisted on leaving his apartment repeatedly, he physically coerced me. After I submitted to him, he finally allowed me to leave. I remember going into the elevator and sobbing."
Keyes denied the accusations at the time, saying "there was absolutely no coercion in our encounter", according to Israel's Army Radio.
Salazar, a member of the Democratic Socialists of America, had worked as an organiser for the non-profit organisation Jews for Racial and Economic Justice before launching her campaign. She has a history of pro-Israel activism but has since become deeply critical. The DSA supports a boycott against Israel.
She is seeking to unseat the Brooklyn state senator, Martin Dilan, in a Democratic primary on Thursday, following an insurgent campaign that has attracted widespread attention.
On Tuesday, Keyes said: "This false accusation is made by someone who has proven to be repeatedly dishonest about her own life. This is yet another example of her dishonesty."
The statement appeared to refer to a recent dispute over claims that Salazar has misrepresented her background, including her roots as a Latin American Jew and describing herself as an immigrant from a working-class background. She denies the accusations.
California governor is taking the lead in confronting planet's 'existential challenge' and signs bill for carbon-free power by 2045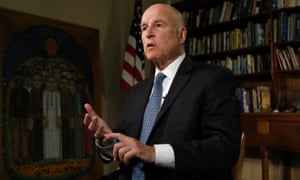 Governor Jerry Brown discusses legislation he signed directing California to phase out fossil fuels for electricity by 2045. Photograph: Rich Pedroncelli/AP
Jerry Brown, California's governor, has accused Donald Trump of "gross ignorance" over climate change as he made his most sweeping actions yet to rid the world's fifth largest economy of fossil fuels.
Brown not only signed a bill that calls for 100% of the state's electricity to come from carbon-free sources by 2045 but also penned an executive order demanding that California completely eliminate net emissions across its economy, including transport and agriculture, by the same year.
The order, which cites "historic droughts, devastating storms, torrential storms, extreme heat … and threats to human health", requires California pull more greenhouse gases out of the atmosphere than it puts in by 2046, using vegetation and new technologies.
Brown told the Guardian that California was taking the lead globally in confronting an issue that's an "existential challenge" to the planet and claimed that Trump was the main obstacle to further progress.
"I don't believe Trump represents the present but he has the power, he has the Republicans hook, line and sinker," he said. "His unabashed acolytes will follow him over the cliff. Gross ignorance is dangerous. The battle is with Trump – that's the number one fight. But once he's out of there, dealing with climate change will still be a fight."
The Trump administration has sought to dismantle emissions rules for coal-fired power plants and loosen fuel efficiency standards for cars and trucks, targeting California's ability to set stricter vehicle regulations than the rest of the country.
Brown has set a target of 5m electric cars on California's roads but said "at the rate we're going they will be made by Chinese companies and that will principally be the fault of Donald Trump. The American auto industry is on the chopping block at at the moment he is chopping it into oblivion."
The vision of carbon neutrality and the banishment of fossil fuels set out by Brown has taken aback even some environmentalists in a state that is a major oil and gas producer, as well as the nation's agricultural heavyweight.
California will look to soak up carbon through expanded forests, at a time when enormous wildfires are a growing blight on the state, or inject carbon underground or in algal blooms – a technological challenge that has yet to be proven at scale.
"Places like Sweden and Costa Rica have had those kind of pledges but California is the fifth largest economy in the world," said Nigel Purvis, who oversaw environmental diplomacy at the state department under the Clinton and George W Bush administrations. "This is historic. It's a really major step. Jerry Brown has been one of America's great climate leaders."
Now entering the twilight of his second spell as governor, Brown has forged a reputation for environmentalism, bringing in one of the first ever tax incentives for rooftop solar during his first period as the state's chief executive, which ran from 1975 to 1983.
His second stint as governor, which began in 2011, has seen Brown throw himself at the issue of climate change, overseeing a reduction in greenhouse gas emissions to 1990 levels during a period of strong economic growth by implementing a carbon-trading scheme that recently expanded in scope to help prevent deforestation overseas.
Latterly, his tenure has brought him into diametric opposition to Trump. Brown has compared the president's climate policies to falling off the top of the Empire State Building and said California will "launch its own damn satellite" if Trump hobbles Nasa's climate research.
"He has pushed back the shallow narrative that you can't grow the economy while cutting carbon pollution," said Benjamin Houlton, director of the University of California Davis John Muir Institute of the Environment. "He's shown that's false. He's set a model that can transform other countries."
Brown has been assailed on the right by Republicans, who have claimed his targets are unfeasible and will raise the cost of electricity in the state, as well as some on the left who complain that he has been too willing to appease around oil and gas companies and has failed to phase out drilling in California.
Last week, Brown's move to stop the Trump administration attempts to allow drilling off California's coast was dismissed as "pure theater" by May Boeve, executive director of climate campaign group 350.org. "The governor says 'not here, not now', but he's permitted more than 20,000 new oil and gas wells up and down California during his tenure," she added.
Further concerns have been raised over the stubbornly poor air quality in parts of the state, a problem that's a particular burden for communities of colour that live near highways and industrial facilities such as oil refineries.
"The critical question now is whether the transition to 100% renewable energy will be a just transition that benefits everyone, especially workers and communities most impacted by pollution and climate change," said Miya Yoshitani, executive director of the Asian Pacific Environmental Network, which is based in the Bay Area.
Brown himself has echoed the desire for a quickening of pace given the threats California faces – a recent report found the state is set for a major increase in temperatures and sea level, thousands of extra deaths and the loss of two-thirds of its beaches by the end of this century.
This urgency will be spelled out in a major climate summit held in San Francisco this week, as mayors, business leaders and activists from around the world assemble in what will be the largest, and last, gathering on the issue hosted by Brown before he retires to the family ranch.
"Transformation is not for wimps," he said. "Yes it's difficult but we are moving at a pace greater than any country. Is it too slow? Yes, but we're doing everything we can.
"My legacy is restoring my great-grandfather's ranch. In 10 years there will be a whole new grid, a whole new political class. The whole idea of a legacy is a canard."

World Politics
England
Chris Riddell on the former foreign secretary's failure to apologise after his burqa comments

Germany
German chancellor tells Bundestag that violence and Nazi slogans are inexcusable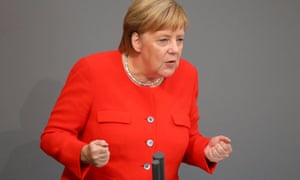 Angela Merkel on Wednesday. She was heckled during the lively Bundestag debate by the head of the anti-immigrant AfD party, Alexander Gauland Photograph: Hannibal Hanschke/Reuters
Angela Merkel has condemned the outbreak of far-right protests in eastern Germany, telling the Bundestag in an unusually passionate address that shouting Nazi slogans and committing acts of violence are inexcusable.
The German chancellor was heckled during a lively Bundestag debate by the head of the anti-immigrant Alternative for Germany party (AfD), Alexander Gauland, who accused her of dividing Germany with her immigration policy, endangering peace and spreading fake news by supporting controversial evidence that far-right protesters were hounding foreigners through the streets.
In response, Merkel told Gauland that while she acknowledged the anger felt after the death of a man in Chemnitz who was allegedly stabbed by two asylum seekers, "there is no excuse or explanation for rabble-rousing, in some cases the use of violence, Nazi slogans, hostility towards people who look different, to the owner of a Jewish restaurant, attacking police".
Merkel also responded to the row gripping Germany over Hans-Georg Maaßen, the head of the BfV domestic intelligence agency, who questioned the use of the word "Hetzjagd" – meaning hunting – by Merkel's spokesman to describe what happened to foreign people in Chemnitz.
"Abstract rows about 'Hetzjagd' are not helpful," Merkel told parliament. Minutes beforehand, Gauland had accused Merkel of "spreading fake news when your spokesman spoke of 'Hetzjagd'", adding: "The truth is, there was no hunting down of people in Chemnitz."
In an interruption to Gauland, allowed under the rules of Bundestag discourse, Martin Schulz, the former leader of the Social Democrats, referred to him as "belonging to the dungheap of German history" over what he saw as the AfD's contribution to the spread of anti-immigrant sentiment.
Later on Wednesday, Maaßen will face questioning by the government's interior affairs committee over remarks he made to a newspaper in which he questioned the veracity of a video allegedly showing protesters chasing foreigners.
A police report compiled during the night of the protest in question emerged on Wednesday that appeared to support claims that rightwing extremists chased foreigners through the streets.
According to the document, uncovered by an investigative journalism programme, from 7pm onwards several officers on the scene reported witnessing an increasing number of hooligans arriving in the city. At 9.42pm the observation was made that "masked persons (right-wing) are looking for foreigners". At 9.47pm, "20 to 30 masked persons armed with stones" were reported to be "heading towards Brühl, to the Schalom restaurant".
As referred to by Merkel in her speech, the Jewish restaurant was attacked, a window was smashed and its owner, Uwe Dziuballa, was injured after being hit by a stone. Masked men shouted at him: "Clear out of Germany, you Jew-pig."
The programme, Frontal 21, revealed that one of the men in the video at the centre of the controversy had worked as a security guard at a refugee shelter in Chemnitz, but that his employer, Securitas, had sacked him with immediate effect after his identity was made known to the company. The man is said to be appealing his dismissal.
Merkel's government has faced mounting accusations that it is failing to tackle the fallout from Chemnitz or deal with the threat of far-right protests, which have spread to the cities of Köthen and Halle.

I have little faith in the government's response to the avoidable deaths of people with learning difficulties.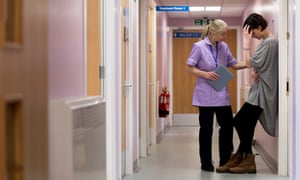 'Premature deaths might have been avoided if medical professionals had acted upon the concerns of families.' Photograph: SolStock/Getty Images
There has been a lot of talk about existential vulnerability recently, but not much of it has addressed the reality of life for people with learning disabilities. The second annual report of the Learning Disability Mortality Review (LeDeR) programme released in May proved that the system is ill-equipped to deal with people with learning disabilities. It indicated that, compared with the general population, they have a significantly reduced life span, the median age of death being 23 years younger for men and 29 years younger for women.
The majority of these early deaths are avoidable, and include respiratory and circulatory problems, and are the consequence of entrenched inequalities in access to healthcare, and appropriate care and support. These findings mean that a young person like my son, Danny, who is 17 and has autism and a learning disability may die before he reaches the age of 50. Imagine how it feels to entertain the possibility of attending your child's funeral. Sadly, I have met a number of parents who have done this and who have faced the eviscerating experience of attending inquests that detail neglect and significant failings in care.
It is disappointing that the government says nothing about action arising from the failure to implement these standards
It has taken this government three months to respond to the review findings. Its report released on Wednesday contains some promising recommendations. However, it only partially addresses the fundamental issue that the review raised, namely how to challenge deeply engrained prejudice and negative attitudes towards the value and quality of life for people with learning disabilities. Recent inquests into the early and avoidable deaths of people with learning disabilities expose a catalogue of failures in understanding and communication with those people and their families; a refusal to listen, to act quickly, or to meet the most basic of needs. The pain of bereaved families has been exacerbated by a defensive attitude on the part of NHS trusts. This includes their endeavour to manage and contain negative publicity at the expense of a properly human response to deaths in their care, and a willingness to subject family members to hostile examination by their legal teams at inquests.
Unsurprisingly, the government response emphasises the importance of training. The word "learning" is used on 136 occasions, although the words "listen" and "listening" do not appear. This is a pity given that a number of premature deaths might have been avoided if medical professionals had listened to and acted upon the concerns of families. Learning from an avoidable death is important but only if it ensures that it does not happen again. I welcome the fact that the report recommends training in the workplace, but I would argue strongly for embedding training into medical and healthcare education at degree level. This training should be developed by self-advocates and families and carers and should be meaningful, addressing fundamental values and prejudice head on. It should also be mandatory and delivered face-to-face.
It is disappointing that the government response says nothing about monitoring, timeframes or any action that might arise from the failure to implement these standards. How will poor performance in relation to these recommendations be determined, reported, recorded and addressed? What will meaningful improvement look like? By what date does government hope to reduce this shameful 23/29 year gap in life expectancy?
Experience tells me that there is a huge gulf between the rhetoric of inclusion, accessibility and equality and its practice. Health inequalities are the product of broader social and economic inequalities and do not originate in the hospital waiting room, although they find their ultimate expression in poor medical care, neglect and premature mortality. The majority of people with learning disabilities are poor and dependent on benefits. They experience high levels of hate crime, abuse and social isolation and they are routinely denied basic choices, opportunities and access to experiences that make life worth living.
These forms of systemic inequality underpin the shameful gap in life expectancy that the review revealed. Until we recognise that austerity, and cuts to services and support also have a profound impact on health, it is doubtful that the gap in life expectancy will be reduced. We have to transform attitudes and culture and devote appropriate resources, not least time itself, to working with people with learning disabilities to shape a health service that meets their needs. Unfortunately, with a struggling NHS, facing a staffing crisis, it is difficult to have any faith that the necessary resources are available to implement the recommendations the government proposes.
• Lucy Burke is an academic at Manchester Metropolitan University and co-chair of Learning Disability England, representing families and carers