14 Sep
News and Analyses, A Foreign Perspective
Nearly all of these are English-edition daily newspapers. These sites have interesting editorials and essays, and many have links to other good news sources. We try to limit this list to those sites which are regularly updated, reliable, with a high percentage of "up" time.
Recommended:
When Europeans land on the U.S. No-Fly List, they have almost no chance to challenge it, as a German couple from Stuttgart recently found out the hard way. Their case casts light on an Orwellian lack of transparency in the war on terror.

Karina and Isam Marnissi by Julian Rettig/ DER SPIEGEL
Karina Marnissi and her husband Isam had been looking forward to their vacation in Cuba. Relaxing under the palm trees of the Caribbean and enjoying the charms of Havana seemed just the thing. On July 20, they traveled from Stuttgart to the Munich Airport with tickets and visas in their pockets. They had already checked in. All they had to do was check their luggage for the Eurowings flight to Varadero. But they would never make it onto the plane.
When they arrived at the counter, Isam Marnissi explains, a note was lying next to the keyboard of the Eurowings employee. A German national with Tunisian roots, Marnissi says both of their names had been handwritten on it. "Uh oh, we thought, something must to be wrong." They handed over their passports and the woman at the counter called someone and passed along their details.
While she was waiting, she asked if they had any weapons in their luggage. "Of course, we didn't," Marnissi says. "What an absurd idea." Nevertheless, the Eurowings employee had bad news for the couple: The United States had forbidden the Marnissis from traveling, because the flight to Cuba would also cross U.S. airspace.
I beg your pardon, they wondered? Does the U.S. have the right to ban two Germans from taking a vacation in the Caribbean? Even today, they still haven't received any satisfactory answers — neither from Eurowings, nor from anywhere else. All they are left with is the anger that they were out 1,000 euros for the flights and accommodations. And helplessness that even though they live in Germany, they have become pawns of foreign powers. After all, it appears that the Turkish government under President Recep Tayyip Erdogan was responsible for the fact that the Marnissis wound up on the No-Fly List.
A 'Ludicrous' Ordeal
German lawyers have been left stunned by the story. Bremen criminal lawyer Bernhard Docke, who represented former Guantanamo prisoner Murat Kurnaz, says the whole ordeal is "ludicrous." His colleague Gerhard Hillebrand, a specialist in transportation law, says the story could have been invented by Orwell.
The Marnissis say they have only one possible explanation for how they could have landed on the U.S. No-Fly List: There must be a connection to an incident in Turkey that happened last year. That, they say, was their first encounter with government capriciousness.
In March 2017, they had planned to travel to Istanbul together with some friends of theirs, a couple with Turkish roots. The two men both wanted to propose to their girlfriends on the Bosporus. The group made it to the Istanbul airport, but the trip ended in the line for passport control.
Plain clothes police officers conducting spot checks recognized from the first name of the friend of the Marnissis that he had Kurdish roots. His name is Erbil D., like the capital city of the Kurdish autonomous region in Iraq. Apparently, Turkish security found that alone to be cause for suspicion. President Erdogan has had numerous opposition Kurdish politicians arrested in recent years as alleged terrorists. Many Kurds complain of repression.
The security officers led Erbil D., his girlfriend and the Marnissis out of the passport control line. Their mobile phones were confiscated and they had to write their PIN codes on a piece of paper. Erbil D., who does not want his full name published because he claims that nationalist Turks have threatened him in Germany as well, says he was questioned about his family and his background and also about his political views. "I admitted during interrogation that I'm not an Erdogan fan," he says. "Of course, they didn't like that, and it got us into a lot of trouble."
Following hours of discussions, they were told that they posed a threat to public safety and had to leave the country immediately, says D. Since then, both couples have been banned from entering Turkey for life. "We Kurds are used to such things," says D., "but I feel bad that the Marnissis must now suffer just because they were traveling with us."
The Marnissis are Muslims and say they consider themselves to be "totally apolitical." A high-ranking German security official says that the names Erbil D. and Marnissi are not known to his agency.

A cuddly lion and a rescued baby gibbon are among this week's pick of images from the natural world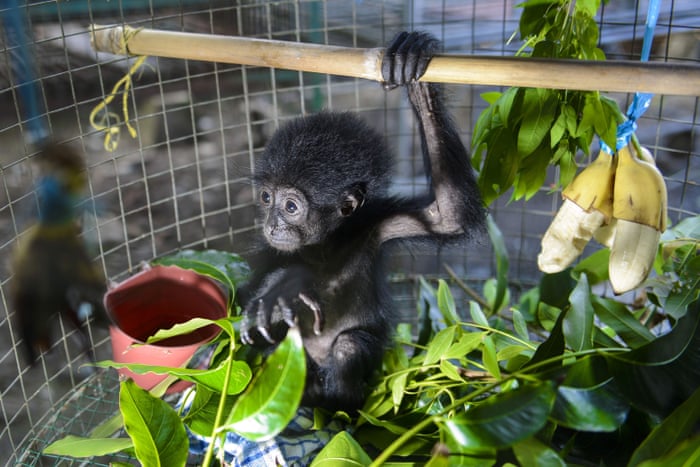 World Politics
United States
Donald Trump's former campaign chairman agrees to cooperate at a court hearing in Washington DC, according to federal prosecutor
There are still many outstanding questions about what the deal entails and how – if at all – it impacts the president.
Here's what we know so far.
Manfort has entered into a "cooperation agreement" with federal prosecutors. Prosecutor Andrew Weissmann did not provide additional details on the agreement.

Trump's former campaign chair pleaded guilty to conspiracy charges.

The deal will allow Manafort to avoid a second trail, which was scheduled to start in Washington D.C. next week. This helps Republicans and the president avert weeks of potentially damaging headlines ahead of the 2018 congressional midterms.

The second trial was related to his consulting work on behalf of Kremlin politicians and oligarchs in Ukraine.
White House: Plea deal has 'nothing to do' with Trump
Lawsuit says the government should provide mental health care, establish a fund for treatment and pay damages to those harmed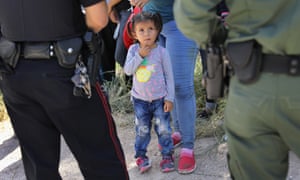 A Mission police department officer and a US border patrol with a group of Central American asylum seekers before taking them into custody on 12 June near McAllen, Texas. Photograph: John Moore/Getty Images
Children who won't leave their parents' side. Parents tormenting themselves every night for not having been able to stop their children being torn away by border patrol agents.
This is what's left behind months after the Trump administration cancelled its family separation policy, which saw the US government separate more than 2,300 children from their parents at the US border with Mexico.
There are still 416 of those children who have not been reunited with their parents – and even the families who have been reunified are suffering from the traumatic experience. In an effort to address this trauma, lawyers have filed a federal lawsuit arguing the US government should provide mental health care to the affected families.
The complaint, filed in Massachusetts district court last week, accuses the US government of betraying the constitution and having "harmed the most vulnerable: children."
It also calls on the US government to establish a fund for mental health treatment for the parents and children separated at the border and to pay damages to those harmed.
"The case is focusing on mental health because that is where the most devastating damage has been inflicted upon these children and it is an area where the law provides a remedy," the lead attorney, Howard Cooper, told the Guardian.
Two families are plaintiffs in the class-action lawsuit, which seeks mental health care for all separated families.
"I do think it's fair to say that it's extraordinarily doubtful that the defendants would of their own accord take any steps to try and undo any harm they caused and the intention is that the court should impose that remedy," Cooper said.
The plaintiffs, who fled Guatemala intending to seek asylum in the US, described in court documents their relief at meeting border agents – only to be put through further trauma in US custody.
One father, who was separated from his 11-year-old son for 36 days, said since their reunification, the child wakes up from nightmares that are so bad he sometimes falls out of bed.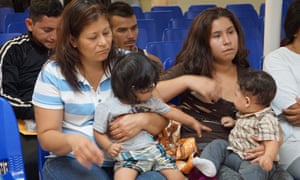 Mothers and children wait to be assisted by volunteers in a humanitarian center in the border town of McAllen, Texas, on 18 June. Photograph: Leila Macor/AFP/Getty Images
They approached the border on 17 June having left Guatemala because organized crime members extorted the father and threatened to kill him and his family, according to the lawsuit.
While detained, the child named as CJ in legal documents, said he eventually believed he would never see his father again and would spend years in detention. "While the relief and joy they both felt at seeing each other again was overwhelming, the harm that Defendants caused to CJ during the time that he was separated from his father and in Defendants' custody can never truly be remedied," the lawsuit said.
The medical community warned the Trump administration that its policy could cause long-term harm to the families already traumatized by the circumstances that drove them from their homes and the difficult journey to the border.
The American Psychological Association CEO, Arthur Evans Jr, wrote to Trump in June to explain how family separations psychologically harm children. "As psychologists, we have documented multiple harmful effects of parent-child separation on children's emotional and psychological development and well-being and urge that the current policy of family separation be reversed," Evans said.
Evans also warned that policies like this could harm the mental health of immigrants who are already in the US.
The US justice department did not respond to requests for comment.
By the time Trump ended the policy with an executive order on 20 June, more than 2,300 children had been separated from their parents.
One of those families includes plaintiffs 17-year-old EO jr, his sister, nine-year-old KO and their mother, LJ.
The brother and sister were separated from their mother after walking five hours looking for a border agent. The children remained close, but were held in separate cells, put on separate airplane seats when being transported from the border to a children's shelter and told not to speak to each other in the border detention facility, according to court documents.
Their mother, LJ, said her daughter follows her mother everywhere and is afraid they will be separated again. "The guilt that LJ feels as a mother is overwhelming," the lawsuit said. "She feels as if she was unable to protect her children."
The American Civil Liberties Union, which brought the first legal case against family separation in February, also proposed a measure to address mental health in its case seeking reunification for all families.
Though groups of people have sought damages from the US government before, Cooper said: "I am unaware of a case like this previously where there is a class of children seeking uniquely damages related to mental distress caused by the United States government."