15 Sep
News and Analyses, A Foreign Perspective
Nearly all of these are English-edition daily newspapers. These sites have interesting editorials and essays, and many have links to other good news sources. We try to limit this list to those sites which are regularly updated, reliable, with a high percentage of "up" time.
Recommended:
More than 30 years after Brazil's junta left power, the consensus that the military should stay out of politics has been broken, amid widespread dissatisfaction with the political class after several years of corruption scandals and economic turmoil.
© Nelson Almeida, AFP | Demonstrators hold signs reading "Military intervention now" as they rally to protest against the government of president Dilma Rousseff in Paulista Avenue in Sao Paulo Brazil on 15 March 2015.
The frontrunner in October's general elections, Jair Bolsonaro – whose lurid far-right proclamations have earned him the moniker "the tropical Trump" – is a former military officer who has made numerous laudatory comments about the junta that ruled Brazil from 1964 to 1985.
Giving a speech in parliament before voting in favour of the impeachment of the then centre-left president Dilma Rousseff in 2016, Bolsonaro announced that he was dedicating his vote to the memory of Colonel Brilhante Ustra, a former head of the military dictatorship's internal intelligence agency, which was responsible for torturing Rousseff in the 1970s, when she was imprisoned for guerilla activities.
Bolsonaro has consistently expressed a glowing view of military rule since he was first elected as a lawmaker in 1991. Most notably, he declared in 1999 that if he became president, he would use it as an opportunity to shut down parliament and launch a military coup: "I have no doubts – I would start the coup on the very first day – […] let's make this a dictatorship."
It will bring trouble'
Bolsonaro picked as his running mate Antonio Hamilton Mourao, a former general who retired from the military earlier this year. In 2017, Mourao said that senior military figures had talked about overthrowing the government in a coup, if the courts did not punish corrupt politicians.
"Either the institutions solve the political problem through the courts, removing those elements involved in illegal acts from public life, or we will have to impose the solution," he said in a speech at a Masonic lodge in Brasilia.
"We have very well-made plans," Mourao continued. "This solution won't be easy. It will bring trouble, you can be sure of that."
Political comments by serving military officers are forbidden by Brazilian law. However, when questioned by a journalist about Mourao's speech, the head of the army, Eduardo Villas Boas described him as a "great soldier" and insisted that the military has a constitutional right to "intervene" if Brazil is "on the edge of chaos".
Villas Boas's statement was untruthful. The Brazilian constitution does not give the army the authority to intervene in such situations.
© Paul Ratje, AFP | Texas Congressman Beto O'Rourke addresses the press after he and other politicians visited the tent city June 23, 2018 in Tornillo, Texas, housing immigrant children separated from their parents.
Senator Ted Cruz is facing an unexpectedly tough re-election race against left-wing Democrat Beto O'Rourke, prompting Republican concern that red-state Texas could succumb to a 'blue wave' in November's midterm elections.
The standard-bearer of the traditional GOP right, Cruz is campaigning for re-election in November's midterms with just a three-point poll lead over his challenger O'Rourke, according to an aggregate of voter intention surveys by the specialist website RealClearPolitics.
One poll even gives Cruz a mere one-point edge over O'Rourke, a Congressman who since 2012 represented a district encompassing most of El Paso county, along the Mexican border.
Cruz came second to US President Donald Trump in the race for the 2016 Republican presidential nomination after four years as one of the Senate's most outspoken GOP right-wingers.

World Politics
England
Neither Tories nor Labour offer a strong leader according to voters, Observer poll finds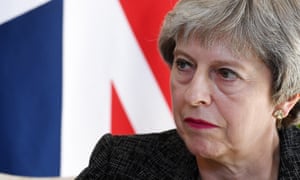 British prime minister Theresa May. Nearly half of people polled said they did not think she was a strong leader. Photograph: Andy Rain/EPA
About two in five voters would be highly likely to vote for a new party in the political centre ground at a future election, a new poll for the Observer has revealed.
Just over a third (35%) also say they felt unrepresented by the existing main parties on offer, according to the latest Opinium poll.
It suggests there is appetite for a new party, with both Labour and the Tories suffering from long-running internal strife. While there is regular talk of new parties and splits, many possible supporters are put off by the difficulties of making a new project work under Britain's first-past-the-post electoral system.
The poll also reveals that almost half of voters do not see strong leadership from the two main parties, with 47% believing Theresa May is not a strong leader and 49% regarding Jeremy Corbyn as a weak leader.
The findings come with the Lib Dems attempting to pitch themselves as the right vehicle for moderates put off by the civil wars inside the Tories and Labour. The party's annual conference starts this weekend, but it has failed to capitalise on the divisions inside its rivals.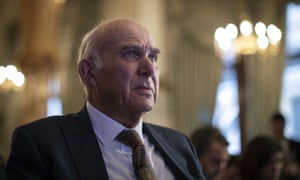 Lib Dems leader Vince Cable in London, England. Photograph: Dan Kitwood/Getty Images
Speaking before his party conference in Brighton, Vince Cable said he wanted to "make an open pitch to the people of this country who are fed up with the extremes of the current Conservative and Labour parties".
"Whether you see yourself as a liberal, social democrat, progressive, or centrist, there is a home for you here, particularly as we fight Brexit together," he said.
Despite the difficulties that any new party would face, talk of such a move has not gone away. Some Labour MPs have privately said they will look again at the idea once Brexit has happened in the spring.
Asked to imagine that a new centre-ground party formed tomorrow, two in five voters (42%) said that they would be likely to vote for it in a future general election.
The poll found that the Conservative party is seen as equally as divided as Labour. Almost three in five (57%) think the Tories are divided, up from 47% in December 2017. The same proportion (57%) think that Labour is divided, up from 40% in December 2017.
Overall, the Tories retained their one-point lead in the poll recorded last month. May's lead over Corbyn on who would make the best prime minister has increased from last month, rising from six points to nine points.
However, May has suffered a fall in the number of those who think she is decisive, down from 41% in April to 29% this month. It means she only has a one-point lead over Corbyn in terms of who voters regard as a decisive leader.
Opinium polled 2,011 adults online between 11 and 13 September.

United States
Prosecutor announces arrangement during hearing in Washington DC where Manafort pleaded guilty to two criminal charges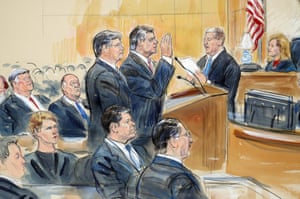 Paul Manafort pleaded guilty to conspiring to defraud the US and conspiring to obstruct justice. Photograph: Dana Verkouteren/AP
Paul Manafort, Donald Trump's former campaign chairman, has agreed to cooperate with Robert Mueller's inquiry into Russian interference in the 2016 election, in a move that could cause legal trouble for the president.
The dramatic development in the Trump-Russia saga was announced at a court hearing in Washington DC on Friday morning, where Manafort confessed to two criminal charges as part of a plea deal. "I'm guilty," he said.
Manafort signed a 17-page plea agreement that said he would assist government prosecutors with "any and all" matters, and brief officials about "his participation in and knowledge of all criminal activities". He also agreed to turn over documents and testify in other cases.
Trump's team tried to dismiss speculation that Manafort could incriminate the president. Sarah Sanders, the White House press secretary, told reporters the case was "totally unrelated" to Trump. In a statement, Trump's lawyer Rudy Giuliani said: "The president did nothing wrong."
Still, the agreement amounted to a major coup for Mueller, who has for 16 months been investigating Russia's covert intervention in the 2016 campaign and any links to members of Trump's team. US intelligence agencies have concluded that the Kremlin worked to boost Trump's bid for the White House.
Along with his agreement to cooperate, Manafort pleaded guilty to conspiring to defraud the US and conspiring to obstruct justice in return for other charges being dropped. Mueller's team indicated that Manafort would receive a maximum sentence of 10 years in prison.
Last month Manafort, 69, was convicted of eight counts in a fraud case brought in Virginia by Mueller, the special counsel. A further 10 charges, on which the Virginia jury was deadlocked, will also be dropped as part of the deal unveiled on Friday.
The agreement brings an end to weeks of negotiations between Manafort's lawyers and Mueller's team. Speaking outside the courthouse, Kevin Downing, one of Manafort's attorneys, said: "Mr Manafort has accepted responsibility and he wanted to make sure that his family was able to remain safe and live a good life."
Manafort's conspiracy to defraud the US involved money laundering, tax fraud, failing to register as a foreign agent and lying to the justice department, a court filing said. It said he conspired to obstruct justice by tampering with a witness.
In addition to any prison sentence he might receive, Manafort also agreed to forfeit homes in Virginia and New York – including an apartment in Trump Tower – and the funds from several bank accounts.
Dressed in a dark suit with a white shirt and a dull purple tie, Manafort on Friday seemed a faded caricature of the hard-charging DC power broker who worked for corrupt dictators including the Philippine president Ferdinand Marcos and Mobutu Sese Seko of Zaire.
Before joining Trump's campaign, Manafort worked extensively for pro-Kremlin politicians and oligarchs in Ukraine. Prosecutors said the work generated more than $60m in income and that Manafort laundered this through shell companies and offshore accounts to avoid paying US taxes. He also lied about the nature of the work when confronted by the justice department in 2016, Mueller said.
Mueller's team has been investigating whether his connections in the region are linked to Russia's attack on the 2016 US election. Mueller alleges that Konstantin Kilimnik, a Russian consultant who worked for Manafort, has ties to Russia's intelligence services.
On Friday Mueller's team disclosed new details about Manafort's work as an unregistered lobbyist in the US for Viktor Yanukovych, the Ukrainian president deposed in a popular uprising in February 2014.
Judge Amy Berman Jackson described the charging paperwork, read aloud by prosecutor Andrew Weissmann in a methodical monotone, as "the longest and most detailed summary of charges" she had heard in her courtroom.
Manafort allegedly orchestrated a plan to smear a Yanukovych domestic rival, Yulia Tymoshenko, by disseminating "with no fingerprints" allegations that Tymoshenko had paid for the murder of a Ukrainian official. "My goal is to plant some stink on Tymo," Manafort wrote in a message.
He also allegedly schemed to have "Obama Jews" exert pressure on Barack Obama's administration to support Yanukovych and disavow Tymoshenko, and conspired with an Israeli government official to spread allegations linking Tymoshenko to antisemitism. Manafort allegedly wrote in one message to an unidentified associate: "I have someone pushing it on the NY Post. Bada bing bada boom."
Following Manafort's conviction in Virginia, Trump said he felt "very badly" for Manafort and praised him for refusing to become a cooperating witness for the government like the president's former legal fixer, Michael Cohen, who separately pleaded guilty in New York to tax fraud, bank fraud and a campaign finance violation.
Giuliani was quoted on Thursday saying that the president's team remained in "open communication" with Manafort's as part of an agreement to share information, renewing speculation that Trump may pardon the former aide for his crimes.
"There's no fear that Paul Manafort would cooperate against the president because there's nothing to cooperate about and we long ago evaluated him as an honorable man," Giuliani told Politico.
Manafort has been in jail for almost three months after his bail was revoked. Mueller's team alleged that Manafort tried to tamper with witnesses in his case by contacting them and attempting to coordinate testimony. He was also charged with failing to register as a foreign agent.

President's 'energy first' agenda means vast tracts of public land up for sale – without proper consultation, critics say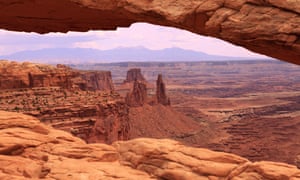 An auction this week in Utah sold leases within 10 miles of Canyonlands national park. Photograph: Sabrina Pintus/Getty Images
Democrats and conservatives alike are decrying moves by the Trump administration to permit oil and gas drilling near national parks and in wildlife migration corridors, and charge that the public is not being adequately consulted.
Officials from the US interior department are pursuing an "energy first" agenda, and some 2.9m acres are up for lease auction, including many parcels close to recreation areas such as Petrified Forest national park in Arizona, Chaco Culture national historical park in New Mexico, and Dinosaur national monument in Colora
An auction this week in Utah sold leases within 10 miles of Canyonlands national park, in addition to tracts near Glen Canyon national recreation area. Utah, which has been a hotbed of public lands debate since Trump shrank the Bears Ears and Grand Staircase Escalante national monuments, holds quarterly lease auctions. This quarter alone saw 200,000 acres up for auction, and stakeholders expect next quarter's auction to be on a much greater scale.
Ashley Soltysiak, director of the Utah Sierra Club, said rule changes under the interior secretary, Ryan Zinke, mean that auctions "can now be done with little regard for public input, despite the fact that public land is being leased. The new oil and gas lease process dramatically reduces opportunities for public comment and shrinks the period for public protest to less than two weeks."
These concerns are echoed in Colorado, where Senator Michael Bennet and Governor John Hickenlooper, both Democrats, sent letters to state leasing officials advocating for fair processes that involve citizens in the future of their public lands, before pending December oil and gas lease sales.
"Our chief concern is the lack of public participation in the new leasing process," Governor Hickenlooper noted in his letter. "We continue to ask for the deferral of those parcels in sensitive areas, particularly those protecting wildlife corridors, where the public has been heavily engaged in pending land use plans, and where there is significant local opposition to the leases being offered in the first place."
Bureau of Land Management officials emphasize that they welcome public participation. "Lands offered for leasing undergo thorough environmental review with opportunities for public input at several stages," said Ryan Sutherland, public affairs specialist for BLM Utah. He also noted that leases include stipulations for environmental protections.
Even in non-protected areas, conservationists point to concerns about wildlife impacts by fragmenting the landscape with fracking and drilling – as in Wyoming, where 1.5m acres are offered for lease through 2018, including large swaths near the famous Wind river mountain range and in the Green river upper basin.
According to a new analysis by the Center for Biological Diversity, 1.2m of those acres fall on winter habitat and migration corridors for mule deer and pronghorn. This is in apparent conflict with Zinke's pledge in a February secretarial order to "improve habitat quality and western big game winter range and migration corridors for antelope, elk, and mule deer".
Not all lands up for lease sale are actually sold. In Utah, only 133,921 acres sold this week out of 204,205 up for lease, and 345,085 out of 364,387 in Wyoming. And a mere 791,000 acres sold out of 11.9m up for lease sale in 2017.
The group Conservatives for Responsible Stewardship has also criticized the Trump-era leases. It "makes no sense to lock up these important public resources, which rightfully belong to all of us, for an oil and gas industry that has shown no interest in them," said its president, David Jenkins.
Under the Obama administration in 2016, for comparison, 921,240 acres were leased out of 1.9m acres offered.
More On The Environment: