19 Sep
News and Analyses, A Foreign Perspective
Nearly all of these are English-edition daily newspapers. These sites have interesting editorials and essays, and many have links to other good news sources. We try to limit this list to those sites which are regularly updated, reliable, with a high percentage of "up" time.
Recommended:
Today is Yom Kippur, the Day of Atonement for Jewish people. It is 45 years since the war which bore its name.

That was the last of three assaults launched by surrounding Arab powers to eradicate Israel.
The previous one, in 1967, ended when Israel drove Jordan out of the West Bank, Egypt out of Gaza and Sinai, and Syria from the Golan Heights.
In light of this weekend's visit by the President of the Palestinian National Authority, Mahmoud Abbas, this is context to be remembered.
Understandably there is focus on the need for Israel to leave the West Bank.
The eastern boundary of the Jewish state is intensely fraught. The plight of Palestinians in Gaza is correctly an international concern. What signifies debate in Ireland is neither focus on the West Bank nor Gaza, however, but annexation of nearly all context from the debate.
That narrow focus on undeniable plight and an accompanying, relentless emphasis on Israel alone leaves no room for remembering or examining causes.
In three wars, Israel defended itself against mass attack. Let me be clear. I wish
Israel out of the West Bank, but finding a way out, if there is one, requires remembering how it arrived.
I welcome President Abbas to Ireland. Our Government's policy is about right. We need relations with both sides to access and influence either. We are not main players but we are part of the EU.
We have valuable economic relations with Israel and a significant stake through the Irish Army's presence with Unifil in Lebanon. The attempt, sometimes difficult, to pursue a positive agenda with both sides is under sustained attack now by an ultra anti-Israel lobby in Ireland.
Its hallmark is vitriolic, one-sided attack on an "oppressor" and demonisation of Israel in ways that echo and worryingly perpetuate anti-Semitism. This isn't Jeremy Corbyn's Britain.
But unfettered focus on one side, the blanking of even recent history from current context and a feral demonisation of one people only, is the underbelly of a fixated sort of anti-imperialism that is as amoral in its attitude to collateral damage, including truth, as the powers it claims to be the polar opposite of.
If current boundaries were shaped by the consequences of outright attack on Israel, there have been attempts at peace. One was partly successful. The 1979 accord with Egypt brought bilateral peace and
returned Sinai.
Tellingly the Egyptians demurred at reasserting authority over Gaza. Eventual Israeli
evacuation in 2005 is seen by some Israelis as a mistake, which brought no peace, but forfeited effective control. I don't agree, but it is part of a hardening sense that land for peace is fool's gold.
Fundamentally there is no real Palestinian acceptance of the right of Israel to exist. Essential to this is refusal across an otherwise violently divided Palestinian polity to abandon the right of return.
That means 5m Palestinians settling within Israel's pre-1967 borders, mostly generations after they left. By another name, "the right of return" is a war of return for the outright destruction of Israel. It is Palestinian policy. It is Abbas' policy.
It was what Hamas in Gaza drove its march to the wall for, and whether out of weakness or principle, ideological ground staked out by Hamas is political turf Abbas cannot or will not abandon.
It is this issue, more than any other, which ensured the Oslo Accords remained unfulfilled hope. Yitzhak Rabin paid for peace with his life. Yasser Arafat died in his bed, but not before he resiled from potential peace at Camp David in 2000.

Plenty of sunshine is needed to bring out the intense reds and yellows from the leaves, and this year we're set for a dazzling display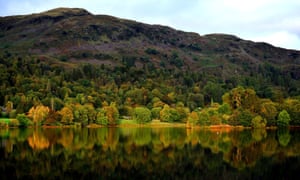 Autumn colour in the trees near Grasmere in the Lake District, Cumbria. Photograph: Owen Humphreys/PA
Autumn colour is perhaps the most striking of nature's seasonal displays, but the vividness of the annual spectacle is largely dependent on good environmental conditions. This year, following a fine summer and with an Indian summer predicted, we look to be on course for a dazzling display that could trump recent years and extend well into November.
Shorter daylight hours and colder nights are what trigger leaf drop – or senescence – but frost, like rain, can damage leaves and cause early leaf fall. Plenty of sunshine is needed to encourage concentrations of colour pigments which help to intensify leaf colour.
2018's cold spring and hot summer will have helped ready the leaves for a beautiful autumn display, but it also hinges on what the weather does now. If it cools and we get cold nights, that will contribute to good leaf colour.
Autumn bulbs have also had a good baking in the sun and are giving a fine display this year. The cold spring also held back flowering which means fruit has set, so many hedges are looking colourful with berries.
The long hot summer has also resulted in a "fake fall", where plants such as elderberries yellow and drop because of extreme summer stress. But we're unlikely to see a real flurry of colour before mid to late October, although the impact of climate change means it has happened later in recent years.
The process of plants transitioning into shades of reds, yellows and oranges is hotly anticipated by gardeners and dedicated "leaf peepers" around the world. It's said to be worth a staggering $1bn to the US state of Wisconsin alone.
It might seem counterintuitive that while we prepare to reacquaint with jumpers, gloves and woolly hats, trees are preparing to shed this year's leaves, something known as leaf senescence.
Here's why.
Leaf senescence is an "altruistic death" allowing the degradation and redistribution of nutrients produced during growth back to other parts of the plant. This strategy evolved to maximise the fitness and survival of the plant. Leaf senescence is highly complex, involving multiple genes and numerous biological, chemical and physical processes.
And at the heart of it all is a pigment called chlorophyll. Chlorophyll is what gives leaves their green colour, absorbing and reflecting different hues from the colour light spectrum, as seen in a rainbow. In leaves it absorbs mainly red and blue light, reflecting green, and it is this reflection that makes leaves appear green to the human eye.
But as well as providing a lustrous green sheen, chlorophyll is also an essential component of photosynthesis, which is arguably the single most important chemical process on our planet. Using energy from sunlight, chlorophyll strips electrons from water molecules, which then convert carbon dioxide into carbon compounds and produce oxygen, which is essential for life on earth.
In autumn, chlorophyll, mainly in deciduous plants, is slowly broken down and reabsorbed by the plant, diminishing the green colour of the leaves. It is this reabsorption that ensures they spring back to life the following year.
As chlorophyll is broken down, pigments called carotenoids and flavonoids are revealed and it is these, again, through the absorption and reflection of different colours from the light spectrum, that are responsible for the yellow and orange hues of leaves. Sugar concentration in the leaves also increases anthocyanin production, which causes some leaves to turn a shade of red.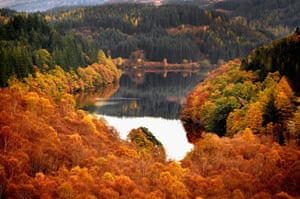 Loch Lomund in Scotland. This year's display will depend on the coming weather. Photograph: Jeff J Mitchell/Getty Images for Red Bull
Sweet gum and acers can almost always be relied upon for good colour but some trees, including alders, show little change. What tends to make the difference in gardens is the reaction of our more proliferate native trees, such as oak, and whether they take on stronger yellows or more placid browns.
More On The Environment:
World Politics
Russia
Elections commissioner makes extraordinary call to annul result of gubernatorial vote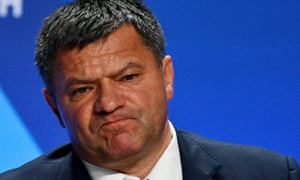 Suspicion was aroused when a number of precincts suddenly delivered 100% of their votes to the acting governor, Andrei Tarasenko. Photograph: Yuri Maltsev/Reuters
Russian election officials have called for the result of a gubernatorial ballot in the country's far east to be annulled because of widespread voter fraud, in the first decision of its kind in more than a decade.
Voters in the Primorsky Krai region looked set on Sunday to reject an incumbent governor from the ruling United Russia party, led by allies of Vladimir Putin. A groundswell of support for a Communist party challenger had followed plans to raise the pension age by five years for both men and women, delaying retirement for millions.
But in a suspicious last-minute shift a number of precincts suddenly delivered 100% of their votes to the acting governor, Andrei Tarasenko, handing him a victory that appeared moments earlier to be mathematically impossible.
The suspicious results prompted protests and a short-lived hunger strike by the challenger, Andrei Ishenko, who claimed the election had been stolen.
The extraordinary call to annul the result shows the degree to which the Kremlin, which is sensitive to public opinion and the possibility for protest, must balance supporting its political allies and assuaging public anger. While Russians still largely say they support Putin, close to half say they are also willing to protest against the loss of social benefits.
Under pressure to review the vote, Russia's elections commissioner, Ella Pamfilova, said on Wednesday that violations at a number of polling stations by both sides meant that a rerun should be held. The final decision would rest with local election officials, who meet on Thursday.
If the results are thrown out and the election held again, it would mark the first decision of its kind in more than 15 years.
Pamfilova, a former human rights ombudsman, was installed by the Kremlin in 2016 to increase trust. More than 100,000 Russians came out to protest in Moscow in 2011 over the results from parliamentary elections marred by accusations of voter fraud.
The Kremlin on Wednesday backed Pamfilova's remarks. Putin's spokesman, Dmitry Peskov, said : "The legitimacy, purity, transparency, and fairness of elections is more important to [Putin] than the candidate he supports."
Tarasenko said on Wednesday he would not run in new elections. Communist officials have said they would prefer the elections be recounted, rather than held again. New elections may be held in three months' time.

England
Rolling coverage of the day's political developments as they happen, including EU leaders arriving at Salzburg for the start of their informal summit

Theresa May leaving Downing Street this morning. Photograph: Jack Taylor/Getty Images
People's Vote claim there are 'six plausible scenarios' which could lead to MPs voting for second referendum

United States
'One of the wettest we've ever seen, from the standpoint of water': Trump on Florence – video>>
Donald Trump has praised the Hurricane Florence relief efforts in a video posted to his Twitter account. The US president said it was a 'tough hurricane' and 'one of the wettest we've ever seen, from the standpoint of water'