22 Sep
News and Analyses, A Foreign Perspective
Nearly all of these are English-edition daily newspapers. These sites have interesting editorials and essays, and many have links to other good news sources. We try to limit this list to those sites which are regularly updated, reliable, with a high percentage of "up" time.
Recommended:
Founded only five years ago, the Alternative for Germany has grown from a marginal party to a game-changer in federal and state politics — and become ever more radical. Is it a testament to the strength of German democracy, or a threat to it?
By DER SPIEGEL Staff
For three hours every month, they set up shop right next to the flower stand. There are only four people, a table and an umbrella from which a blue T-shirt hangs. It's emblazoned with the party's logo and the words, "Nobody's perfect, but Brandenburgers come pretty damn close." Here, at the weekly farmers market in Woltersdorf, a 40-minute drive by car from Berlin, Kathi Muxel, the district chair of the Alternative for Germany (AfD) party for the Oder-Spree region, says: "We're the only ones who come here, even if there's no upcoming election. People appreciate that."
Several times a week, AfD adherents plant their umbrella somewhere in the area. Some take the day off from work, while others are self-employed and can set their own schedule. They wait for the people to show up — and they always do — and then they talk. They bring up their annoyance with expensive street lights in the town of Neuzelle, or the planned move of the recycling center in the Berlin suburb Erkner, or the "federal government's dishonesty" when it spoke of a mob attack in Chemnitz. After all, they say, there were reports that no mob attacks actually took place at all.
Being ever-present, talking — and not to mention listening — was also part of the AfD strategy during federal elections last September. And it worked. The party scored 22.1 percent of the vote here in the eastern German state of Brandenburg, putting it only slightly behind Chancellor Angela Merkel's conservative Christian Democratic Union (CDU). It's possible that Alexander Gauland, the candidate for the Oder-Spree electoral district, was responsible for some of that success. But what has been decisive is the proximity to ordinary voters that the AfD has cultivated. And it's not only here that the far-right populists are firmly rooted, but in many other places around the country as well.
Political upheavals rarely happen overnight. They begin slowly, and then one morning you wake up and find yourself in another country. The small group that gathered on the evening of Feb. 6, 2013, in a Protestant community center in the town of Oberursel near Frankfurt, had no idea that by founding a new political party called the Alternative for Germany they would trigger something bigger. Who would have thought that a retired senior government official, a conservative newspaper columnist and a numbers-loving economics professor would changed the face of German politics?
Unprecedented Success
And who would have thought that the AfD of Alexander Gauland, Konrad Adam and Bernd Lucke would become a big-tent party of its own — at least in parts of eastern Germany — within just a few years? Or that it would win almost a hundred seats in the federal parliament with its pledge to "hunt down" Chancellor Angela Merkel? Or that its party leaders would one day march through the streets of Chemnitz alongside far-right extremists, like they did on Sept. 1, 2018?
The AfD stands for an unprecedented political success, but also for a history of radicalization. Like any new party, breaking taboos is the AfD's lifeblood, but its shift to the right has continued unabated. And anyone who has stood in the party's way has gotten steamrolled. First it hit Lucke, the well-behaved co-founder and former party head; he was overthrown by the much more politically shrewd Frauke Petry.
When Petry herself became too powerful, Alexander Gauland pushed her aside. His tweed jackets may lend him an air of amiability and scholarship, but in reality he has few inhibitions about sealing pacts with far-right extremists. In that regard, it's no coincidence that Gauland is the only person from that founding meeting in Oberursel who still holds sway over the party today.
No other party leader stands as much for the AfD's split personality as Gauland. A former senior official in the state government in Hesse, in western Germany, Gauland lives in a dignified Potsdam neighborhood filled with mansions. He can speak intelligently about Prussian history — and then, without missing a beat, claim that the Nazi era was but a "speck of bird shit" on German history.
"We're a thorn in the side of a political system that has become outdated," Gauland told the conservative Frankfurter Allgemeine Zeitung earlier this month. He wants to drive out anyone who played a role in what he calls the "Merkel System," including people in the media, and he has called for a "peaceful revolution."
But a revolution against what?
In January, Harvard professors Steven Levitsky and Daniel Ziblatt published a book titled, "How Democracies Die." In it, they write that in the decades since the end of the Cold War, liberal systems haven't been overthrown through force and military coups alone. More than anything else, democracy has been undermined non-violently through the election of anti-democratic politicians.

World Politics
England
With Brexit, everything from the economy to the union is under threat. Do the Conservatives know what they have done? 

'The Salzburg rout should not have come as a surprise to anyone paying attention. Chequers died months ago: the EU had already dismissed it, and Theresa May has been flaunting a corpse for months.' Photograph: Sean Gallup/Getty Images
A party committed to defending the economic interests of rich elites could never win by saying so. After the advent of working-class suffrage, Conservatives had to have an offer for everyone. There would be room at the top for those who laboured hard, they promised. We will keep out the foreigners and harshly punish the criminals. We will be uncompromising in our defence of the union. We will be defiant against external foes. But a mainstay of Tory propaganda was always this: we are a bulwark against chaos, the custodians of economic security. Scare-mongering about Labour's chilling threat to the economy was even deployed against Tony Blair, a man who posed no serious threat to Thatcher's consensus: the Tories' 1997 slogan was "Britain's booming – don't let Labour ruin it". So look now as the Tories prepare the biggest economic shock imposed by a British government in modern history. How can they ever deliver their finger-wagging lectures on economic credibility ever again?
Much media commentary speaks of Theresa May shaking with shock and anger yesterday, and yet the Salzburg rout should not have come as a surprise to anyone paying any attention. Chequers died on arrival months ago: the EU had already dismissed it, and May has been flaunting a corpse for months. What a farce that this was even considered a possibility. The Tory party could not negotiate a deal with itself, let alone 27 foreign states. An administration that, since it incinerated its parliamentary majority, has looked more like the grand finale of a Quentin Tarantino film than a functioning government, believed it could outmanoeuvre a bloc representing 440 million people. And now instead it defiantly marches towards a "no deal" scenario, like a drunk swaggering towards a cliff edge, promising to jump unless his impossible demands are met.
The fear-mongering of the dire official Remain campaign has immunised much of the population from grappling with the reality of no deal. Only when it hits will it be understood. What could it mean? The supposed party of home ownership presiding over the biggest house-price crash in history? A surge in food prices? Recession and unemployment? Even the milder predictions would mean economic and social dislocation. To repeat: how can a party prepared to administer such a shock convincingly oversee a campaign of fear against Labour's proposals for economic transformation at the next election?
The Tories are the party of big business, yet their former foreign secretary spits out "fuck business", while their Brexit secretary accuses of businesses of blaming Brexit "rather than take responsibility for their own decisions". The party of the union – whose former leader, Andrew Bonar Law, once threatened to back armed insurrection in Ulster – has dramatically boosted the likelihood of a united Ireland. The party of Anglicanism even vociferously denounces the archbishop of Canterbury.
The Tories do not seem to understand what they have done. Labour's commitment to scrap the status quo, in normal times, could have been plausibly portrayed as a frightening risk, an unnerving gamble. But the Tories have sacrificed the rhetoric of conservatism in favour of revolutionary zeal. And in doing so, they have normalised radicalism in British politics. Of course, the Tory project would cause upheaval but protect the interests of its vested interests with a programme of deregulation and tax cuts. They are a reactionary, not a revolutionary party. But they have abandoned their traditional trump card: the promise of stability and order in the face of chaos. And in doing so, they may prove to be midwives of the very socialism that chills them to their bones.
• Owen Jones is a Guardian columnist

United States
Memos reveal deputy attorney general spoke to colleagues about making secret tapes of president, according to New York Times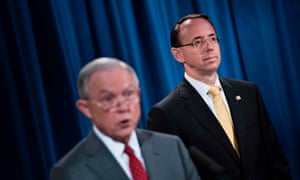 Rod Rosenstein with Jeff Sessions. At least one colleague to whom Rosenstein mentioned wearing a 'wire' to record Trump thought Rosenstein was speaking sarcastically, the Times reported. Photograph: AFP/Getty Images
Deputy attorney general Rod Rosenstein deemed "inaccurate" a report that he spoke with colleagues last year about the possibility of removing Donald Trump from office under the 25th amendment and about making secret recordings of the president.
The New York Times first reported the conversations on Friday, citing anonymous justice department sources and internal memos made after the alleged conversations.
Rosenstein oversees special counsel Robert Mueller's investigation of Russian election interference and links between Trump aides and Moscow. He was motivated, the Times said, by "frustration", "surprise" and "anger" that Trump had used a memo he wrote criticizing James Comey to justify firing the FBI director.
At least one colleague to whom Rosenstein mentioned wearing a "wire" to record Trump thought Rosenstein was speaking sarcastically, the Times reported. Potential replacements for Comey were being interviewed at the time and top justice department figures were in frequent contact with the White House.
In a statement, Rosenstein called the story "inaccurate and factually incorrect" and said the anonymous sources behind it were "advancing their own personal agenda".
"But let me be clear about this," Rosenstein said. "Based on my personal dealings with the president, there is no basis to invoke the 25th amendment."
The 25th amendment, ratified in 1967 after the assassination of John F Kennedy, provides that if the vice-president and the majority of the cabinet determine the president is "unable to discharge the powers and duties of his office", the vice-president becomes president.
An anonymous senior administration official wrote in a New York Times editorial earlier this month that there had been internal discussions about invoking the 25th amendment, prompting the vice-president, Mike Pence, to deny it.
"No, never," he told CNN. "Why would we?"
The memos describing conversations with Rosenstein would be among the most sensitive documents held by the justice department. The Times cited anonymous sources including people briefed "on memos written by FBI officials, including Andrew G McCabe", the former FBI deputy director.
In a statement from his lawyer Michael R Bromwich on Friday, McCabe acknowledged that he kept memos "to memorialize significant discussions he had with high-level officials". He said he had turned the memos over to the special counsel's office and "a set of those memos remained at the FBI".
The motivation of whoever released the memos was equally opaque. Rosenstein is the direct supervisor of Mueller. Analysts have speculated that the removal of Rosenstein could be more damaging to the Russia investigation than removing Mueller himself.
Rosenstein must approve major new directions in the investigation and review the budget. He would receive a report written by Mueller at the conclusion of his investigation.
Trump has expressed displeasure with Rosenstein, calling him "weak" and accusing him last year of being a Democrat. Rosenstein is a Republican who was nominated by George W Bush to his former post as US attorney in Maryland.
On Friday the president's son, Donald Trump Jr, tweeted: "Shocked!!! Absolutely Shocked!!! Ohhh, who are we kidding at this point? No one is shocked that these guys would do anything in their power to undermine [Donald Trump]."
Senate minority leader Chuck Schumer said on Friday that the story about Rosenstein must not be used for the "corrupt purpose" of firing him. Other top administration officials have been quoted as criticizing Trump without being fired, Schumer noted.

Senate Republicans threaten Monday vote after reportedly planning to move hearing to Wednesday and have Christine Blasey Ford testify first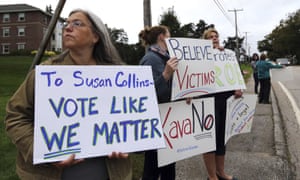 Demonstrators hold signs outside St Anselm College in Manchester, New Hampshire, where Susan Collins, one of the few possible Republican no votes on Kavanaugh, was scheduled to speak. Photograph: Elise Amendola/AP
Donald Trump has cast doubt on the woman who accused his supreme court pick Brett Kavanaugh of sexual assault, and blamed opponents for trying to "destroy" his nominee.
Trump commented as the issue of when a judiciary committee hearing on the allegations might be held remained at issue.
Lawyers for Christine Blasey Ford, who has accused Kavanaugh of sexually assaulting her at a party when they were teenagers, had reportedly requested the hearing take place on Thursday. Kavanaugh, who categorically denies the allegations, said he "looks forward" to testifying as soon as possible.
CNN reported that Republicans were prepared to hold it on Wednesday but later a statement from committee chair Chuck Grassley set a 10pm Friday deadline for hearing from Ford's lawyer, after which he said the committee would proceed to a Monday vote.
CNN's anonymous sources suggested that in any hearing, Ford would testify first and that Republicans were not willing to subpoena any outside witnesses, as Ford requested. Ford had reportedly requested to testify second.
It was unclear who would conduct the questioning if a hearing did go ahead. Chuck Grassley, the committee chair, told a radio station this week his committee would consider hiring a special counsel to question Ford, to avoid a scenario in which 11 Republican men questioned a woman alleging sexual assault.
"Republicans should show a little compassion, not to mention consideration that [Ford will] need to prepare for the hearing," Dianne Feinstein, the ranking Democrat on the committee, said, calling the Republican offer "mean-spirited" and without "sympathy or empathy whatsoever".
"Republican senators want to turn over their duty to ask questions to outside counsel, but Dr Ford can't do that. Just because Republicans don't need to prepare doesn't mean Dr Ford should be rushed."
The Rhode Island Democrat Sheldon Whitehouse, a member of the judiciary committee, stressed that senators should be the ones asking questions.
"I will not forfeit my ability to question Judge Kavanaugh and anyone else who comes before the committee with testimony, no matter how uncomfortable it may make the 11 men across the dais," he said.
Negotiations went on behind closed doors as Trump incited a backlash on Twitter and among his own party with a string of tweets that questioned Ford's account of what happened between her and Kavanaugh at a party in 1982, when she was 15 and Kavanaugh 17.
"I have no doubt that, if the attack on Dr Ford was as bad as she says, charges would have been immediately filed with local Law Enforcement Authorities by either her or her loving parents," Trump said. "I ask that she bring those filings forward so that we can learn date, time, and place!"
Trump said he believed Kavanaugh to be "under assault by radical leftwing politicians". Kavanaugh has an "impeccable reputation", he said, and Democrats "don't want to know the answers, they just want to destroy and delay".
The Maine Republican senator Susan Collins, seen as a key vote on Kavanaugh's nomination, said she was "appalled".
"We know that allegations of sexual assault – I'm not saying that's what happened in this case – but we know allegations of sexual assault are one of the most unreported crimes that exist," she said. "So I thought that the president's tweet was completely inappropriate and wrong."
Late on Friday Trump posted another tweet: "Let her testify, or not, and TAKE THE VOTE!"
The full tweet again criticized Feinstein for not sooner revealing a letter she received, containing Ford's allegations.
Within minutes, women, including leading feminist writers, began tweeting alongside the hashtag #WhyIDidn'tReport about bad experiences when reporting sexual violence to the authorities, especially as teens.