24 Sep
News and Analyses, A Foreign Perspective
Nearly all of these are English-edition daily newspapers. These sites have interesting editorials and essays, and many have links to other good news sources. We try to limit this list to those sites which are regularly updated, reliable, with a high percentage of "up" time.
Recommended:

A mother and her six-year-old son fled to Texas from the violence in their homeland of Honduras. When they arrived, young Samir was ripped out of his mother's arms. Two months later, they found each other again, but something had changed.

It's 1 a.m. when Levis Osorio Andino bolts out of a dreamless sleep. A warden is standing next to her bunkbed inside the Port Isabel Detention Center in Texas and shaking her arm. "Wake up 494," she says. "It's time."
Levis sleepily packs her bag and stumbles through the neon-lit corridors. It has been 56 days since she last saw her six-year-old son Samir, who used to hang on her more than any of her other children. In early June, they crossed the Rio Grande after weeks spent fleeing their homeland of Honduras, and the Texan border guards immediately pulled her child out of her arms.
Levis' arrival corresponded with America's effort early this summer to pursue a zero-tolerance policy to illegal immigration, a policy which called for families to be separated at the border. Now, though, the government is trying to fix the chaos that ensued.
The last thing that Levis had heard about Samir was that he no longer wanted to leave the home in Phoenix, to which he had been taken.
"Surprise," the warden says and pushes Levis into a windowless room. "Samir just went to the restroom briefly." She slumps onto a chair, trembling. Then, there he is, standing in the doorway, hand-in-hand with a social worker, his hair close-cropped, the smile frozen on his face showing the gap between his front teeth.
"Samir, my darling," Levis stammers. "How are you?"
"I don't know who you are."
Levis takes a step toward Samir, but he recoils. She tries again and he starts trying to kick her.
"Samir," she says, "I love you."
"You aren't my mother."
Such is the scene related by Levis as she sits exhausted in front of a plate of rice a couple of hours after her reunion with her son. Born 26 years ago in the Honduran city of El Porvenir, Levis is a pretty woman with almond-shaped eyes. She struggles to find words to describe the nightmare she is living. She keeps having to fight back tears as Samir sits next to her, engrossed in the fantasy world of a smartphone game.
If you ask him how he's doing, he briefly looks up and says: "I'm made of steel."
No Moral Compass
The sun is shining onto the cafeteria tables of the Basilica Hotel, a hostel operated by the Catholic Church in Rio Grande Valley. A prison bus dropped Levis and Samir off here in the night, a place located at the very southern edge of the United States, not far from where they landed with their raft two months ago. They are now free, but they don't know where to go. In October, Levis says, her asylum case will be considered — and at the very least, she won't be deported before then.
The hostel is normally used by pilgrims, but it has become a transfer station for many of the some 3,000 families that America gradually began reuniting at the end of July. It is a place of humanity in a country that has lost its moral compass.
Nuns hand out donated clothes in the lobby. They help people find their family members and organize bus tickets. They reconnect Levis with her lawyer for the first time in weeks and over the phone, he promises to find her a place to stay, a place to start healing the wounds that this country has inflicted.
For years, the U.S. was a country whose borders were more open than elsewhere. "Give me your tired, your poor, your huddled masses yearning to breathe free," reads the poem at the foot of the Statue of Liberty. It is a principle that has seemed immovable ever since the country declared independence in 1776 as a country of immigrants.
But the 45th president is currently in the process of unleashing a wrecking ball on this foundation. In the eyes of the former real estate magnate Donald Trump, people like Levis, who are fleeing from the violence and poverty endemic in Central America, are criminals first and foremost. He calls them drug dealers, rapists or "bad hombres." Trump believes there are too many of them, and to keep them away, he has promised his followers he will build a border wall.

World Politics
Italy
Far-right leader's decree would suspend asylum process for the 'socially dangerous'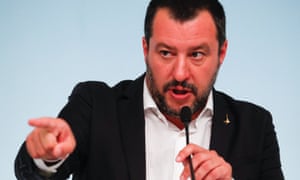 Italy's far-right interior minister, Matteo Salvini, at a news conference in Rome after the cabinet approved a decree of measures on immigration. Photograph: Alessandro Bianchi/Reuters
A series of hardline measures that will see the Italian government abolish key forms of protection for migrants and make it easier for them to be deported has been approved by Prime Minister Giuseppe Conte's cabinet.
Drafted by Matteo Salvini, the far-right interior minister and leader of the League, the decree will also suspend the refugee application process of those who are considered "socially dangerous" or who have been convicted of a crime.
Salvini, who has blocked NGO rescue ships from Italian ports to cut the number of migrants arriving in the country by sea, said the bill was a "step forward to making Italy safer".
He claimed it would also strengthen the fight against the mafia and people traffickers, give the police greater powers and "expel offenders and fake refugees".
Parliament has 60 days to debate and modify the decree before it becomes law.
The plans include abolishing humanitarian protection, a form of protection for those not eligible for refugee status but who for various reason cannot be sent home, and replacing it with a special permits system that will limit eligibility to people such as victims of a natural disaster or those with a serious illness.
Salvini pledged last week to stop giving permits to "crafty migrants not escaping war".
Christopher Hein, a professor of law and immigration policies at Luiss University in Rome, said the measures could have a dramatic impact on the lives of tens of thousands already in the country.
The majority of migrants who have arrived in Italy in recent years have been granted humanitarian protection status, which is valid for two years and entitles them to a residency permit and enables them to work.
"Far more people are on this permit than the number of recognised refugees – last year it was around 25% of all asylum seekers," said Hein.
Salvini's move may, however, also lead to an increase in the number of irregular migrants.
"If people do not have a chance to obtain this kind of protection, or they no longer make an attempt, or they get rejected, it does not mean that the next day they simply go home," said Hein.
"The ultimate aim is to have no refugees at all in Italy through a combination of efforts: closure of seaports, criminalising migrant rescue NGOs, enhancing collaboration with the coastguard and now, with this decree, they target those who are already here, or who may come in future and not get any kind of protection – it is a deterrent measure."
The plan to suspend the asylum requests of those considered "socially dangerous" could result in people being expelled on the basis of accusations of deviance rather than convictions.
The decree did not include measures against the Roma community, although Salvini said he was in talks with the mayors of major cities to ensure that all camps were closed.

United States
Deborah Ramirez, who attended Yale with Kavanaugh, has described a drunken party during which genitals were thrust in her face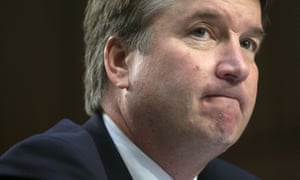 Brett Kavanaugh is facing a second allegation of sexual misconduct from his youth. Photograph: Saul Loeb/AFP/Getty Images
Supreme Court nominee Brett Kavanaugh faces a second allegation of sexual misconduct after another woman came forward accusing him of inappropriate sexual behaviour during his college years at Yale University.
The New Yorker magazine reported on Sunday evening that a 53-year-old woman, Deborah Ramirez, who attended university with Kavanaugh, has alleged that the judge appeared to have thrust his genitals in her face at a drunken party during their freshman year in 1983-4 academic calendar. She said she clearly remembers the judge, then a teenager, pulling up his pants after a penis was thrust in her face during a drinking game. She also accused Kavanaugh of laughing at her in the aftermath and has said the FBI should investigate the incident.
The judge already faces a separate allegation of sexual assault made by Christine Blasey Ford, a professor at Palo Alto University, who claims Kavanaugh attempted to sexually assault her at a drunken high school party in the early 1980s.
Ford and Kavanaugh are set to testify before the Senate Judiciary Committee on Thursday to address the allegations after a week of fraught public negotiations between Ford's attorneys and Senate Republicans.
With the conservative judge's confirmation prospects already hanging the balance, the news of a second set of allegations is likely to alarm Republicans who are hoping to push Kavanaugh's nomination through the Senate, where they hold a slim 51-49 majority.
Kavanaugh, who currently sits on the D.C. Circuit Court of Appeals, is a former Bush administration official who has been nominated to the seat vacated by Anthony Kennedy who was considered the swing justice on the court, particularly in cases involving issues like abortion and gay rights.
On Sunday evening Kavanaugh issued a statement through the White House press office categorically denying the allegations made by Ramirez.
"This alleged event from 35 years ago did not happen. The people who knew me then know that this did not happen, and have said so. This is a smear, plain and simple. I look forward to testifying on Thursday about the truth, and defending my good name – and the reputation for character and integrity I have spent a lifetime building –against these last-minute allegations," Kavanaugh said.
The White House continued to back Kavanaugh's nomination on Sunday evening. Kerri Kupec, an administration spokesperson, claimed that the new allegation was part of a "coordinated smear campaign by the Democrats designed to tear down a good man."
Dianne Feinstein, the top Democrat on the Judiciary Committee, immediately called for a postponement of Kavanaugh's nomination and called for the FBI to investigate both Ford and Ramirez's allegations.
In a statement, Chuck Grassley, the chair of the Judiciary Committee, said that he "learned the allegations made by Deborah Ramirez about Judge Kavanaugh from this evening's New Yorker report. Neither she nor her legal representative have contacted the chairman's office. The article reports that Democratic staff were aware of these allegations, but they never informed Republican staff."
Grassley went on to characterize the developments as "Senate Democrats actively withheld information from the rest of the Committee only to drop information at politically opportune moments. It increasingly appears that they are more interested in a political takedown than pursuing allegations through a bipartisan and professional investigative process."
Democratic Senator Mazie Hirono, who confirmed receipt of the allegations to the New Yorker, also did not immediately respond to a request for comment.
A spokesman for Utah Republican Mike Lee, who sits on the committee, told the Guardian that the new allegations came "absolutely [as a] 100% surprise" to the Senator.

By the end of this century, sea level rises alone could displace 13m people. Many states will have to grapple with hordes of residents seeking dry ground. But, as one expert says, 'No state is unaffected by this'
After her house flooded for the third year in a row, Elizabeth Boineau was ready to flee. She packed her possessions into dozens of boxes, tried not to think of the mold and mildew-covered furniture and retreated to a second-floor condo that should be beyond the reach of pounding rains and swelling seas.
Boineau is leaving behind a handsome, early 20th-century house in Charleston, South Carolina, the shutters painted in the city's eponymous shade of deep green. Last year, after Hurricane Irma introduced 8in of water into a home Boineau was still patching up from the last flood, local authorities agreed this historic slice of Charleston could be torn down.
"I was sloshing through the water with my puppy dog, debris was everywhere," she said. "I feel completely sunken. It would cost me around $500,000 to raise the house, demolish the first floor. I'm going to rent a place instead, on higher ground."
Millions of Americans will confront similarly hard choices as climate change conjures up brutal storms, flooding rains, receding coastlines and punishing heat. Many are already opting to shift to less perilous areas of the same city, or to havens in other states. Whole towns from Alaska to Louisiana are looking to relocate, in their entirety, to safer ground.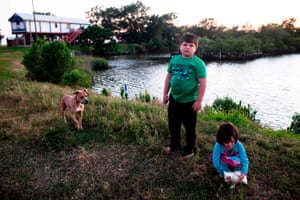 Children on Isle De Jean Charles, Louisiana, where only 20 families are left. Photograph: Amir Levy/AFP/Getty Images
The era of climate migration is, virtually unheralded, already upon America.
The population shift gathering pace is so sprawling that it may rival anything in US history. "Including all climate impacts it isn't too far-fetched to imagine something twice as large as the Dustbowl," said Jesse Keenan, a climate adaptation expert at Harvard University, referencing the 1930s upheaval in which 2.5 million people moved from the dusty, drought-ridden plains to California.
This enormous migration will probably take place over a longer period than the Dustbowl but its implications are both profound and opaque. It will plunge the US into an utterly alien reality. "It is very difficult to model human behaviour under such extreme and historically unprecedented circumstances," Keenan admits.
The closest analogue could be the Great Migration – a period spanning a large chunk of the 20th century when about 6 million black people departed the Jim Crow south for cities in the north, midwest and west.
By the end of this century, sea level rise alone could displace 13 million people, according to one study, including 6 million in Florida. States including Louisiana, California, New York and New Jersey will also have to grapple with hordes of residents seeking dry ground.
"There's not a state unaffected by this," said demographer Mat Hauer, lead author of the research, which is predicated on a severe 6ft sea level increase. There are established migration preferences for some places – south Florida to Georgia, New York to Colorado – but in many cases people would uproot to the closest inland city, if they have the means.
"The Great Migration was out of the south into the industrialized north, whereas this is from every coastal place in the US to every other place in the US," said Hauer. "Not everyone can afford to move, so we could end up with trapped populations that would be in a downward spiral. I have a hard time imagining what that future would be like."
Within just a few decades, hundreds of thousands of homes on US coasts will be chronically flooded. By the end of the century, 6ft of sea level rise would redraw the coastline with familiar parts – such as southern Florida, chunks of North Carolina and Virginia, much of Boston, all but a sliver of New Orleans – missing. Warming temperatures will fuel monstrous hurricanes – like the devastating triumvirate of Irma, Maria and Harvey in 2017, followed by Florence this year – that will scatter survivors in jarring, uncertain ways.
The projections are starting to materialize in parts of the US, forming the contours of the climate migration to come.
"I don't see the slightest evidence that anyone is seriously thinking about what to do with the future climate refugee stream," said Orrin Pilkey, professor emeritus of coastal geology at Duke University. "It boggles the mind to see crowds of climate refugees arriving in town and looking for work and food."
Pilkey's new book – Sea Level Rise Along Americas Shores: The Slow Tsunami – envisions apocalyptic scenes where millions of people, largely from south Florida, will become "a stream of refugees moving to higher ground".
"They will not be the bedraggled families carrying their few possessions on their backs as we have seen in countless photos of people fleeing wars and ethnic cleansing, most recently in Myanmar and Syria," Pilkey states in his book. "Instead, they will be well-off Americans driving to a new life in their cars, with moving trucks behind, carrying a lifetime of memories and possessions."
Dejected with frigid New York winters, Chase Twichell and her husband purchased a four-bedroom apartment in Miami Beach in 2011, with the plan of spending at least a decade basking in the sunshine. At first, keeping a pair of flip-flops on hand to deal with the flooded streets seemed an acceptable quirk, until the magnitude of the encroaching seas became apparent when the city spent $400m to elevate streets near Twichell's abode.
Twichell began to notice water pumps were spewing plastic bags, condoms and chip packets into the bay. Friends' balconies started getting submerged. Twichell, a poet, found apocalyptic themes creeping into her work. Last year, she sold the apartment to a French businessman and moved back to upstate New York.
"It was like end of the world stuff," she said. "It was crazy for us to have such a big investment in such a dangerous situation." Her neighbours initially scolded her but now several are also selling up, fretting that the real estate and insurance markets for properties like theirs will seize up.