25 Sep
News and Analyses, A Foreign Perspective
Nearly all of these are English-edition daily newspapers. These sites have interesting editorials and essays, and many have links to other good news sources. We try to limit this list to those sites which are regularly updated, reliable, with a high percentage of "up" time.
Recommended:


World Politics
United States
In an interview beside his wife, the US supreme court nominee said he had a 'record of promoting equality for women'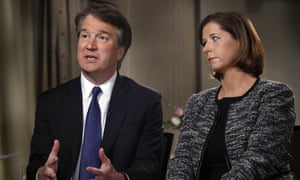 Brett Kavanaugh, with his wife Ashley Estes Kavanaugh, answers questions during a Fox News interview on Monday. Photograph: Jacquelyn Martin/AP
Brett Kavanaugh, the embattled US supreme court nominee who is fighting to defend himself against mounting allegations of sexual misconduct, has gone on the media offensive, insisting in a TV interview that he was a virgin throughout high school and beyond and that "I have never sexually assaulted anyone in high school or otherwise."
Kavanaugh used the secure environment of a Fox News interview broadcast on Monday to launch an extraordinary PR counter-attack, portraying himself as a lifelong campaigner for women's equality. Sitting beside his wife, Ashley Estes Kavanaugh – her first appearance since the allegations surfaced – the judge was given free rein to deny accusations that have now been leveled against him by two named women in addition to a third whose identity and detailed claims still remain elusive.
The judge, an ultra-conservative who was on the verge of being confirmed to the nation's highest court when the sexual assault allegations burst into the open a week ago, used the opportunity on Fox News to insist repeatedly that he was telling the truth.

He also rebutted the detailed allegations coming from the California professor Christine Blasey Ford, who was the first to accuse him of drunkenly sexually assaulting her while in high school, and Deborah Ramirez who told the New Yorker on Sunday she had also endured a sexual attack at at Yale university.
Of the social event at which Ford alleges his attack on her took place, Kavanaugh said: "I was never at any such party, I was not anywhere resembling that in 1982. I have never had any sexual or physical activity with Dr Ford."
He added that he "did not have sexual intercourse, or anything close to sexual intercourse, in high school or many years after". Asked whether that meant he was a virgin in all those years, he replied: "Correct."
He said: "I know I'm telling the truth, I know my life-long record. I'm not going to let false accusations drive me out of this process. I have faith in God and I have faith in the fairness of the American people."
After the interview the president tweeted in support of Kavanaugh.

The setting of the Kavanaughs' interview was carefully constructed to provide them with what amounted to a journalistic safe haven. Fox News is famously Donald Trump's favorite news channel, a bond formalized in the summer with the appointment of the former Fox News co-president Bill Shine as deputy White House chief of staff.
The choice of Martha MacCallum as interviewer was also notable. She was a vociferous supporter of the late Roger Ailes in 2016 when the then Fox News chief was being sued for sexual harassment by anchor Gretchen Carlson, telling Mediaite that "Roger is such a terrific boss I don't like to see anything that reflects negatively on him."
Margaret Sullivan, the influential media columnist of the Washington Post, lamented on Twitter before the interview was aired that it "promises to be a challenge-free infomercial".
Women aren't just mad – they're organized and mobilized politically in a way we've never quite seen before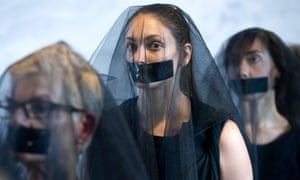 'Women's rage is shaping up to be a dangerous force in the upcoming midterms.' Photograph: Michael Reynolds/EPA
If there's cause for hope in these horror-show days, it's this: The Republican party has no idea what's about to hit it this November.
Even the dimmest and most misogynist of Republican operatives must realize, by this point, that the supreme court nomination of Brett Kavanaugh and the handling of the sexual assault allegations against him will hurt their chances, especially with women voters, in the upcoming midterm elections.
What they don't seem to realize, though, is that huge numbers of women aren't just mad – they're organized and mobilized politically in a way we've never quite seen before. The key story of the midterms is the large number of progressive women – and to a lesser extent, progressive men – who have been taking on the crucial, unglamorous work that swings elections: registering voters, canvassing door-to-door, preparing to get people to the polls. The disdain for women that the Republicans have shown by continuing to rally behind Kavanaugh is only energizing them further.
The anguish and courage reflected in the cascade of #WhyIDidntReport stories is deeply personal, but the fallout is sure to be directly political. Well before the president who has been repeatedly accused of sexual assault nominated a man now repeatedly accused of sexual assault to a lifetime position on the highest court in the land, women were laying the groundwork for a historic political reckoning this fall. Of course there are women, mainly white women, who retain their allegiance to the Republican party; their ranks, though, are very unlikely to expand. By contrast, the rage of millions of women, including overwhelming majorities of women of color, is now laser-focused on the Republican party – and there's a robust grassroots infrastructure in place to make sure it is expressed at the ballot box this November.
Ever since Donald Trump took the oath of office, the wrath of women has found expression in a remarkable growth of activism and grassroots organizing. When millions of Americans joined the Women's Marches around the country in January 2017, the outpouring was a harbinger of what was to come: a multi-issue, women-led upsurge of political engagement on an unprecedented scale. Nearly 25,000 protests have taken place since Trump's inauguration, involving somewhere between 14 and 21 million Americans. These figures greatly exceed levels of protest participation at any prior time in US history, even the height of the Vietnam war. And no matter the issue or focus of the demonstrations, women have consistently been the majority of those taking to the streets.
Protests are only the most visible manifestation of what's been happening at the grassroots, however. Quietly and persistently, women have also been pursuing a powerful electoral ground game that's striking in both its scale and its character. During some past eras in American history when demonstrations surged, there was a gulf between protest politics and electoral activism, with those who marched in the streets shunning electoral work as impossibly compromised. That gulf has utterly vanished in the Trump era, with a clear-eyed pragmatism taking its place: "Voting," one activist friend likes to say, "is a form of harm reduction."

Park lands have warmed twice as fast as the rest of the country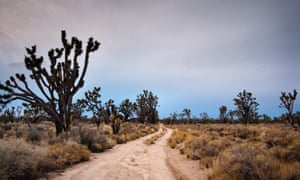 Most of Joshua Tree national park could become uninhabitable for its eponymous trees, according to a new study. Photograph: Eric Lowenbach/Getty Images/Flickr RF
America's national parks have warmed twice as fast as the US average and could see some of the worst effects of climate change, according to a new study.
Most of Joshua Tree national park could become uninhabitable for its eponymous trees, glaciers will continue to melt away at Glacier national park, and many other of America's most treasured beauty spots could be rendered virtually unrecognizable by climate change, Patrick Gonzalez, the lead author of the study, writes in the journal Environmental Research Letters.
Even the tiniest of creatures are at risk in the worst-case predictions: the American pika, a small alpine mammal, may no longer be able to survive on park land.
"We are preserving the most remarkable ecosystems, and they happen to be in extreme environments," said Gonzalez, a climate scientist at the University of California, Berkeley. Gonzalez is also the principal climate change scientist for the US National Park Service but conducted and spoke about the research in his university capacity.
The study finds that temperatures in national parks could go up 3 to 9C by 2100, under the Intergovernmental Panel on Climate Change's worst-case scenario, which shows what could happen without policies to decrease greenhouse gas pollution. With lower emissions, temperatures could still exceed 2C for 58% of park land, compared to 22% of the US as a whole, according to the study.
They are particularly vulnerable because most US park land is in areas that are heating up quicker: in the mountains, the Arctic and the dry south-west.
Alaska parks would see the most extreme heat increases, and the US Virgin Islands parks face 28% less rainfall by the end of the century. In Glacier Bay national park, the Muir Glacier melted 640 meters between 1948 and 2000.
In Yellowstone national park, trees are dying because bark beetles are thriving in warmer winters. Yellowstone will also become far more vulnerable to wildfires. The area burned could be up to three to 10 times higher by 2100. Joshua Tree national park in California could lose up to 90% of the habitat suitable for its namesake trees.
Gonzalez explained that parks at a higher elevation have a thinner atmosphere that warms faster. Hotter temperatures are also melting snow cover and making the ground darker so that it absorbs more heat. Parks in California and the south-west US have seen both high temperatures and record-low rainfall, he said.
The research is the first comprehensive look at climate change impacts on national parks, Gonzalez said. He said he has been using the climate impacts research to develop plans for parks to adapt and reduce the greenhouse gas pollution they contribute.
The Trump administration has rescinded government efforts to slow climate change. The interior department, where the National Park Service is housed, nixed a policy that would have urged management decisions based on science, including climate change research. Park officials in New England scrubbed references to climate change and flooding risks in a report this summer, according to Reveal. The National Park Service did not immediately respond to a request to comment on the study or climate change policies for parks.