27 Sep
News and Analyses, A Foreign Perspective
Nearly all of these are English-edition daily newspapers. These sites have interesting editorials and essays, and many have links to other good news sources. We try to limit this list to those sites which are regularly updated, reliable, with a high percentage of "up" time.
Recommended:


The McGlynn Comment
Republicans have become the defenders of daughter abuse. And we know that 25% of females are sexually molested before they are 18 years old. Now we know who the men are who perpetrate this– the ones who support a supreme court justice nominee who has so many accusations against him he couldn't get a job working at Walmart.
Watch Fox News attack the three women and the attorneys who represent them as the worst people in the world. Damn true for many of the GOP senators.
And remember, all you Kavanaugh defenders, this is not a trial. It's a job application. And I don't believe that Kavanaugh could get a job working as an executive at any fortune 500 company or any top tier law firm.
The McGlynn

World Politics
United States
Nominee and first accuser go before judiciary committee
.

Family of Pakistan engineer is being made homeless despite profession being on 'shortage occupation' list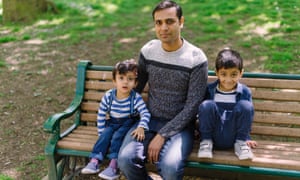 Owais Raja with his sons Aazan and Aayan. Photograph: Jim Wileman for the Guardian
The family of an engineer who trained Ministry of Defence engineers is being made homeless because the Home Office has still not completed a review of a controversial immigration policy they promised to report on by July.
Owais Raja's son cannot receive potentially life-saving NHS treatment for the hole in his heart, his wife cannot be treated for her severe health problems, and Raja himself cannot afford to use the prescription given to him by his GP for antidepressants.
Raja, whose profession is on the government's "shortage occupation" list, has been forced to sell all his family's possessions to pay for food and rent.
Raja, from Pakistan, made a minor amendment to his tax records in 2016, which he says was the fault of his accountant, who was later sent to prison for a £1m tax fraud.
Raja paid the £1,200 he owed HMRC within 24 hours of being alerted to the mistake. HMRC accepted the amendment without charging him a fine or interest, but the Home Office said it was proof that his character was "a threat to national security" under paragraph 322(5), a draconian paragraph of the immigration rules.
Paragraph 322(5) removes migrants' rights to work, rent property or for them or their family to use the NHS. If Raja accepts the category and returns to Pakistan, he will not be able to work in his chosen field or travel to any country that conducts visa checks. "I have no life here," he said. "But if I return to Pakistan under a 322(5), I will have no way to earn a living there either. My family and I are trapped in this nightmare. There's no way out from this downward spiral."
Raja's mother, his last living relation in Pakistan, died over Christmas. He was not able to attend her funeral.
Raja trained British engineers from the Ministry of Defence at City College Plymouth before his right to work was removed two years ago. He wrote the training programme himself and was promoted every year he was there. He was earning £32,000 when he applied for indefinite leave to remain (ILR) in 2016.
This week, he has been told that his landlady wants to evict his family on 2 October so she can renovate the property. Paragraph 322(5) has removed his right to rent a new property and his right to access public funds, which means he cannot ask his council for help. Social services have said they will do their best but cannot guarantee finding his family a home in time to prevent them being made homeless.
Raja has made another IRL application but has been told that no decisions will be made until the review is completed. In the meantime, his wife spends her days lying in bed, crying. His six year old son, once an energetic child, now just lies on the sofa after doing his homework, staring into space.
Lord Dick Taverne will write to Lady Williams, the minister of state for immigration, this week to complain about Raja's "horrendous punishment". He has written repeatedly to the Home Office about Raja's case since last May but received no response.
In his most recent letter, he compared the use of 322(5) to "the punishment of transportation to Botany Bay in the 19th-century".
"The penalties imposed under S322(5) are often on innocent people as the figures of successful appeals show," he wrote, referencing research that shows appeals of 322(5) have a 75% success rate.
"If the public knew how people like Mr Raja are treated – and there are very many similar S322(5) cases – there would be public outrage as great as there has been about Windrush."
Luke Pollard, Raja's MP, has also repeatedly contacted the Home Office on Raja's behalf, to no effect. He says the Home Office's treatment of Raja is "deliberately appalling".
"The Home Office's use of 322(5) against highly skilled migrants who have made legal tax amendments is indicative of their entire approach towards migrants to the UK," he said. "It goes against the tenets of basic humanity and is not what people expect from an informed and fair immigration system".
Sajid Javid, the minister for immigration, confirmed to the home affairs select committee on 8 May that the Home Office was reviewing all applications from Tier 1 (General) migrants which have been refused under paragraph 322(5).
The review will determine whether any applicants were refused due to minor errors. All case decisions are on hold while the Home Office await the findings of this review, leaving applicants like Raja, who have no right to work, rent or use the NHS in desperate straits.
Last week, the leader of the house, Andrea Leadsom, agreed to take up the issue on behalf of Alison Thewliss MP, who demanded a debate on what she said was the "incompetence of the Home Office" concerning 322(5) and their failure to report on the long-overdue review.
The Home Office said: "The immigration minister commissioned a review into earnings-related tier 1 route cases and we will report our findings to parliament once the review is complete. We do not routinely comment on individual cases."