29 Sep
News and Analyses, A Foreign Perspective
Nearly all of these are English-edition daily newspapers. These sites have interesting editorials and essays, and many have links to other good news sources. We try to limit this list to those sites which are regularly updated, reliable, with a high percentage of "up" time.
Recommended:


Opinion
To the young people:  It's now your turn to try to make the world a better place. The stage is yours now.
Unlike those of us who came before you, you have easy access to information – literally at your fingertips – use this tool positively.
Make it better than your parent's generation, and don't hesitate to reject their version of the world if necessary.
Don't let the "grown-ups" discourage your ambition or impose their own agenda.
Tomorrow belongs to you, not to us, not to them. Good luck.
The McGlynn
Young people talk about how it feels to grow up in 2018, from dealing with racism in New York and fighting for LGBT rights in Jakarta to facing exam pressures in the Kenyan Rift Valley and the importance of giving back to society in Delhi

The symbolic vote by Canadian legislators is in response to crimes committed against the Rohingya minority in Myanmar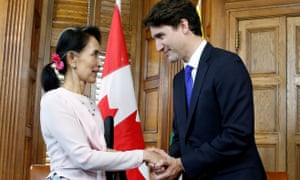 Canada's PM Trudeau told reporters this week that he was open to looking at stripping Aung San Suu Kyi of the citizenship honour. Photograph: Chris Wattie/Reuters
Canadian politicians have voted unanimously to strip Myanmar's civilian leader Aung San Suu Kyi of her honorary citizenship in response to crimes committed against the Rohingya minority.
The move by the House of Commons lower chamber has no effect because honorary citizenship is conferred by a joint resolution of both the House and the upper Senate chamber and officials say it must be removed the same way. Suu Kyi received hers in 2007.
Prime Minister Justin Trudeau told reporters a day ago that he was open to looking at stripping Suu Kyi of the honour, but said doing so would not end the crisis in Myanmar, where more than 700,000 Rohingya have fled a government crackdown.
The next steps to carry out the motion are not immediately clear, Liberal MP Andrew Leslie told reporters.
The House of Commons last week unanimously voted to call the killings of Rohingya a genocide – a move that Canadian Foreign Minister Chrystia Freeland at the time described as significant.
Amid the genocide allegations, the UN Human rights council also voted to set up a panel to prepare criminal indictments over atrocities committed in Myanmar.
The top UN rights body voted to "establish an ongoing independent mechanism to collect, consolidate, preserve and analyse evidence of the most serious international crimes and violations of international law committed in Myanmar since 2011".
Thirty-five of the council's 47 members voted in favour of the resolution and only three – China, the Philippines and Burundi – voted against. The remainder either abstained or refrained from casting a vote.
The council's decision, which was immediately hailed by Amnesty, Human Rights Watch and other rights groups, will go to the UN General Assembly in New York for final approval.
The text was presented after a damning report was released to the council earlier this month, outlining in searing detail atrocities against the Rohingya, who fled a violent military campaign that started in August last year.
Myanmar's powerful army chief Min Aung Hlaing this week insisted the United Nations had no right to interfere in his country's sovereignty.
Related:

World Politics
United States
Ana Maria Archila and Maria Gallagher confronted senator about Kavanaugh nomination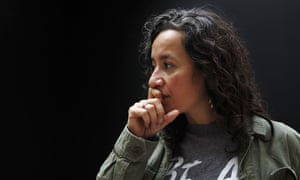 Ana Maria Archila has described her address to Flake as an 'outpouring of frustration'. Photograph: Jacquelyn Martin/AP
The two women who helped alter the course of American legal history by staging an impromptu protest in a Washington lift have revealed they were driven by memories of private trauma and inspired by the courage of Christine Blasey Ford.
New Yorkers Ana Maria Archila and Maria Gallagher loudly berated Senator Jeff Flake for planning to back Judge Brett Kavanaugh's nomination to the supreme court on Friday, influencing him to alter his view. Afterwards they spoke of their personal motivations for cornering him in the Senate offices.
Archila, a 39-year-old from Queens, has disclosed that she was assaulted at the age of five.
"I wanted [Flake] to feel my rage," she said. "I believe Judge Kavanaugh is dangerous for women."
Sexual assault victims confront Jeff Flake over support for Kavanaugh – video
Archila, a co-director at the Center for Popular Democracy (CPD), a not-for-profit advocacy group that campaigns for an "inclusive, equitable society", and her fellow protester, Gallagher, have been hailed as heroines by Democrats and by international supporters of the #MeToo movement for persuading the Republican senator, at the eleventh hour, to call for a week-long FBI investigation before Kavanaugh's nomination was agreed. Kavanaugh, 53, has been accused of sexually attacking Dr Christine Blasey Ford 36 years ago.
"If it was just my story and Maria's story it would not have made a difference. It was the fact that it was thousands of women's stories," Archila said on Saturday.
"I did it in solidarity with Dr Ford. All the emotions I have felt over the last weeks came pouring out. It was Dr Ford's story that allowed me to tell this secret to my parents. I now have to do the work of how my parents [and I] process this experience, and I don't know how this is going to go."
Archila's father discovered his daughter had been assaulted as a child when he watched news footage of the encounter with Senator Flake. Archila said he messaged her immediately to apologise for not having protected her.
Speaking to Newsnight, Archila said the encounter with the senator took place soon after she and Gallagher had read that he planned to back Kavanaugh's nomination in the committee meeting he was about to attend. Flake, she said, appeared to want "to be anywhere else but in that elevator".
She said: "Immediately after he came out of his office, we – in an outpouring of frustration and rage and sadness and anger – stopped him, confronted him and forced him to listen to our stories and … questions.
"We forced him to listen to our stories. He, I think, understood and had to confront the level of pain and rage that women across the country were feeling watching Dr Ford being put on trial in front of millions of people. I think that he had to confront the emotion and examine his decisions again," she said.
Speaking to the American media, she explained the impact of Ford's testimony on her. "When the #MeToo movement broke out, I thought about saying it — but I wrote things and deleted it and eventually decided I can't say, 'me too'. But when Dr Blasey [Ford] did it, I forced myself to think about it again."
Gallagher, a 23-year-old from Westchester, has also talked about her actions in the lift, tweeting that she was relieved to learn that Senator Flake had "heard their voices". "We absolutely need an FBI investigation and for him and all senators to vote NO," she wrote.
"It was all kind of a blur. We all ran after him. We held open the elevator and I just started telling him why it was important and what had happened to me and why he should not let Brett Kavanaugh on the supreme court," she recalled.
"He wouldn't meet my eye. It made me very angry," Gallagher continued. "He kept saying 'thank you' and 'I'm sorry' and wasn't taking into account what his actions would be doing to millions of people and what this means for everyone."
Gallagher has not given further details of an assault she said she never expected to reveal to a US senator.
Asked if she thought it was their efforts that had led Flake to change his mind, Archila spoke of the outpouring from all those who had come forward to tell their stories.
She said: "I think if it had been just me, just me and Maria telling our stories, it would have had no consequence. It was the result of thousands of people coming out telling their stories, showing up to their offices and millions of people watching Dr Blasey Ford being put on trial.
"It is really the result of the collective effort, of all of us trying to make sure that our country does not shy away from staring at the darkness and shame of sexual violence, and a culture that condones it, but ignoring survivors."
Gallagher said she had never told anyone about the assault she suffered and that her mother called her after seeing her protest on television, adding that the family conversation to come would not be easy.

Republicans rallying around Kavanaugh shouldn't expect women to accept that without a fight: patriarchy is on borrowed time
The reaction to the Kavanaugh hearing proves that America hates women
There was a moment on Thursday, while watching Dr Christine Blasey's Ford brave and moving testimony, that I thought that was it: there was no way Brett Kavanaugh would be confirmed. Even Fox News called Ford's testimony "extremely credible". If Kavanaugh was confirmed when even Fox had to concede Ford was credible, then what message would that send about America's attitude towards women? What message would that send to high school kids about the consequences of their actions?
Then, when it was Kavanaugh's turn to speak, I was even more certain he couldn't possibly be given a lifelong seat on the supreme court. Judges are supposed to be measured and objective. He came across as an entitled hothead, unable to control his emotions, blaming everyone except himself for his current situation. If Kavanaugh was confirmed after that performance, the credibility of the supreme court, the credibility of America, would surely be undermined. There was no way it could happen.
Well, it looks like I completely underestimated the pull of patriarchy in America. If you're a rich, white guy with powerful friends it seems you can get away with anything. Kavanaugh hasn't been confirmed yet, but the Wall Street Journal's editorial board has called for him to be confirmed and Republicans are rallying around him. It's looking increasingly likely he'll be given a lifelong appointment to impose his will on America, no matter how women feel about it. But Republicans shouldn't expect women to accept this without a fight. We will march, we will strike, we will run for office. We have had enough: patriarchy is on borrowed time.
How to prove you didn't sexually assault anyone: the Brett Kavanaugh playbook
Sorry to keep on about Kavanaugh, but the entire episode really has been a case study in rape culture. Let's review, shall we? Here are five defenses that Kavanaugh, a supposed genius in law, actually thought were credible.
Say you were a virgin. In an interview with Fox News that aired on Monday, Kavanaugh stated, unprompted, he was a virgin for years after high school. If you think, as Kavanaugh appears to, that being a virgin means you can't be guilty of sexual assault, then you have no right to be a judge in the first place, let alone on the supreme court.

Use your 10-year-old daughter as a political pawn. In his testimony on Thursday, Kavanaugh said he meant no ill will to his accuser and, in fact, his 10-year-old daughter wanted to pray for Ford. He choked up after delivering this anecdote. I'd like to think in shame, but I'm not sure he is capable of feeling anything other than self-pity and entitlement.

Dig out a calendar from 1982. Look, it doesn't say "attempted to rape someone tonight on it"! Clear sign of innocence there.

Reiterate how much you like beer. During the Thursday hearing Kavanaugh mentioned he liked beer around 30 times. He even asked a senator if they liked drinking beer, too. Can you imagine a woman telling a Senate judiciary committee how much she enjoyed drinking? She'd immediately be characterized as an irresponsible slut who deserved anything that happened to her. When men get drunk, it's a whole different story.

Convince more than 85 women you know to get onstage in support. If you've been nice to one woman, it stands to reason that you can't have sexually assaulted another one, right? That's supreme court justice thinking right there.

Now for some good news from other supreme courts around the world

On 3 October, the UK's supreme court will have a majority of female judges decide a case for the first time in its history.

India's supreme court has ruled adultery is no longer a crime. The court ruled that the colonial-era law, which criminalized a woman having an extramarital sexual relationship without her husband's consent, was archaic and discriminated against women. "It is time to say husband is not the master," said the chief justice, Dipak Misra.

India's supreme court seems to be on a roll. It has also ruled that women can no longer be banned from Sabarimala temple, which is one of the holiest for Hindus. Before this ruling, women of a menstruating age (which was defined as 10-50), were barred from entering the temple in Kerala.

And let's not forget – Bill Cosby is finally behind bars

On Tuesday, Cosby was sentenced to three to 10 years for drugging and sexually assaulting Andrea Constand at his home 14 years ago. It took decades for justice to be served, but as attorney Gloria Allred, who represents several women who say they were assaulted by Cosby, said: "We're glad that judgment day has finally come." Kavanaugh, I hope you're paying attention.

Young people face a long term 'health crisis' unless the government acts to clean up pollution, says children's charity
Christopher Hatton School in Holborn, London was forced to install air purifiers in classrooms due to dangerous pollution levels. Photograph: Jill Mead for the Guardian
Children in the UK are being denied their basic human right to breathe clean air and facing a long term "health crisis" because of the toxic fumes they breathe on their way to and from school, according to leading children's charity Unicef.
The organisation, which campaigns on children's rights and wellbeing around the world, described the situation in the UK as "horrific" and has announced it is to make protecting youngsters from air pollution its priority across the country in the months ahead.
"I have been amazed as the picture has emerged showing us just exactly what the impact of air pollution is on children in the UK," said Alastair Harper from Unicef UK.
"Research is coming out all the time showing us how these toxic emissions can lead to lasting and devastating health impacts, impacts that will last their entire lives, from stunted lung growth to asthma to brain developments. It is horrific."
Unicef's intervention follows a series of new studies which highlight the impact of the UK's air pollution crisis on children's health and will increase the pressure on government to intervene.
The charity, which is now working with schools across the country, as well as clean air groups, is calling on the government to introduce a fully funded national action plan to protect children from the effects of toxic air.
Harper said: "We want a national strategy specifically to protect children from harm, and a ring-fenced pot of funding to focus on the ways to reduce children's exposure to toxic air.
"We now know that exposure is most acute when they are travelling to and from school or nurseries and even inside the classrooms. Now there is no excuse not to take immediate and determined action."
He said measures should include vehicle exclusion zones around schools, a network of clean air zones, improved walking and cycling infrastructure in towns and cities and more child friendly urban areas.
Last year a Guardian investigation revealed hundreds of thousands of children are being exposed to illegal levels of damaging air pollution from diesel vehicles at more than 2,000 schools and nurseries across England and Wales.
There is a growing campaign among some parents and schools to ban the school run and encourage walking and cycling, but Unicef said central government needs to step in to orchestrate a nationwide policy that protects young people's health.
"It has taken a while to understand the true nature of the problem but now we do know and we have to act."