30 Sep
News and Analyses, A Foreign Perspective
Nearly all of these are English-edition daily newspapers. These sites have interesting editorials and essays, and many have links to other good news sources. We try to limit this list to those sites which are regularly updated, reliable, with a high percentage of "up" time.
Recommended:


World Politics
United States
Supreme court drama has brought survivors of sexual assault and political organizers together. The next target is the midterms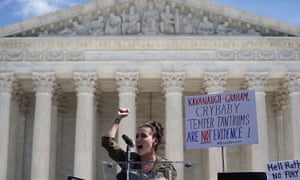 The actor Alyssa Milano speaks in front of the supreme court in Washington. Photograph: Alex Wong/Getty Images
The #MeToo movement has landed on the doorstep of one of the most venerated American institutions, the supreme court. In doing so, it has given women even more fuel for the fight.
On Thursday, in offices, bars and classrooms, Americans paused to watch Dr Christine Blasey Ford describe an alleged attempted rape to a Senate committee of 17 men and four women. They watched the man who denies the allegation, Brett Kavanaugh, respond with bristling anger.
For survivors of sexual assault and women's activists, the hearing was another reminder that men who might have been violent towards women should not be allowed to define narratives, shape institutions and dictate standards.
On the line is one of the nine seats on the supreme court, an institution that decides landmark cases such as one that made school segregation illegal and another that made same-sex marriage legal.
There was the women's march, there was #MeToo, and I think everything is going to come together

Tatiana Perkins
"I think there's going to be a movement around this and I think it will be even bigger than anything that's happened before," Tatiana Perkins, who was raped by a family member when she was eight, told the Guardian.
"There was the women's march, there was #MeToo, and I think everything is going to come together and it's going to make some waves."
Perkins only caught glimpses of the hearing because she spent the day marching in Washington DC, in protest against Kavanaugh's nomination. Reflecting on Ford's testimony later that night, she said, left her feeling numb about her own experience.
"I felt sad for every other survivor that's gone through this because I can't care about myself anymore," Perkins said.
Perkins campaigns for the women's health group Planned Parenthood, which she said provided a safe place to disclose her assault after she had kept silent for more than 10 years.
If Kavanaugh is confirmed, as is expected despite the announcement of a new FBI investigation, Perkins expects she will finally break down and cry, having held it together through the traumatic cycle of the nomination. That release, she said, will be met with a plan for what's next.
"I don't think him being voted in is the end," Perkins said. "It's the beginning."
She was far from alone. Sam Stein, a reporter for the Daily Beast, said he passed a group of women in the Senate building on Friday who sat in a circle on a concrete floor and shared stories of being abused and raped.
"I have literally told no one else this story," one said, "before I talked to you all."
On the day of the hearing, two groups that fight for the rights of sexual assault victims – Planned Parenthood and the Rape, Abuse & Incest National Network (Rainn) – saw sharp increases in traffic on their websites. Calls to Rainn's national abuse hotline jumped by 201%. A spokesperson for the Planned Parenthood Action Fund (PPAF) said its campaign site saw more traffic on Thursday than it had all year.
"Millions of women and countless survivors were watching today," the PPAF tweeted, "and they saw a Senate majority that has abandoned them."
'We are ready to fight'
Since the supreme court formed in 1790, there have been 113 justices. A grand total of six were not white men. Because they are appointed by a president, justices' judicial records tend to support the goals of that president.
At the moment, four justices lean conservative and four lean liberal. The ninth was Anthony Kennedy, a conservative considered a "swing vote" because he voted with the liberals in some major cases.
But Kennedy decided to retire, giving Donald Trump a chance to tilt the court in favor of a conservative agenda that could include an attempt to overturn Roe v Wade, the 1973 ruling that guarantees abortion rights. In an earlier Senate hearing, Kavanaugh was asked if he would make a commitment against overturning the law. He declined to respond.
We have been forced to watch once again as a woman recounts her trauma for public consumption

Fatima Goss Graves, National Women's Law Center
With that case on the line, and the person who could deliver its death knell accused of sexual assault, it was no wonder eyes were glued to televisions on Thursday.
Preliminary viewership reports show that from 11am to 6.45pm on Thursday, nearly 20% of US households with televisions were watching the hearing at any given time, according to Nielsen analysts. CBS News and CNN said it was their biggest day of the year for digital video views. More than 10 million people pressed play on CNN's apps, website, Facebook streaming service and YouTube channel.
That attention paralleled the 1991 confirmation hearings for justice Clarence Thomas, in which attorney Anita Hill testified after accusing Thomas of sexual harassment.
"We have been forced to watch once again as a woman recounts her trauma for public consumption," said Fatima Goss Graves, president and CEO of the National Women's Law Center, "as the majority of the committee rallied around Brett Kavanaugh."
But all was not lost, Goss Graves said, because "women are watching – and we are ready to fight".

Dr Justin Frank thinks the president has an erotic attachment to his daughter and a fixation with faeces and dirt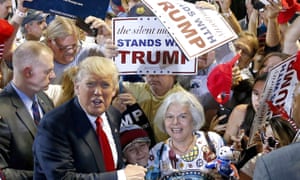 Donald Trump, seen in June 2016, surrounded by the affirmation some experts say he craves. Photograph: Ross D Franklin/AP
It all begins with the mother.
This is the opening line of Dr Justin Frank's book, Trump on the Couch, "a deep dive into the psyche" of the 45th US president which argues that a distant mother and authoritarian father are key to understanding how Donald Trump became Donald Trump: infantile, impulsive and ill-suited for office.
"Yes, we should be scared," Frank, a clinical professor of psychiatry at George Washington University, told the Guardian. "We have to accept that he is the president and we also have to accept that he's never going to change because he can't. Once we accept those things, we can then figure out what to do with our fears."
For Frank, the dynamic between infant and mother has a profound influence on a person's psychological outlook and health. Trump's mother was Mary Anne MacLeod, who arrived in New York from the Outer Hebridean island of Lewis in 1930. After six years as a domestic worker and nanny, she married the property developer Fred Trump and they had five children.
The otherwise garrulous president has said little about his mother. Notably, for his first few months in the Oval Office, the only photo behind his desk was of his father. His mother was added later. Yet, Frank points out, 72-year-old Trump's gravity-defying hair is a very deliberate homage to his mum's.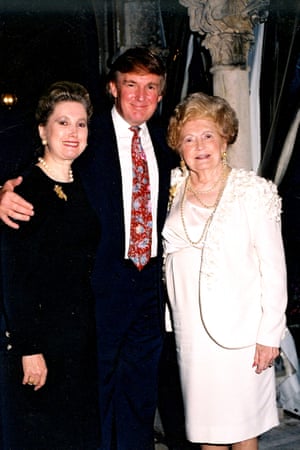 Donald Trump with his sister and mother at Mar-a-Lago in 1995. Photograph: Davidoff Studios Photography/Getty Images
"The fact that he tries to get us to feel his anxiety and he externalises responsibility makes me feel that, as a young child, he did not feel contained or held by his mother or other caretakers," he says. "He didn't have a strong maternal force in his life.
"The one thing we do know biographically is that when he was two, the last child in the family was born, but when his mother went to the hospital she didn't come home right away. She had a haemorrhage, she had four surgeries and came close to dying and there was virtually no talk about that in the family. His older siblings just went to school as if it were normal while they're terribly worried about their mother."
His mother's frequent absences, Frank suggests, left Trump devoid of empathy.
"One of the things that you do when you're feeling ignored and abandoned in some way," he says, "is develop contempt for that part of yourself. You have the hatred of your own weakness and you then become a bully and make other people feel weak, or mock other people to make it clear that you're the strong one and that you don't have any needs.
"In fact, at one of his rallies recently somebody was complaining about something and he said, 'Why don't you go home to your mommy?' I was struck that he must have been reading my book."
Frank adds: "That's why I think some of his relationships with women are not just based on sex. It had to do with a real contempt for women's boundaries and autonomy because he's so angry and so bereft and I think that's so deeply unconscious."
Fred Trump: 'A kind of tyrant'
Trump on the Couch is the third in Frank's series of psychoanalytic presidential profiles, following Bush on the Couch and Obama on the Couch. It draws on two years of study of Trump's tweets, speeches, interviews and overall behaviour to conclude that he is "mentally unfit" and "psychologically unsuited" to the presidency. The approach represents a break from the "Goldwater rule", the principle that bars psychiatrists from giving professional opinions about public figures without examining them in person.
Frank suggests that Trump's authoritarian father was also a formative influence on his childhood in Jamaica Estates in Queens, New York.
"When his father was there," Frank says, "he ran the house like a kind of a tyrant, where there were so many rules that everybody had to do what the father said. [Donald Trump] was, I think, frightened of his father. His father would take him aside and say, 'You have to be strong. You have to be tough. Never apologise. Never complain. Never say you're sorry. You have to learn to be a killer. You have to be a king.' It's over and over again, drilled into him.
"But it didn't work when he went to school, and his father actually joined the school board because he thought maybe he could help control things – but he couldn't. When he was about 10, 11, 12, Donny would sneak into New York in a delinquent way and go to shows with a friend of his. Then he saw West Side Story and that got him very excited. He decided to start buying switchblades and developed a fairly elaborate collection of large ones and his father eventually found out and just read them the riot act and made arrangements to send him off to military school."
People unconsciously repeat inner conflicts that they've had that didn't get resolved when they were younger

Dr Justin Frank
Trump manifests what Sigmund Freud identified as "repetition compulsion", the author continues.
"People unconsciously repeat inner conflicts that they've had that didn't get resolved when they were younger," he says. "Trump is re-enacting his teenage impeachment fears and is now doing it with [special counsel Robert] Mueller and all these people. He was going to do everything he could to sneak into Manhattan to undermine his father to do whatever he wanted, and now he's doing it with Mueller. Instead of being thrown out of the Jamaica Estates, he's afraid of being thrown out of the White House."
Frank has more than 40 years of experience in psychoanalysis but he acknowledges that he has never encountered a subject like Trump.
"He is infantile. He's dominated by impulses, by suspicion, by a need to always win, by a fantasy that he has to do everything himself, which is what you see in children when they say: 'Don't help me, mommy. I'm going tie my own shoes.' Then you wait for 45 minutes for the shoes to get tied before you can get out of the house. He's, like, anti-dependent."
Does he think Trump is capable of feeling love? "No. He needed his first wife, Ivana, but once they got together he really needed her to be subservient to him, like many men do. So I don't know about love or real, deep concern for her wellbeing. Love involves being able to have ruth, as opposed to being ruthless. Being able to feel concern and care, and I just don't think he had that.
"I also don't think he ever felt loved and I think that's also partly why he tweets so much and has to say 'I'm getting an A+ as president' so often, because if he didn't get love outside, he's going to compensatorily love himself. 'If don't get love from you guys, I know I'm the best.'"……………….
"I think that most of the time he does believe the things he's saying," Frank says, "because, at his deepest level, he lies to himself. The purpose of lying is to hide yourself, first, from others, but then at a deeper level to hide yourself from yourself.
It's rejection of learning and thinking. Rules remind him of having to accept truth

Dr Justin Frank
"He doesn't want to look at who he is, so what he does over time is distort reality, and lying involves changing reality and making it into one's own wish or fantasy. That's where the term 'fake news' is so important, because he hates the fact that the news functions almost for him unconsciously like a Greek chorus. Part of his lying is also to deny rules and deny regulations, to deny laws, to deny limitations. It's rejection of learning and thinking. Rules remind him of having to accept truth."
Do you know how an ice sheet can move? You'll find out below.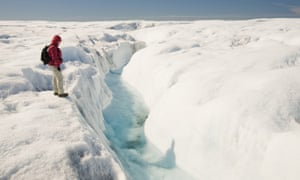 Melt water on the Greenland ice sheet near camp Victor north of Ilulissat. Photograph: SpecialistStoc/REX/Shutterstock
In this warming world, some parts of the planet are warming much faster than others.  The warming is causing large ice bodies to start to melt and move rapidly, in some cases sliding into the ocean.
This movement is the topic of a very new scientific study that was just published in the journal Earth and Planetary Science Letters.  The Arctic is warming much faster than other parts of the planet and the ice there is showing the signs of rapid warming.  This fact has serious consequences. First, melting ice can cause sea levels to rise and inundate coastal areas – it also makes storms like hurricanes and typhoons more destructive.  Melting ice also causes a feedback loop, which can cause more future warming and then more ice loss.
It should be noted that there are different types of ice.  Some ice floats on water and is called sea ice.  When it melts, the ocean water level hardly budges because the ice is already in the sea displacing liquid water.  But, sea ice is really important for this feedback loop I mentioned above.
Other ice is on land and may be a large ice sheet or a smaller glacier.  These ice bodies sit atop the land and "rest" there.  In some cases, they extend out off the land and into the ocean where they partly float on liquid water.  When this land ice melts, the liquid flows into the oceans and can cause significant ocean level rising.
So, the importance of ice depends on what type it is, where it is located, and how fast it is melting. And this brings us to the new paper.
The researchers looked at a type of high latitude glacier in their study.  These glaciers hold enough water to cause about 1 foot (about a third of a meter) in sea level rise. Typically, they exist in cold and dry areas, where snowfall is limited.
How do glaciers move?  Well really by either sliding over the underlying bedrock or surface that they sit on, or by deforming and stretching under their weight. The colder glaciers tend to move by the deforming and stretching process.  Glaciers that have wetter and more temperate regions involve more sliding.  But regardless of how they move, these glaciers, particularly the glaciers that have both cold and temperate parts, experience surges in their motion.  These surges are short duration times where the glacier moves a lot.  During a surge, ice is redistributed from one part of the glacier to another region.
The authors in this study observed such a glacier surge.  It happened at an outlet glacier that is mainly of the "cold" type in Russia.  At the Vavilov Ice Cap on October Revolution Island, the authors find it "is undergoing extraordinary acceleration and thinning but displays no previous evidence of surging."  The authors write,
The 300-600 meter thick 1820 square kilometer Vavilov Ice Cap is frozen to its bed over the majority of its area, apart from a region along its western margin where basal sliding is potentially important for faster flow.
In 2010 the ice in the region began to accelerate and the next year, crevasses were observed that matched the patterns of ice acceleration. The researchers were able to watch this surge in ice motion in real-time using satellite images. They could track the motion and show the incredible speed of flow.
What caused the rapid motion? This is an important question because if the motion is caused by human warming, we can expect the behavior to be repeated elsewhere as temperatures rise.  Importantly both air and ocean-water temperatures could be a factor.  One potential cause is surface meltwater.  The top of the ice can melt, and liquid water then can flow downwards, into the ice through cracks and holes.  This flowing water can precondition the ice for rapid motion.
More On The Environment: