08 Oct
News and Analyses, A Foreign Perspective
Nearly all of these are English-edition daily newspapers. These sites have interesting editorials and essays, and many have links to other good news sources. We try to limit this list to those sites which are regularly updated, reliable, with a high percentage of "up" time.
Recommended:


Urgent changes needed to cut risk of extreme heat, drought, floods and poverty, says IPCC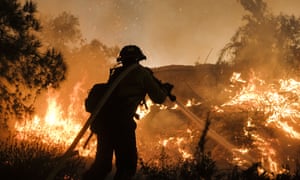 A firefighter battles a fire in California. The world is currently 1C warmer than preindustrial levels. Photograph: Ringo HW Chiu/AP
The world's leading climate scientists have warned there is only a dozen years for global warming to be kept to a maximum of 1.5C, beyond which even half a degree will significantly worsen the risks of drought, floods, extreme heat and poverty for hundreds of millions of people.
The authors of the landmark report by the UN Intergovernmental Panel on Climate Change (IPCC) released on Monday say urgent and unprecedented changes are needed to reach the target, which they say is affordable and feasible although it lies at the most ambitious end of the Paris agreement pledge to keep temperatures between 1.5C and 2C.
The half-degree difference could also prevent corals from being completely eradicated and ease pressure on the Arctic, according to the 1.5C study, which was launched after approval at a final plenary of all 195 countries in Incheon in South Korea that saw delegates hugging one another, with some in tears.
"It's a line in the sand and what it says to our species is that this is the moment and we must act now," said Debra Roberts, a co-chair of the working group on impacts. "This is the largest clarion bell from the science community and I hope it mobilises people and dents the mood of complacency."
Policymakers commissioned the report at the Paris climate talks in 2016, but since then the gap between science and politics has widened. Donald Trump has promised to withdraw the US – the world's biggest source of historical emissions – from the accord. The first round of Brazil's presidential election on Sunday put Jair Bolsonaro into a strong position to carry out his threat to do the same and also open the Amazon rainforest to agribusiness.
The world is currently 1C warmer than preindustrial levels. Following devastating hurricanes in the US, record droughts in Cape Town and forest fires in the Arctic, the IPCC makes clear that climate change is already happening, upgraded its risk warning from previous reports, and warned that every fraction of additional warming would worsen the impact.
Scientists who reviewed the 6,000 works referenced in the report, said the change caused by just half a degree came as a revelation. "We can see there is a difference and it's substantial," Roberts said.
At 1.5C the proportion of the global population exposed to water stress could be 50% lower than at 2C, it notes. Food scarcity would be less of a problem and hundreds of millions fewer people, particularly in poor countries, would be at risk of climate-related poverty.
At 2C extremely hot days, such as those experienced in the northern hemisphere this summer, would become more severe and common, increasing heat-related deaths and causing more forest fires.
But the greatest difference would be to nature. Insects, which are vital for pollination of crops, and plants are almost twice as likely to lose half their habitat at 2C compared with 1.5C. Corals would be 99% lost at the higher of the two temperatures, but more than 10% have a chance of surviving if the lower target is reached.
Sea-level rise would affect 10 million more people by 2100 if the half-degree extra warming brought a forecast 10cm additional pressure on coastlines. The number affected would increase substantially in the following centuries due to locked-in ice melt.
Oceans are already suffering from elevated acidity and lower levels of oxygen as a result of climate change. One model shows marine fisheries would lose 3m tonnes at 2C, twice the decline at 1.5C.
Sea ice-free summers in the Arctic, which is warming two to three times fast than the world average, would come once every 100 years at 1.5C, but every 10 years with half a degree more of global warming.
Time and carbon budgets are running out. By mid-century, a shift to the lower goal would require a supercharged roll-back of emissions sources that have built up over the past 250 years.
The IPCC maps out four pathways to achieve 1.5C, with different combinations of land use and technological change. Reforestation is essential to all of them as are shifts to electric transport systems and greater adoption of carbon capture technology.
Carbon pollution would have to be cut by 45% by 2030 – compared with a 20% cut under the 2C pathway – and come down to zero by 2050, compared with 2075 for 2C. This would require carbon prices that are three to four times higher than for a 2C target. But the costs of doing nothing would be far higher.
The final tick box is political will

Jim Skea
"We have presented governments with pretty hard choices. We have pointed out the enormous benefits of keeping to 1.5C, and also the unprecedented shift in energy systems and transport that would be needed to achieve that," said Jim Skea, a co-chair of the working group on mitigation. "We show it can be done within laws of physics and chemistry. Then the final tick box is political will. We cannot answer that. Only our audience can – and that is the governments that receive it."
He said the main finding of his group was the need for urgency. Although unexpectedly good progress has been made in the adoption of renewable energy, deforestation for agriculture was turning a natural carbon sink into a source of emissions. Carbon capture and storage projects, which are essential for reducing emissions in the concrete and waste disposal industries, have also ground to a halt.
Reversing these trends is essential if the world has any chance of reaching 1.5C without relying on the untried technology of solar radiation modification and other forms of geo-engineering, which the IPCC says may not work and could have negative consequences.
In the run-up to the final week of negotiations, there were fears the text of the report would be watered down by the US, Saudi Arabia and other oil-rich countries that are reluctant to consider more ambitious cuts. The authors said nothing of substance was cut from a text.
Bob Ward, of the Grantham Research Institute on Climate Change, said the final document was "incredibly conservative" because it did not mention the likely rise in climate-driven refugees or the danger of tipping points that could push the world on to an irreversible path of extreme warming.
The report will be presented to governments at the UN climate conference in Poland at the end of this year. But analysts say there is much work to be done, with even pro-Paris deal nations involved in fossil fuel extraction that runs against the spirit of their commitments. Britain is pushing ahead with gas fracking, Norway with oil exploration in the Arctic, and the German government wants to tear down Hambach forest to dig for coal.
At the current level of commitments, the world is on course for a disastrous 3C of warming. The report authors are refuseing to accept defeat, believing the increasingly visible damage caused by climate change will shift opinion their way.
"I hope this can change the world," said Jiang Kejun of China's semi-governmental Energy Research Institute, who is one of the authors. "Two years ago, even I didn't believe 1.5C was possible but when I look at the options I have confidence it can be done. I want to use this report to do something big in China."
The timing was good, he said, because the Chinese government was drawing up a long-term plan for 2050 and there was more awareness among the population about the problem of rising temperatures. "People in Beijing have never experienced so many hot days as this summer. It's made them talk more about climate change."
Regardless of the US and Brazil, he said, China, Europe and major cities could push ahead. "We can set an example and show what can be done. This is more about technology than politics."
James Hansen, the former Nasa scientist who helped raised the alarm about climate change, said both 1.5C and 2C would take humanity into uncharted and dangerous territory because they were both well above the Holocene-era range in which human civilisation developed. But he said there was a huge difference between the two: "1.5C gives young people and the next generation a fighting chance of getting back to the Holocene or close to it. That is probably necessary if we want to keep shorelines where they are and preserve our coastal cities."
The city's billionaire Ilitch family made ambitious promises in 2013, but now the area remains a redevelopment deadzone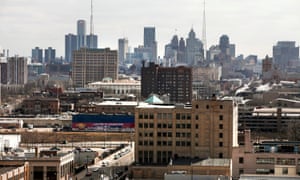 Downtown Detroit is seen in 2013. Photograph: Bill Pugliano/Getty Images
Along the streets leading to Detroit's recently minted Little Caesars Arena, colorful banners hang from temporary fencing, informing visitors they've arrived in The District Detroit. The neighborhood holds "a dynamic mix of shopping and dining" with "places to live in the heart of the action", the signage reads. The banners depict a thriving urban core with smiling families holding hands while well-dressed people drink under patio lights.
Beyond the fencing, the landscape isn't quite so lively. There are few places to live in The District, and little to eat. Vacant, decaying buildings make up entire city blocks. There are almost no lights, save for those illuminating surface lots and parking garages.
The arena, the Red Wings ice hockey team that plays there, and almost all the blighted property in The District share the same owner: Detroit's billionaire Ilitch family. Their company hung the banners, but there's growing frustration among many Detroiters over the discrepancy between the Illitches' imaginative marketing and the neighborhood's stark reality.
Just down the street from LCA, Sean Swierkosz, general manager of the longstanding sports bar Harry's, watched the Illitches make progress, "but then it stalled". "I feel like I'm looking over the fence at my neighbor's yard at his half-finished project or garage," he said.
The project began in 2013 when the Ilitches unveiled plans to revive the area between Detroit's now-thriving mid- and downtowns. Their ambitious vision included a 50-block sports and entertainment neighborhood called The District Detroit, anchored by the 20,000-seat LCA. The Ilitches promised $200m in development around the arena, claiming new housing, stores, restaurants, bars and offices would bloom.
Though the late Mike Ilitch was worth $5.1bn at the time, local leaders handed the family a huge tax deal to help fund the vast rehab. They did so in early 2014, just as Detroit slid into the nation's largest-ever municipal bankruptcy. The agreement will be worth at least $740m if the arena is open for 48 years, as the Ilitches estimate.
While LCA opened in 2017, the surrounding neighborhood that justified the huge tax deal never materialized, so The District largely remains a redevelopment deadzone. Instead of gaining luxury lofts, it's lost housing, and the Ilitches have only renovated a small fraction of the hundreds of properties its companies purchased here.
Now, after five years, there's less confidence that The District Detroit is good for the city. At Harry's, Swierkosz said the jury is still out, but he isn't encouraged by what he sees.
"Now they're like, 'Well let's just fix this fenceline up a little more, show some more pictures of what it could be," he scoffed. "Let's get all the shiny things that are on the pictures I'm seeing around the fences. Let's see the development."
In recent years, Ilitch companies in and around The District leveled at least 30 buildings and currently maintain nearly 40 blighted or vacant structures. On blocks where historic buildings once stood, they've laid dozens of surface parking lots. Those are controversial because the Ilitches charge up to $50 per spot, and a vast stretch of once-dense downtown real estate is now a sea of Ilitch-owned parking spaces.
In January, the Ilitches finished evicting residents from 95 units across three buildings, and a small number of lower Cass Corridor businesses and bars are gone. That's tracked by Terrible Ilitches, a citizens watchdog group that uses municipal property data to monitor the neighborhood's development activity.
Francis Grunow, who used to live here and chairs the Neighborhood Advisory Council that advises the Ilitches' Olympia Development on community benefits, sees the project so far as a "net deficit".
"We're still behind on local business and residential from where we were a few years ago. We're not even at zero," Grunow said. He acknowledged the arena, but added, "part of how the Ilitches sold it was by saying that it would be more than that – it was going to be a more meaningful project and part of an overall redevelopment strategy".
Olympia did not respond to requests for comment. But it defended its track record in a July statement to the Detroit Free Press, touting "10 important and celebrated buildings" in various stages of redevelopment. It pointed to seven addresses, but in reality there's only visible work underway on two buildings.
The situation is so bad that the city is pushing back. At the 15-story, Italian Renaissance Hotel Eddystone next door to LCA – one building on which work has started – city officials say they are compelling Olympia to install windows as they mull litigation to move that project forward. The Detroit City Council also in July created a new historic district to protect historic buildings when the Ilitches attempted to knock them down.
Notably, the landscape looks much different just a few blocks across The District's borders, where Detroit's neighborhoods are alive with redevelopment. Lofts list for as much as $650,000, and large residential projects are underway in the adjacent historic Brush Park neighborhood. Further up Cass Avenue, new restaurants, bars, and shops flourish on streets resembling the Ilitches' banners' renderings.
Victor Matheson, a sports economist at College of the Holy Cross, said what's playing out in The District is unique.
"It's not rare at all that new development does not materialize or takes very long to materialize – that's very common," he said. "It is extremely rare to see a stadium cause a neighborhood to go backwards – that is very rare."
No oversight
It's generally reported that The District didn't require a dime from the financially struggling city's general fund because the public's contribution amounts to $324m captured from downtown business district taxes. The Ilitches stressed that point, and in 2014, the head of the Detroit Economic Growth Corporation – the city's negotiating agency – agreed: "Given the amount of money that the city's put into this – which is zero – it's a great deal for the city and its residents."
Though the city didn't pay from its general fund, it did lose significant revenue. Prior to the Red Wings' move to LCA, Detroit taxed annual ticket, souvenir, parking, concession, suite and other team revenues. That figure totaled about $3.5m in 2010, which had grown to $7m by 2014, and would have continued growing. The Ilitches no longer pay those taxes, and they estimate LCA's lifespan at 48 years. So the city loses during that time well in excess of $336m from its general fund.
The $324m figure also doesn't include $74m the Ilitches receive if they complete $200m in "spin off" development. And, for $1, the city gave the Ilitches land with an estimated value between $3m and $27m.
But the deal didn't include any oversight or clawbacks.
That comes into play when the Ilitches claim a $24m parking garage counts as "spin off" development. The vision the Ilitches sold to the public offered much more than parking garages.
That's partly why many felt from the outset that deal was bad for Detroit, and Matheson called it "lopsided," especially since the Red Wings didn't threaten to relocate. Two of the city's lead negotiators on the deal now work for the Ilitches.
However, lopsided deals aren't unusual in Michigan, said Michael LaFaive, fiscal policy director for the conservative Mackinac Center think tank, which tracks corporate welfare here. The state rarely tracks whether promises are fulfilled, he said, and the Mackinac Center studies have found they typically aren't.
"What they do is create a facade of something to look at that's beautiful, then politicians say 'Look what we've done! Isn't this great? There are more people walking around here' … but the cost side must be examined as well, and costs can offset all or more of the benefits," LaFaive said. "I doubt if a post-mortem of this deal by scholars will show that it has had a positive economic impact locally or statewide."
At Harry's, Swierkosz remains hopeful that that isn't the case.
"I just want to see The District become The District. They've relabeled, they've marketed, got their own app, but where are we going here?" he asked. "Right now we're in this stand still, this purgatory. Where's the change?"

World Politics
Europe
French far-right leader plays down ex-Trump aide's plans for European populist movement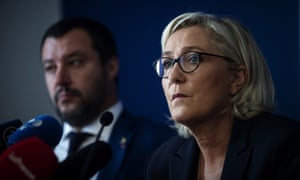 Marine Le Pen with Matteo Salvini in Rome. She said: 'The political force behind the EU elections is only us and us alone.' Photograph: Antonio Masiello/Getty Images
The French far-right leader Marine Le Pen has said that Donald Trump's former aide Steve Bannon would not play a leading role in a nationalist drive to "save the real Europe" as he is "American, not European".
Speaking during a joint press conference in Rome with Matteo Salvini, the Italian interior minister and leader of the far-right League, Le Pen said she wanted to clarify "lots of conjectures" about Bannon's plans to set up a Europe-wide network to boost the chances of populist parties ahead of elections to the European parliament in May 2019.
"Mr Bannon is not from any European country, he is American," said Le Pen, who heads the National Rally party, formerly known as the Front National. "His movement will offer studies, surveys and analysis … but the political force behind the EU elections is only us and us alone.
"Because we are attached to our liberty, attached to our sovereignty and we together, the representatives of the different peoples of Europe, are the ones who will shape the political forces that aim specifically to save Europe."
Her stance appears contradict that of Salvini, who met Bannon in Rome in early September. Bannon returned to the city a few weeks later to give a speech at an event organised by the smaller far-right party, Brothers of Italy, during which he set out his vision for a new European order.
Bannon, a former banker, told the audience that events such as Brexit, Trump's presidential victory and the election of a populist government in Italy "give the little guy a voice". He praised Salvini and Giorgia Meloni, the leader of Brothers of Italy, and said that over the next few months he would be spending 80% of his time in Europe.
Salvini and Le Pen said on Monday that the EU elections would usher in a new era of "common sense" as nationalist parties rally to restore values, pride and dignity for ordinary workers. They called Jean-Claude Juncker, the president of the European commission, and Pierre Moscovici, the European commissioner for economic and financial affairs, "enemies of Europe", saying the pair's policies had weakened the bloc.
"We want to give the power back to the people," said Le Pen.
Salvini described the EU administration as "enemies of the happiness of Europeans, barricaded in their bunkers in Europe". He also blamed previous Italian administrations for "robbing Italy" and racking up the country's debt to more than 130% of GDP.

United States