11 Oct
News and Analyses, A Foreign Perspective
Nearly all of these are English-edition daily newspapers. These sites have interesting editorials and essays, and many have links to other good news sources. We try to limit this list to those sites which are regularly updated, reliable, with a high percentage of "up" time.
Recommended:
Stéphane de Sakutin, AFP (archives) | Demonstrations in Paris on 28 June, 2018.
Around 160,000 people joined demonstrations across France on Tuesday, the interior ministry said, heeding union calls for President Emmanuel Macron to "maintain the social model", which has come under threat from his ambitious reforms.
Around 20,000 people turned out in Paris, the largest of some 100 rallies across the country.
The head of the hard-left Confederation of Labour (CGT) union Philippe Martinez estimated turnout higher at 300,000 nationwide. The CGT said about 50,000 people marched in Paris at the urging of six of the country's labour unions.
"We're not complaining, we're revolting!" the students, workers and retirees chanted as they marched in the first demonstration since the end of the summer holiday, referring to President Macron's recent suggestion that the French complain too much.
The ministry said 16 arrests were made, nine in Paris, where one marcher and a policeman were reported hurt after up to 300 hooded anarchists latched onto the rally, throwing projectiles at police, who responded with teargas.
Marchers – mainly young people – carried banners saying they had had enough of "austerity, unemployment". Many of them said that Macron's proposed welfare reforms will "disadvantage the weakest in society". The elderly turned out to voice their disapproval of pension reforms.
"I've lost 50 euros a month – I can't make ends meet any more," complained François Manugal, a retired 65-year-old from the southeastern city of Lyon.
Martinez criticised Macron's attempts to reform the economy, in particular issues regarding wages, accusing the government of erroneously believing that "reducing social contributions would be good for purchasing power".
Pascal Pavageau, the leader of the Force Ouvrière (Workers' Force) union, urged the government to engage in dialogue "and above all, maintain the social model" as Macron battles sagging popularity on the back of sweeping reforms – notably of the labour code, designed to bring greater flexibility to the jobs market.
Unions are planning further mobilisations in the coming months on specific reforms such as changes to pensions and the unemployment insurance system, but no specific dates have been set.


Professor said Senate committee response to Christine Blasey Ford mirrored her experience testifying against Clarence Thomas
'Christine Blasey Ford had no support. None,' Anita Hill said at an event at the University of Pennsylvania. Photograph: Eric Sucar/University of Pennsylvania
Anita Hill said Brett Kavanaugh's confirmation hearing was a "disservice to the American public", in her first public remarks since he was confirmed to the supreme court on Monday after one of the most narrowly won confirmation proceedings in history.
Hill said the Senate judiciary committee's response to Dr Christine Blasey Ford's accusation of sexual assault against Kavanaugh mirrored her own experience testifying against the then supreme court nominee Clarence Thomas in 1991.
"What happened was not only a disservice to the people who were the principal witnesses, but was a disservice to the American public," Hill said at a University of Pennsylvania event on Wednesday night. "We were all disserved in 1991 – people wanted to understand sexual harassment. In 2018, they wanted to understand sexual assault."
Thursday marks the 27th anniversary of Hill's testimony that Thomas had sexually harassed her when they worked together at the Equal Employment Opportunity Commission. The Senate confirmed Thomas, who denied the allegations, four days later.
Hill said it was "a tragedy" that once again, the judiciary committee rushed through its response to the respective allegations, did not interview all the witnesses and in the case of Ford, ignored 30 additional years of research into sexual misconduct.
"Those were all the things that I experienced in 1991 and it was what I experienced in 2018 – that failure to really help the public understand very significant issues and to understand that those issues, and seeking truth in those issues, aligned with the interest of having a supreme court that people have confidence in, they have faith in, they believe in the impartiality of and they believe in the integrity of," Hill said.
Hill, a professor of social policy, law, and women's studies at Brandeis University, entered Penn's Irvine auditorium to immediate, resounding applause and a standing ovation from the packed, mostly female audience of 1,200.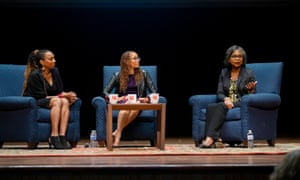 Hill spoke with Kimberlé Crenshaw, a law professor at UCLA and Columbia, and an adviser to Hill's legal team in 1991. Photograph: Eric Sucar/University of Pennsylvania
She spoke with Kimberlé Crenshaw, a law professor at UCLA and Columbia law School, and an adviser to Hill's legal team in 1991. Their conversation was moderated by Dorothy Roberts, a sociology and law professor at Penn.
They were clear about what needed to change to stop this from happening again: a shock to the systems that make, and occasionally reward, sexual harassment. That included the government, the criminal justice system, the legal system and the media.
"Christine Blasey Ford had no support. None," Hill said. "There was no organization that was on the inside or was connected with the inside, with the decision-makers, that was going to be able to help her. We need to really understand that what we are dealing with, when we talk about these kind of abuses … we are not just dealing with behavior, we are dealing with systems that protect it, and sometimes encourage it, and sometimes reward it, and that is what you saw."
Despite all this, Hill emphasized, there had been improvements in the past three decades.
That included the substantial research into sexual harassment and assault, as well as the people who had shared their stories and the legislation put in place to improve harassment reporting structures and protections.

World Politics
United States
President writes inflammatory op-ed in USA Today

Schumer: Trump's depiction of healthcare policy 'blatant lies'
The worst case scenario plays out the same way everywhere, whether you are in southern California or northern Alberta. A nascent wildfire – driven by extreme heat, high winds, drought conditions and a century of largely successful fire suppression – explodes into a juggernaut and takes over the countryside.

A scorched landscape near Keswick Estates in Redding, Calif. Power transmitters like these were torn out of the earth from a powerful fire whirl that swept through the area.

Police tape is tied to a tree near where firefighter Jeremy Stoke was killed during a fire whirl in Carr Fire in Redding, Calif. According the the National Weather Service, winds exceeded 143 mph.
Any houses in the way are simply more fuel. Preheated to
932F

by the 100ft flames of the advancing blaze, homes don't so much catch on fire as explode into flames. In a dense neighborhood, many homes may do this simultaneously. The speed of ignition shocks people – citizens and firefighters alike – but it is only the beginning.
Because the temperatures achievable in an urban wildfire are comparable to those in a crucible, virtually everything is consumed as fuel. What doesn't burn, melts: steel car chassis warp and bend while lesser metals – aluminum engine blocks, magnesium wheels – will liquify.
In turn, the ferocious heat generates its own wind that can drive sparks and embers hundreds of meters ahead of the fire. Conflagrations of this magnitude are virtually unstoppable. Ordinary house fires often leave structures somewhat intact; things can be salvaged. But no one is prepared for the damage caused by a wildfire when it overruns their town – not the scale of it, nor its capacity to wipe out everything they have worked for.
In late July, nearly half of the 92,000 residents of Redding, California, were forced to evacuate. More than 1,600 homes, businesses and other structures burned in the Carr fire, due to sparks thrown by a trailer wheel with a flat tire. But the cause hardly matters; it was
113F

that day, and the land was primed for fire.
Seven people were killed, three of them firefighters, but when survivors tell of their escapes, it seems a miracle there weren't many more. A local dentist, surprised by the flames in the gated community of Stanford Hills, fled for her life through the woods. Disoriented, with no idea where to go, she and her husband followed the animals – deer, rabbits and squirrels – as they fled downhill, toward the Sacramento river. Several of her neighbors were rescued by helicopter.
Any houses in the way are simply more fuel
Another neighbor, a retired homicide detective named Steve Bustillos, was preparing to evacuate when he noted an ominous, breath-like quality to the rising wind. It was the fire drawing oxygen into itself – so powerfully that it made the seals in his house whistle. When Bustillos stepped outside he saw the air rippling, "like when you open an oven door".
A moment later, the air itself appeared to burst into flames. Trees and houses followed, igniting spontaneously in the superheated air. Bustillos escaped in his pickup, but the fire caught him on Buenaventura boulevard, a kilometre from his home. His pickup was heavy – over three tonnes – but it was moved off the road. After the passenger window blew out and the truck caught fire, Bustillos managed to exit the vehicle and take refuge under a nearby bulldozer.
Somehow, he survived and is recovering well, though he looked for a time as if he had been rolled in red-hot gravel. In the truck were all of his and his wife's valuables – guns, jewelry, passports and cash. His loaded pistols were firing as the truck burned; nothing was salvageable. Forensic analysis of the scene on Buenaventura, where a bulldozer operator was also killed, concluded that wind speeds were somewhere between 220 and 270km per hour, and that "peak gas temperatures likely exceeded
2552F

" – the melting point of steel.
In other words, what Bustillos endured was equivalent to an EF3 tornado, combined with a blast furnace.

Carrie and Steve Bustillos stand near the spot where Steve narrowly survived the fire whirl as he was evacuating his home in the Carr Fire. He abandoned his truck after it caught fire, took cover under a bulldozer and survived with minor injuries.
"W

e all know someone who lost a home" is not a phrase you used to hear very often, but in the North American west, it has grown much more common over the past decade. The communities where you hear this are growing, too – small cities, entire neighborhoods.
In Redding, many residents returned to ruins and in them there are patterns. The showers often survive, standing alone, a morbid joke now, while washer-dryer sets stare out like blank eyes in a roofless skull. The charred shells of stoves, air conditioners, freezers and refrigerators are warped out of shape, or collapsed. Fire damage has its own palette; it runs from bone-white through taupe to charcoal black, the rest of the spectrum burned away.
Ash covers everything – the memories, the histories, smells, recipes and comforts, reduced now to the barest elements: carbon, stone and steel, all cloaked in smoke and suffused with the acrid reek of burning. This tableau repeated itself more than a thousand times around Redding – a thousand families standing on the sidewalk, wondering where their houses went.
Everyone who loses a home is struck by how much is gone, and also by what remains: a carpet preserved by leaking water from a ruptured water pipe; books, ghost-white with every page intact, until you touch them and they collapse in a cloud of ash.
A home is a kind of memory palace and there is an existential cruelty in the razing of it. To burn them down by the hundreds and thousands, as wildfires are doing now in the western US and Canada, is a brutal affront to the order we live by, to the habitats that give our lives meaning. Their loss shocks the heart like a sudden death. Left behind are juxtapositions so surreal and disorienting that to describe them sounds like the mutterings of an insane person: garbage can puddle; melted guns on a platter; cars bleeding aluminum; pile of tire wire. Is this really where I lived, where I raised my children? Where did their beds go? Their bedrooms?
Related Stories: